Tim Lincecum Records 1000th Career Strikeout as Giants Come from Behind...Again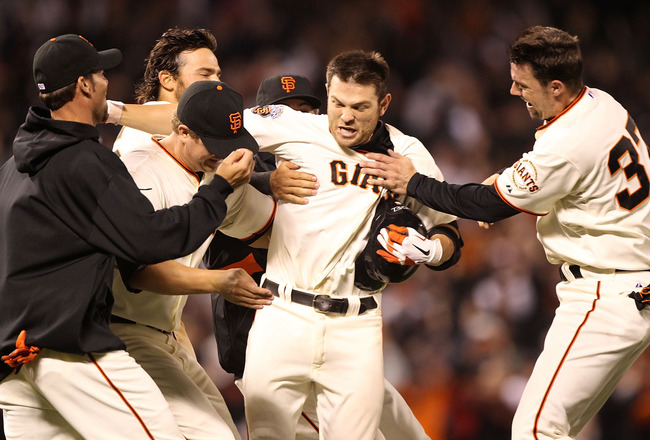 Giants second baseman Freddy Sanchez hit the game-winning walkoff hit in the bottom of the 13th inning Monday, capping off a come-from-behind victory over the Washington Nationals.
Jed Jacobsohn/Getty Images
It's hard to understand what motivates a team to do well.
Some say fame. Some say fortune. Some, like Albert Pujols or Prince Fielder, have their own supernatural determination driving them.
Any player and any team can hit and hit well in a given day. However, true excellence comes from the ability to do the deed day-in and day-out, week-in and week-out, letting your club know that they can count on you for the big hit when it counts.
So, what in the name of all that is holy is driving this Giants offense?
We read and hear everyday about the epically bad offense that the World Champs have this year: second-worst in the majors in runs scored per game (3.59), with a team batting line of .241/.306/.366.
We can't hit, we can't walk and we sure as heck can't go toe-to-toe with the likes of...oh wait, the Giants are in first place.
As atrocious as they can be to watch sometimes, I just can't deny the heart of this team. Tonight, the Giants overcame a 4-0 deficit to tie the game and win 5-4 over the Nationals in 13 innings.
On Wednesday, they were down 3-0 and then 5-4 to the Cardinals before coming back to win 7-5 in extra innings.
Giants starting pitcher Tim Lincecum threw his 1,000th career strikeout in the second inning of Monday's game, but only last 5 innings, giving up 4 runs and 5 hits, with 3 walks.
Jed Jacobsohn/Getty Images
On Thursday, they were down 3-0 again before coming back to win 12-7.
It's hard to get this team's offense started, but it sure seems like they feast on adversity.
Before Monday's game, the Giants as a whole batted .211/.299/.325 with 13 HRs in games that they were winning, but .260/.316/.410 with 20 HRs in games when they were behind.
They've scored as many runs in the sixth inning (38) as in the first and second innings combined this year and actually have an above-average OPS (.715) in "Late & Close" situations compared to the rest of the league.
It's no secret that the success of the Giants comes from their pitching.
Tim Lincecum, the diminutive contortionist who can throw a 96 MPH fastball and a changeup that leaves the best hitters in the league speechless, threw his 1,000th strikeout on Monday night. Starting the night with 995 career K's, he struck out the side in the first, before punching out the second and third batters in the second inning to reach the milestone.
But that's the best part. Anybody who watched the game would tell you that Lincecum wasn't great, that he couldn't throw strikes and looked uncomfortable on the mound.
The real stars of the game are the relievers coming out of the bullpen, who put up eight solid shutout innings against the Nationals, allowing just four hits, two walks and zero runs across that span.
Aaron Rowand, the forgotten man in a world with too few outfield spots, got the team started with a homer in the seventh inning. Freddy Sanchez, making a bid for his first All-Star appearance as a Giant, had the walk-off hit in the 13th inning.
Nate Schierholtz had another clutch hit late in the game to tie the score and give his team a fighting chance. And perhaps most importantly, Chris Stewart, the backup catcher nobody expected to see, drew a walk in the 13th inning and ended up scoring the winning run.
I don't know why the Giants can't hit until they look up and see that they're losing, but I don't care why.
Maybe they need the inspiration, the adversity. Maybe they need to be backed into a corner before their evolutionary instincts take over and tell them how to slap a single into right field against a pitcher throwing high-90's heat.
Grant Brisbee from McCoveyChronicles.com said it best, trying to figure out why the 2010 Giants beat so many good pitchers while flailing against the fifth-starter types. This is the team, he said, "that made Joe Blanton look like Roy Halladay and Roy Halladay look like Joe Blanton."
Just like the Giants rise to the occasion to overcome a deficit, they dig deep and find something extra when they know they're facing an exceptionally tough pitcher.
You can't predict baseball, and you sure can't turn the game off until the last pitch is thrown.
This article is
What is the duplicate article?
Why is this article offensive?
Where is this article plagiarized from?
Why is this article poorly edited?

San Francisco Giants: Like this team?