2011 MLB Mock Draft: Predicting the Toronto Blue Jays First Eight Picks
June 6, 2011
With the 2011 MLB draft less than 24 hours away, the cabal of mockers and prognosticators like myself are putting one last coat of paint on our lists.  My final offering is a look at who the Toronto Blue Jays might be looking at in the first three rounds.
Toronto's farm system was once regarded as one of the thinnest on talent in all of baseball.  However, after a year-and-a-half at the helm, Blue Jays GM Alex Anthopoulos has completely turned it around and is now considered by Baseball America to be the fourth-best.  
The first step in that process began with the Roy Halladay trade in December of 2009, the end result being the acquisition of current No. 3 starter Kyle Drabek and top five organizational prospects Travis d'Arnaud (C) and Anthony Gose (OF).
Step two was the signing of Cuban SS Adeiny Hechevarria who is now our top middle infield prospect.
Next was the 2010 MLB Draft where Anthopoulos selected RHP Deck McGuire of Georgia with the 11th pick.  McGuire has acquitted himself so well at high A Dunedin that he'll surely get a promotion to AA New Hampshire soon and could even make his Blue Jays debut as early as next year.
Other picks such as RHP Aaron Sanchez, RHP Asher Wojciechowski, OF Marcus Knecht and SS Dickie Joe Thon have also started their pro career with a significant amount of success.
The most recent move might just prove to be the most significant.  With Ricky Romero affirming his position as the staff ace, Anthopoulos felt he had the flexibility to move fan and team favorite Shaun Marcum.  Sent to Milwaukee for Brett Lawrie, this trade looks to be a rare win-win as the young Canadian not only fills a void at third base, he's arguably the best hitting prospect in the entire minor leagues and will be called up within the next week or two.
For the 2011 MLB draft, AA has eight picks in the first 108 and is once again poised to reload his vaunted minor league system with more high-end talent.  Here's a look at who the Jays may be looking at.
21st Pick.  The 2011 draft is considered by many to be the deepest in years.  As such teams can draft for need early and worry about "best available" later on.  For Toronto, the organization still lacks elite middle infield talent in the high minors, particularly at second base.
Kolton Wong (pictured) is a whirling dervish from the University of Hawaii who projects as a high average guy with speed—much like Dustin Pedroia.  His defense is suspect, but after tearing up the Cape Cod League last summer, he's considered by many scouts to be the second-best college bat after Anthony Rendon.
Another direction could be pitching.  A quick look at the top 10-15 organizational pitching prospects shows a significant lack of LHP's.  Daniel Hultzen of Virginia will be gone by 21, but there are several other intriguing prospects available.
Towering high schooler Henry Owens, who stands 6'7", could be an option.  His live fastball and hard-breaking curve are already impressive.  He projects as a front end starter.  Other possibilities include fellow high school lefty Daniel Norris or college southpaws like Jed Bradley and Tyler Anderson.
Pick: Kolton Wong 2B, Hawaii 
35th Pick (Compensation for Scott Downs) This is where the draft could really get interesting.  As stated above, this year's draft is very deep and players that may have easily been mid first-round picks could find themselves slipping.  Not for a lack of talent, but rather team preference (college vs. high school, pitcher vs. position player etc).
It is this very scenario that I see more than a few big names falling into team's laps as the sandwich round begins.
Remember what I said about a dearth of Lefties in the Jays system?  This is where they could look to fix that deficiency.  The aforementioned Henry Owens could find himself falling out of the first round because of the uncertainty surrounding his potential.  No one denies his talent but he's incredibly raw and would take five to six years to develop.  That doesn't seem to scare Alex Anthopoulos however as he selected the equally raw Aaron Sanchez at around this spot last year.
Pick: Henry Owens LHP, Edison HS (CA)
46th Pick (Compensation for John Buck) A lot of my peers here at Bleacher Report have Toronto looking at high school outfielders like Josh Bell or Brandon Nimmo with the 21st pick.  Here's the most recent example. Although I don't have any issue with the logic behind those selections, it doesn't play out in my scenario. 
Jackie Bradley is not a high school outfielder, but before his injury troubles and subsequent lackluster season, Bradley was though of as the second best outfield prospect behind Bubba Starling.  With Eric Thames as the only legit outfielder in the high minors, Jackie Bradley would be a gift in this spot.
Pick: Jackie Bradley OF, South Carolina
53rd Pick (Compensation for Miguel Olivo). Admittedly, the next two picks seem a bit far fetched based on where most other mock drafts have them going.  However, last year, I had Nick Castellanos going eighth overall to Houston, yet he slipped all the way to 44th due to signability issues.
There is very little consensus on Texas A&M pitcher John Stilson.  His talent is evident, but a labrum injury is concerning and scouts are split on whether he projects as a starter or reliever.  That kind of uncertainty can cause him to slip.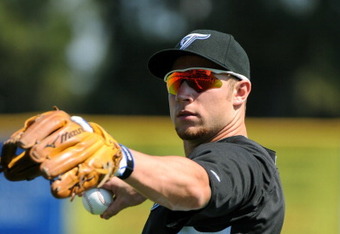 Al Messerschmidt/Getty Images
They Jays have a desperate need for a closer and Stilson's high 90's fastball and deadly slider will be almost irresistible to resist.
Pick: John Stilson RHP, Texas A&M
57th Pick (Compensation for Kevin Gregg). In spite of starting his senior season with back-to-back no hitters, California Kid Robert Stephenson hasn't generated the same amount of buzz as other high school prospects.  With so much clutter in the high school ranks, this young man could easily fall twenty or more picks beyond where some other mocks have him going.
Besides, Toronto loves their California pitchers.
Pick: Robert Stephenson RHP, Alhambra HS (CA)
74th Pick. Alex Anthopoulos spent over $11 million in signing bonuses last year, among the highest total ever handed out in one draft.  So it's not as if he's scared off by players with signability concerns.
Josh Bell is a top 10 talent, but he's recently stated that he fully intends to play for the University of Texas next season.  He's also being "advised" by Scott Boras so if anyone were to draft him, it could take a king's ransom to get him to sign.
If Bell, who many scouts feel is similar to Jason Heyward, falls this far the Toronto could swing for the fences and possibly secure themselves their next great outfielder.  Although hopefully, he's a better defender than our last superstar outfielder named Bell.
Pick: Josh Bell OF, Jesuit College Prep (TX)
78th Pick. Remember that developmental outfielder other mockers thought Toronto might draft?  Well allow me to introduce you to Shawn Dunston Jr.
Obvious pedigree aside, Dunston has elite speed and athleticism (two qualities Anthopoulos covets in his outfielders).  His bat however is incredibly raw with awkward mechanics that need to be corrected.  He could be a serious steal.
Pick: Shawn Dunston Jr. OF, Valley Christian HS (CA)
108th Pick. With Toronto's final pick of this mock draft, they dip in to the Canadian prospect pool and select Tom Robson, a high school pitcher from British Columbia.
According to Baseball America, Robson has "good size, his arm works well, he really has good feel and touch on his pitches. He has a good feel for the strike zone—he knows how to move the ball around—and he has pretty good command and a real understanding of how to pitch."
Good enough for me.
Pick: Tom Robson RHP, Langley HS (Langley BC, Canada)
The draft is now 19 hours away.  It's going to be a barnburner! 
Feel free to follow me on twitter @tdotsportswriter.