2011 NFL Draft: Comparing Each Top 10 Draftee to a Popular Song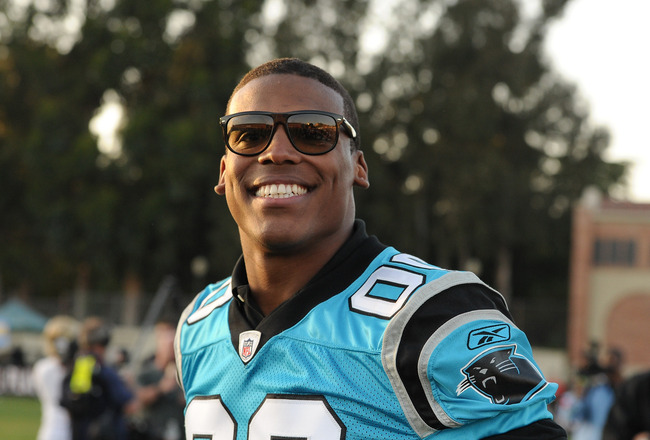 Noel Vasquez/Getty Images
Every player drafted in the top ten of the 2011 NFL Draft is unique in their own way, as is every song that we listen to on a daily basis.
The draftees can each be compared to a song, and while everyone views music differently, I've used popular songs for comparison to provide a general basis that everyone knows.
All of these songs are or were regular radio station plays, and convey something that can be related to a player.
Without further ado, here are the top 10 draft picks, each compared to a song.
1. Cam Newton: Papa Americano—Yolanda Be Cool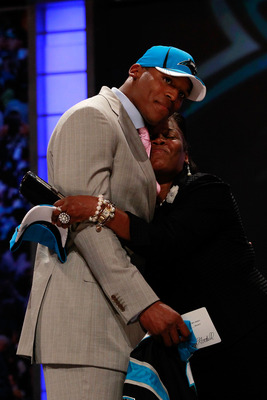 Chris Trotman/Getty Images
Papa Americano shouldn't be a popular song in America, just like Cam Newton shouldn't be a successful quarterback in the NFL.
We could see Papa Americano being a popular song in another country, and Newton being successful in college, but the two don't directly translate to American popularity or NFL success, respectively.
However, just like Papa Americano became a popular song with its good beat despite no words in English, Newton became the No. 1 draft pick with a competitive spirit and good rushing skills, despite questionable accuracy.
Newton and Papa Americano prove that conventionality isn't the most necessary thing for success or popularity, respectively.
2. Von Miller: I Am the Champion—B.O.B.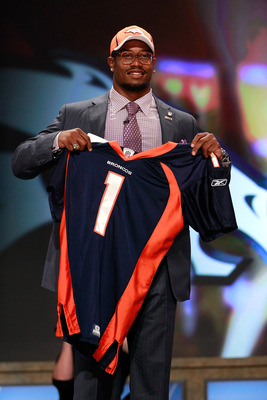 Chris Trotman/Getty Images
Recently, I was with some of my friends and we were picking songs to put on—I requested "I Am The Champion" by B.O.B., just like the Broncos picked Von Miller.
All of my friends nodded in agreement, telling me that the song was a great choice, but halfway through the song, everyone was looking around because the song wasn't as good as everyone remembered.
Von Miller looks like a great pick, but when it gets down to it, he's really just a player that makes you give a non-impressed sigh.
Von Miller was good when combined with a 3-4 scheme, like "I Am The Champion" was good when combined with NBA Live 10, but when separated from what made them good originally, they are just "eh" types.
3. Marcell Dareus: Down on Me—Jeremih & 50 Cent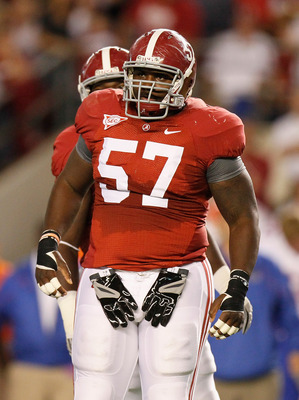 Kevin C. Cox/Getty Images
The song "Down on Me" by Jeremih and 50 Cent is the classic example of "What you see is what you get".
The first time I listened to the song, I liked it, and my feelings haven't changed about it since the first time I listened to it.
With Dareus, what you see is also what you get, and for the Alabama lineman, you like what you see—he has a non-stop motor, power moves, finesse moves, and he's scheme diverse.
The Bills could listen to Dareus on loop, and he figures to be on the Bills defensive line for a long time.
4. AJ Green: Rolling in the Deep—Adele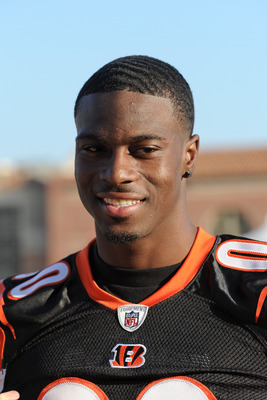 Noel Vasquez/Getty Images
You don't know specifically what it is about "Rolling In The Deep" by Adele, but it is a consensus chart topper for some reason (as of this article's writing, "Rolling In The Deep" was No. 1 on iTunes charts).
It could be Green's great route running, excellent hands, or nice speed, but it isn't one specific thing that makes Green be the best receiver from the 2011 draft class.
Rather, it is the total package that elevates Green to be the best, just like everything put together makes "Rolling In The Deep" a great song.
Not only is it a great song, but without any curse words, "Rolling In The Deep" is a safe song to play anywhere, just like Green, with his lack of drawbacks, could be a No. 1 receiver in any scheme.
5. Patrick Peterson: The Real Slim Shady—Eminem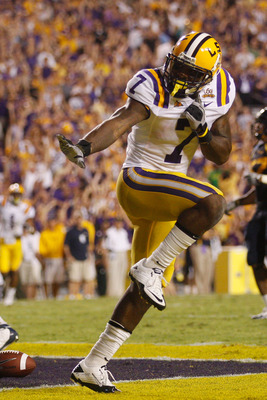 Chris Graythen/Getty Images
"The Real Slim Shady" has absolutely everything that anyone could want in a rap song, with a great beat, fantastic flow from one of the generation's greatest rappers, and humor mixed in with a pseudo-inspirational message.
But that's the thing—it's just a rap song.
In Peterson's case, he has everything that anyone could want in a cornerback, but he's just a cornerback.
Just like one couldn't blast "The Real Slim Shady" on the dance floor or on a generic radio station, Patrick Peterson can't solve a quarterback debacle or a losing mindset, but both the song and player are great at what they do...and only that.
6. Julio Jones: Hey Baby—Pitbull & T-Pain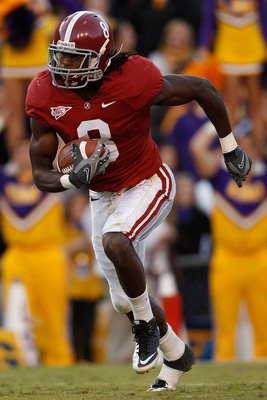 Chris Graythen/Getty Images
People are smiling, the DJ is on fire, and the party is going really well—then "Hey Baby" comes on and the place goes nuts.
This is the effect Julio Jones will have on an already-good Falcons team—Jones will put the team over the top.
Jones has a crazy skill set but can only succeed in the right system, and the Falcons are just the right fit for this young receiver.
Just like Jones, "Hey Baby" can only be a big-time song if played in the middle of an already-good party.
7. Aldon Smith: Give Me Everything Tonight—Pitbull, Ne-Yo, Afrojack, & Neyer
Chris Trotman/Getty Images
The first time people heard "Give Me Everything Tonight", the general assumption was that, with Pitbull and Ne-Yo having made it, the song would be good.
With Aldon Smith, fans assumed that Jim Harbaugh knew what he was doing when he drafted the defensive end out of Missouri.
Upon further listening, "Give Me Everything Tonight" is actually a pretty good song, and Aldon Smith is a pretty good pass rusher.
Also, "Give Me Everything Tonight" would be a fitting caption for Aldon Smith's sack dance (see 0:11 to 0:15)
8. Jake Locker: Catch a Grenade—Bruno Mars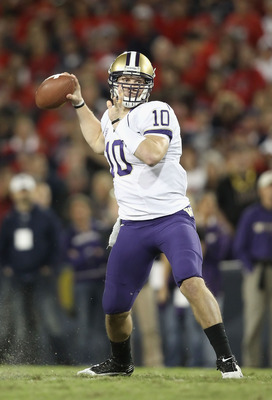 Christian Petersen/Getty Images
"Catch a Grenade" by Bruno Mars is a great song, however it has one major drawback—the message is way too sappy for a popular song.
Locker is a good quarterback, but he has a huge drawback with his bad accuracy—it just may hold him back from justifying being picked eighth.
Locker was highly touted last year, when people overlooked his accuracy issues, just like Bruno Mars was highly touted with "Just The Way You Are."
However, after a year of worse accuracy for Locker and another, sappier song from Bruno Mars, fans are starting to see the light.
9. Tyron Smith: Just a Dream—Nelly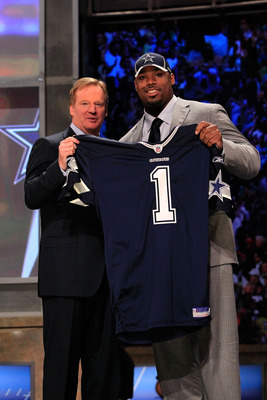 Chris Trotman/Getty Images
"Just a Dream" isn't a great song, but it's not a bad song—people will find reasons to listen to "Just a Dream" when nothing better is on the radio.
With Smith, he's not a fantastic prospect, but with nothing really better on the table, the Cowboys drafted this young lineman.
From personal experience, I know someone who loves this song, so I feel obligated to leave the song on when it comes up and I'm in the car with this person.
Like "Just a Dream," it's almost an obligation for an NFL team to draft offensive linemen, and both Smith and the song are safe, easy choices.
10. Blaine Gabbert: Rude Boy—Rihanna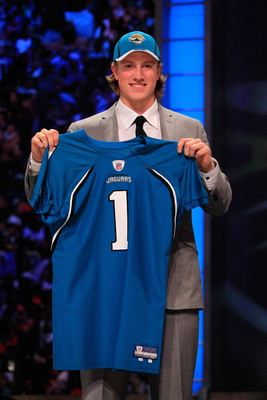 Chris Trotman/Getty Images
From the day that "Rude Boy" came on the radio, many listeners channel surfed to find better songs, couldn't find any, and sat in agony through this song.
"Rude Boy" isn't actually a good song, but radio stations played it over and over for reasons that some are still trying to decipher.
Gabbert, like the song, isn't actually good, but the media kept telling us that he was.
Without any other fantastic quarterbacks to talk about, NFL enthusiasts listened in agony as the media overhyped Gabbert as those same fans waited for next year's better quarterback class.
Keep Reading