Houston Texans: Letting Vonta Leach Walk Is Both Unpopular and Smart
May 27, 2011
Jim McIsaac/Getty Images
Of late, one member of the 2010 Houston Texans has had his name discussed more than any other: Vonta Leach.  This discussion is both on the national and local level.
The All-Pro fullback was honored in NFL Network's "Top 100 Players of 2011" as 65th.  This sparked a debate as to whether a fullback, even the best, should be considered one of the best players in the league.
The premise against this thought is that the role of fullbacks has been diminished because of the emergence of pass-first offenses throughout the league.  Fullbacks, the previous mainstay of run-oriented offenses, find themselves on the sideline more and more in favor of three- and four-receiver sets.
This debate is especially important to Leach himself.  The soon-to-be 30-year-old fullback will be an unrestricted free agent as soon as the free-agency period begins.  Leach was elected the best at his position last season, and he wants to get paid like it.
Leach is a favorite of Texans fans, which is no surprise.  Fullbacks are blue collar-type football players, and Leach personifies that.  Moreover, Leach helped lead the way for the league's leading rusher, Arian Foster. 
As to be expected, these fans don't want to see a change to the status quo.  They want Rick Smith to hand Leach the fat contract that he and they believe he deserves so much.  The only problem is, when Smith was handing out contracts immediately before the lockout, Leach wasn't one of them.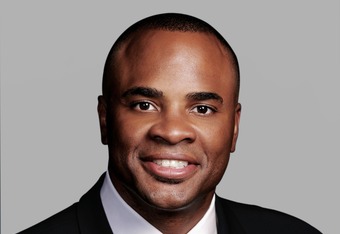 Getty Images/Getty Images
Smith has taken a lot of heat amongst Texans fans recently, but in this matter I truly believe he is doing the right thing.  The only deal that Leach would have signed before testing the free-agent market would have made him the highest paid fullback in the league, something to the tune of $12 million dollars with at least $7 million guaranteed.
This would not have been smart for many reasons.  The first one being, and I know that this is heresy, that Leach is probably not worth it.  That's not a popular opinion, but one that I truly believe.
Leach is going to be 30 next season.  Despite the fact that he has only three career rushing attempts, he has doled out a lot of punishment blocking and has sustained a good bit as well.  Not the best time to sink that much guaranteed money into a fullback.
I know many disagree with the notion that the fullback position has diminished in the NFL, but I think the sentiment is misunderstood.  The analysts suggesting this aren't saying that fullbacks such as Leach or the offenses that feature them are less effective these days.  They are simply stating that they are less utilized by offenses, which is indisputable fact.
The reason that offenses are using fullbacks less is because they feel that having more pass catchers on the field is more beneficial than a lead back.  The NFL is simply a pass-first league these days, and with the rules the way they are a slot receiver is viewed as more productive for the offense.
This lack of league-wide fullback utilization creates less demand.  If only a quarter of NFL teams regularly use an old school bruising fullback, then by deduction you are only competing with a quarter of the league for Leach's services (a quarter is just a rough estimate, not scientifically determined).
Re-signing Leach to a marquee deal wouldn't have been foolish because he isn't worth re-signing.  It would have been foolish because Leach likely wouldn't command that huge deal anywhere else.  It may not be fair, but he likely isn't going to get the money he's looking for.
Having said all of this, I saw what Leach did for the Texans offense last season.  He was an integral part of the zone running game by allowing Foster to make one cut and remain untouched at the line of scrimmage, because he often met the one free defender and took him out of the play.
So what if someone IS willing to give him that type of deal and he walks?  Oh well.  It will suck to see him go, but I would be more inclined to say that General Manager X screwed up than vilify Rick Smith for letting him walk.
The Texans simply do not have the luxury of handing a fullback that kind of money.  Free agency should center on further ensuring that the defense isn't abysmal again.
Not to mention, what do you think undrafted free agent turned league rushing title holder Arian Foster is going to want soon?  Seeing Leach get paid a fat contract would probably escalate the timeline for his own desire given that it would show him how valuable the existing backfield is to the management.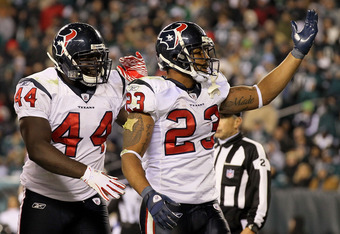 Jim McIsaac/Getty Images
Also, going back to the theory that only approximately a quarter of the league would desire this type of fullback.  If someone hands Leach the kind of deal the Texans won't, they'd only be competing with a handful of teams for his replacement.
After all, Leach himself was an undrafted free agent.  Only four fullbacks were even drafted last month, leaving quality options like Pittsburgh's Henry Hynoski or Georgia's Shaun Chapas.  Will they be as good as Leach?  Certainly not.  But the drop off in talent is probably worth $7 million.
That's what we as casual fans don't often understand.  The NFL isn't a popularity contest, or a pickup football game at the park where you pick the best player no matter what.  It's a business. 
Giving Leach the type of deal that he is looking for does not make business sense.  I hope that he doesn't get the deal he's looking for from someone else and he re-signs with the Texans, but the risk of that not happening isn't worth the price. 
I know many of you do not agree with me.  Let me know why either in the comments or on twitter (@JakeBRB)