Oakland A's: Bob Geren Makes Contradicting Statements on Closer Role, Fuentes
May 27, 2011
Christian Petersen/Getty Images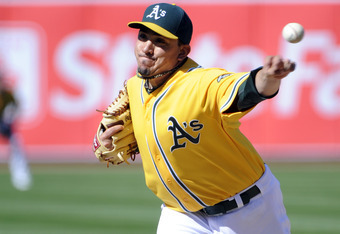 Thearon W. Henderson/Getty Images
It is not uncommon for managers to make strategic errors or to lose the trust of his players due to a lack of communication.  It is far less common for a manager, as Oakland A's manager Bob Geren has done, to offer a false statement about his managerial philosophy. 
After being swept last weekend by the Giants, reliever Brian Fuentes blasted Geren for what he called "unorthodox managing," when he was called upon in three-straight tied ball games at AT&T Park. 
After Fuentes struggled in all three games, Geren told John Shea of the San Francisco Chronicle that he could no longer confirm any one pitcher as the closer.
"I could use anybody," Geren said.  "It's been that way.  Everybody knows that."
Pardon?  Nobody knows this because it has simply not been the case.  Could you articulate further, Bob?
"I've always said I've used a guy in the right situation," he added.  "The eighth inning is a good spot for [Grant] Balfour.  If there's a better spot in reverse, we could do that, too.  It's about winning games."
Not only did Geren contradict himself by tabbing Balfour the interim closer the very next day, his statement about bringing in relief pitchers based on matchups, not arbitrary roles, is unequivocally false.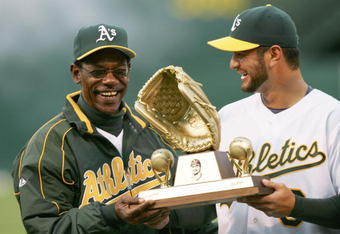 Jed Jacobsohn/Getty Images
Brian Fuentes is a former closer who was brought in to fill that role in the event that Andrew Bailey lost time due to injury, and that was well established in the spring. 
Moreover, Susan Slusser reported that incentive clauses were added to Fuentes' base salary in the event that he closed a large amount of games for the A's, essentially saying that the A's were prepared to use him as an interim closer and that they were also prepared to pay him like a closer in the event that Bailey got hurt. 
With the front office making their expectations of Fuentes' role in the bullpen clear, Geren has followed through by making Fuentes the closer out of spring training with Bailey on the DL, which contradicts his previous statement regarding his supposed well-known inclination to "use anybody" to close games.
Entering Friday's action, in 23 appearances, Fuentes has 11 save opportunities (converting nine) compared to Balfour's 23 appearances and three save opportunities (converting one). 
Even if you hadn't watched any A's games this year, by sheer probability you could reasonably conclude that if Geren's statement were remotely true, the right-handed Balfour would have the majority of save opportunities, considering the majority of hitters in MLB are right-handed. 
Anybody who has watched A's games this year can easily recognize that both Fuentes and Balfour have been confined to their rigid ninth- and eighth-inning roles.  The mere fact that Fuentes hadn't seen a save opportunity since May 8th was due to a lack of closing opportunities (i.e., the team had not entered the ninth inning with a lead of three runs or less).
If Geren is aware of this contradiction, he is a liar; it means he is attempting to insulate himself to criticism by misleading others as to what his managerial philosophy is.  If he sincerely believes that his statements correspond to his managerial philosophy, then he is incompetent. 
Neither being a liar or incompetent is very flattering—in any profession—and ought to immediately call his job into question.   How Geren wasn't asked to elaborate on his egregiously false statements by media is beyond my comprehension.
If it is any consolation to Geren, nobody would have been happier than myself, who has written about the absurdity of the "closer role" and the uselessness of the "save" statistic, had his statements been true.
Had Geren, or any other manager who is willing to challenge long-standing but counterproductive baseball traditions, utilized his entire bullpen in a way that minimized its weaknesses and maximized its strengths, the A's would be better off because of it. 
If the opposing team has two left-handed hitters due up in the ninth, then it would make sense to use Fuentes if he is available.  On the other hand, if all right-handed hitters are due up, then it would make sense to use Balfour if he is available. These factors have not played a part in Geren's managerial style.
The source of Fuentes' frustration affirms Geren's errant statements—that it was clear Fuentes was in the "closer" role, thus when he started being brought into games with the game tied or in the seventh inning without being told in advance, he felt blindsided.
This is fair for Fuentes to say only because Geren's statements are false—that is, everything Geren was doing up until that point affirmed that he was not willing to use anybody at anytime. 
If it were understood that relievers had no specific and well-defined role and were expected to be prepared to enter the game at any time, then Fuentes' complaint should rightfully fall on deaf ears; but this is not the case. 
This also reaffirms recent complaints regarding his lack of communication with players; but if he doesn't understand what is going on in his own head, evidenced by his statements, then expectations of him are too high, and he no longer needs to be employed by a baseball team anymore.
Despite all this, the unfortunate fact remains that Fuentes is not very good, and neither is Geren. 
And, unfortunately, Geren is probably the least likely manager to buck an inept baseball philosophy and literally drop the rigidly defined roles in the bullpen.  Relievers are paid a lot to do very little; it is not too much to expect readiness at any point—if you let them know in advance, that is.