Joe Mauer, Chase Utley and Each MLB Team's Biggest Injury Concern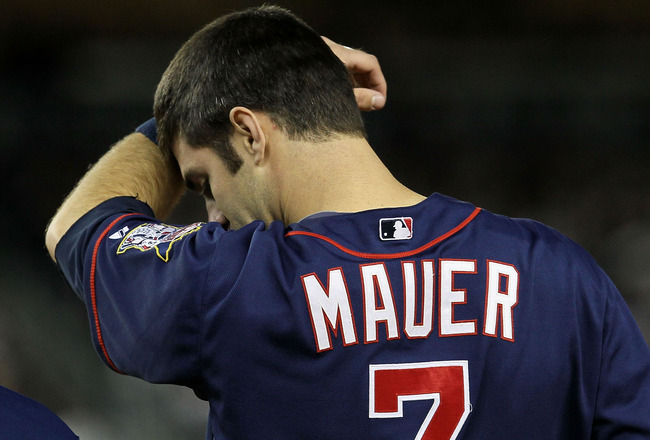 Jim McIsaac/Getty Images
In baseball, as well as every sport, every team has one mutual enemy: The injury bug.
Each team worries about losing their players to injury for an extended period of time.
Some teams lose only minor role players, and other teams lose their star player.
Here is a list of each team's injury concern going forward:
Angels: Kendrys Morales
Morales seemed destined to become a superstar until a freak injury derailed his career.

He lost the rest of the 2010 season, and a setback to injury will cost him the rest of this season.

Instead of carrying the team, the Angels have to worry if Morales will ever get back to his 2009/early 2010 form, which saw him become one of baseball's best hitters.
Astros: Jason Bourgeois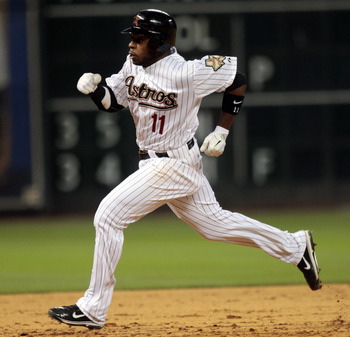 Bob Levey/Getty Images
Jason Bourgeois was one of the few bright spots of the Astros' offense until an injury forced him to go on the DL.

He should be back soon and return to form, but I doubt he'll hit .407 the rest of the way.
Diamondbacks: Zach Duke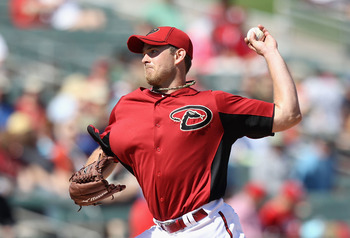 Christian Petersen/Getty Images
Zach Duke was once one of the most prominent young pitchers in baseball, but injuries and the Pirates ruined what could have been a great career.

The Diamondbacks took a flyer on Duke hoping he could salvage some of his elite talent, but he has yet to take the mound for Zona this year.

If Duke can get back to the pre-injury form of his young career, the D-Backs will gain an amazing asset. If not, then they are no worse for wear.
Braves: Chipper Jones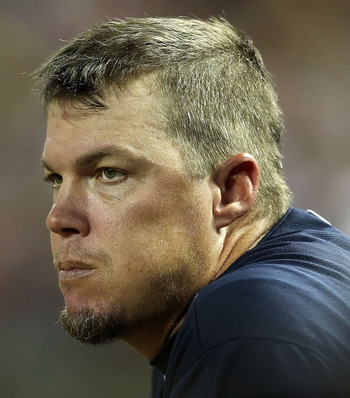 Christian Petersen/Getty Images
Chipper Jones' knee has been a concern since he blew it out last season.

He currently has a small tear in his meniscus but has not missed substantial time since the current tear.

If Chipper can produce through this injury, the Braves could make the playoffs. If Jones is forced to miss time, the Braves will miss the playoffs.
Orioles: Justin Duchsherer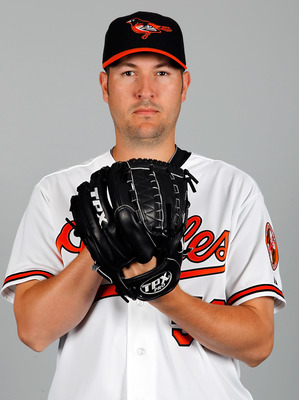 J. Meric/Getty Images
Justin Duchsherer was supposed to be the Orioles' ace this season.

Instead, setbacks have kept him form taking the mound for the O's.

At best, Duchsherer is one of baseball's best pitchers, so the Orioles should be patient with him.
Red Sox: John Lackey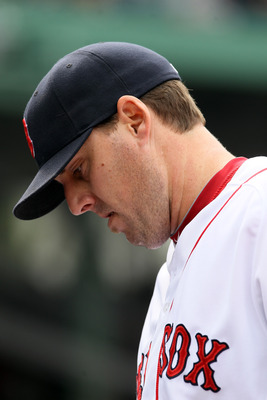 Elsa/Getty Images
The Red Sox gave John Lackey a boatload of money to be the workhorse ace to counter the Yankees' CC Sabathia.

Instead, he has been often injured and underperforming.

Lackey is boasting an 8.01 ERA this season and is on the with a right elbow strain . The Red Sox need him and his elbow to recover for them to make a World Series push.
Cubs: Geovany Sotto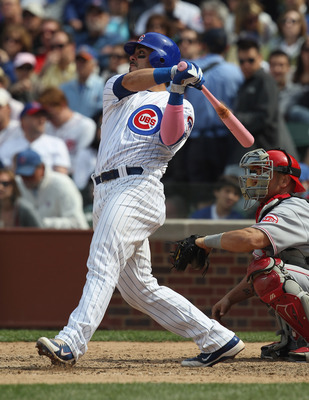 Jonathan Daniel/Getty Images
Soto is one of baseball's best catchers.

However, his balky groin is keeping him off the field. Soto is often injured, but that is part of being a catcher.

If the Cubs are to contend this year, they need Soto to return to his pre-injury form.
Reds: Aroldis Chapman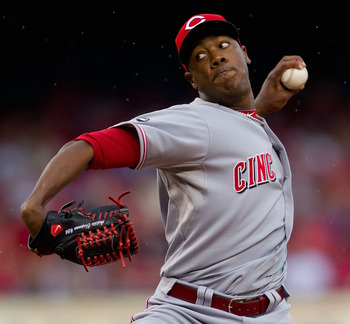 Dilip Vishwanat/Getty Images
Chapman may be able to throw 106 miles per hour, but he has trouble finding the plate and staying healthy.

His toxic stuff is both his gift and his curse, as it causes the two biggest detriments to his game.

These two detriments to his game could be what ultimately keep him from becoming a great player.

No matter what, the Reds need Chapman if they are going to challenge the Phillies for the pennant.
Indians: Grady Sizemore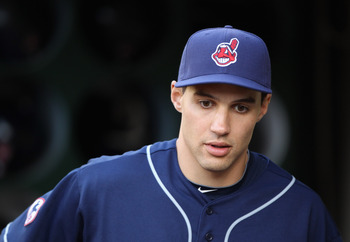 Ezra Shaw/Getty Images
No surprise here, Grady Sizemore has missed more time over the last few years than he's played.

Sizemore is one of baseball's best players, and arguably the best when healthy.

Another trip to the DL this season from a right knee contusion derailed his comeback season.

On the bright side, Sizemore should be back soon, and if Cleveland takes care of him, he may not get hurt again.

Giving him days off will help lower his injury risk.
Rockies: Carlos Gonzalez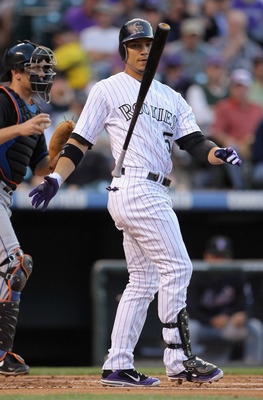 Doug Pensinger/Getty Images
CarGo is finally starting to heat up after a slow and injury plagued start to the season.

Gonzalez is the key to the Rockies' success, as he and Troy Tulowitzki provide the thunder of their potent lineup.

If CarGo can remain healthy the rest of the season, his numbers will pickup and so too will the Rockies winning percentage.
White Sox: Jake Peavy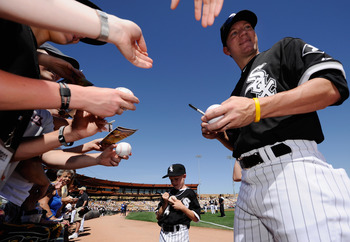 Kevork Djansezian/Getty Images
The White Sox have a below average pitching staff, but the real X-factor on that staff is Jake Peavy.

Healthy and at his best, Peavy is one of the best pitchers in baseball.

However, being healthy and at his best is a rarity for Peavy, especially over the past couple of seasons.

Either way, Peavy alone will make the difference as to whether or not the South Siders make the playoffs.
Tigers: Magglio Ordonez
Gregory Shamus/Getty Images
Magglio is often hurt, but is one of the best pure hitters in baseball.

He may not be as dynamic as he once was, but hitting after Miguel Cabrera and Victor Martinez should ensure lots of production out of Ordonez.

Ordonez is currently on the DL with right ankle weakness, and his career, as well as the Tigers' season, could be over if he can't get back into the lineup and start producing.
Marlins: Josh Johnson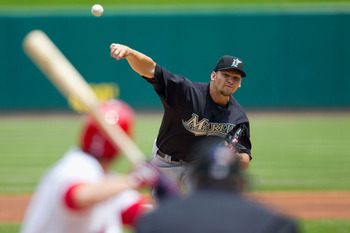 Dilip Vishwanat/Getty Images
This one became obvious yesterday, when Johnson was placed on the DL with an inflammation in his right shoulder.

Johnson is the franchise in Miami right now, so the Marlins can't go a long time without his epic production.

If Johnson comes back at full strength June 1 at full strength, the Marlins will be OK. Anything less than that can ruin the Marlins' season as well as a bunch of fantasy owners.
Royals: Jason Kendall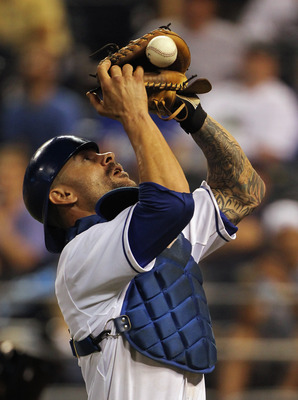 Jamie Squire/Getty Images
The Royals are a young and healthy team, and their only real health concern is Jason Kendall, one of the more dependable backstops in baseball.

Kendall is not the most important cog to the team, but he's a solid role-player and will help mentor a young pitching staff set to emerge over the next year.

There is no telling when he'll be back, but he will pay a role for the Royals at some point if he can.
Dodgers: Andre Ethier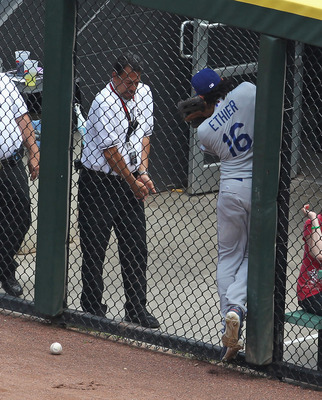 Jonathan Daniel/Getty Images
Ethier got X-rays on his elbow, ankle and toe because he crashed into a wall after Sunday's game against the White Sox.

The X-rays came back negative, but the scare made Dodger fans realize he is their most important player.

Ethier is also mired in a slump over the last week and needs to be healthy in order to get going again.
Brewers: Ryan Braun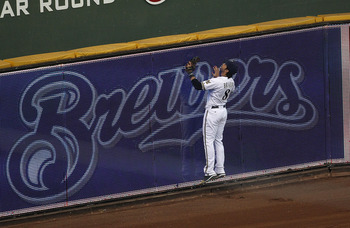 Jonathan Daniel/Getty Images
Not that Braun's shoulder injury from the past week is so bad but because he is the team's best player is the reason Braun is on this list.

Braun is all-world and still hitting, but the Brewers need to be careful with him if they want to have any shot of upsetting the Phillies and Reds in the playoffs.
Twins: Joe Mauer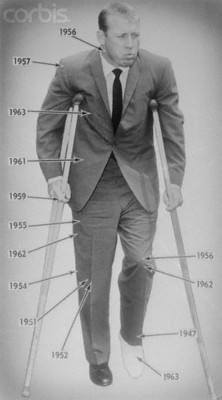 I hope this is not Mauer's fate.
Mauer is probably the biggest injury concern on this list.

He is 28, which is not young for a catcher and has been hurt the entire season.

Mauer has bad knees and a beat up body, which could go at any time. He rather reminds me of Mickey Mantle with the injuries that mount up over the years.

The Twins might be best suited moving him to DH or the outfield in order to protect the huge investment made in their franchise player.
Mets: David Wright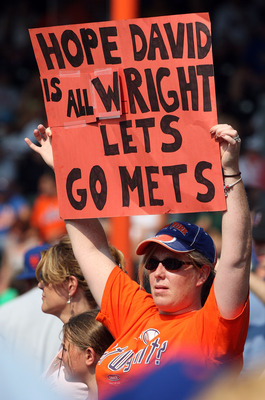 Jim McIsaac/Getty Images
The Mets lost David Wright for an indefinite amount of time due to a stress fracture in his back.

With Wright out indefinitely, all the Mets can hope for is for him to miss the shortest amount of time possible. If he is lost for the season so too is the Mets.

Wright also has a huge amount of trade value for the upcoming trade deadline, and the Mets have a farm system ravaged by the likes of Steve Phillips and Omar Minaya.

The Mets need him on the field for his production and trade value if they have any hope of contending in 2011 and on.
Yankees: Phil Hughes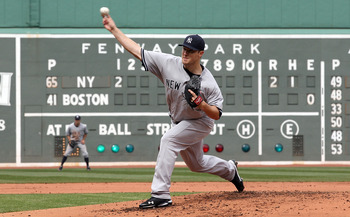 Jim Rogash/Getty Images
Hughes enjoyed a breakout season in 2010 and was expected to contend for the Cy Young in 2011 until dead arm and right shoulder inflammation took away Hughes' explosive stuff.

The Yankees' expected No. 2 starter is now on the shelf indefinitely.

Despite admirable efforts from Ivan Nova, Freddy Garcia and most notably, Bartolo Colon, the Yankees are in a tight three-way race for the Eastern Division title.

The Yanks will need Hughes back and pitching to early 2010 form if they want to eke out another division title.
Athletics: Andrew Bailey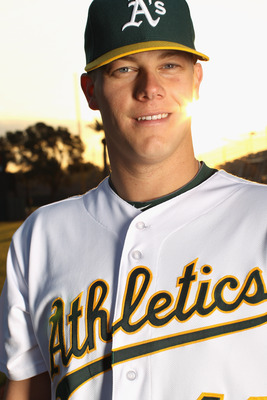 Ezra Shaw/Getty Images
The A's are pretty much out of contention unless they make moves soon.

If they don't, the best the A's can hope for is their closer to return to in order to gauge trade interest for one of their few trade chips.
Phillies: Chase Utley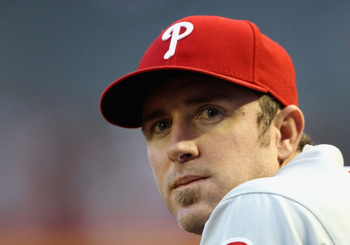 Christian Petersen/Getty Images
Ladies and gentlemen, we should have a Chase Utley sighting Monday.

The Phillies plan to activate Utley from the DL, and he should see immediate action in a lineup that sorely needs his help.

If Utley can stay off the injury table, the Phillies should coast to a World Series title. If not, then they could become the biggest bust in baseball history.
Pirates: Andrew McCutchen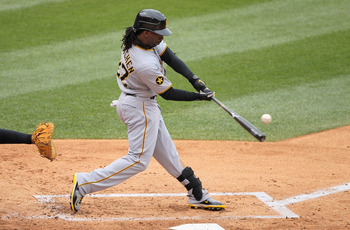 Doug Pensinger/Getty Images
McCutchen doesn't have injury history, but the Pirates stink, and they have no other real injury concern, so keeping the future of their franchise healthy enough to trade him for prospects before his walk year should be their top priority.

At least Pittsburgh also has the Steelers.
Padres: Chase Headley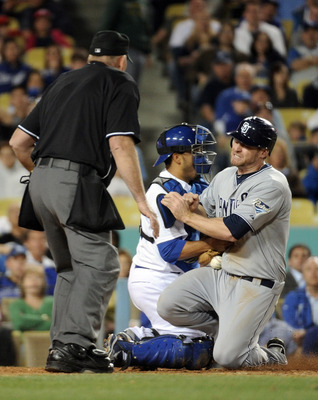 Harry How/Getty Images
Maybe I'm stuck in 2008, but I still think Chase Headley will pan out into a good ballplayer.

He's got a balky ankle but nothing significant enough to keep him out of the lineup for long.

Still, the Padres should be cautious and protect him because he could become one of baseball's better hitters.
Mariners: Erik Bedard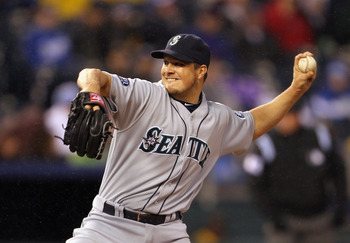 Jamie Squire/Getty Images
Bedard is producing well over the last month and has been relatively healthy since his return from the DL.

A healthy Bedard is one of the best pitchers in baseball, so they have a chance at the playoffs with a rotation consisting of him, King Felix and Prince Pineda.

Still, Bedard is hurt more than he pitches, so the Mariners should coddle him like an overprotective mother in order to keep him in the rotation.
Giants: Pablo Sandoval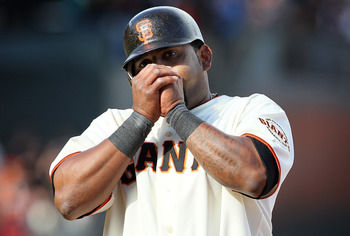 Justin Sullivan/Getty Images
Pablo needs to get back to the Giants' lineup ASAP.

He was enjoying a renaissance in 2011, until he broke his hand about a month into the season.

If the champs want to repeat, they need their third baseman back and producing like he was before the injury.
The NL West is weak, so they need to make sure he is fully healthy before bringing him back.
Blue Jays: Adam Lind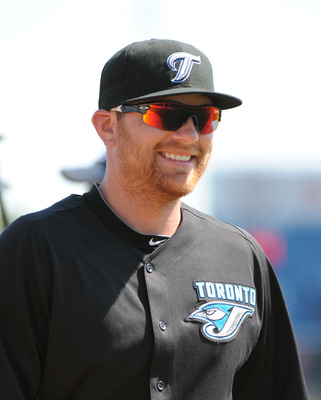 Al Messerschmidt/Getty Images
Like Sandoval, Adam Lind was also enjoying a renaissance in 2011 until a back injury derailed his comeback campaign.

Lind was hitting for both average and power and formed a feared tandem with Jose Bautista.

If Lind can come back soon, the Jays will win a lot more games and could finish at or above .500 at the end of the season.
Cardinals: Adam Wainwright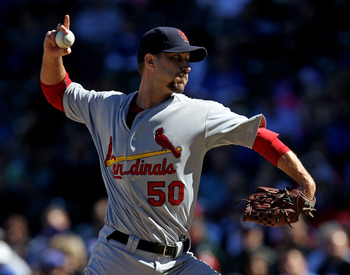 Jonathan Daniel/Getty Images
He's lost for the season, but if he doesn't come back strong in 2012, the Cardinals are in serious trouble.

Wainwright is the ace of the staff, so a regression in ability could cost the team for years going forward.
Rangers: Josh Hamilton
Someone call Viggo Mortenson, because Monday should be Return of the King day in Texas.

Josh Hamilton is expected to return to the lineup after the freak injury derailed his sure-fire MVP campaign.

The Rangers need their MVP back if they want to defend their pennant in 2011, so giving him days off to keep him fresh is not a good idea.
On a Side Note...
This is how I and all fantasy baseball players are going to react to Hamilton's return to the lineup.
Rays: BJ Upton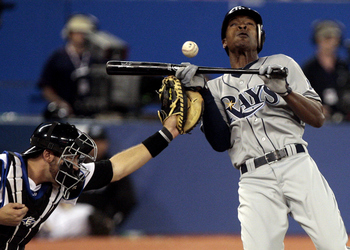 Abelimages/Getty Images
Believe it or not, BJ Upton is the elder statesman on the Rays.

When healthy, Upton is one of the best all-around players in baseball.

However, Upton seems to be the victim of constant nagging injuries that sap his offensive proficiency.

If the Rays can keep him healthy, they could win the division. If not, there's always next year.
Nationals: Stephen Strasburg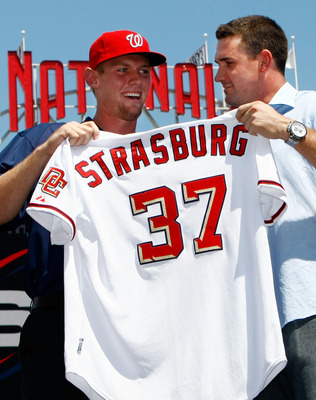 Win McNamee/Getty Images
Ryan Zimmerman's injury is more important in the short term, but Stephen Strasburg is far more important to the Nationals in the long term.

Strasburg is the future of Nationals baseball, and his destiny is very much the same as the franchise's, so they need to ensure he is healthy going forward for 2012.
Keep Reading