MLB Fans Should Assume Some Responsibility for the Steroid Scandal
May 20, 2011
Chris Trotman/Getty Images
Baseball fans had a huge role in the scandal they now scorn.  How many of us know it?
This article in some ways, is a contradiction.  I'm tired of hearing about steroids in baseball, you're tired of hearing about steroids in baseball, baseball is tired of hearing about.... well, I digress!
As it concerns the topic itself, the issue is outdated.
We all know players cheated the game.  We all know the home run races were fun with an asterisk.  Everyone is aware of how the game was so reluctant to maintain its own purity.
We've all heard about the lies, cover-ups and adulterated record book that threatened the public image of Major League Baseball.  
Fans called for fines, terminations, and asterisks.  Players cried foul, feeling unfairly persecuted.
Sure, they did it, but nobody seemed to have a problem despite all of the evidence right in front of them.  We all rallied the cause, many (if not most) of us cheering unabashedly for home run No. 63.
It was great for the game, recovering fans from the strike.
Then, years later, we awed at Barry Bonds and homerun No. 71.  It's not as though we didn't know what was happening—or why—or, most importantly, how!
But how many of us acted like we'd stood for a moral high-ground in those days when none of us were truly ignorant to what was happening?  That summer when we cheered loudly for arms that were thicker than tree trunks...
On one hand, I feel that guilt has truly set in for many of the game's best players, considering the lack of integrity they have felt since Jose Canseco put the issue on the forefront.
If "the truth sets you free," Alex Rodriguez embodied the notion. As much as anything, though, we silently told them (and MLB) that this was OK.
I'm sure there were those who watched who didn't appreciate baseball's juiciest era (or is it the juicing era?) and some may have been vocal about their concerns.
For those of us who chanted "pitch to him" in the late July, we can't make that claim.   We also couldn't take away the creams and syringes. Nevertheless, we knew steroids were in use, yet we cheered them on, and then threw them back at the request of the government.
For the fans, it's not a matter of fault; it's a matter of who we shouldn't blame, or more importantly, who else we should blame for the extend of the issue: ourselves.  
I believe players had the right to feel violated as the fact is we, the fans, knew what was happening.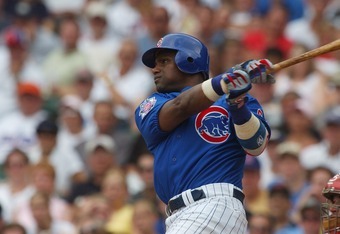 Jonathan Daniel/Getty Images
I can't stress it enough. We KNEW!
I hear everyone talk about it like it was a major revelation, but the truth is the investigations were simply the confirmation of an issue we didn't care about in the wake of such entertainment.
Like a herd of sheep, fans heralded the homerun races, cheering the hulking muscle-men and their brick-thick biceps with every hydraulic-amped swing of the bat.
Rest assured, the support of the "long ball" game was largely the result of the players' ability to provide it.  In an indirect manner, the public and players alike heralded the age of performance-enhanced statistics.
In this manner that may have been unintentional, we all ignorantly stamped endorsement for steroids through misplaced cheers. 
Even if unconsciously, the blame is for us all.  Yet, how few are the fans who admit their role.  If the use of steroids broke the code of conduct in your ethical system, and you fiercely opposed that summer of 1998, you are rare.  For the rest of us, there's nothing to confess, but a lot less to judge. 
From the onset of the investigation of star athletes, my concern wasn't exclusively with the historical skewing of an honorable game as much as with the our reactions.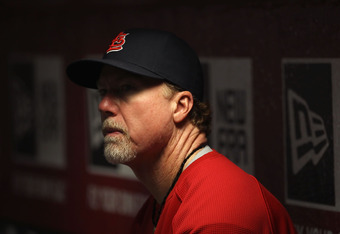 Christian Petersen/Getty Images
Once apathetically happy to let it go (or quietly supportive), our thoughts turned sour and became largely vocalized when Big Brother got involved with the issue.
And, I gotta' tell 'ya....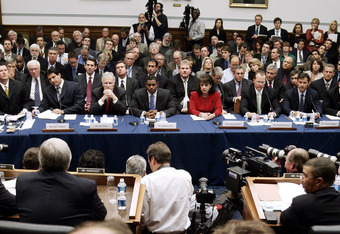 Pool/Getty Images
I became offended by a public that took no personal accountability.
We knew that no man grows like the Hulk like these men did.  Yet, after our cheers, we happily took the moral high ground while baseball took its blame.
And rightfully so.
They were to blame, but that's not the point.  The point is:  Who were we to judge?   We had our foot on the gas pedal.
The public persecutes Sammy Sosa, Big Mac and others for using steroids in order to achieve—nay—attain (achievement should be natural) records.  However, I find it amazing the public condemns these Gaming Goliaths and Baseball Behemoths.  
In 1998, I was at a Pittsburgh Pirates game at Three Rivers Stadium.  Reasons to go to a baseball game in Pittsburgh by that point were fireworks or promotional give-aways.  The team was just starting its record tailspin.
Most of the fans in the stands at the time couldn't name five players on the Pirates roster.  The stadium was packed.  The Cardinals were in town.
Nobody was there to watch Orlando Merced!
Guess who they came to see?  They paid their hard-earned money and chose to come to the baseball game  to watch Mark McGwire, on a white-hot homerun streak, crank the ball out of the ballpark.
It wasn't for the old bowl (affectionate for Three Rivers Stadium) or a great pitching performance by Francisco Cordova.  In fact, they'd have traded a Pittsburgh win for a McGwire home run.
It didn't happen, and thousands left disappointed...after a Pirates win!
It's not to say we promoted steroids, but we all knew what it was. Yet, there we were.
We paid to watch Mark McGwire.  Plain and simple:  We advocated the behavior and reinforced it.
Ignorance may be considered bliss, and while ignorance may be the plea of innocence to which these observers ("fans") enjoyed the record home run races of the former decade, I'd like to be able to take a moment to transplant myself from the "now" to the "then."
I'd be sitting beside them, eating a hot dog as Big Mac came up to bat.  I'd ask them, "Do you think Biceps McGee down there uses steroids or other substances to give him an advantage?"
Let me ask:  did you?
Let me be clear. It's great to clean up the game, and the game needs cleaning.  Players cheated.  But we the fans didn't just sit back and watch it happen.  We knew about it.
And we vehemently endorsed, promoted, financed and enjoyed the show.  
If not for Jose Canseco and a federal investigation, we'd be loyal to the long ball to this day, blindly skewing our moral compass for the sake of entertainment.  We did it for years.
Not until we (and I use the term generally) were told to be mad did we voice any concern over the matter.  The government intervened, and suddenly, we knew the error of our ways...
Actually, that's a load of something nasty.  The truth is we threw the players we paid to watch to the sharks and acted like we knew better all along.  Yet, we didn't.    

Jose Canseco did.  And, frankly, that's about it.
It's not that we should be ashamed for rooting or having an opinion about the matter.
It's that we are not so innocent and should reserve our judgments. While Palmiero lied to Congress, we all lied to ourselves. A lie is a lie, and that's point blank.

Casual fans have a role in creating a culture that advocated steroid use.  Nobody wants to accept personal accountability.  I'm guilty, too.
The culture created was the cumulative effect of every fan who chose to buy a baseball ticket to see a home run—as opposed to a game—and didn't care whether it was fair or not.
We shouldn't act like we're front-line for anti-steroid use.  Most of us are not, evidenced by our post-strike intrigue for MLB, catalyzed by the home run race.

Obviously, players had a moral and ethical decision to make, and they failed in their decision-making, choosing to lend themselves an unfair advantage through PEDS.  Baseball is even more to blame, for turning their glare of the entire issue away from steroids and onto the home run race.

The MLB strike certainly caused MLB to take a morally curved stance on a lot of things.  They can deny it, but it's the truth.
FACT:  Whether or not we want to admit it, the home run race helped reinvigorate baseball. 
TRANSLATION: Steroids reinvigorated baseball.
Weird to hear, and not a comfortable statement, but in many ways, it is the truth. Baseball wouldn't want you to hear it either, but they also know it didn't hurt. 
I'm tired of SportsCenter ripping these players apart when they—before any government intervention—heralded Barry Bonds as an athletic hero.  And they did.
They always bite that feeding hand; feeding and nipping right down the line.
Do we need to recall Mark McGwire or Bonds' kids in the stands, signs up in the air, reading "Please pitch to my daddy?"  They certainly didn't say, "Please send daddy to prison." We advocated with no stance to the contrary.

If you are truly anti-steroid, that ticket you bought to watch the Pirates-Cardinals game in 1998 was truly for the game.  Not for the home runs.
And, if it was for the home runs, don't be offended.  I went for the long ball, too.
I suppose now that, instead of judging, we should be grateful for a heightened awareness, enjoying the memories of the asterisk race that we all relished those 13 summers ago.