Oakland A's Should Look to Trade Brian Fuentes When Bailey and Devine Return
May 19, 2011
Thearon W. Henderson/Getty Images
With last year's closer Andrew Bailey set to begin a rehab assignment at Triple-A Sacramento on Friday and Joey Devine, a dominant reliever who missed all of 2010 recovering from Tommy John surgery, resembling his former self in the minors, the A's should look to trade their highly-paid fill-in closer Brian Fuentes over the coming months. 
The A's in the offseason added Fuentes along with fellow high-priced veteran reliever Grant Balfour, both to two year deals paying them each between $4-$6 million annually. 
After missing out on high priced bats in the free-agent market, the A's decided to add valuable pieces to their bullpen, knowing full well that they could become trade pieces if the A's either fall out of contention or the A's bullpen becomes so strong that it becomes crowded. 
The latter appears about to take place. 
Currently, there is only one available roster spot in the bullpen (held by recently called up Tryston Magnuson), with Tyson Ross now a fixture in the rotation after Braden's season-ending shoulder surgery.
Bailey will certainly take Magnuson's spot, but it is less clear both when the A's will call up Devine and who will be taken off the roster to accommodate him.
There are a number of reasons why trading Fuentes will make the A's better now and perhaps help them in the future by acquiring some prospects.
First, Balfour is a much better pitcher than Fuentes, yet Fuentes probably has just as much, or even more, trade value than Balfour due to his closing experience with the Rockies and Angels and the fact that he's been relatively successful in that role so far this year. 
It would be difficult to get anything for Fuentes this early in the season, but as the summer wears on, teams that have holes in their bullpen and are preparing for a stretch run will be in the market for an overpaid left-handed reliever with closing experience. 
It's best that the A's pursue this as aggressively as possible because the longer Fuentes—or anyone else—keeps Devine off the active roster, the longer the A's are saddled with something other than their best possible bullpen.
Devine, when healthy, is arguably their best pitcher, period. In 2008 before getting injured, Devine looked like the closer-of-the-future, pitching 45 innings out of the bullpen with a 0.59 ERA and 0.84 WHIP and 49 strikeouts. 
The A's appear to still be giving him some time in AAA—as of last week, he has yet to pitch in back-to-back games—but once he has proven healthy after working consecutive days, there is no point in keeping him down there. 
Second, Fuentes turns 36 in August, makes over $5 million, and is not overpowering left-handed hitters like he has most of his career. His numbers are still respectable (3.98 ERA, 1.13 WHIP, nine-for-11 in save opportunities) and his ERA is slightly inflated due to a couple of horrid outings.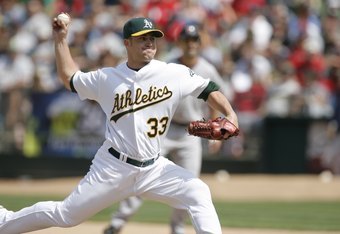 Greg Trott/Getty Images
Despite his age, though, Fuentes is still an above-average relief pitcher who could bring the A's back some prospects to help fill their areas of needs, while also saving them some money and making them better right now by opening up a roster spot for Devine. 
The role of "closer" has a highly inflated market value in MLB, and the A's know this full well. A's general manager Billy Beane has always been reluctant to pay a relief pitcher market value (i.e., overpay) but most teams are not. 
The A's will certainly look to deal Fuentes if they fade away from the AL West race, but anything other than a three-way competition down to the final week of the season between the A's, Rangers and Angels appears unlikely at this point. 
And regardless of where the A's stand, dealing Fuentes to a contender makes sense in both the long- and short-term. My hunch is that the A's had this very idea in mind when deciding whether it made sense to add two highly paid veteran relievers to an already strong bullpen. 
Adding Balfour and Fuentes was much like a security blanket in case of injuries or if Devine couldn't recover, while also possibly being trade pieces should either the bullpen be strong but overcrowded or, in the worst case scenario, the A's are out of the hunt.