Philadelphia Eagles
2011 NFL Fantasy Football: Can Jeremy Maclin Become the Philadelphia Eagles WR1?
May 17, 2011
2010 Review
Jeremy had himself a very solid, if not exceptional sophomore season for the Philadelphia Eagles. Seeing that he'll be just a 25-year-old moppet come 2011, fantasy owners should be plenty excited about his future as it seems Maclin has only scratched the surface on how dynamic a WR he can become.
Though initially tabbed as the team's "possession receiver" and WR2 behind fellow starter DeSean Jackson, Maclin hardly acted the part putting up more catches, touchdowns and fantasy points than DJax.
J-Mac started out the year on a serious tear hauling in four touchdowns over the team's first three games. His searing start would not go unnoticed as he quickly drew both the trust and faith from his QB (whether it was Vick or Kolb) and coaches.
In just his second year out of Missouri, Jeremy would grab a respectable 70 balls for 964 yards, totals which produced a stunning 10 TDs on the season (all were career highs). Only nine other receivers would reach the double-digit mark in touchdowns, thus putting Maclin amongst the players normally referred to as the "elite."
Announcing his presence with authority, Jeremy's involvement in the offense began to grow as evidenced by his increase in targets. Before long, Maclin became a force nearly as feared as DJax and Vick.
Well, almost.
The most impressive thing about Maclin's breakout season was his ability to accomplish what he did despite there being a hoard of other players on the team just as deserving of the ball as he was.
In other words, with the Eagles offense as chock-full of talent as it is, from the quarterback down to the tight end, it's amazing the type of high-end fantasy numbers Maclin was able to accrue from his WR2 position.
My gut says this is just the beginning of an outstanding career for Jeremy.  He can already do most anything asked of him, such as catch the ball in traffic, go over the middle, run a precise route, block out on the perimeter, or even carry the ball out of the backfield when needed. 

With DeSean Jackson still being more of a one-trick pony than anything else, you can bet Maclin will be asked to do all that and much more next season; which of course can't hurt his fantasy owners.
That said, with the plethora of talent Philly possesses on the offensive side of the ball, it's tough to say J-Mac will be anything more than a fantasy WR2 in 2011. Still, you never know.
If he happens to take another step forward during his third-year campaign, whoever is smart enough to draft him in your league will basically be sitting on a silver-plated gold bar filled with some oh-so spicy fantasy goodness.

2011 Pros and Cons
(+) Maclin has the necessary speed, size, route-running, work-ethic and offensive system to become a household name
(+) With DJax lined up on the other side, he may be labeled as more of the "possession receiver" in this offense, but he still has big-play capabilities, as evidenced by his three TDs from 45 yards or more
(+) Developed a real strong rapport with Michael Vick – led the team with 116 targets (DeSean had 96)
(+) Andy Reid knows talent, so you can be sure he'll do whatever it takes to get the ball in Maclin's hands
(+) Jeremy is a real strong clubhouse guy who will always do anything and everything asked of him
(+) Ended up with more receptions (70 to 47) and receiving TDs (10 to 6) than DeSean Jackson, which ultimately landed him higher up the fantasy list as well (160.0 to 158.0)
(+) Should have been a top-10 pick in the 2009 NFL Draft (ended up 19th). Nice call, Al Davis! (WR Darrius Heyward-Bey was seventh overall)
(–) Made some (uncharacteristic) drops last season that we hope doesn't become a habit
(–) Will have to compete for targets again in 2011—Maclin, DJax, LeSean McCoy, Brent Celek and Jason Avant all ended up with 75-plus last season
For the rest of Jeremy Maclin's Player Profile, CLICK HERE
Follow Pyro® on Twitter: https://twitter.com/pyroman1ac


(brought to you by PYROMANIAC.COM)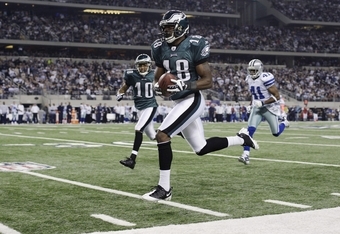 Jamie Squire/Getty Images
Like the new article format? Send us feedback!