Cam Newton: 5 Innovative Ways the Panthers Should Consider Using Their Rookie QB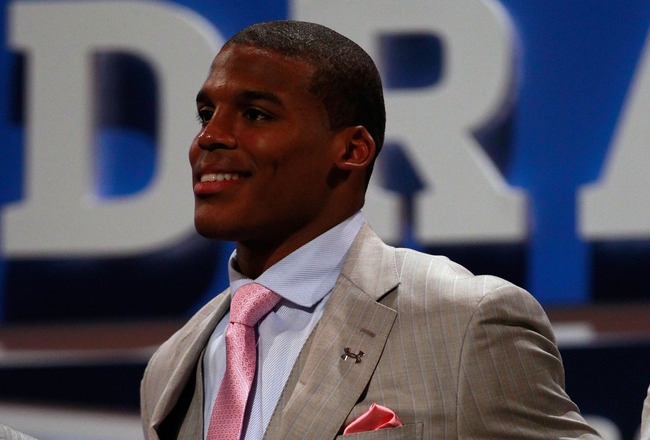 Chris Trotman/Getty Images
The Carolina Panthers decided to go big or stay bad and draft quarterback Cameron Newton out of Auburn. He is a Heisman winner, a Manning award recipient (Best College Quarterback), and a National Champion.
Despite these accolades and more, many questioned the pick because he doesn't match up with highly drafted quarterbacks of years past and he doesn't compare to Stanford's Andrew Luck. You know what I have to say to that? Good.
I don't want Newton to be like Matt Ryan, Josh Freeman, Sam Bradford, etc. I want someone unique, someone who can't be compared to. Plus, to say he can't be compared means that he can be more than just a quarterback.
Here are a few innovative ways to use the 6'5" athletic freak.
5. Spread Offense
Cam has been criticized consistently for the fact that he ran a spread offense. He succeeded in a system that is not used in the NFL. My idea is why not use it? Why not incorporate a system Newton knows and excels in?
It wouldn't be the first time a college system has infiltrated the NFL. Last time I checked, the Wildcat was a college creation not a pro-style offense. Newton would have familiarity with the system and since it is not a common occurrence in the NFL it might actually be effective.
I'm not saying switch the offense to all spread, but to incorporate it would ease Newton into the offense and bring variety to the Panthers playbook.
4. Back to the Newton
When a team has an athlete, they need to try and utilize their abilities past what is expected of them. The Panthers have Newton as their athlete and throughout last season Newton showed that he did not shy from contact. He is very mobile, agile and is not easy to bring down.
Newton as a running back would certainly put a spin on the offense and would help maximize his athletic abilities. Newton in the backfield, especially in a shotgun formation, would make the defense second guess themselves.
The Panthers could do a toss to Newton, they could do a halfback pass, or on goal line plays have Newton and his 6'5" size go over the top. There's less risk of injury on goal line with the right side the Panthers have and his size with athleticism would make goal line almost guaranteed.
3. Fig-Newton

Let the man loose

The Panthers could create their own package around Newton. There could be a little option or could include where everyone just runs deep and leave it up to Cam to decide. He could use his big arm and throw it deep, or if enough defenders have cleared out he can run.
A special thing about the Panthers' schedule is the defenses of the competition. All but the Packers, Cowboys and Texans are 4-3 defenses, and the Texans will have more 4-3 aspects than the Cowboys or Packers. This means with 4 wide or empty backfield all Newton would have to do is get past the front 4 and it's basically him versus the land of the little people.
If Newton is anything like Josh Freeman or Vince Young then good luck trying to tackle him if you're 5'9" or 5'10".
2. Cam Air
The first innovative idea that comes to mind with a 6'5" athlete who can run is "why not put him at receiver?" The guy is big, tall and will win any jump ball.
Newton could go out on a reverse pass, misdirection plays, or like mentioned earlier on goal line plays. It could even just be a quick out pass to newton and let him make the corner an official part of the landscape.
This would also keep Jimmy Clausen involved and get the two to work as teammates. Newton may even double as a decoy because of his size and athleticism. He may cause the defense to shift to his side allowing for Steve Smith or Pilares one-on-one action and create a big play.
A better idea might be to, seeing Carolina is a running team, put Newton as a receiver and have him block. I would not put him out on a toss as the defenders would be tempted to go low and a toss would draw some of the bigger people towards him which would not be good. Newton out blocking on a receiver screen, on the other hand, might work as he can use his size to plow the road along with Brand LaFell. They would clear out the defenders for David Gettis or Smith.
1. Predators Package
The offense has not utilized Armanti Edwards. We traded away the first pick in the second round to draft him and he rode the bench the entire year. Now, it is time he proved himself or Ron Rivera will have no problem sending him off.
Edwards' hairstyle has earned him the nickname "Predator" from some fans. What if they had Newton, Edwards and Clausen on the field at once? Talk about options, possibilities would be numerous with that kind of personnel package.
The Panthers could take the Wildcat and put it on steroids, HGH, a sugar high and jasmine herbal tea to create a revolutionary offensive package. Three quarterbacks, two of which can line up at receiver or in the backfield, on the field at the same time along with DeAngelo Williams or Mike Goodson would create so many possibilities I can't name them all.
There could be flee-flickers, reverse flee-flickers, tosses, screens, or maybe just a quick pass to Armanti with Cam next to him and they can run down the field together with the option of a pitch or an across the field pass. There would be lots of room for creativity and originality.
This would also be an interesting package with just Armanti and Cam. They could have something like the Browns' Cyclone package that has Josh Cribbs and Seneca Wallace work their magic at the same time.
Newton is uniquely gifted and there's no reason his offense cannot be just as unique.
Keep Reading

Carolina Panthers: Like this team?