Cubs vs. Cardinals Live Blog: Westbrook Faces Garza in Game 2 at Wrigley Field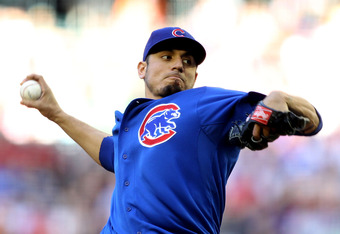 Christian Petersen/Getty Images
After the St. Louis Cardinals (21-15) got Chris Carpenter his first win of the season against the Chicago Cubs (15-19) last night, the two teams face off again tonight at Wrigley Field.
Matt Garza takes the mound for the Cubs. Garza has a 4.43 ERA to go with a 1-4 record. In his only start against St. Louis, he gave up seven runs in 4.1 innings pitched.
Albert Pujols and Yadier Molina are both one-for-three against Garza, and Matt Holliday is two-for-nine.
Meanwhile, Jake Westbrook will try to regain some consistency for the Cardinals. He's had flashes of brilliance lately, but has overall been disappointing, sporting a 2-2 record with a 6.14 ERA and 1.75 WHIP.
The key matchup for Westbrook will be Cubs first baseman Carlos Peña, who has hit Westbrook to the tune of a .313 average with five doubles and four home runs.
The Cardinals come into the game with a 1.5 game lead on the Cincinnati Reds for first place. The Cubs trail St. Louis by five games, and will want to make up some ground if they hope to compete for the division title.
The weather at Wrigley is expected to be cloudy, with a chance of scattered thunderstorms and a game time temperature in the low-70s.
First pitch is scheduled for 7:05 CDT (8:05 EST).
Berkman misses on a dive and Soriano scores as well. Hill makes it to third, and it's 9-1 Cubs. At this point, there's little chance of a Cardinals victory. Or of Franklin seeing any additional opportunities before the next Old Timers' Game. Duncan's leaving him in to take a beating.
Really, you can sum up this game as a tale of two contests. The first was before the rain delay. We had a good pitchers' duel going, and Garza and Westbrook looked they were going to go deep into the game.
After the rain delay, things were completely flipped. Slippery grass combined with slippery baseballs uncovered a naturally shoddy defense, and Westbrook was a different pitcher, allowing seven consecutive runners to reach base. Garza, who was just removed for a pinch hitter, showed no ill effects, although he did benefit from a widened strike zone.
I'll stop with the updates here. Colvin just brought in another run with a groundout, and it's 10-1. Chicago and St. Louis will meet in what will likely be the rubber match tomorrow when Jaime Garcia (4-0, 1.99 ERA) faces Casey Coleman (1-2, 6.29 ERA). First pitch is expected at 2:20 EST.
Soriano follows up with a single and it's 8-1. Franklin has yet to retire a batter in the fifth.
Ryan Franklin continues to be hit hard as Castro socks an RBI triple to right. 7-1 Cubs.
Rasmus strands two to end the top of the fifth. It seems like the Cardinals are one big inning from getting right back in the game, but one big inning away from being out of it.
Holliday guns down Fukudome at the plate. It seems like the Cubs have no luck scoring on plays at the plate. If anyone has a stat on that, I'd be interested. Going into the fifth inning, it's still 6-1 Cubs.
Franklin's on to pitch, and he gives up a leadoff double to Fukudome. I expected to see Franklin in tonight's game. He hasn't pitched in over a week, and it's probably too much pressure for a replacement manager to keep a former All-Star out of the game for too long. At least it's in a blowout.
Garza gets Laird swinging to end the inning. In other news, Dave O'Brien is unclear on the definition of "striking out the side", which can, in his mind, be done despite walking a batter.
In addition to the ill effects of the rain delay on the Cardinals, it appears the weather has affected the way Dana DeMuth sees the strikezone. Strike two on Pujols and strike three to Holliday were clearly balls, according to ESPN's K-Zone. Strike three to Berkman looked outside, too.
On another note, it's good to see Westbrook sticking around to watch the game. Sometimes I feel like the pitchers are detached from the game after they've been pulled.
Motte is able to punch out Hill and Garza to end the frame, but the damage has been done. After three innings, Chicago leads 6-1. Garza will throw his first pitch in over one hour to Albert Pujols to lead off the fourth.
Soriano inches the ball by the drawn-in infield and the Cubs are up 6-1. Seven straight runners have reached base for Chicago.
Castro reaches third on a slippery single that gets by Rasmus, and it's 5-1 Cubs. The game's far from over, but it's clear that the weather is affected every facet of the Cardinals defense.
Carlos Peña's two run double to the left-center gap makes it 3-1. It looks like the rain delay has definitely taken a lot out of Jake, and Pettini gives him the hook in favor of Jason Motte against Castro. This at-bat could be a turning point in the game.
Aramis Ramirez comes through with a bases-loaded single to right and the game is tied at 1-1. The Cardinals already have their bullpen working in the third inning. Interesting decision by Pettini and Duncan.
Westbrook's coming out to start the bottom of the third amidst peals of thunder and strikes of lightning. Garza's leading off, so it appears neither pitcher will be directly affected by the delay. Pettini and Quade both did their best to keep their pitchers healthy despite no batting cages and tunnels at Wrigley, which is antiquated at best.
The rain has stopped and sources say that baseball will resume in about twenty minutes
And here comes the rain. We've got a rain delay in the bottom of the third. Just when we thought the rain was going to pass us by, it took a turn for the worse. Forecasts expect the storm to pass quickly, but for now, baseball has stopped on the North Side. St. Louis leads 1-0 midway through the third.
Rasmus rips a line drive - into a double play at first base. Peña's a good fielder, but most of that was luck. Rasmus hit it right at him, and all he had to do was put his glove up and beat Theriot back to the bag. He was in the right place at the right time and was able to capitalize. Garza escapes the third with just the one run and leaves Pujols on deck.
Garza gives it the old college try, but he comes up empty, and the Cardinals are on the board with Ryan Theriot's infield single in the third. Rasmus, Pujols, and Holliday are coming up with runners on the corners and one out. This could turn out to be a key at-bat.
Westbrook gets Koyie Hill to tap out to first, and the Cubs squander yet another opportunity, failing to score with men on first and second with nobody out. These are the sort of things that happen when you're in a slump. Westbrook kept to his credo of ground balls. This is shaping up to be a pitcher's duel through the first two innings.
Rasmus guns down Ramirez at the plate on Castro's single up the middle. It wasn't the best throw, but Laird was able to get back to the plate and block Ramirez's slide. That's the fourth play at the plate in the first games and one-third of this series
Soriano flies out to right for the second out of the inning. He's know 3-for-22 against Westbrook in his career.
Aramis Ramirez slaps a single to right center for the first hit of the game. Rasmus makes a nice play to hold him to just the one base. Rasmus really looks much better on defense this year.
Pujols comes to the plate to a smattering of cheers, but mostly from Cardinals fans. After running the count to 3-0, he lines out to center field to end the inning. Cubs fans are doing their best to bring Pujols to the North Side, but I still doubt he leaves St. Louis.
First pitch is over for a called strike to Ryan Theriot. The fans have settled in and it looks for a beautiful night for baseball.
Thunderstorms have passed and it looks as though tonight's game will go interrupted. First pitch is moments away. I'm interested to see what kind of reception Albert Pujols gets from the Cubs fans.
Joe Pettini and Mike Quade have handed in their lineups.
Cardinals:
Theriot SS
Rasmus CF
Pujols 1B
Holliday LF
Berkman RF
Laird C
Punto 2B
Descalso 3B
Westbrook P
Cubs:
Fukudome RF
Barney 2B
Byrd CF
Ramirez 3B
Peña 1B
Castro SS
Soriano LF
Hill C
Garza P
The biggest notes are at the catcher position.
Koyie Hill gets the start for Chicago after Geovany Soto was placed on the 15-day disabled list with a left groin strain after he was removed on Tuesday before taking an at-bat. Gerald Laird is starting for the Cardinals to give Yadier Molina a break. Molina has played in St. Louis's last eight games.
This article is
What is the duplicate article?
Why is this article offensive?
Where is this article plagiarized from?
Why is this article poorly edited?

St Louis Cardinals: Like this team?