New York Yankees: Bernie, Paulie, and 3 Others Whose Numbers Should Be Retired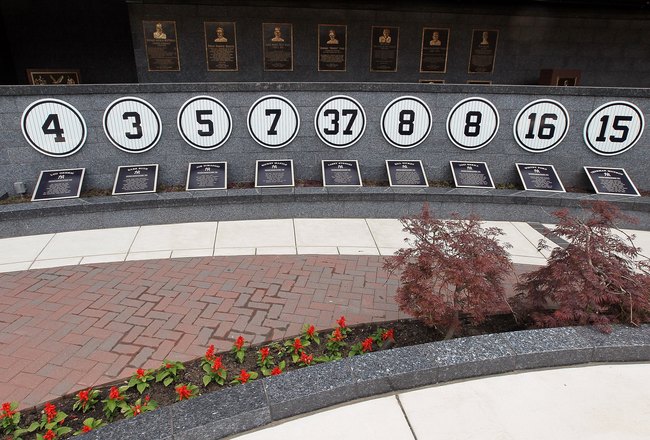 Jim McIsaac/Getty Images
There is no greater tribute an athlete can have bestowed upon them by the franchise they played for then to have their uniform number retired, cementing their legacy and ties to the franchise forever.
These ceremonies are always emotional—the player's family joins him on the field, former teammates come back for the celebration, and the fans get to express their gratitude and say goodbye one more time.
With the illustrious history of the New York Yankees, one would think that sooner or later, they will run out of numbers as more and more great players and managers take their rightful place on the wall in Monument Park.
"Louisiana Lightning" Ron Guidry was the last Yankee to have his number retired, back in 2003.
Five others have or do wear the pinstripes with pride, dignity and class, and their accomplishments on the field are overdue in being celebrated.
(Note: Derek Jeter and Mariano Rivera are OBVIOUS, so I am not including them in this. It's a foregone conclusion that upon their retirements, both will get their number retired and monuments erected in their honor. )

Paul O'Neill, RF, No. 21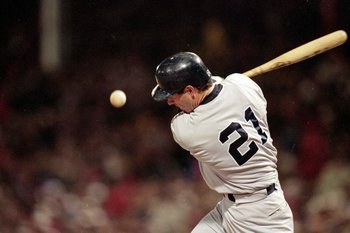 Jonathan Daniel/Getty Images
Affectionately known as "The Warrior" to the Evil Empire (nickname courtesy of the late George Steinbrenner), Paul O'Neill was the heart and soul of the Yankees dynasty of the 90s.
Acquired for the enigma that was Roberto Kelly in 1992, O'Neill quickly won over Yankee fans with his passion, powerful swing, and penchant for coming through in the clutch.
A fiery leader, O'Neill would smash coolers and throw bats onto the field when he was not satisfied with his performance. He patrolled right field with a reckless abandon and total disregard for his body, often smashing full speed into the right field wall to make a play.
If not for the lost second half of the 1994 season, O'Neill certainly would have won the AL Batting Championship and probably would have won the AL MVP award as well.
One of 12 Yankees to have a career batting average over .300 during their time in the Bronx, there is no disputing how beloved a Yankee he is.
All the evidence you need is right here, as he is brought to tears by the incredible tribute fans bestowed on him during Game 5 of the 2001 World Series.
Bernie Williams, CF, No. 51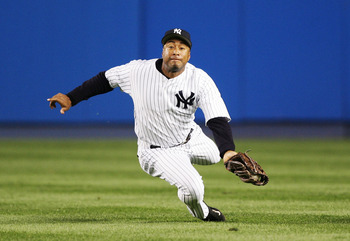 Al Bello/Getty Images
Overshadowed by flashier outfielders who had more power, namely Ken Griffey Jr., Jim Edmonds and current Yankee Andruw Jones, Bernie Williams was one of the best players of the 90s.
A five-time All-Star Bernie patrolled the middle of the Yankee outfield with precision, knowing exactly how and when to break on a ball. Even with a terrible throwing arm, Bernie won four Gold Glove awards in a row, from 1997 to 2000.
In 1998, he became the first player in history to win a batting title, a Gold Glove, and a World Series championship in the same season.
During the last game ever played at the old Yankee Stadium, the fans once again rose to the occasion.
His name appears in the Top 10 of virtually every offensive category in the Yankees record books, as well as those of the postseason record books for Major League Baseball, where his 80 career RBI still stand as the most ever.
*It has been assumed for some time that Bernie's number would be retired once he officially retired with Major League Baseball. Bernie alluded to the fact that he would officially file his paperwork with baseball shortly after Andy Pettitte's retirement press conference, though to the best of my knowledge he has yet to do so.
Andy Pettitte, SP, No. 46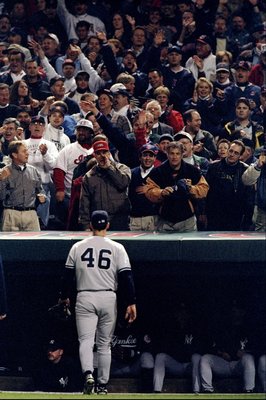 Jamie Squire/Getty Images
Soft-spoken and unassuming, like his teammate Bernie Williams, Andy Pettitte was never considered an elite starting pitcher during his career.
Yet from the time he debuted in 1995 until his retirement following the 2010 season, no pitcher in baseball won more games than Andy Pettitte.
Second to Whitey Ford as the most dominant left-handed starter in team history, Pettitte's name can be found near the top of the leaderboard for almost every pitching category in team history.
Three times an All-Star and twice a 20-game winner, Pettitte was robbed of the 1996 Cy Young Award by voters who, for lack of a better reason, seemingly lost their minds temporarily.
Often called upon to right the ship after the team had lost a few games, Andy was about as automatic and clutch as you could ask for in a starting pitcher.
Joe Torre, Manager, No. 6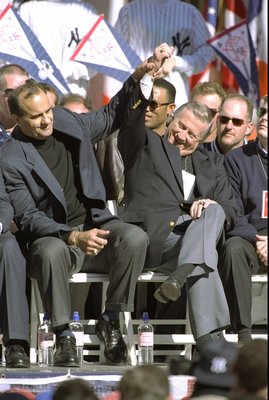 M. David Leeds/Getty Images
Even after taking into consideration the uncomfortable way his tenure with the Yankees ended and his trashing of certain members of the organization in his ill-advised book, Joe Torre deserves to see his No. 6 be retired by the team with which he cemented his legacy as a great manager.
A questionable hire to replace the beloved Buck Showalter, Torre steadied the ship and oversaw the Yankees dynasty of the 90s. With an uncanny ability to keep egos in check and manage sometimes difficult personalities (David Wells), you rarely, if ever, heard about any problems in the clubhouse.
Fifth on the All-Time list of managerial victories in Major League Baseball, Torre ranks first on the same list for the Yankees.
Perhaps one day, after tempers and hurt feelings have subsided, Torre will get the honor of seeing his No. 6 take it's rightful place alongside another legendary Yankee manager, Casey Stengel.
Jorge Posada, C, No. 20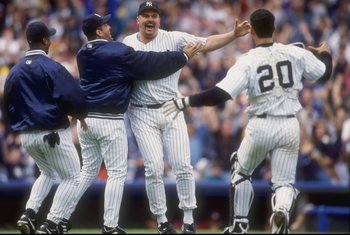 David Seelig/Getty Images
Oft maligned for his lack of a strong throwing arm, Jorge Posada has been the steadying force behind the Yankees pitching staff for over 15 years.
Arguably the second-greatest catcher in team history, behind the immortal Yogi Berra, in 2007 the switch-hitting Posada joined Yogi as one of only two Yankees catchers to ever hit 30 home runs in a season.
Also in 2007, Jorge became the first catcher in baseball history to hit .330 with 40 doubles, 30 home runs and 90 RBI in the same season.
Since 2000, no other catcher in baseball has had more hits, home runs or RBI then Posada.
His name appears all over the top 15 of the Yankee record books in many offensive categories, and his importance to the organization since his arrival cannot be overstated.
Totally unrelated to his on the field accomplishments, Posada appeared in what might be the most memorable commercial for SportsCenter with Yankee nemesis David Ortiz.
Final Thoughts

Nick Laham/Getty Images
Since I wanted to limit this to five people, I had to make some tough choices, as I think both Willie Randolph and Dave Winfield should both be given serious consideration as well.
Winfield would probably never happen due to the nasty happenings between he and the late George Steinbrenner, but stranger things have happened.
While Willie didn't win as many titles as a player as the others on this list, and Winfield didn't win any as a Yankee, their contributions to the team and their impact on a generation of Yankee fans is unquestioned.
What are your thoughts?
Did I miss someone you think should be honored before these guys?
Is someone on my list a poor choice?
Let's talk about it in comments.
Keep Reading

New York Yankees: Like this team?