2011 NFL Draft: 15 Possible Undrafted Free Agents for the Pittsburgh Steelers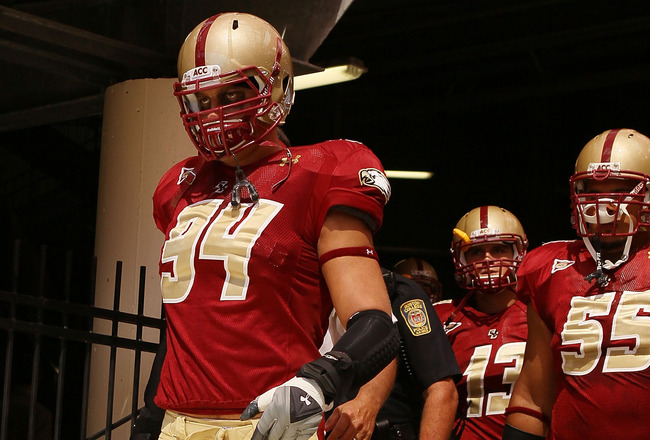 Elsa/Getty Images
Due to the current labor situation, there is no free agency, and therefore, undrafted free agents cannot sign with any team.
As depressing as what the reality is, I believe that there will be an NFL season in 2011 and thus, free agency will start eventually.
In a normal offseason, a team will bring in anywhere from about 10-15 undrafted free agents to camp in hopes of finding a guy like James Harrison, Tony Romo, Arian Foster, etc.
Here are 15 guys who I think the Steelers could be thinking about bringing into camp, whenever camp actually starts.
Mark Herzlich LB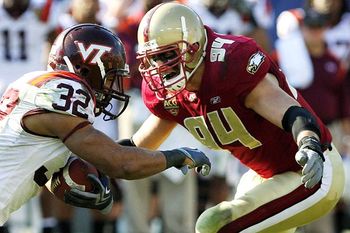 I know that Mark Herzlich was not the same player coming off cancer last season. However, I was completely shocked that he went undrafted.
I thought for sure a team would take a shot at him, and although the Steelers are pretty set at linebacker, I would love to see him as a Steeler.
Derrick Locke RB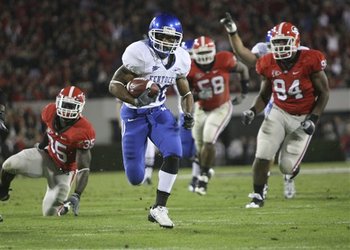 This is another guy I thought a team would take a shot on in the draft even with him being very undersized.
I thought there was a chance the Steelers would take Locke if he was available. However, there is still a chance the team brings in the speedy back to camp to compete with their seventh-round pick, Baron Batch.
Ian Williams DT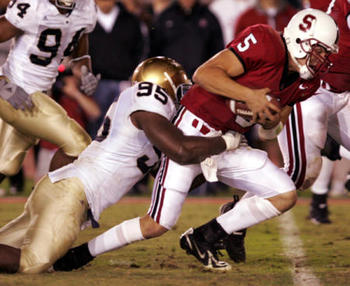 The Steelers got younger on the defensive line with Cameron Heyward in the first round, however, the team still needs the heir apparent to Casey Hampton.
Chris Hoke may retire and Ian Williams would be a guy who the Steelers could groom for a couple years behind Hampton.
John Clay RB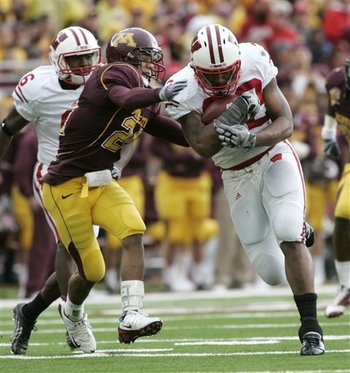 The Steelers do have Rashard Mendenhall, Isaac Redman and Jonathan Dwyer as bigger backs, but in Pittsburgh, you can never have enough.
The team could decide to bring in John Clay to push Jonathan Dwyer and compete for a spot on the Steelers roster.
Noel Devine RB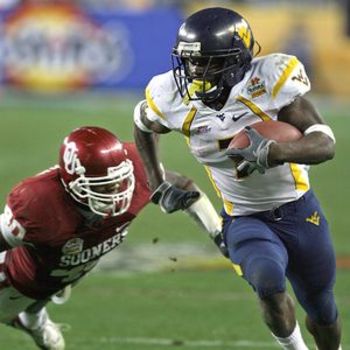 Noel Devine was actually the guy I had picked in my final mock draft for the Steelers in the seventh round, so I wasn't as surprised as some that he went undrafted.
Devine is in the same mold as Derrick Locke, an undersized back who has great quickness and speed and would help out mostly in the passing and return games.
Henry Hynoski FB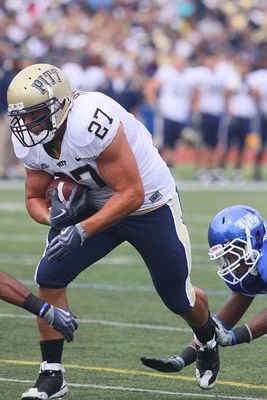 Even though Bruce Arians hates fullbacks, the Steelers could take a look at Hynoski as a guy to come in and contribute as a blocker and occasional pass catcher.
Before the draft, I said I expected Hynoski to go undrafted. Although I think the Steelers could use a true fullback, I don't see him making the team at this point.
Josh Davis OT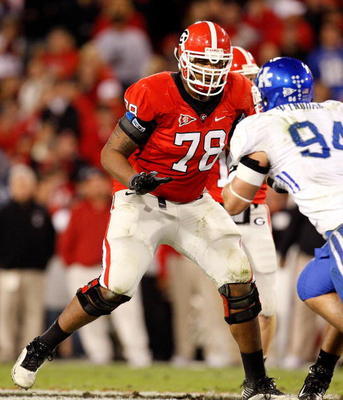 Even though the Steelers just took two big offensive linemen in Marcus Gilbert and Keith Williams in the draft, I can see them bringing in another guy to develop.
Josh Davis would need to develop for a while, but he brings his 6'7'', 330-pound frame with him along with a mean streak the Steelers love.
Zane Taylor C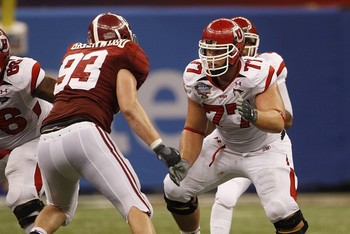 Obviously the Steelers are pretty set at the center position with Maurkice Pouncey, but they only have Doug Legursky behind him, and he is a free agent this offseason.
Zane Taylor could compete for a backup role on the Steelers roster and would make the practice squad in case the Steelers needed an extra center.
Mario Harvey LB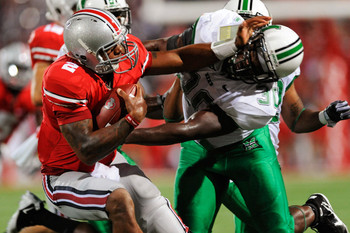 The Steelers do not really have any spots open on the roster at linebacker especially after they drafted Christopher Carter in the fifth round this year.
They do love bringing in linebackers though, and the team did bring Mario Harvey in for a pre-draft visit.
Jarriel King OT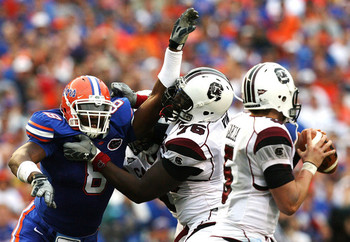 Although I had him going in the fifth round to the Steelers in my final mock, I thought Jarriel King would definitely be drafted somewhere.
A heart condition King has that has forced him to miss some time in his college career could have been the issue, but he could become a solid player for the Steelers.
Weslye Saunders TE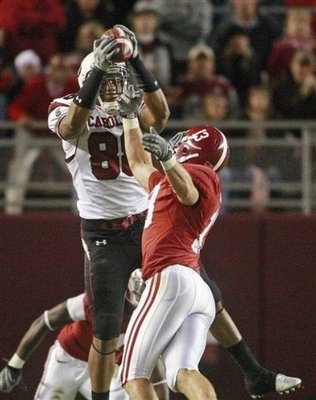 This could be a long shot considering Weslye Saunders brings some baggage with him, and the Steelers normally like to stay away from those types of players.
The team did bring Saunders in for a pre-draft visit though, so they at least thought about him as a prospect. If he can stay out of trouble, he could become a good receiving threat for a team.
Dwight Dasher QB/WR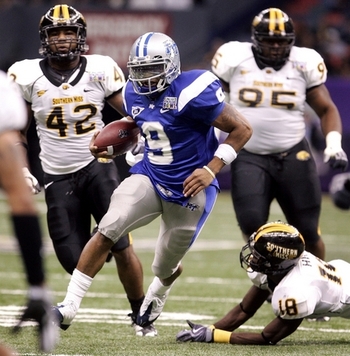 Dwight Dasher has his own baggage with him. However, he is just the type of versatile player the Steelers love to employ.
Dasher can play quarterback, running back, wide receiver and returner, and the Steelers have had success with these types of players, most notably with Hines Ward and Antwaan Randle El.
Kris O'Dowd C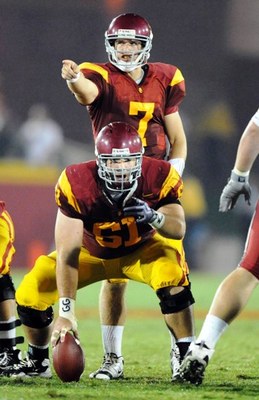 Kris O'Dowd is a smart player and would be adding depth to the Steelers roster in the same way that I mentioned with Zane Taylor in this article.
Injury concerns could have affected Kris O'Dowd's draft stock, but he could contribute to a team somewhere.
Kai Forbath K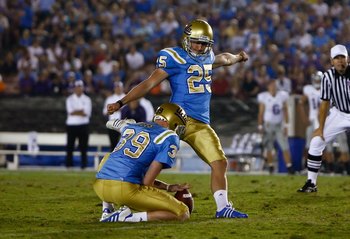 Jeff Gross/Getty Images
To say the Steelers have some kicking issues this offseason would be an understatement, as Daniel Sepulveda and Shaun Suisham are both free agents.
I thought the team would wait until after the draft address these needs. Kai Forbath would bring a big leg to the Steelers.
Josh Jasper K/P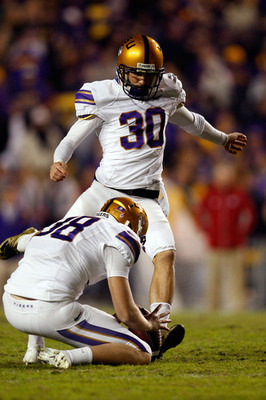 The Steelers will definitely be looking at Josh Jasper because he has experience at both kicker and punter.
The Steelers lost both their starting kicker and punter last season, so this versatility would be great for the team, and Jasper could be a capable option at either position.
Keep Reading

Pittsburgh Steelers: Like this team?