NFL Trade Rumors: Why the Broncos Won't Trade Kyle Orton for Albert Haynesworth
May 2, 2011
Christian Petersen/Getty Images
Would John Elway really be interested in working out a deal with his former head coach, Mike Shanahan, to trade Kyle Orton for Albert Haynesworth?
That's the current unsubstantiated rumor making its way through the blogs and forums.
Neither team has indicated anything that would suggest this trade could happen, but the rumor picked up steam because of what each team didn't do in the draft—the Denver Broncos didn't draft a defensive tackle and the Washington Redskins didn't draft a quarterback.
On the Broncos side of things, there were certainly opportunities to get a defensive tackle. Denver took Von Miller over Marcell Dareus, opted not to trade back into the 1st round to get Nick Fairley, and then passed on defensive tackles like Marvin Austin and Stephen Paea in the 2nd round.
Why pass on so many talented young defensive tackles if there is not a Plan B in place?
While Denver passed on defensive tackles, the Redskins did a similar number with the quarterback position. They managed to turn eight picks into 12, thanks to some savvy trades, yet found not a single rookie quarterback worthy of their squad. Donovan McNabb and Rex Grossman are likely out in Washington, so what exactly is the plan at quarterback?
Would Elway and Shanahan really work out a trade for these players?
It might make a lot of sense for Washington to do so. They could use a serviceable quarterback that could equal wins if surrounded by the right talent.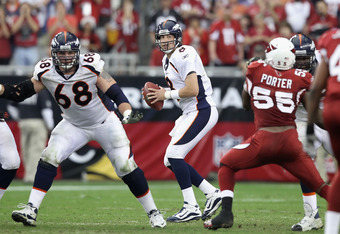 Christian Petersen/Getty Images
But it would be the crime of the century for the Denver Broncos, and that's taking into consideration the many errors committed by Josh McDaniels.
Because Albert Haynesworth is Brandon Marshall...times two.
As we speak, Albert Haynesworth is currently involved in yet another criminal case, and this one involves the alleged sexual harassment of a waitress at a birthday party. Nevermind that he is also facing charges for punching a man in Virginia. And according to an ESPN.com report, it's almost a slow off-season for Hayneworth if you consider what he was up to last summer, when he was "involved in lawsuits from a bank, an exotic dancer, a man injured in an automobile accident and complaints from his ex-wife that he wasn't paying for her health insurance or their children's bills."
I think that puts Haynesworth ahead of Marshall in the dysfunctional category.
Nevermind that the Denver Broncos just spent three days drafting players with high character.
Von Miller put his name on a lawsuit against the NFL to stand in solidarity with veteran players. In college he majored in agricultural leadership, but made poultry science of all things, his minor. Before the draft he was actually asked about poultry science on a local sports radio station here in Denver (104.3 The Fan), and he proceeded to give one of the most remarkable justifications of poultry science ever. And in a very polite, smart and friendly manner.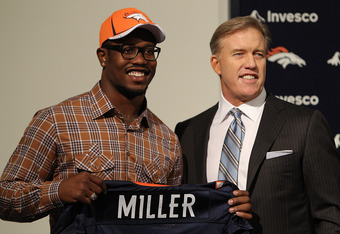 Justin Edmonds/Getty Images
Here's the point: Von Miller is a high character guy and a wonderful addition to this community, poultry science and all.
In fact, none of the Broncos draft picks come in with off-field concerns—none reported, at least. Sure, Orlando Franklin is a mauler, a bruiser, and doesn't treat defensive lineman very nice, but that's not a bad thing at all. Not unless he bruises Von Miller and Nate Irving a little too much.
But getting back to Haynesworth, why would the Broncos take the risk?
They wouldn't.
Rather, the plan should be to sign one or two undrafted free agents that can compete at the defensive tackle position. Maybe there is a player with raw abilities that can develop into a massive force on the interior line of the D, and then again maybe not.
Or, maybe the Broncos already have their guys. The Denver Post reported Sunday that the team views Kevin Vickerson as one of the starters. Marcus Thomas could be the other starting defensive tackle at this point. That wouldn't be the worst plan ever.
There is also free agent veterans to consider—if ever that comes about.
The Broncos might consider signing Barry Cofield now that the New York Giants found his replacement in Marvin Austin. They could also take a look at veterans like Kris Jenkins, Shaun Ellis, and possibly even former Bronco, Trevor Pryce. Wouldn't that be quite the reunion! Sure, none of these players have the same kind of skill-set as Haynesworth—when he gives maximum effort it's hard to deny his impact—but at least they are veterans that can be counted on to do their job.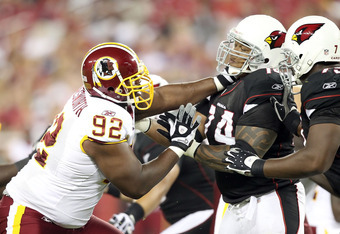 Christian Petersen/Getty Images
Finally, the Broncos can make defensive tackle a high priority in next year's draft, and find a temporary arrangement in the meantime.
Of course, the team wasn't able to fill every need in one draft, and if Von Miller, Elvis Dumervil, Robert Ayers and others can pressure the quarterback on a consistent basis, that can help mask a lot of problem on the interior line.
That should do for now.
But trading for Albert Haynesworth? Forget about it.
(Quote taken from here: http://sports.espn.go.com/nfl/news/story?id=6437272)