MLB Trade Ideas: Biggest Needs of All 30 Teams After Season's Opening Month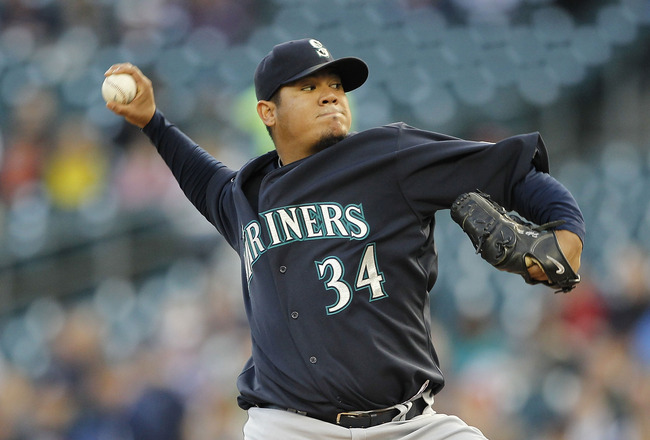 Leon Halip/Getty Images
After a month of baseball, there is only one thing certain about the season—there is no perfect team. As good as teams like the Philadelphia Phillies, Colorado Rockies and New York Yankees have been, they have holes to fill. And for struggling teams like the Minnesota Twins, Boston Red Sox and New York Mets, there are multiple holes that need to be plugged.
We still do not know which teams will be buying and which teams will be selling in the next few months, but we do know that each team's big weakness has come into clear view. Those needs could be addressed in the offseason or before the July 31st trade deadline.
Here is a look at each team's biggest need and some possible players (more the type of players that should be pursued, not necessarily the exact players) to go after.
New York Yankees: Starting Pitching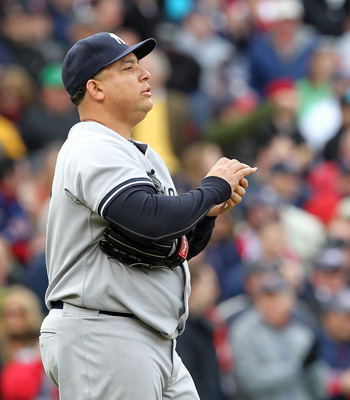 Jim Rogash/Getty Images
For a team loaded with bats and cash, the big need for the Yankees is quite obvious.
The starting pitchers for New York have been fairly effective so far. But really, how much can you depend on the likes of A.J. Burnett, Freddy Garcia, Bartolo Colon (pictured) and Ivan Nova? And will Phil Hughes ever return to his 2010 form when he comes back?
With CC Sabathia being the only consistently dominant starter, the Yankees will need to bring in a top-of-the-rotation starter if they are to contend for a division crown and a world championship. There are lots of places they could turn for an answer, and they have excellent trade bait. Catching prospect Jesus Montero may be what it takes to bring in a complement to Sabathia.
Potential targets: Jered Weaver, Angels; Felix Hernandez, Mariners; Mark Buehrle, White Sox

Tampa Bay Rays: A Power-Hitting Bench Bat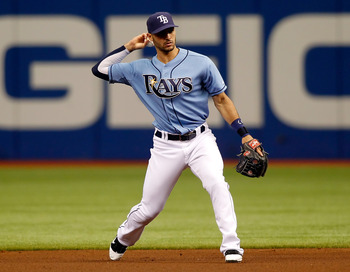 J. Meric/Getty Images
The Rays have an embarrassment of riches in terms of starting pitching. Their rotation, top to bottom, may be in baseball's top three. But their struggles on offense have been well documented and magnified by the sudden retirement of Manny Ramirez and injury to Evan Longoria.
Tampa Bay has a lot of infielders with similar talents—good contact hitters, quality fielders with range and good speed. What they don't have, beyond Longoria at least, is a proven home run hitter. While the Rays cannot particularly afford a big name, there is a need for a power bat to come off the bench in late situations.
Potential targets: Ryan Roberts, Diamondbacks; Mike Aviles, Royals

Toronto Blue Jays: Protection for Jose Bautista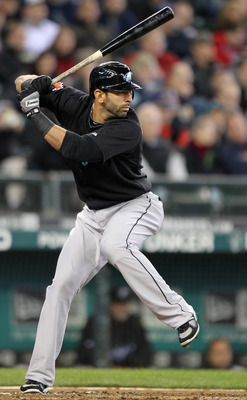 Otto Greule Jr/Getty Images
It is pretty obvious at this point that the man to be feared in the Blue Jays' lineup is Jose Bautista. But aside from Bautista, the Blue Jays have a collection of good-but-not-great bats to hit behind and in front of him. What really separates this lineup apart from the elite teams is the presence of a good three-four punch.
The Blue Jays need the David Ortiz to their Manny Ramirez, the Lou Gehrig to their Babe Ruth. With a collection of young pitchers and a good minor-league system, the Blue Jays could potentially spring for a bat that would strike more fear into pitchers than Travis Snider, Adam Lind or Aaron Hill.
Potential targets: Alex Gordon, Royals; Carlos Beltran, Mets; Ryan Ludwick, Padres
Boston Red Sox: A Stopper in the Bullpen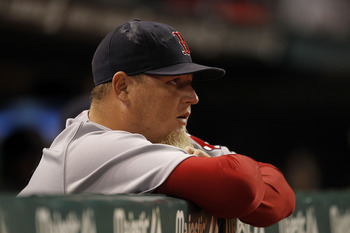 Leon Halip/Getty Images
It is quite obvious at this point that the Red Sox are not the team everyone expected them to be. Carl Crawford is not thriving at Fenway, the starting pitching has been inconsistent and the bullpen has been, for the most part, a disaster.
Jonathan Papelbon has been great—don't get me wrong. But with Daniel Bard not as effective as last year and Bobby Jenks throwing glorified batting practice, the BoSox are in dire need of a good arm out of the bullpen.
Potential Targets: Chris Resop, Pirates; Aaron Crow, Royals; Mike Adams, Padres
Baltimore Orioles: A Veteran Starter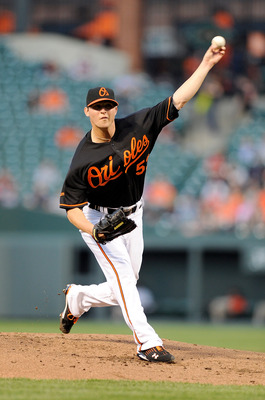 Greg Fiume/Getty Images
For the Baltimore Orioles, the future looks very bright. The O's have a collection of young, super-talented starters who have not yet reached their potential. Jake Arrieta, Chris Tillman, Brian Matusz and Zach Britton (pictured) will anchor this rotation for many years.
But what the Orioles need is a veteran presence on the staff. Jeremy Guthrie is not the man. He is a good pitcher and a good talent, but they need a battle-tested veteran who may have limited pitching potential but unlimited teaching value. The Orioles could dangle young talent or perhaps a bat (Felix Pie, Nick Markakis).
Potential targets: Barry Zito, Giants; Derek Lowe, Braves
Cleveland Indians: A Middle-of-the-Rotation Starter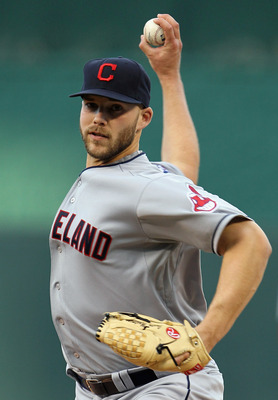 Jamie Squire/Getty Images
Only time will tell if the Indians team we have seen in April is a legitimate threat to make the playoffs. But if the Tribe is for real, it needs an innings-eating, consistent starting pitcher.
The Indians have had the benefit of a great start from Justin Masterson and Josh Tomlin. When Fausto Carmona pitches better, the rotation will be good.
But as with the Orioles, the Indians really lack a veteran arm who can be relied on for six or seven strong innings every time out. Fortunately for the Indians, they have an abundance of talent that could be moved if Cleveland is really serious about playoff contention.
Potential targets: Paul Maholm, Pirates; Brett Myers, Astros
Kansas City Royals: A Reliable Starter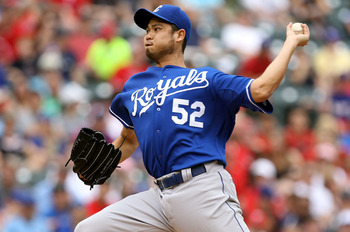 Ronald Martinez/Getty Images
How bad is the Royals' starting pitching staff? Well, any team with Bruce Chen as the most reliable pitcher is probably in the market for a starter. Chen is 3-1 with an ERA just over 4.00, but for the surprising Royals to stay afloat in the AL Central, they need someone with a track record of at least marginal success.
Kansas City may have baseball's best farm system, so it could dangle even just a mid-tier prospect or two and probably get a decent pitcher. They don't need Tim Lincecum—just a reliable arm who can be counted on for 10 wins and an ERA in the upper 3.00 range.
Potential targets: Jeff Niemann, Rays; Tim Stauffer, Padres
Detroit Tigers: A Leadoff Hitter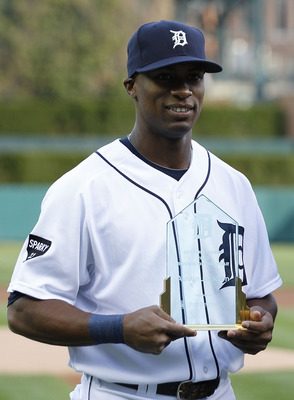 Leon Halip/Getty Images
I'm sorry, Tigers fans. Austin Jackson just isn't cut out to be a major-league leadoff hitter. He is hitting a Carlos Pena-rrific .181 with a horrendous .252 on-base percentage. He has 36 strikeouts to just 10 walks. a ratio that is more fitting for the bottom of the order than the top.
Detroit could really have a great lineup, especially given the way Miguel Cabrera and Brennan Boesch have been hitting. But to be able to set the table for them, the Tigers need someone who can get on base more than a quarter of the time.
Potential targets: Rajai Davis, Blue Jays; Coco Crisp, Athletics; Peter Bourjos, Angels
Chicago White Sox: Another Bullpen Arm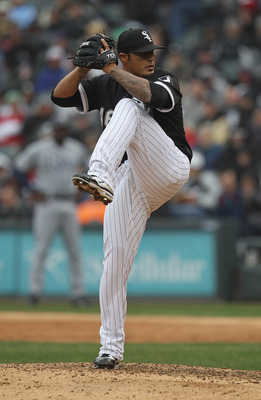 Jonathan Daniel/Getty Images
The odd thing about the White Sox is that, top to bottom, they actually have a great amount of talent. Their offense should be solid, and the pitching is great. But this year, the White Sox have not seen any of that talent particularly pan out. So where is the hole?
With Bobby Jenks gone and other relievers like Will Ohman and Gregory Infante struggling, the White Sox could use a good reliever to complement Matt Thornton and Brian Bruney. Sergio Santos has been terrific shutting the door. Once the starting pitching turns around and the bats come to life, this should be a good team.
Potential targets: George Sherrill, Braves; Guillermo Mota, Giants
Minnesota Twins: Injury Insurance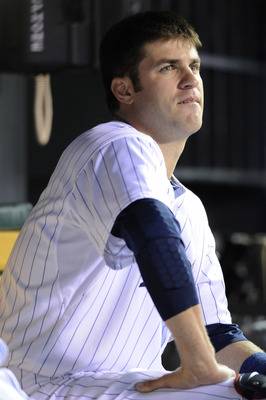 Hannah Foslien/Getty Images
2011 has been a complete and utter disaster for the Minnesota Twins. The talent is most certainly there. But the team that was picked by many to win the AL Central is now 9-17, and the list of injured impact players keeps on growing. With Joe Mauer, Delmon Young and Jim Thome among the wounded, the Twins need some help.
To find that help, the Twins cannot expect to land a big bat. What they need is a solid position player who can fill in admirably for an injured player. They need a utilityman, a player who can hit at any spot in the lineup, play almost any position and be ready to play at all times.
Potential targets: Bill Hall, Astros; Ty Wigginton, Rockies
Texas Rangers: Reliable Depth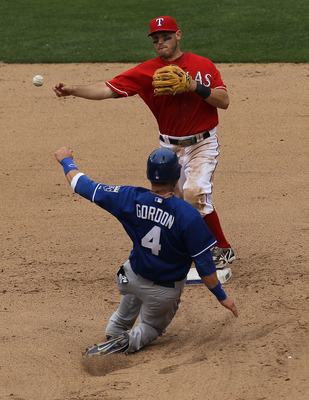 Ronald Martinez/Getty Images
The Texas Rangers, despite not having baseball's best record, are a team that may be among baseball's most complete. Their lineup is stacked, the pitching rotation is good, and the bullpen has been extremely effective. There is no Cliff Lee this year, but this team still has the makings of a playoff team.
As such, depth is essential. Almost every World Series team in history has had a few reliable players to come off the bench, fill in for an injured player or pinch-run. The '04 Red Sox had Dave Roberts; the '08 Phillies had Eric Bruntlett. The Rangers need to get that guy, specifically an infielder, to be their go-to bench player.
Potential targets: Alberto Callaspo, Angels; Sean Rodriguez, Rays; Jose Lopez, Rockies
Los Angeles Angels: A Mid-Tier Starting Pitcher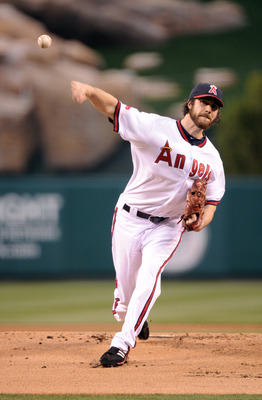 Harry How/Getty Images
Considering that their top two pitchers are putting up Cy Young numbers, this may seem like a surprise. But beyond Jered Weaver and Dan Haren, the Angels have a struggling Ervin Santana, an unproven Tyler Chatwood and young Matt Palmer.
This is going to be a very tough race in the AL West, and to continue to keep pace with the Rangers, the Halos need more starting pitching.
There have been rumors swirling regarding trading Jered Weaver, but chances are he will remain an Angel, especially if he continues to pitch as well as he has. This team is in "win now" mode. They need to pursue a third starter to use in important games and series.
Potential targets: Dustin Moseley, Padres; Ricky Nolasco, Marlins
Oakland Athletics: Bats, Bats and More Bats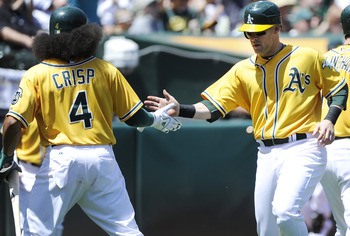 Thearon W. Henderson/Getty Images
Nothing is more of a shame in baseball than seeing a great young pitching staff put to waste because of an inept offense. Such is exactly the case right now in Oakland, where an elite pitching rotation is being put together. As good as Brett Anderson, Gio Gonzalez, Tim Cahill and Dallas Braden are, the offense is holding them back.
No Athletics player is batting over .300, and the most productive player so far has been leadoff man Coco Crisp. If Oakland is serious about contending for the playoffs this year, it must make a deal for a quality bat to produce some runs.
Potential targets: Prince Fielder, Brewers (yeah, right); Nick Markakis, Orioles; Carlos Lee, Astros
Seattle Mariners: Power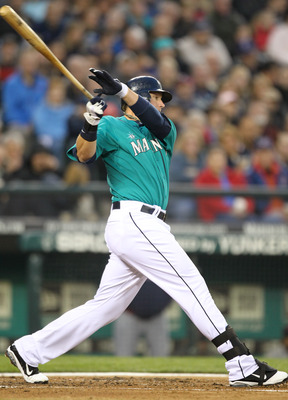 Otto Greule Jr/Getty Images
The Mariners are an interesting team. When you go by name recognition, you would think they are actually a half-decent team. Chone Figgins, Milton Bradley, Jack Cust? Those are all pretty good ballplayers.
But this year, they're all flopping. Cust in particular has been awful, a power hitter who has hit for all of zero home runs.
The future is bright for this team, provided it can lock up King Felix, Doug Fister, Justin Smoak and some of the other youngsters. But for this year, any trade pursued should bring in some big-time power.
Potential targets: Jonny Gomes, Reds; Luke Scott, Orioles
Philadelphia Phillies: A Second Baseman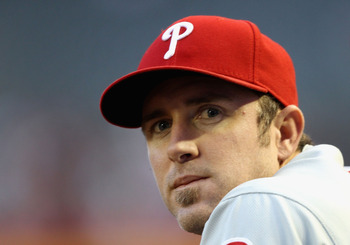 Christian Petersen/Getty Images
After completing the winningest month in team history, the Phillies have very few holes to fill. But the biggest noticeable void is at second base, a spot traditionally occupied by Chase Utley.
Utley, who is still weeks or months away from returning, will make an impact once he returns. But with the Braves and Marlins looming, the Phillies want to take every precaution to make sure that their lead in the NL East is safe. Wilson Valdez has been good filling in, but the Phillies could afford to make a slight upgrade until Utley returns and then trade that person away.
Potential targets: Kelly Johnson, Diamondbacks; Chris Getz, Royals
Florida Marlins: A Playoff Veteran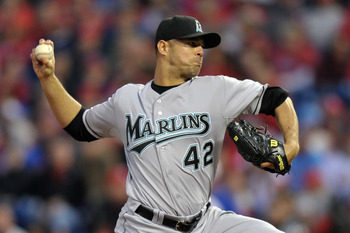 Drew Hallowell/Getty Images
At this point, it is safe to say that the Florida Marlins are for real. They have been playing terrific baseball, and they may not have even peaked yet. With Hanley Ramirez hitting .200 and the normally strong Chris Volstad struggling, the Marlins still have upside.
But what they don't have is a player who really knows what it's like to be in a pennant chase. They need a proven winner, and Javier Vazquez, who is the closest they have now, is not that guy. It doesn't have to be an impact player—just a guy who can provide good leadership to the young talent base of the Marlins.
Potential targets: Edgar Renteria, Reds; Juan Uribe, Dodgers
Atlanta Braves: Chipper Jones' Heir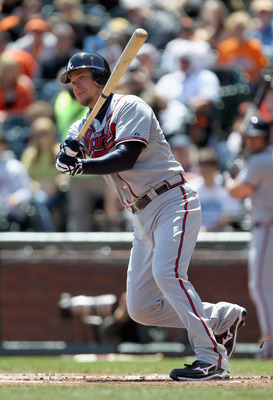 Ezra Shaw/Getty Images
It is clear at this point that Chipper Jones is in the final stages of his brilliant baseball career. Of course, his production would not indicate that. He is not the hitter he was in the past, but he can still drive in runs and get on base. But there will come a time, perhaps this year, where the Braves will need to turn to another source for production.
Finding Jones' heir apparent should be a process that is started soon. With none of the Braves' top 10 prospects (according to Baseball America) a third baseman, Atlanta needs to go out and import some talent from the outside.
Potential targets: James Darnell, Padres; Lonnie Chisenhall, Indians
Washington Nationals: A Left-Handed Bat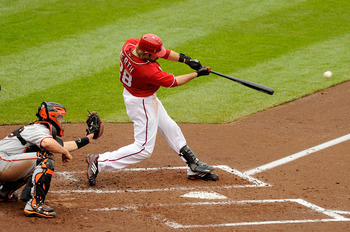 Greg Fiume/Getty Images
Author's note: I had used incorrect statistics in my first draft of this slide, and my apologies to Nationals fans who read it, where I blasted the bullpen where such a claim was unsubstantiated by statistics.
The Nationals offense is finally starting to take some coherent form. With Ryan Zimmerman out, the slack has been picked up by the likes of Laynce Nix and Wilson Ramos. But with a solid effort so far this year from the pitching staff, the Nationals still seem to be missing something that could put them over the hump.
A good left-handed bat, preferably one with power, would be a great addition to the Nationals lineup. A middle of the order that could potentially be Zimmerman, Werth, and this new bat would be a great one that could set the tone for what could truly be a special few years in Washington once all the prospects blossom.
Potential targets: Prince Fielder, Brewers; Carlos Pena, Cubs
New York Mets: Some Form of Starting Pitching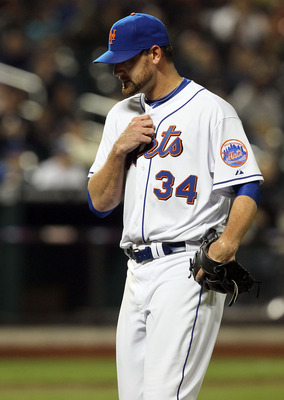 Jim McIsaac/Getty Images
It's kind of ironic that I'm writing this part while watching the Mets shut down a potent Phillies lineup, but Chris Young has not been the one at fault for the pitching struggles.
Right now, New York has three decent starters and two batting practice pitchers. The latter, Mike Pelfrey and Chris Capuano, should rebound. But for a team that has not been relevant in years, don't you think it's time to bring in a name?
Last time the Mets brought in a big-time pitcher, it was Johan Santana. This time around, they probably won't be able to land a name like that. What they need is consistency and reliability, something that few to none of the Mets starters have.
Potential targets: Mark Buehrle, White Sox; Daniel Hudson, Diamondbacks; Wandy Rodriguez, Astros
St. Louis Cardinals: A Left-Handed Bullpen Arm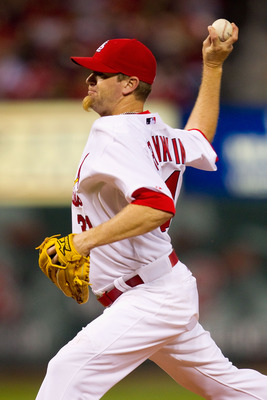 Dilip Vishwanat/Getty Images
The St. Louis Cardinals have a great bullpen. Despite the demise of Ryan Franklin, the Cards have some great live arms, including Mitch Boggs and Jason Motte. But the bullpen does have one slight issue—there is no reliable left-handed reliever.
Not that it is a huge pressing issue, because the righties have done just fine. But given the presence of left-handed hitters on playoff-bound teams (Ryan Howard, Joey Votto, etc.), the Cards would be wise to pursue a good lefty reliever for the stretch run.
Potential targets: Matt Thornton, White Sox; Arthur Rhodes, Rangers
Cincinnati Reds: A Reliable Innings Eater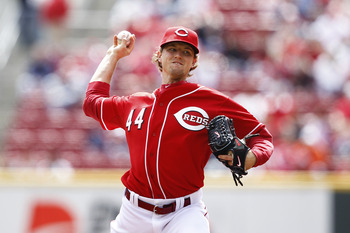 Joe Robbins/Getty Images
The word to describe the Reds' starting rotation is "erratic." Not for any particular reason, but when you have one starter steal t-shirts and a few others who can be a quality pitcher one night and a scrub next time out, that definitely qualifies.
The Reds are a terrific team with playoff potential. But with the turmoil on the mound, they need some stability.
The Reds, like many teams, should be in the market for a starting pitching arm. If Travis Wood and Edinson Volquez don't improve, they could also be moved.
Potential targets: Tim Stauffer, Padres; Mark Buehrle, White Sox
Milwaukee Brewers: Late-Inning Help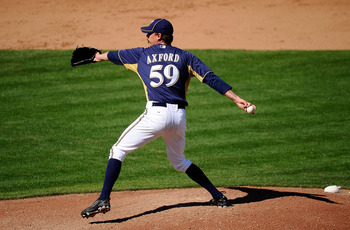 Kevork Djansezian/Getty Images
Remember when John Axford was supposed to be the shutdown closer that would help vault the Brew Crew into contention? Well, that didn't last long.
Now, the Brewers are in the middle of a clustered NL Central with lots of uncertainty. What they need is the certainty of having some good, late-inning relievers to consistently close the door.
The Brewers have been known to make a splash at the deadline (CC, anyone?), so they could be searching for a big-time closer to make a playoff push.
Potential targets: Heath Bell, Padres; Brad Ziegler, Athletics
Pittsburgh Pirates: You Really Want Me to Pick Just One?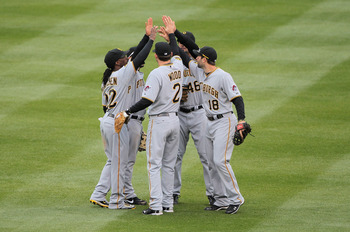 Doug Pensinger/Getty Images
It's not that the Pirates are awful any more. They're actually half decent. But the problem with the Bucs is that they have no real standouts at any one position, and the mediocre spots are across the board. The infield needs a boost, the starting pitching is subpar at best and the bullpen is serviceable.
So what's the big need? Well, most everything. If there were a specific spot to point to, it's probably shortstop. The Pirates are shaping up to have a pretty good infield in the next few years, but a shortstop is a need.
Potential targets: Reid Brignac, Rays; John McDonald, Blue Jays
Chicago Cubs: The Ryan Dempster Replacement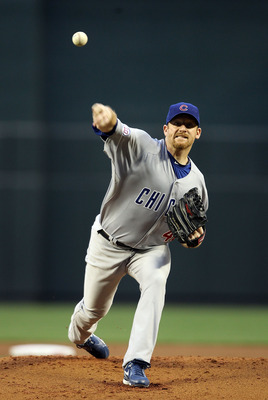 Christian Petersen/Getty Images
By this point, if you're a Cubs fan, you have probably given up on Ryan Dempster. The guy just doesn't have it this year. A 9.58 ERA through the first month has put a damper on what has otherwise been a generally strong performance from Cubs starters. It seems to be the case that Dempster's days are numbered as a Cubs starter.
So now, the Cubs need to fill the void. Will they do it through a trade? Perhaps, but the Cubs don't have a ton to offer. For the time being, the best they could land is a mid- to low-tier starter.
Potential targets: Erik Bedard, Mariners; Jon Garland, Dodgers
Houston Astros: A Bullpen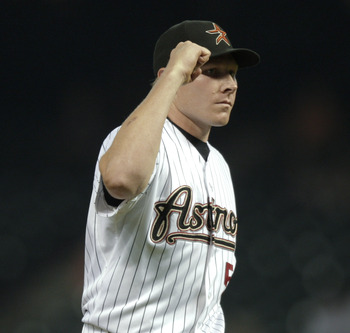 Bob Levey/Getty Images
Aside from Mark Melancon (pictured), the Astros have only one reliever with an ERA under 3.50. This erratic performance from the relievers has been one of many reasons that the Astros have fizzled in April and most likely will continue to occupy the NL Central cellar.
If there is any hope for a salvaged season, it will start at the back end. Brandon Lyon has been ineffective and probably will need replacement.
Potential targets: Matt Thornton, White Sox; Tony Sipp, Indians
Colorado Rockies: A Seasoned Pitcher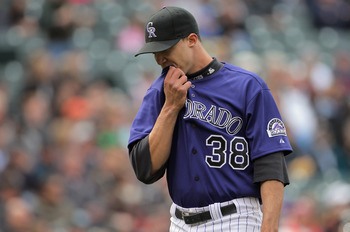 Doug Pensinger/Getty Images
Just like a lot of other teams that have had strong starts with young pitchers, the Rockies could be in the market for a playoff-tested pitcher, preferably a starter, who can tutor the team's young staff.
Ubaldo Jimenez, who last year seemed to be just short of Superman, has been mainly ineffective this year. Perhaps having a veteran leader on the pitching staff could help him get back on track.
Regardless, the Rockies could dangle some of their less important hitters to get a veteran pitcher who may be slightly expensive but could prove invaluable to the team.
Potential targets: Derek Lowe, Braves; John Lackey, Red Sox
Los Angeles Dodgers: Bullpen Help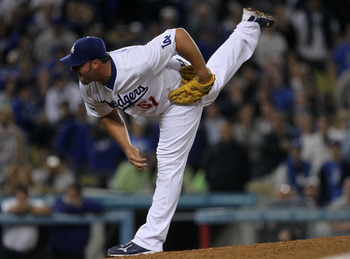 Stephen Dunn/Getty Images
Before I talk about the bullpen, let me just propose something: Would anyone else like to see Matt Kemp and Andre Ethier go head-to-head with Matt Holliday and Lance Berkman at this point in a hitting contest? Man, are they on fire.
Anyway, the Dodgers have a very up-and-down bullpen. Mike MacDougal has been great, but Kenley Jansen hasn't.
For some stability, the Dodgers might want to think about adding another arm or two to the bullpen. If their hitters keep producing like this, they won't be going away anytime soon. Might as well help them out on the back end.
Potential targets: Matt Thornton, White Sox; Brian Sanchez, Marlins
San Francisco Giants: Help at First Base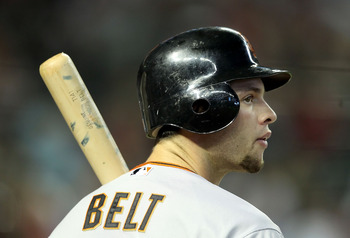 Christian Petersen/Getty Images
Now that the Brandon Belt experiment has all but been put on hold, the Giants are going to be on the hunt for a first baseman to provide some defense and perhaps power. Unfortunately, with J.T. Snow and Will Clark retired, the Giants cannot bring back their normal fixtures at the position.
The Giants could give up relatively little (including perhaps Barry Zito's gaudy contract) for a decent first baseman to provide some marginal help in the infield for the world champs.
Potential targets: Ty Wigginton, Rockies; Carlos Pena, Cubs
Arizona Diamondbacks: Stability for the Rotation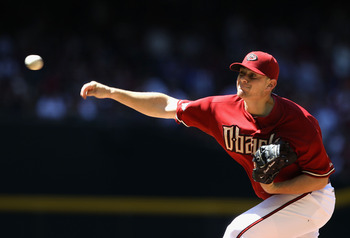 Christian Petersen/Getty Images
The Diamondbacks have had a frustrating year so far, and much of the blame can be placed on the inability of anyone on the starting pitching staff to find his groove. Not even Daniel Hudson, who was predicted by many to make the rise into being a top-flight pitcher, has played to his potential.
With a somewhat coherent offense, the Diamondbacks can start moving in the right direction by acquiring a starting pitcher who can provide some stability to the rotation.
Potential targets: Wandy Rodriguez, Astros; Erik Bedard, Mariners
San Diego Padres: Any Form of Offense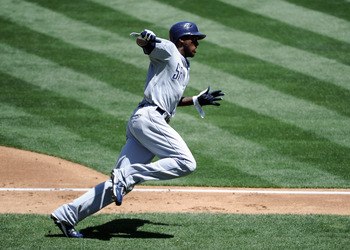 Harry How/Getty Images
It's back to the drawing board for the Padres, who have lost perhaps their two best players of the last decade (Jake Peavy and Adrian Gonzalez) in the past few years and are facing an underperforming offense and an effective yet helpless pitching staff. At this point, the obvious direction to go is a bat.
The Friars do have some promising hitters, including Cameron Maybin, Chase Headley and Nick Hundley. But there is no home run threat, no run producer and little to no hope for this offense. They need lots of help, and fast.
Potential targets: Franklin Gutierrez, Mariners; Grady Sizemore, Indians; Carlos Lee, Astros
Keep Reading