2011 NFL Draft Results: Baltimore Ravens Continue to Fill Needs, Earn High Draft Grade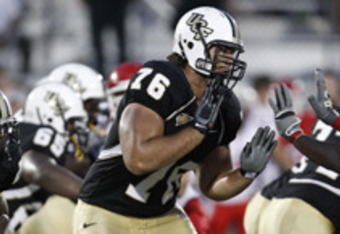 Jah Reid

You knew that Ozzie Newsome would not escape an NFL draft without making a trade. In the third round, the Ravens traded up from pick No.90 to the 85th spot and acquired Jah Reid from the University of Central Florida.
The Ravens traded their third-round pick (90th overall) and a sixth-round one (191st) to the Philadelphia Eagles to select at No. 85.
According to the NFL.com's scouting combine report the 6'7 327 pound offensive tackle is a physically gifted prospect who needs some technical refinement and to improve his recognition skills but has a chance to become a starter down the line.
He is a good pass blocker who uses his size well, forcing rushers wide past the pocket. Has good feet and flashes the ability to slide back inside and get to the second level to pick off linebackers.
Reid started 41 games at right tackle, including 33 in a row dating back to 2008. With Reid anchoring the Knights offensive line, the Knights quarterback and two tailbacks all rushed for at least 10 touchdowns this past season.
Only the University of Wisconsin equaled that feat.
The Redshirt senior was voted All Conference USA first team in 2009 and 2010.
Reid's stock was seen as rising and was highly touted by several teams.
Back in late March, many draft experts wrote that Reid was a late round pick or, could possibly go undrafted. The Kansas City Chiefs and Cleveland Browns both held private workouts with him.
The Sporting news sums Reid up with this analysis:
Reid is a consistent performer at right tackle, but lacks the versatility to play other positions. He is tall and well built, which allows him to engulf defenders when taking them straight on, but will need time to develop his skills before contributing to a team.
As they did in rounds one and two, the Ravens again addressed a need. The Ravens offensive line never came together as many predicted it would last season.
Ravens QB Joe Flacco was sacked 40 times last season and was victimized by an additional 79 QB hits.
The Ravens rushing attack went from fourth in the NFL in 2008 averaging 148.5 yards per game to 14th last season averaging 114.4 yards per contest.
The Jared Gaither saga does not seem like it will end anytime soon and when it does end, Gaither will probably not be a Raven.
Michael Oher struggled more than expected. His eight false starts and untimely holding penalties cost the Ravens at crucial times. The Ravens version of musical offensive lineman became offensive at times last season.
There was no continuity up front and that led to some ugly Sunday's and sore Mondays for Flacco.
The pick of Jah Reid continues a solid draft for the Ravens.
The Ravens should feel good with what they have done to this point. The first round pick (26th) of CB Jimmy Smith was a high risk, high reward selection but many believe Smith will be a shut down corner in the NFL who will immediately contribute to a decimated secondary.
Maryland WR Torrey Smith now packs his bags, bringing his 4.4 speed 45 minutes north to M&T Bank Stadium. Torrey Smith possesses deep threat speed that can blow by cornerbacks and return kicks for touchdowns in Baltimore. The Ravens selected Torrey Smith with the 58th pick in the second round.
The move up for Jah Reid completes a successful two days for Ozzie Newsome, Eric DeCosta, and John Harbaugh. The Baltimore Ravens scouting department can once again be proud however, more work is ahead tomorrow.
Other than Jimmy Smith's off the field concerns, the Ravens hit home runs with all three picks.
The Ravens have addressed three major needs and did so with quality picks.Through three rounds, Ozzie Newsome and the Ravens scouting department have once again earned another A.
Tomorrow is the day that builds football teams and the Ravens still have more needs at the same three positions they filled last night and tonight.
Tom Brady (6th), Jamal Anderson (7th), Terrell Davis (6th), and Shannon Sharpe (7th) were all players chosen late in the NFL draft.
In other Ravens draft news, Ozzie Newsome has asked the NFL to investigate the botched first round trade with the Chicago Bears. Newsome is asking for the fourth round draft pick as compensation for Chicago's gaffe.
On Thursday night, a league source said Newsome had contacted the NFL with three minutes remaining to inform the league that the Ravens were trading their first-round pick (No. 26) for the Bears' picks in the first (29th) and fourth rounds.
Chicago failed to talk to the NFL during that time, as both teams need to confirm the trade. This caused the Chiefs to jump ahead of the Ravens.
Chicago Bears GM Jerry Angelo has issued a public apology to the Ravens, taking full responsibility.
"It was our fault," Bears general manager Jerry Angelo told reporters. "They did everything according to the rules...We had a disconnect. Whatever you hear, Baltimore did everything right."
The Ravens want more than an apology from the Chicago Bears, they still want the fourth round pick. The Ravens and Bears still got their players but the Ravens feel like that was the whole purpose to the trade.
Getting Jimmy Smith and the fourth rounder was all but assured to the Ravens at No.29 according to Ravens brass.
It is doubtful the NFL will issue any compensation. Maybe the 8th circuit court in Kansas City could also rule on this for the NFL. Geeez.
This article is
What is the duplicate article?
Why is this article offensive?
Where is this article plagiarized from?
Why is this article poorly edited?

Baltimore Ravens: Like this team?