2011 NFL Draft: Buffalo Bills Round 2 Results and Preview of Round 3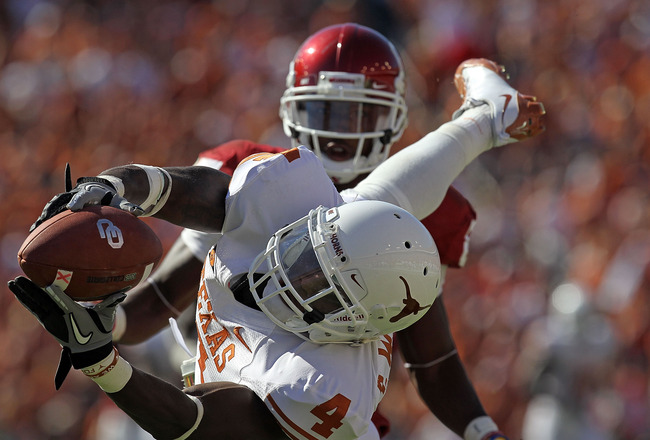 Ronald Martinez/Getty Images
The Buffalo Bills had the opportunity to draft future quarterbacks Andy Dalton or Colin Kaepernick, or the NCAA sack leader in Da'Quan Bowers with the 34th overall draft pick in the second round of the NFL draft.
Instead the Bills decided to upgrade their secondary with the selection of defensive back Aaron Williams from the University of Texas.
Just as the Bills' first round pick Marcell Dareus played multiple positions along the defensive line at Alabama, Aaron Williams played multiple positions at Texas. He has played cornerback, played as the nickel back covering the slot receiver and he is also believed to be able to play at safety.
Williams is just a touch under 6 feet. He weighs 204 pounds. He ran the 40-yard dash anywhere from 4.55 to 4.60 seconds. He had a vertical jump of 37.5".
At the University of Texas, Williams recorded 46 tackles in 2010, five for a loss, and forced three fumbles. In his career, he picked up 106 tackles, had four interceptions and blocked five kicks, which is a great asset for the Bills special teams unit.
More on Aaron Williams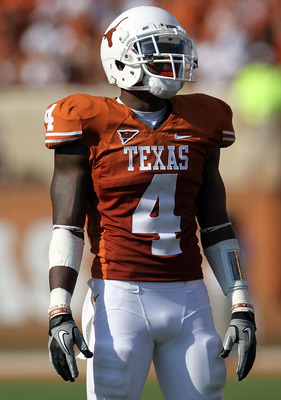 Ronald Martinez/Getty Images
Aaron Williams was a Parade All-American player out of high school. He is thought to be viewed as a starter for the Bills at safety, and will serve as insurance for Donte Whitner, should the free agent not return to the team.
NFL Network Analyst Mike Mayock said this about Williams during the draft telecast: "He can play the corner, or the slot, or free safety. He can ultimately be a starter. He can cover the slot receivers in the AFC East like Wes Welker and Davone Bess. He will need to improve on his tackling skills."
From ESPN Analyst Mel Kiper during their draft telecast and his pre-draft mock: "He is a tough aggressive corner that will battle you. He has a ton of natural ability, like to steal a look in to the backfield and turn errant passes into six points going the other way. He can be coached in to a good cover corner."
Overall, Williams was ranked as the 31st best player by Mike Mayock, which is also where Mel Kiper had him ranked. Todd McShay, also from ESPN and Scouts Inc. had him ranked 40th. This represents very fair value for the Bills.
Not sure if this is a new trend but this marks the second straight underclassmen that Nix has drafted this year. Why that is noteworthy is that the Bills only drafted seniors in the draft last year.
What is also noteworthy is that the Bills by design or fate have not yet drafted a player that they coached for the South team in the Senior Bowl.
Brief Review of Round 2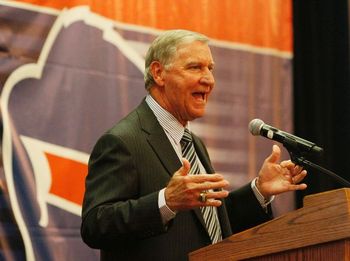 Now the Bills sit back and see what players still remain on the big board until their next pick is up at 64, which is the fourth overall pick in the third round.
Nix has still not conducted a draft day trade, so it is highly doubtful he will now, unless he is so inclined to move up to get someone. It should be noted that two picks after the Bills at 36 overall, the San Francisco 49ers traded up to get the Denver Broncos pick, which they turned in to Colin Kaepernick, the Nevada QB.
With the entire day to work out a trade, it is puzzling how or why Nix couldn't figure out a way to gain an additional third or fourth round pick.
After all, novice front office executive John Elway figured out how to do, and he just got on the job. Nix has been involved in war rooms for a long time. I just don't get it.
Preview of Round 3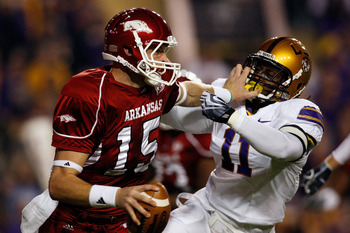 Chris Graythen/Getty Images
Here is a picture of LSU linebacker Kelvin Sheppard tackling Arkansas QB Ryan Mallett. One of them could fall to the Buffalo Bills, who own the fourth pick in the third round, which is No. 68 overall.
So far the Bills have addressed their defensive line and their defensive backfield. What still requires some attention is: linebackers, tight end, tackle, quarterback and overall team depth.
As it is early in the second round when I am writing this, it will be difficult to project who will be there in round three, but I will go ahead and attempt to identify some possible names for Bills fans to keep an eye out for.
On defense: Defensive linemen: Da'Quan Bowers (Clemson), Allen Bailey (Miami, Fla), Jarvis Jenkins (Clemson) and Jurrell Casey (USC). Linebackers: Justin Houston (Georgia), Kelvin Sheppard (LSU), Quan Sturdivant (North Carolina), Sam Acho (Texas) and Casey Matthews (Oregon). Defensive backs: Brandon Burton (Utah), Johnny Patrick (Louisville) and Curtis Brown (Texas).
On offense: Quarterback: Ryan Mallett (Arkansas) and Ricky Stanzi (Iowa). Offensive linemen: Ben Ijalana (Villanova), Orlando Franklin (Miami, Fla.), Clint Boling (Georgia), Stephen Wisniewski (Penn State), James Brewer (Indiana), Will Rackley (Lehigh), Marcus Gilbert (Florida), Rodney Hudson (Florida) and Jah Reed (Central Florida). Tight Ends: Lance Kendricks (Wisconsin) and Luke Stocker (Tennessee).
Day 3 Tomorrow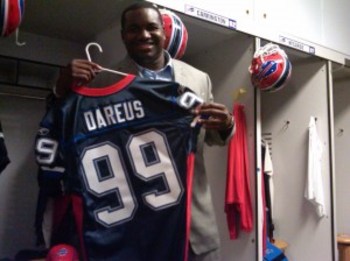 So far the Bills have played things close to the vest taking players that were viewed as starters at positions of need.
I am mildly disappointed we did not come up with additional picks, but if Buddy Nix really wanted both of these players, it is easy for me sitting here to ask him to pass the guys up and hope they are available later.
What is interesting is that Nix has singled out two players that are capable of playing different positions, so as the defense looks to assume a hybrid look, these are players that can make those kind of adjustments in-game and roll with the flow.
As most Bills fans have been hoping for, the Bills have been focusing on the defensive side of the ball, and we all know that is the unit that required the most early attention. Nix and Gailey are to be applauded for addressing the major weakness and taking steps to right the ship.
The Bills will be starting day three with two picks in Round 4 at 100 overall and 122 overall. Come back to join us throughout the weekend as we break down the Bills selections. Let us know what you would like to see the Bills do in round three and four.
Keep Reading

Buffalo Bills: Like this team?