2011 NFL Draft Results: The 20 Best Players Still on the Board Coming into Day 2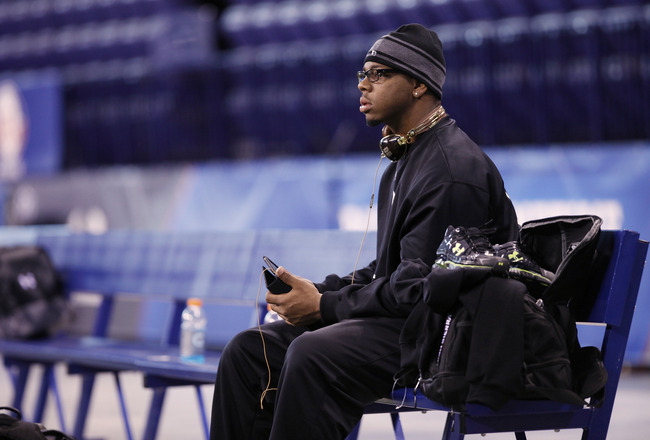 Joe Robbins/Getty Images
The NFL draft keeps an equilibrium of players stock. As somebody rises, unfortunately, somebody has to fall. With day one in the books now, we can look forward to day two.
We welcome the Oakland Raiders to the draft who make their first selection at 48. So before day two begins, how about we preview the top 20 players left on the board?
Note. This is not in order. These are just 29 players who are the best available coming into the second round.
Da'quan Bowers -- Defensive End -- Clemson
Al Messerschmidt/Getty Images
Bowers has gone from potential first overall pick to not even in the first round. Teams have been scared off by his knee injury and bad pro day showing. That being said, he still did lead the country in sacks, racking up sixteen sacks on his way to becoming ACC Defensive Player of the Year.
A Bronko Nagurski award winner, he will be a steal for any teams looking to improve their pass rush, though they have to be willing to gamble on his knee.
Ben Ijalana -- Offensive Tackle -- Villanova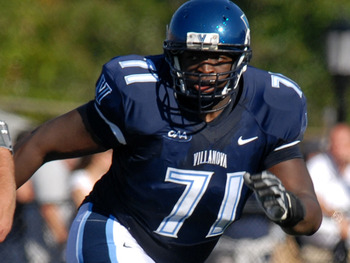 Though Ijalana was not projected to go in the first round, he is the best tackle prospect on the board. Plenty of mock drafts have had him projected going to the Buffalo Bills, though that is not set in stone.
Ijalana can play both tackle and guard, making him a versatile prospect for any team looking to fill up holes in their offensive line.
Look for him to go early in the second, with the Lions as another potential landing spot.
Akeem Ayers -- Outside Linebacker -- UCLA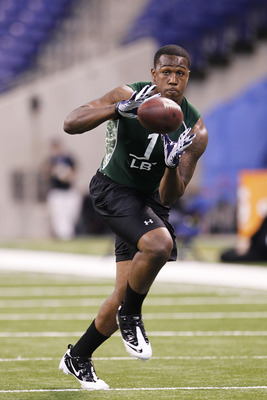 Joe Robbins/Getty Images
Ayers has been bouncing around in mock drafts, going as high as mid-first and as low as mid-second. Many consider him one of the best players left on the board, who would be a great fit for a 3-4, though it is not out of the question that he could play in a 4-3 also.
He had a drop off in performance from his 2009 season, though he still managed to get 24.5 sacks in his final two years in Los Angeles. As an 2010 All-Pac-10 First Team selection, he is the best linebacker left on the board.
Kyle Rudolph -- Tight End -- Notre Dame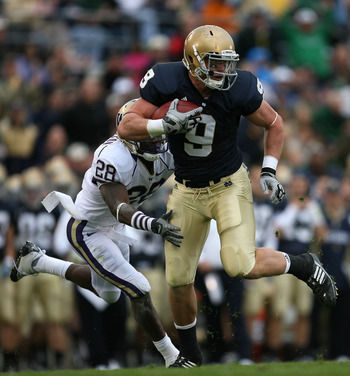 Jonathan Daniel/Getty Images
Kyle Rudolph is head and shoulders above the rest of this weak tight end class. He missed six games in his final season at Notre Dame due to needing surgery on his hamstring.
There are plenty of teams who could do with a tight end, with the Denver Broncos, who pick twice in the second round, and the Arizona Cardinals coming to mind.
Titus Young -- Wide Receiver -- Boise State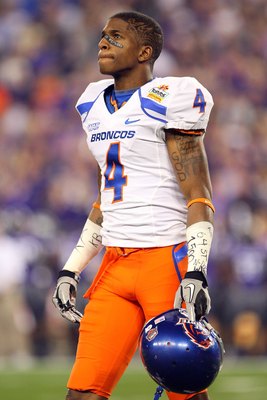 Christian Petersen/Getty Images
Titus Young has drawn many comparisons to DeSean Jackson, who was drafted in the second round by the Eagles in 2008. Young is a slick receiver who is slippery in the open field. He finished the 2010 season with an average yards per reception of 17.1 and over 1,200 yards.
Young could be a target for teams like the Cleveland Browns or Washington Redskins.
Aaron Williams -- Cornerback -- Texas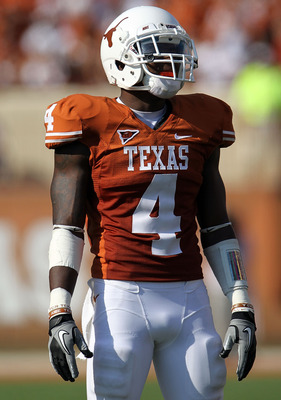 Ronald Martinez/Getty Images
Williams was a true lock-down corner at Texas and forced other teams to attack the other side. Though the Longhorns were disappointing last season, they did have major talent in the secondary, with Curtis Brown also looking to come of the board in day two.
Williams is a big corner, measuring up at 6'1" and could help out teams with cornerback needs such as Dallas or Detroit.
Stephen Paea -- Defensive Tackle -- Oregon State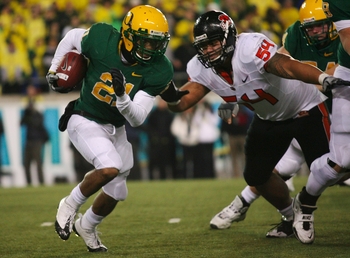 Tom Hauck/Getty Images
Despite recording 49 reps on the bench press at the combine, an injury in his knee prevented him from completing the rest of the combine drills. Born in New Zealand and brought up in Tonga, Paea was an All-American, Pac-10 Defensive Player of the Year and back-to-back Morris Trophy winner in his final season with the Beavers.
Paea could come off the board early, maybe even as soon as Denver at No. 36 or Tennessee at 39.
Mikel LeShoure -- Running Back -- Illinois
Jonathan Daniel/Getty Images
Mikel LeShoure is a popular pick in mock drafts to go to the Patriots with the first pick of day two. He has drawn many comparisons to Rashad Mendenall, another former Illinois running back, in his hard running style and with both scoring 17 touchdowns in their final year.
LeShoure will come of the board early and is considered the best back left on the board.
Andy Dalton -- Quarterback -- TCU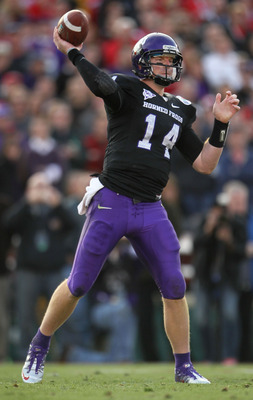 Jeff Gross/Getty Images
After Christian Ponder was taken by the Vikings at 12, trade rumours circulated of teams who could trade up for Dalton. Unfortunately for Andy Dalton, this didn't happen. However, there are still plenty of teams who could be interested early in the second, like Washington, Cincinnati or Arizona.
Dalton will have had to convince teams to take him, with Ryan Mallet and Colin Kaepernick still waiting
Brooks Reed -- Defensive End -- Arizona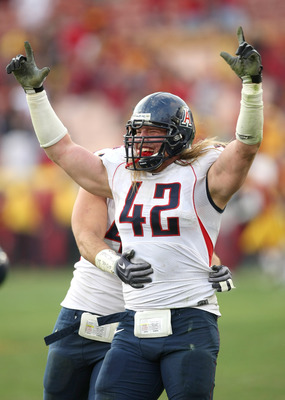 Stephen Dunn/Getty Images
Brooks Reed will have to thank Clay Matthews for raising his draft stock this high. Not only for the comparisons with the golden locks, but for the relentless motor they both have. Reed went from being projected as third-round prospect to a borderline first round.
Buffalo may be looking for an edge rusher with the 34th pick, after missing out on Von Miller in the first round
Justin Houston -- Outside Linebacker -- Georgia
Kevin C. Cox/Getty Images
Justin Houston will be disappointed not to be selected in the first round but he s,hould hear his name early in the second. Maybe even as early as the first pick, with the Patriots in need of an edge rusher in their 3-4.
Houston recorded 10 sacks last year for the Bulldogs, and his numbers continued to rise during his three years at Georgia.
Torrey Smith -- Wide Receiver -- Maryland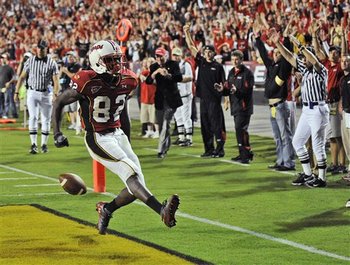 Torrey Smith is a big play receiver who lead Maryland in receptions (67), receiving yards (1,055) and touchdowns (12). In the final game of the regular season against North Carolina State, Smith recorded stats of 14 receptions for 224 yards and four touchdowns.
Smith could be a target for teams in need of a solid receiver, like the Redskins, Browns or Rams
Marvin Austin -- Defensive Tackle -- North Carolina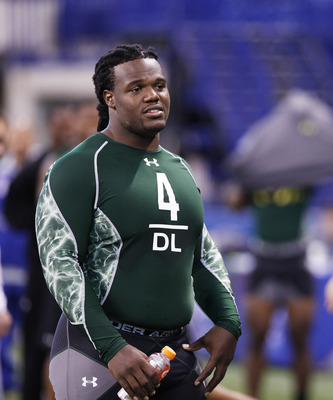 Joe Robbins/Getty Images
If it wasn't for the season-long suspension, you could make a valid argument that Marvin Austin could have been a top-15 pick. Maturity issues still leave a question mark over his head, but he is a great talent and a wrecking machine on the field.
It's going to take a team with a strong, veteran locker room to take Austin under their wing and make him reach his full potential.
Martez Wilson -- Linebacker -- Illinois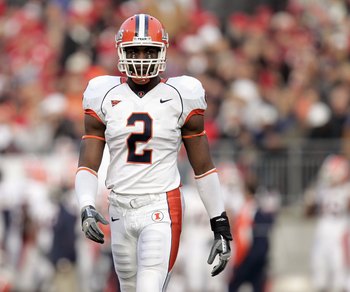 David Maxwell/Getty Images
Martez Wilson was the cornerstone of the Fighting Illini defense. He racked up 111 tackles in his final season, which included six 10-plus tackle games. A herniated disk in his neck in his junior year which ruled him out for the year. He was able to gain a year of eligibility back, meaning he leaves Illinois as a Junior.
I've seen a fair few mock draft which have Wilson going to the Browns, though he'd be a solid addition to any team in the second round.
Rahim Moore -- Safety -- UCLA
Lisa Blumenfeld/Getty Images
Rahim Moore is the highest rated safety in a weak class. He is still a great player who intercepted 10 passes as a sophomore. He only managed the one interception in his junior year as most teams were avoid him.
Moore could be of interest to the Denver Broncos, who may be looking to find Brian Dawkins' heir or the Houston Texans, who's secondary was decimated last year.
Bruce Carter -- Linebacker -- North Carolina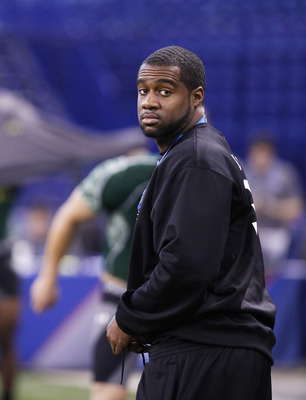 Joe Robbins/Getty Images
Bruce Carter suffered from missing the key defensive players from North Carolina who were suspended. Carter missed the last regular season game and the bowl game due to tearing his left ACL, which is a big concern for NFL teams.
Carter could have been a first-round pick, but as we saw yesterday with Da'Quan Bowers, teams are precarious when it comes to knee injuries.
With that in mind, Carter might not come off the board straight away and may even fall into the late second round, where a team can pick up a bargain.
Leonard Hankerson -- Wide Receiver -- Miami(FL)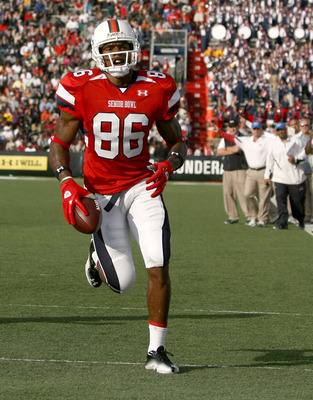 Sean Gardner/Getty Images
Andre Johnson. Santana Moss. Reggie Wayne. Brett Perriman. Michael Irvin. Miami know how to make receivers. All indications show that Leonard Hankerson should be the next great NFL wide receiver from Miami. Hankerson had only one game where he did not have 50 or more yards receiving and had a total of four 100-plus yard games.
Finishing with 13 touchdowns, any team needy on receivers would have a hard time passing up Hankerson.
Brandon Harris -- Cornerback -- Miami (FL)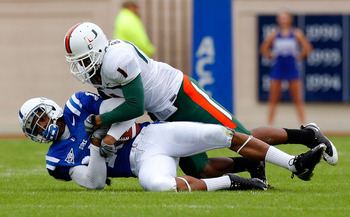 Kevin C. Cox/Getty Images
Brandon Harris is another player from the football hotbed of Miami(FL). Harris is very quick and will rarely be beaten deep. Some had him as a late-first projection, but with Amukamara falling to 19 to the Giants and Jimmy Smith going to the Ravens, it wasn't much of a surprise that he fell out of the first round.
However, there are a couple of teams who passed on cornerbacks in the first round who could be looking at Brandon Harris in the mid-second round.
Ryan Williams -- Runningback -- Virginia Tech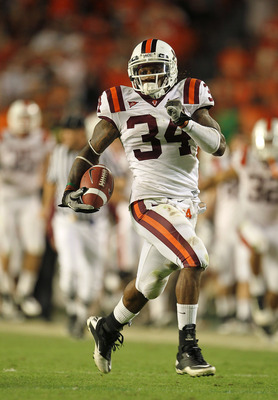 Mike Ehrmann/Getty Images
Ryan Williams will be sat backstage in New York hoping his name gets called out soon.
It was virtually out of the question that he would be gone in the first round, but with a second round grade, there are plenty of teams who could do with another back to make their backfield committee complete.
A small injury during his final season that forced him to miss four games meant that his stats diminished, but he's still an intriguing prospect who could go around the middle of the second round.
Jabaal Sheard -- Defensive End -- Pittsburgh
Andy Lyons/Getty Images
Sheard posted good, but not outstanding numbers whilst at Pitt. He collected nine sacks in his senior year, which earned him the honour of Big East Defensive Player of the Year. He's big, tough and surprisingly fast for someone of his size.
He's a tweener defensive end who would be comfortable with his hand on the ground or up as an edge rushing linebacker.
Keep Reading