2011 NFL Mock Draft: Final Predictions for the Top 50 Players on the Big Board
Streeter Lecka/Getty Images
This list takes the average ranking of players between the Scouts, Inc. and NFL Draft Scout.com rankings.
It shows where each of the Top 50 players figure to land, including a few anticipated trades.
If you'd like to monitor how the experts are doing, and review their consensus picks, a complete list of first round picks for nine different draft boards:
50. Benjamin Ijalana, OG Villanova 6'4", 317 Lbs: Pittsburgh Steelers No. 31
I'm not sure why Ijalana has slipped so far on the big boards. Some teams may be concerned about a player making the big step from FCS to the NFL, but the Steelers have the coaching staff to make the move work.
The Steelers need help with their OL, and Ijalana is the beast to bring it. He was simply a beast against lesser competition; guys simply didn't get near the QB.
49. Rodney Hudson, G/C Florida State 6'2", 299 Lbs: Seattle Seahawks No. 57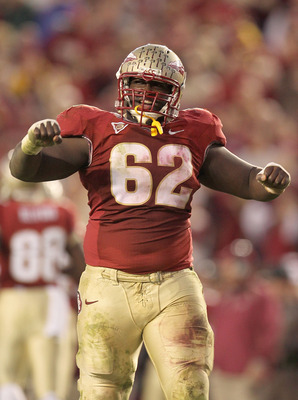 Mike Ehrmann/Getty Images
Seattle needs to add depth and prepare for the future of their interior line. Hudson can play guard or center, as can Max Unger. The duo will push each other well.
48. Jon Baldwin, WR Pittsburgh 6'4" 228 Lbs: St. Louis Rams No. 47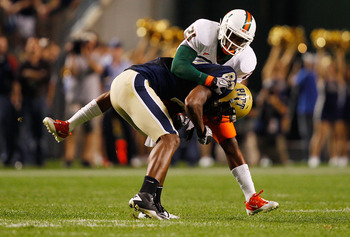 Jared Wickerham/Getty Images
Wide Receiver isn't the biggest need for the Rams, but they do need to add depth and prepare for when Clayton will no longer be on the team...which could be the 2011 seasons.
47. Ryan Williams, RB Virginia Tech 5'9", 212 Lbs: Cincinnati Bengals No. 66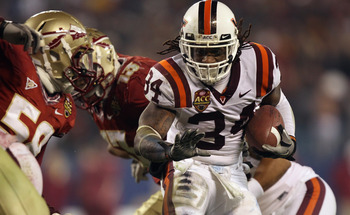 Streeter Lecka/Getty Images
Williams has been falling down draft boards, but still made the Top 50 list. The Bengals need to be prepared in case they are unable to re-sign Cedric Benson.
46. Jabaal Sheard, DE Pittsburgh 6'3", 264 Lbs: Arizona Cardinals No. 38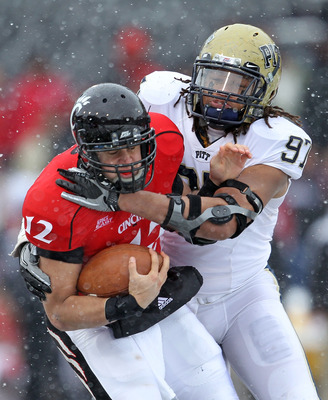 Andy Lyons/Getty Images
The Cardinals need to work on their pass rush. Sheard has been making appearances on first-round draft boards as of late, but this is a fairly good spot for him to be taken.
45. Andy Dalton, QB TCU 6'2", 215 Lbs: San Francisco 49ers No. 45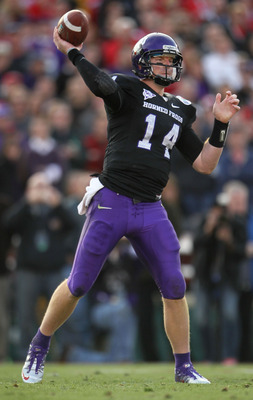 Jeff Gross/Getty Images
Some draft boards have Dalton going in the first round, and it is possible that the 49ers will trade up to get their QB. However, there may not be quite the late-first-round feeding frenzy on QBs that many are predicting.
44. Martez Wilson, ILB Illinois 6'4", 250 Lbs: Denver Broncos No. 36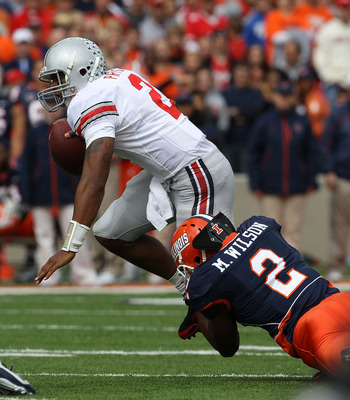 Jonathan Daniel/Getty Images
The Broncos took defensive line in the first; now they need to work on the LB corps.
43. Ras-I Dowling, CB Virginia 6'1", 198 Lbs: Cleveland Browns No. 37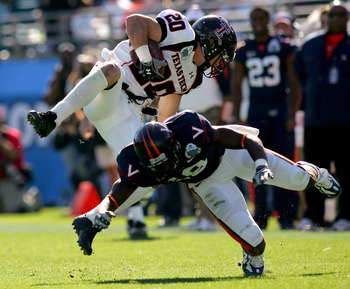 Sam Greenwood/Getty Images
Cleveland needs someone to play opposite of Joe Haden, and Dowling would be a first round pick if not for the lingering leg issues. Look for him to step in and contribute for the Browns.
42. James Carpenter, OT Alabama 6'4", 321 Lbs: Minnesota Vikings No. 43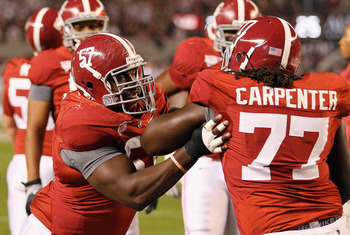 Kevin C. Cox/Getty Images
The Vikings get some needed help on their offensive line.
41. Marvin Austin, DT North Carolina 6'2" 309 Lbs: Seattle Seahawks No. 32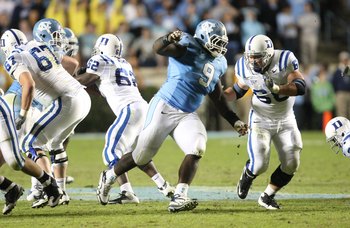 Streeter Lecka/Getty Images
Austin projected as a top-15 pick, but his suspension has him as a bit of an afterthought. Seattle realizes it can trade down with the Packers and still get a pass rusher for the interior of their defensive line, picking up a needed pick in the third round along the way.
40. Torrey Smith, WR Maryland 6'1", 204 Lbs: Denver Broncos No. 35
Smith gives the Broncos a great talent that has the potential to be drafted in Round 1 in exchange for moving up two spots in Round 1.
39. Stephen Paea, DT Oregon State 6'1", 303 Lbs: Denver Broncos, No. 46
Ezra Shaw/Getty Images
A knee injury and a perceived inability to work a 3-4 defense have dropped Paea back out of first round consideration, but the Broncos should be happy to take him here and plug him into their new 4-3 set.
38. Ryan Mallett, QB Arkansas 6'7", 253 Lbs: Minnesota Vikings No. 21
Matthew Stockman/Getty Images
With the QB the Vikings wanted in Round 1 being drafted before they could take him, look for the Vikings to trade down and pick up a Second Round pick. Mallett has a ton of potential, and with Bevell's west coast offense in Seattle, Mallett could bring a deep threat to help open up a few more rushing lanes for Adrian Peterson.
37. Mikel LeShoure, RB Illinois 6'0", 227 Lbs: Detroit Lions No. 44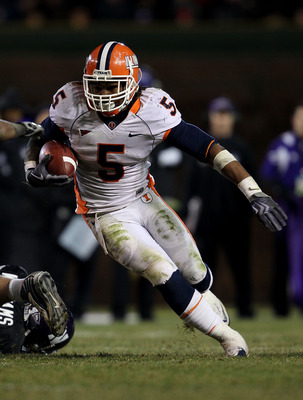 Jonathan Daniel/Getty Images
The Lions need another option at RB, and LeShoure is one of the top RBs in this class.
36. Brooks Reed, OLB Arizona 6'3", 263 Lbs: Green Bay Packers No. 25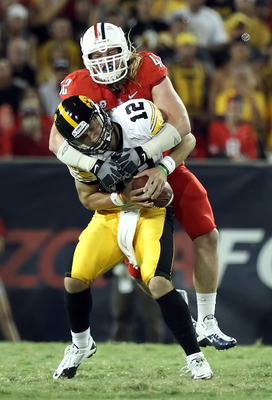 Christian Petersen/Getty Images
Green Bay needs some help with the defensive front seven, and with Wilkerson coming off the board their last targeted player is Brooks Reed. Seattle and Baltimore could be looking at him, so the Packers may opt to send their third-round pick to Seattle and swap first-round spots.
35. Danny Watkins, OG Baylor 6'3" 310 Lbs: Indianapolis Colts No. 53
This seems late for the mature Watkins, and a team may look to trade into position to get him. This would be a very good value for a team looking to fix their offensive line.
34. Phil Taylor, DT Baylor 6'3", 334 Lbs: Washington Redskins No. 41
Jamie Squire/Getty Images
The issue with bones fusing in his feet has dropped his stock, but the Redskins will take him to replace Albert Haynesworth.
33. Brandon Harris, CB Miami (Fla.) 5'9", 191 Lbs: Dallas Cowboys No. 40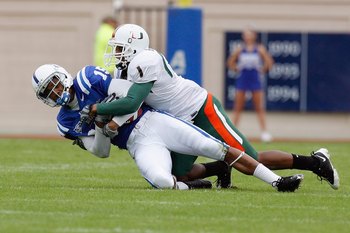 Kevin C. Cox/Getty Images
The Cowboys gave up a lot of passing yards last season. Harris may be a bit short, but he offers a good value at this point for the Cowboys, as the other top CB talent is off the board.
32. Aaron Williams, CB Texas 6'0", 204 Lbs: Baltimore Ravens No. 26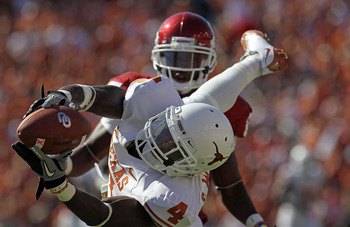 Ronald Martinez/Getty Images
The Ravens need CBs, and despite concerns about how Williams will fare at CB or FS in the NFL, they will give him an opportunity.
31. Jimmy Smith, CB Colorado 6'2", 211 Lbs: Philadelphia Eagles No. 23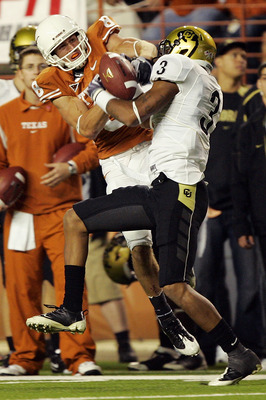 Brian Bahr/Getty Images
Several teams will be looking at Smith in this area, including the Seahawks and Ravens. Look for the Eagles to ruin their plans.
30. Derek Sherrod, OT Mississippi State 6'5", 321 Lbs: Indianapolis Colts No. 22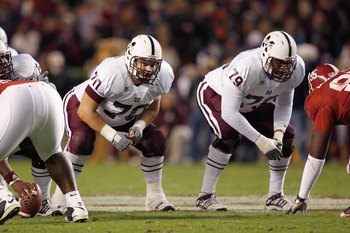 Kevin C. Cox/Getty Images
Indianapolis could use to grab a few offensive linemen in this draft. Sherrod will be step one.
29. Cameron Heyward, DE Ohio State 6'5", 294 Lbs: Baltimore Ravens No. 26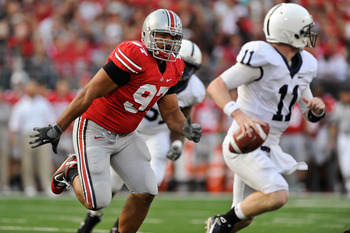 Jamie Sabau/Getty Images
With the CB they wanted off the board, they either have to reach for Ras-I Dowling or take a defensive end here. A strong pass rush would help whatever CBs they have left...
28. Akeem Ayers, OLB UCLA 6'3", 254 Lbs: New York Jets No. 30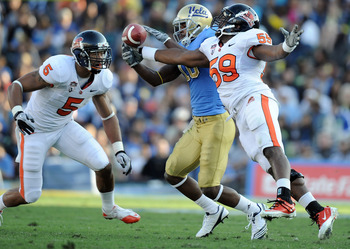 Harry How/Getty Images
Ayers could fall out of the first round, but the Jets need to improve their pass rush. The other options they will consider appear to be off the board.
27. Kyle Rudolph, TE Notre Dame 6'6", 259 Lbs: Atlanta Falcons No. 27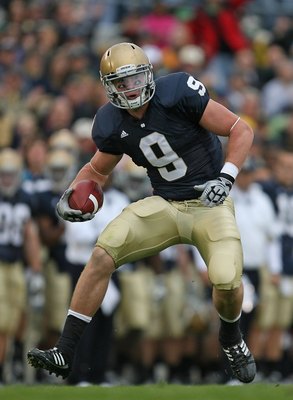 Jonathan Daniel/Getty Images
The Falcons need some additional receiving targets, and need to start their transition plan at TE. Gonzalez started his transition last year, so look for the Falcons to jump at the opportunity to bring in a talented prospect.
26. Jake Locker, QB Washington 6'3", 231 Lbs: Tennessee Titans No. 8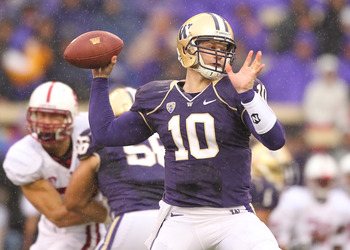 Otto Greule Jr/Getty Images
This may seem very early for Locker, as Gabbert is still on the board. But Locker is the kind of elusive, mobile QB that the Titans like, and if they don't grab him here the Vikings will likely take him at 12. Locker's accuracy issues have been exaggerated due to the style of offense, lack of receiving talent, and the worst offensive line in the Pac-10.
25. Adrian Clayborn, DE Iowa 6'3", 281 Lbs: Tennessee Titans No. 39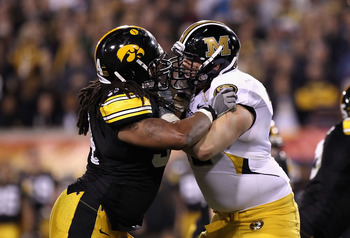 Christian Petersen/Getty Images
And here we have the Titans again, this time getting a player ranked much higher but falling to them in the second round.
24. Muhammad Wilkerson, DT Temple 6'4", 315 Lbs: Chicago Bears No. 29
Since the Bears can't get the offensive lineman they want, they will look to the other side of the ball. Ijalana is an option here for them, as is Danny Watkins. But Wilkerson is a talent they will have a hard time ignoring.
23. Christian Ponder, QB Florida State 6'2", 229 Lbs: Buffalo Bills No. 34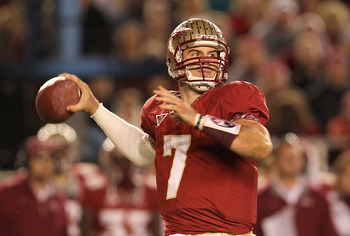 Mike Ehrmann/Getty Images
With Ponder still on the board, the Bills will need to look at the future of the position. Fitzpatrick needs someone that can push him and challenge for the starting spot, and Ponder could be that guy.
22. Nate Solder, OT Colorado 6'8", 319 Lbs: New England Patriots No. 33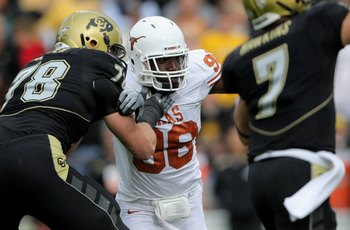 Doug Pensinger/Getty Images
The Patriots get a project with a ton of potential at the start of the second round. He won't be able to step in and start right away, but the Patriots have flexibility with their stash of draft picks.
21. Mark Ingram, RB Alabama 5'9", 215 Lbs: New England Patriots No. 28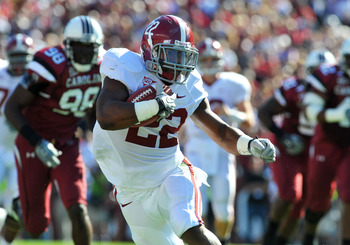 Al Messerschmidt/Getty Images
In a season or two, Ingram and Solder could be a tough matchup for opposing defenses.
20. Gabe Carimi, OT Wisconsin 6'7", 314 Lbs: Dallas Cowboys No. 9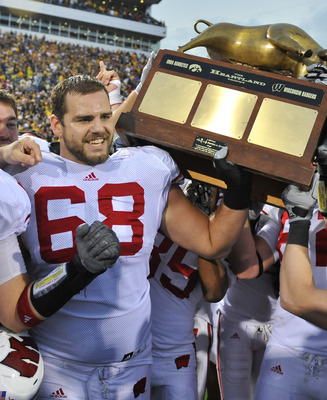 David Purdy/Getty Images
The Outland Trophy winner and four-year starter at Wisconsin took over for Joe Thomas without missing a beat. Carimi is more prepared to be a starting LT in the NFL as any rookie in this draft class.
19. Mike Pouncey, OG Florida 6'5", 303 Lbs: New England Patriots No. 17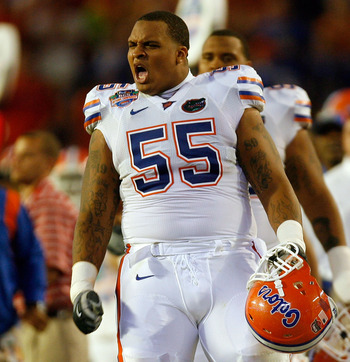 Eliot J. Schechter/Getty Images
I have a feeling either the Bears or Steelers will be looking to deal with the Patriots here...
18. Ryan Kerrigan, DE Purdue 6'4", 267 Lbs: Jacksonville Jaguars No. 16
Jamie Sabau/Getty Images
The Jaguars would like to be looking at QB options here, but they will be waiting until round two.
17. Anthony Castonzo, OT Boston College 6'7", 311 Lbs: New York Giants No. 19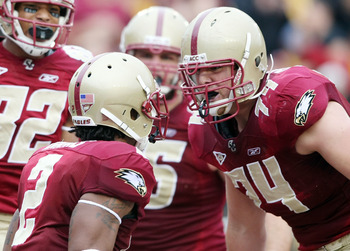 Elsa/Getty Images
Castonzo should fit in nicely...
16. Corey Liuget, DT Illinois 6'2", 298 Lbs: New Orleans Saints No. 24
The Saints showed some weakness along the front line last year, particularly in the playoff loss.
15. Aldon Smith, DE Missouri 6'4", 263 Lbs: Miami Dolphins No. 15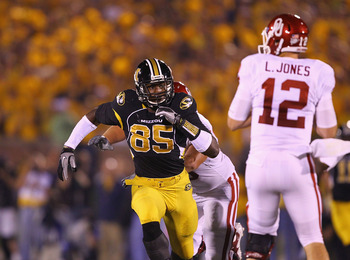 Dilip Vishwanat/Getty Images
The Dolphins need to look at RB and QB, but neither are appealing at this spot. OG might be an option, though.
14. Cameron Jordan, DE California 6'4", 287 Lbs: St. Louis Rams, No. 14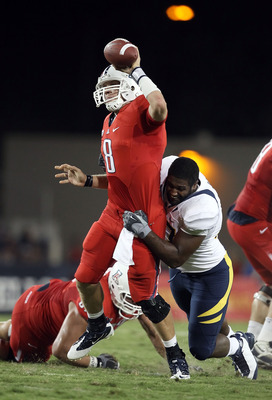 Christian Petersen/Getty Images
People are talking about a first round WR, but that isn't the biggest need for the Rams. They will be getting players back from injury, and can look at WR in round two.
13. Cam Newton, QB Auburn 6'5", 248 Lbs: Cincinnati Bengals, No. 2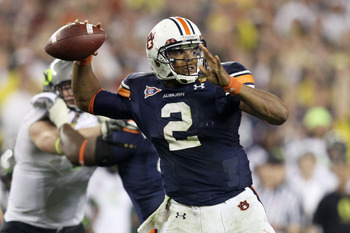 Christian Petersen/Getty Images
The Bengals will give up a draft pick to move up and get a QB to replace Carson Palmer…whether that is in 2011 or later. In this scenario, I have Denver sliding back two spots.
12. J.J. Watt, DE Wisconsin 6'5", 290 Lbs: San Diego Chargers No. 18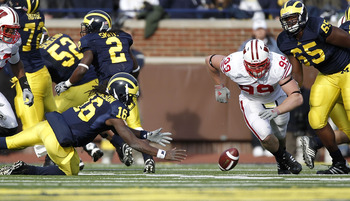 Gregory Shamus/Getty Images
The Chargers need to find some energy at the start of the season. Watt has the talent to be drafted much higher, and will give the Charger defense a much-needed spark.
11. Da'Quan Bowers, DE Clemson 6'3", 280 Lbs: Tampa Bay Buccaneers No. 20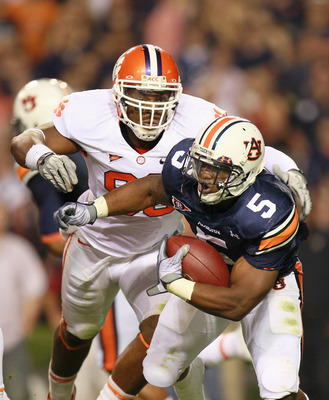 Kevin C. Cox/Getty Images
I'm surprised Bowers is still ranked this high. Some team will take a gamble on his knee being OK, and this seems like an appropriate spot. The Buccaneers certainly have the need.
10. Tyron Smith, OT Southern California 6'5" 307 Lbs: Detroit Lions No. 13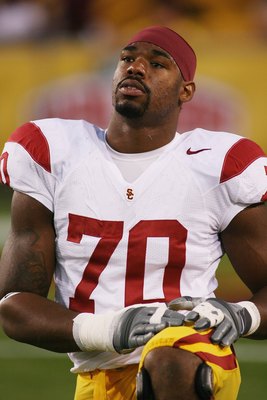 Jeff Golden/Getty Images
It is hard for me to drop Smith out of the ninth pick, as I've had him there since February. However, concerns over the meniscus in his knee are bound to drop him a few spots. There are also concerns that he hasn't played LT in college, and it is yet to be seen if he can keep the weight on during the rigors of training camp.
He's still a good pick here. The Lions do need some help on their line, even if they didn't allow nearly as many sacks as they have in years past.
9. Nick Fairley, DT Auburn 6'4", 291 Lbs: Denver Broncos No. 4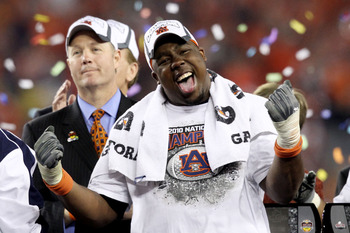 Christian Petersen/Getty Images
Look for the Broncos to trade down and pick up an extra pick, switching spots with the Bengals in round one. This will allow them to move in front of the Broncos and Bills to snag Newton.
The Bengals might not have a QB on their roster, as Palmer has threatened to walk. There are some grumblings about how well Newton would do in Cincinnati, but look for the Bengals to find a way to make it happen.
8. Blaine Gabbert QB Missouri 6'4", 234 Lbs: Washington Redskins No. 10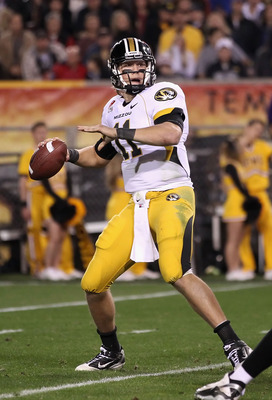 Christian Petersen/Getty Images
I'm just not buying into Gabbert being a quality NFL QB. He might be, given some time, but projects at the QB position shouldn't be talked about as a top-five pick.
I expect to see Gabbert's lack of production in college finally catch up with him on draft day.
The Redskins get a QB they feel they can work with in Round One...now they'll just need to figure out if they can trust him to run the offense in 2011.
7. Julio Jones WR Alabama 6'3", 220 Lbs: Kansas City Chiefs, No. 12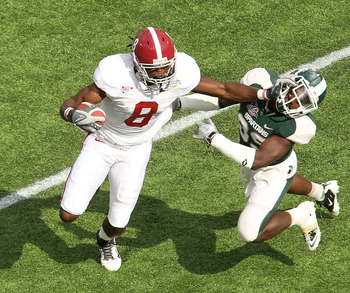 Mike Ehrmann/Getty Images
With Julio Jones still on the board at pick 12, look for the Chiefs to send their first two picks to the Vikings to get a much-needed second receiver. The Vikings will no longer use this pick for a QB, as Locker is off the board.
6. Prince Amukamara, CB Nebraska 6'0", 206 Lbs: San Francisco 49ers No. 7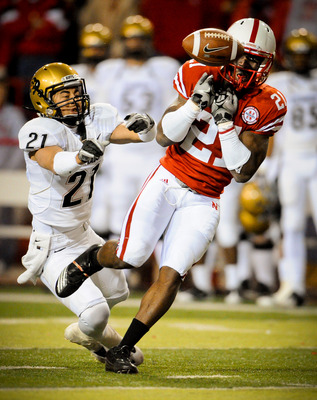 Eric Francis/Getty Images
Yes, the 49ers are in need of a quarterback, but they need the right quarterback. Gabbert's best bet of making it in the NFL will be in a West Coast offense, but he would hardly be an improvement over Alex Smith.
The 49ers need help in their secondary, and a CB with the talents of Prince Amukamara will be tough for them to come by in future years. Look for Jim Harbaugh to work on the defense in 2011, re-sign Alex Smith and go to work on getting a QB in round two or 2012.
5. Robert Quinn, DE North Carolina 6'4", 265 Lbs: Houston Texans No. 11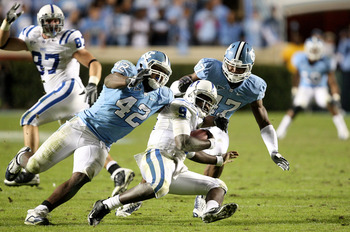 Streeter Lecka/Getty Images
Quinn may not fall this far, but if he does the Texans will jump on the pass-rusher. They need to re-tool for their new 3-4 defense.
4. A.J. Green, WR Georgia 6'4", 211 Lbs: Cleveland Browns, No. 6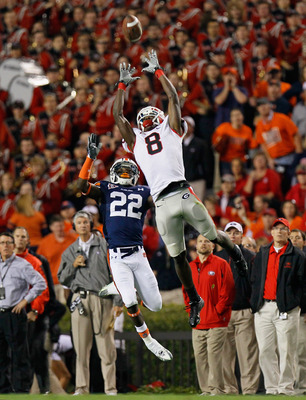 I'm sure Colt McCoy would hate to have a receiver that can make a play like this...
Kevin C. Cox/Getty Images
Many fans and analysts have said that a receiver with Green's talent would be wasted in the Browns' offense. I'm pretty sure that Mike Holmgren can figure out a way to get him the ball and exploit his talents.
Green makes a lot more sense than Jones. He has better hands and can spread the field well enough for McCoy. The two of them could become one of the great tandems of their time.
3. Von Miller, OLB Texas A&M 6'3", 245 Lbs: Buffalo Bills, No. 3
Chris Graythen/Getty Images
Ryan Fitzpatrick did too much with too little in 2010. Look for the Bills to stay the course and work on defense early this draft. They may add a QB later in the draft should one be there they like, though.
Miller should certainly make the entire defense better. He's a great pass rusher and should make opposing quarterbacks a little less comfortable.
2. Patrick Peterson, CB LSU 6'1", 219 Lbs: Arizona Cardinals, No. 5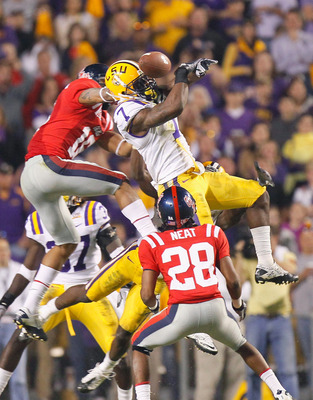 Kevin C. Cox/Getty Images
Blaine Gabbert is the trendy pick here, but he is not an ideal fit for the Cardinals' offense. Ken Whisenhunt seems to have a bit of faith in his young QB, John Skelton, as well.
Peterson has been considered a possibility for the top pick, and will fill a big void in the desert. The Cardinals have a bit of work to do on both sides of the ball, but they may choose to ignore the QB altogether in this draft. It will allow them to round out their team in the draft.
They may opt to sign a free agent QB to compete with Skelton, but either way they have created holes in their secondary. Peterson can fill one of them.
1. Marcell Dareus, DT Alabama 6'3", 319 Lbs: Carolina Panthers, No. 1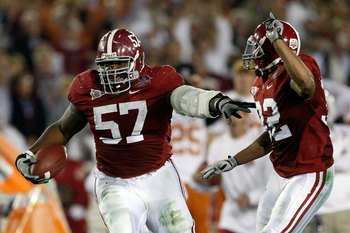 Jeff Gross/Getty Images
Dareus is just too good of a prospect for the Panthers to pass up. Newton could become a great QB, but he ran an offense that was rather simple compared to what he'll be presented in the NFL...and he did it for one season. Newton's physical skills are obvious, but his mental approach to the game is yet to be tested, creating at least a valid concern over his bust potential.
The Panthers have a lot of building to do, and they already have one young QB with potential. Give Jimmy Clausen another year, and if he fails the Panthers will be in better overall shape to add their franchise QB in 2012.
Keep Reading