MLB Predictions 2011: 10 Rookie of the Year Candidates Who Have Yet to Debut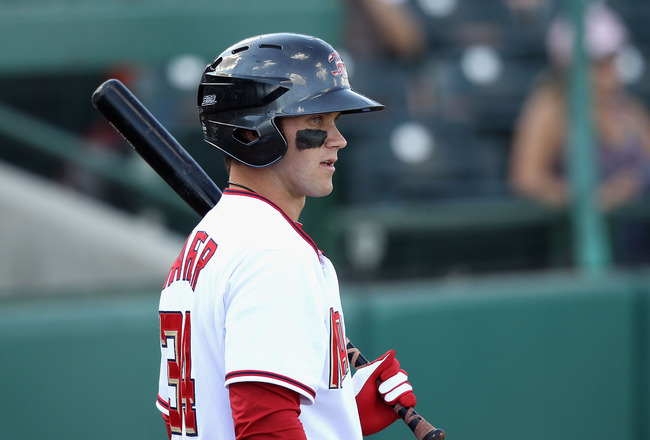 Christian Petersen/Getty Images
The MLB season is barely a month old, and certain players are already off to slow starts. As I write, Boston Red Sox outfielder Carl Crawford is batting just .167. As is common this time of year, some frustrated fans have one thought on their minds: "Isn't there anyone in the minors we can call up???"
Ironically enough, we are approaching the time of year when most MLB teams call up their top prospects for a full-time spot in the lineup. The reason for doing this is to extend when a player will be eligible for salary arbitration. In some cases, most notably that of Evan Longoria of the Tampa Bay Rays, this player can be a team's saving grace. In 2008, Longoria was called up to the majors a couple of weeks into the season and won the AL Rookie of the Year Award.
There are lots of teams with great prospects in the minor leagues, including Bryce Harper of the Washington Nationals (pictured at left), and some of these teams have a dire need at the position said prospects play. Here are 10 Rookie of the Year candidates who have yet to see any time this season. If any of their GMs see the stats they've posted thus far, perhaps they will get a shot at the top level.
No. 10: Bryce Harper, Washington Nationals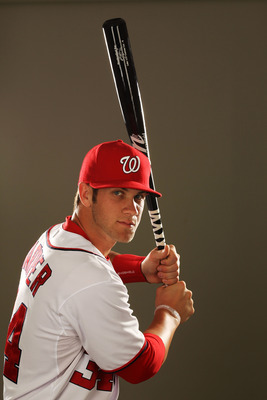 Al Bello/Getty Images
Going into last year's MLB draft, Bryce Harper was the most-hyped player. Thus, it's no surprise that the Washington Nationals took him with the first overall pick and signed him to a five-year contract worth $9.9 million. In his lone college season with the College of Southern Nevada, the then-catcher batted .443 with 31 home runs and 98 RBI. Keep in mind, those numbers occurred over 66 games in a league that uses wooden bats in conference play.
The Nats drafted Harper as an outfielder and he has major potential with that position change, but the odds of him actually being called up to the team this season are slim to none. He is only 18 years old and still has a lot to learn. He is currently at A-level Hagerstown and doing very well.
Yet, I am going to be of the dissenting opinion on how Harper should be handled. He is an absolute phenom, one that you rarely see anymore. He's batting .288 with three home runs and 14 RBI for Hagerstown thus far, and his OBP is a remarkable .403. How many other 18-year-old prospects are that patient???
I say promote Harper to AAA now and see how he does. If he tears it up there, promote him to the majors. The Nationals are a team with lots of holes and Harper could fill a huge one.
No. 9: Dellin Betances, New York Yankees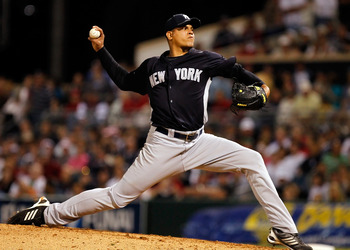 J. Meric/Getty Images
For those who read my Yankees spring training piece, you'll remember that I had some very good things to say about Dellin Betances. The 23-year old is an intimidating presence on the mound at 6'8" and throws four pitches, including a fastball that has been clocked in the high 90s. Currently, he is at AA Trenton.
As has been since Cliff Lee pulled a LeBron James and went to the Philadelphia Phillies, the biggest question mark for the Yankees has been pitching. Despite the team currently being in first place, the starting pitching has been kind of suspect. Phil Hughes has been shut down with what is being called "dead arm," and Ivan Nova has been inconsistent.
Bartolo Colon has done a fine job filling in for Hughes and Freddy Garcia has been solid out of the No. 5 spot of the rotation. Still, some more stability would be nice. That's where Betances comes in.
Currently, he is 0-1 on the season at Trenton. However, his ERA is a very impressive 1.93. If the starting pitching strategy falters or even if Rafael Soriano continues to struggle as a setup man, Betances could get a call.
Still not convinced? Let me put it this way. Over six minor league seasons, he has a 3.37 career ERA and has logged 304.1 innings to go with 350 strikeouts. That's so impressive that I don't know how else to put it.
No. 8: Manny Banuelos, New York Yankees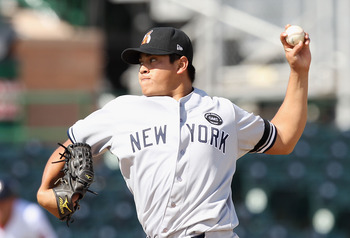 Christian Petersen/Getty Images
Like Betances, I had very good things to say about Manny Banuelos in my Yankees spring training piece. This lefty is still young at age 20, but already did a fine job showcasing his stuff in the preseason. He doesn't throw above the low 90s, but scouts say his changeup is one of the best they have seen and Yankees closer Mariano Rivera calls Banuelos "the best young pitcher I have seen."
Currently at AA Trenton, Banuelos has only three starts this season. Yet, he has a 1.42 ERA and perhaps a promotion to AAA Scranton-Wilkes Barre is in his near to immediate future. If the Yankees need help with starting pitching, look for Banuelos to possibly get the call.
No. 7: Devin Mesoraco, Cincinnati Reds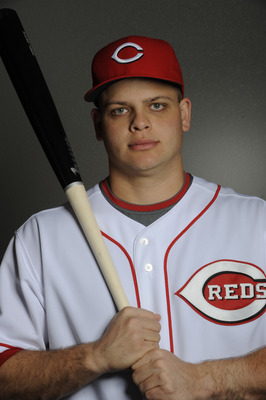 Rob Tringali/Getty Images
Many of you have probably never heard of Devin Mesoraco. He is a 22-year-old catcher in the Cincinnati Reds' farm system who was taken with the 15th overall pick in the 2007 draft (behind the likes of David Price, Jayson Heyward, etc.). Given how the Reds' two catchers at the moment are an aging Ramon Hernandez and career backup Ryan Hanigan, a change has to be made at that position if the Reds are to repeat as NL Central Division champions.
Mesoraco split 2010 between Single A-advanced, AA, and AAA. On the year, he batted .302 with 26 home runs and 75 RBI. He is currently at AAA Louisville and hitting .286 with three homers and nine RBI.
This young man certainly has the potential to be a top power-hitting catcher on the major league level. All he needs is the opportunity. Once the Reds feel that it's time to make a permanent change at catcher, Mesoraco will get his time to shine.
No. 6: Wilin Rosario, Colorado Rockies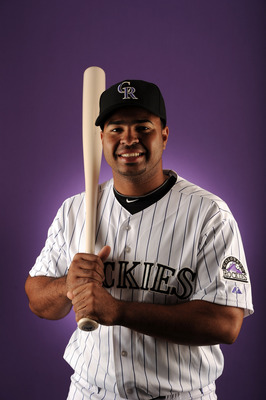 Harry How/Getty Images
Once again, we come to another catcher. Wilin Rosario, along with the likes of Devin Mesoraco and Jesus Montero (of the New York Yankees), is considered to be one of the top-catching prospects in baseball. He has spent all of this season at AA Tulsa and is currently batting .310 with four home runs and 9 RBI.
In 2010, also spent with Tulsa, Rosario batted .285 with 19 homers and 52 RBI in just 73 games! That alone is a testament to how much potential he has with a 162 game schedule.
Presently, the Rockies have the underachieving Chris Ianetta at catcher. Unless team management is convinced that a man batting .170 with two home runs and seven RBI is the catcher of the future, Rosario should be called up to the big league club fairly soon.
If he adjusts well, he'll have a field day in the hitter-friendly Coors Field.
No. 5: Dee Gordon, Los Angeles Dodgers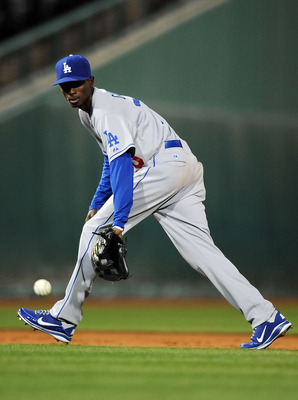 Norm Hall/Getty Images
At first glance, Dee Gordon does not look like a top MLB prospect. He's 5'11" and a skinny 150 pounds, yet the shortstop is considered the top prospect in the Dodgers organization.
Gordon isn't the type of player who will wow fans with his power or showcase a rifle of an arm. However, he hits well for average and to put it bluntly...the kid is FAST. Currently in his fourth minor league season, Gordon has 152 career steals.
This season, at AAA Albuquerque, Gordon is batting .299 with eight steals. Given how incumbent shortstop Rafael Furcal is on the DL once again and Jamey Carroll the furthest from a suitable replacement, Gordon deserves a shot at both the big leagues and the Dodgers' leadoff spot.
No. 4: Mike Moustakas, Kansas City Royals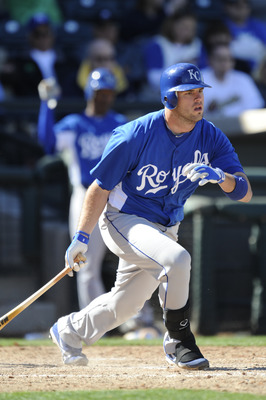 Rob Tringali/Getty Images
Going into this season, MLB.com ranked Mike Moustakas as the No. 7 prospect in all of baseball. The stocky third baseman for the Kansas City Royals split 2010 between AA Northwest Arkansas and AAA Omaha and put up great numbers. He batted .322 with 36 home runs and 124 RBI, incredible for someone only 22 years old.
Given the position he plays, it shouldn't be too hard for Moustakas to make a transition to first base as Mike Aviles is the everyday third baseman and batting just .233, though with three homers and 14 RBI. I mean, come on. Changing positions worked for Jason Giambi!
Now, let's look at the Royals' situation at first base. The incumbent starter is Kila Ka'aihue (It's OK...I can't pronounce it either) and despite having a lot of hype, he has largely underachieved this year. A .186 average, two home runs and six RBI are not good enough to justify retaining a spot in the starting lineup.
What the Royals should do is have Moustakas start playing some games at first base and see how he fares. He is off to a slow start this year with just a .225 average, two home runs and 12 RBI, yet is too talented to just let stew in the minors this season.
He is a powerful lefty bat and the Royals need help at both corner infield positions. Give him a shot!
No. 3: Eric Hosmer, Kansas City Royals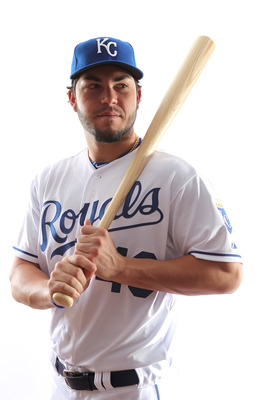 Jonathan Ferrey/Getty Images
If there is one man in the way of Mike Moustakas's potential transition to first base, it's Eric Hosmer. The only difference between he and his teammate is that Hosmer is a monster when it comes to hitting for average.
A talented lefty who intimidates pitchers with his 6'4", 230 pound frame, Hosmer has the potential to become one of the best hitters in the league. He doesn't hit well for power, but his batting average in the minor leagues is just ridiculous. He has a career .304 average in three-plus minor league seasons.
In 2010, he batted .338 with 20 home runs and 86 RBI in time split between Single A-advanced Wilmington and AA Northwest Arkansas. He started this season at AAA Omaha and is batting an astounding .380 with one home run and 10 RBI.
As I mentioned before, the Royals need help at first base. Given how well Hosmer has performed at AAA thus far, there isn't any reason why he should sit in the minor leagues in 2011. He's 21 years old and has a very high ceiling. Give him a shot!
No. 2: Brett Lawrie, Toronto Blue Jays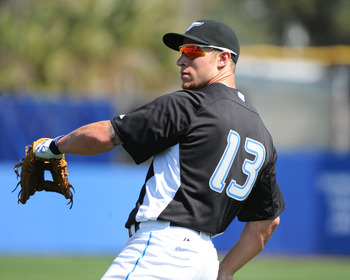 Al Messerschmidt/Getty Images
Brett Lawrie is a third baseman the Toronto Blue Jays acquired from the Milwaukee Brewers in the Shaun Marcum trade this past offseason. He might also be the best hitter in the minor leagues this season.
This year at AAA Las Vegas, Lawrie is batting an astounding .421 with four home runs and 12 RBI, along with five stolen bases. The Blue Jays' infield is looking a little crowded at this point, with Edwin Encarnacion at third base and Adam Lind at first base. Yet, there is a way Lawrie could get some playing time.
Let's be honest, folks. Adam Lind does not belong in the field. The Blue Jays' designated hitter at the moment is Juan Rivera, who is only batting .172 with one home run and just four RBI.
Thus, I believe that the solution is simple. First, DFA Rivera. It just has to happen if the Blue Jays want a shot at contending in the AL East.
Following that, switch Encarnacion to first base and put Lind back in his usual DH spot. At that point the front office can call Lawrie up from the minors and pray that his hitting successes thus far follow him to the major leagues.
No. 1: Domonic Brown, Philadelphia Phillies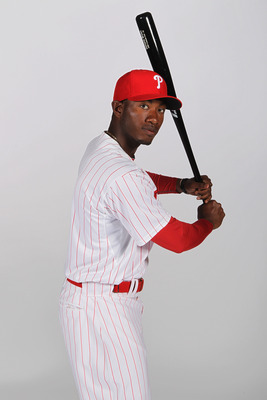 Nick Laham/Getty Images
This here is a very interesting case. Unlike the rest of the men on this list, Domonic Brown has one distinct quality about him. He is the only one who has any major league experience.
Brown appeared in 35 games for the Phillies last season and posted a .210 average with two home runs and 13 RBI. He was sent back to the minors and finished the season with a .327 batting average, 20 homers, 68 RBI and even 17 steals in 93 games split between AA Reading and AAA Lehigh Valley.
The 23-year-old outfielder is a true five-tool player. He hits well for average, has power and speed, fields well and has a great arm. Given his lack of playing time in the majors last season, he still has rookie status for 2011.
Brown is currently on the disabled list and recovering from surgery on a broken left wrist he sustained in spring training. His rehab assignment begins today, so it shouldn't be long before he takes over right field again. If he comes back at 100 percent, I think it's safe to say he's a near-lock for NL Rookie of the Year if he meets and exceeds expectations.
Keep Reading