MLB Rankings: Ryan Braun, Alex Rodriguez Headline Early Season MVP Race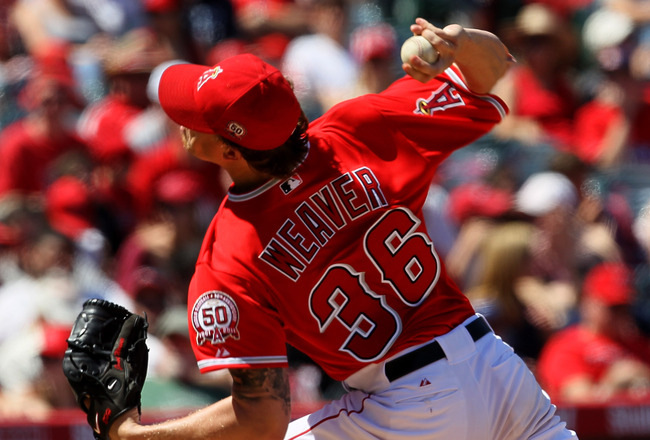 Stephen Dunn/Getty Images
Well, we are quickly approaching the one month mark in the 2011 MLB season. Sure, there have been a few surprises—but for the most part the cream has risen to the top.
Pitching has dominated the young season so far. However, there have been a few players who have risen to the occasion and put up monster numbers to begin the new year.
It's never too early to throw out some speculation as to who the front-runners are in the early-season MVP race. Of course, these names may change as we head into the dog days of summer—but to this point no one in baseball is having the kind of seasons as these guys.
Here are your top five MVP candidates in each league for the first month of the 2011 season.
5. Prince Fielder: Milwaukee Brewers (NL)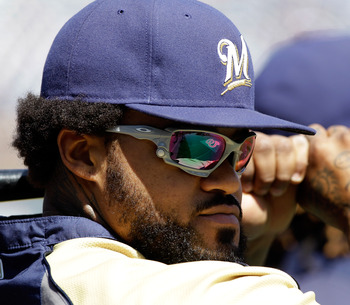 Rob Carr/Getty Images
It was hard to put Prince all the way down at number five, but the fact is, there are a few players having even better starts to their 2011 seasons.
Playing for his first nine-figure contract, Prince leads all of MLB with 22 RBIs in only 21 games. This pace would put him at about 170 over a full season.
Fielder has also managed to get his batting average up to .345 and he is second in the NL with eight doubles.
He only has three home runs to this point, but his April production is great considering he never hits his stride until May. Expect the homer total to rise along with his rank on this list.
5. Miguel Cabrera: Detroit Tigers (AL)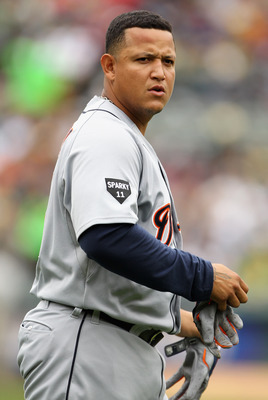 Ezra Shaw/Getty Images
Cabrera has surprisingly been able to keep is off-the-field issues from affecting his on-the-field play, as he is off to another great start in 2011.
The only category Miggy leads the league in is runs scored with 21. Other than that, he is consistently among the leaders in all offensive categories.
He has his typical .338 BA, and he has five home runs and 15 RBI so far. Cabrera is also getting on base a lot this season, as his 17 walks and .458 OBP are both third most in the AL.
Seems like the typical Miggy to me.
4. Josh Johnson: Florida Marlins (NL)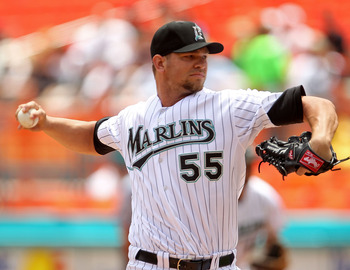 Mike Ehrmann/Getty Images
Generally speaking, I am against a pitcher getting an MVP award. Yet with the end of the steroid-era in baseball, pitchers may dominate to the point where we may have to reconsider.
That's exactly what we've seen from Johnson to start the 2011 season,
In five starts spanning 34 total innings, Johnson has a 1.06 ERA and an even more ridiculous 0.65 WHIP. He has allowed only 13 hits all season for a .116 BA against.
He is 3-0 to date and has struck out almost a batter per inning so far.
4. Adrian Beltre: Texas Rangers (AL)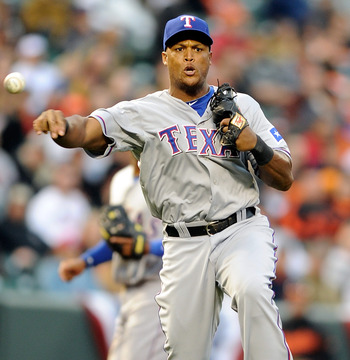 Greg Fiume/Getty Images
When you're the best offensive player on the best team in the AL, you start to get some MVP recognition.
Coming into the season, everyone wondered how Beltre would fair after signing another bloated contract. It may help that he plays in a hitter-friendly home ballpark, but Beltre has yet to disappoint.
He leads the league with 20 RBI and is second with seven long-balls. If Beltre can win two out of three Triple Crown categories it'll be enough to garner some MVP votes.
His batting average sits at only .276, but with the ballpark he plays in that number should rise as we get deeper into the season.
3. Troy Tulowitzki: Colorado Rockies (NL)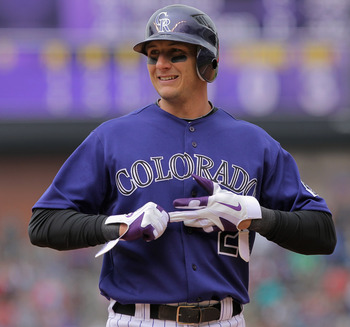 Doug Pensinger/Getty Images
Considering Tulowitzki is a shortstop, he could be the most dangerous player in the league.
Tulo is second in the NL with seven home runs and is among the league leaders in doubles with six. Five of his long-balls have come away from home, so the whole "increased-altitude" theory is a moot point right about now.
Another typically slow-starter, Tulo is sitting at a .317 BA and 1.083 OPS with 16 runs and 16 RBI so far. He is also among the better defensive shortstops in the league, which is all the more impressive.
Tulowitzki has his Rockies out to a 15-7 start, tied for best in all of baseball.
3. Jered Weaver: Los Angeles Angels (AL)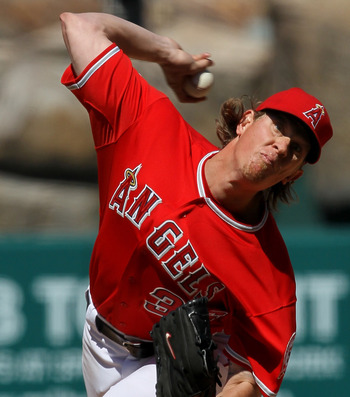 Stephen Dunn/Getty Images
Weaver is hands-down the leading CY Young candidate, as he is off to the best start by a pitcher in recent memory. If this award ever deserved to go to a pitcher, that time is now.
Through six starts he is 6-0 (mind you, we are still in April) with a 0.99 ERA. He leads the AL with a 0.79 WHIP and he leads all of MLB with 49 punch-outs.
Weaver has reached double-digit strikeouts twice in his six starts, and at this point he has a large lead in all three pitching Triple Crown categories—throughout all of MLB.
2. Matt Kemp: Los Angeles Dodgers (NL)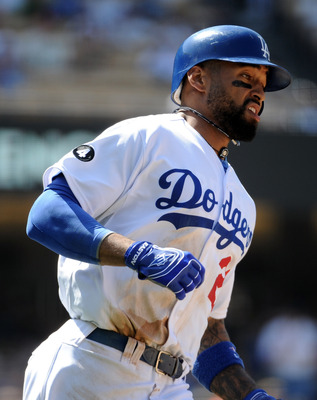 Harry How/Getty Images
Kemp is on a tear to start the 2011 season.
He leads the NL in batting average (.398) and hits (36), while ranking third in the league in stolen bases (eight), runs scored (19) and OBP (.471). He also has five home runs and is fourth in the league in RBI (18).
After a slow start by the Dodgers out of the gate, Kemp has helped them climb back to .500 and to within a few games of the Rockies in the NL West.
Kemp looks to be back on track after a sluggish 2010 campaign.
2. Alex Rodriguez: New York Yankees (AL)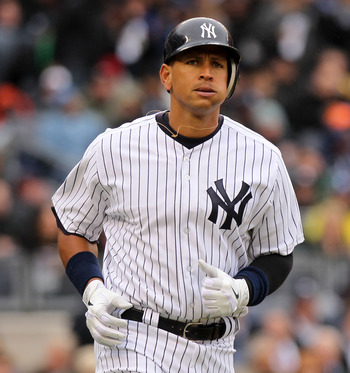 Nick Laham/Getty Images
A-Rod has been good across the board to start the 2011 season.
In 16 games, he has 17 RBI, 14 runs scored and five home runs. He also has a .346 BA to date and is second in MLB with a 1.284 OPS.
The big thing for A-Rod will be staying healthy for the whole season, which he has struggled to do the last few years.
If he does stay healthy, he may have enough in him to make a run at the Triple Crown.
1. Ryan Braun: Milwaukee Brewers (NL)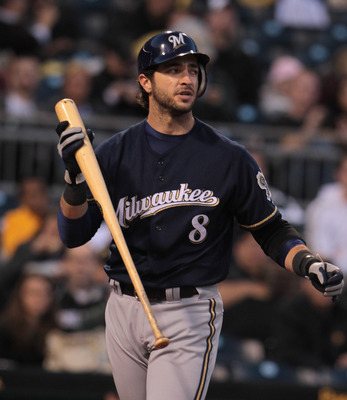 Scott Halleran/Getty Images
Fresh-off adding five years and $105 million to his contract, Braun is off to a fantastic start in every offensive category.
The other half of the best 1-2 punch in all of baseball, Braun is batting .378 with a .707 slugging percentage, including a tie for the MLB lead with eight home runs.
His 22 runs scored are the most in all of baseball, and his 16 walks puts him at third in the NL.
Brauny also leads the NL with a 1.182 OPS and is second to only Prince Fielder with 20 RBI.
1. Jose Bautista: Toronto Blue Jays (AL)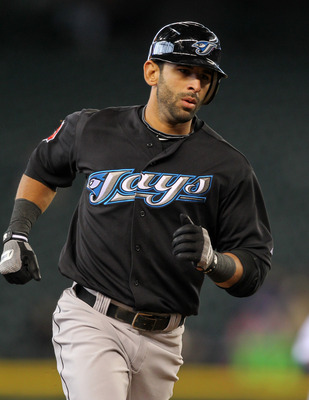 Otto Greule Jr/Getty Images
Coming off a 54 home run performance in 2010, the big question entering the season had been whether that performance was a fluke.
So far Bautista has proved doubters wrong by slugging eight home runs, tied for the MLB lead, and he leads all of baseball with a 1.308 OPS.
He only has 11 RBI on the season, but his .364 BA, .517 OBP and .788 SLG are all way above everyone in the AL.
He also leads MLB in walks (21) and is second in the league in runs (20).
Keep Reading