2011 NFL Mock Draft: Detroit Lions' Seven-Round Mock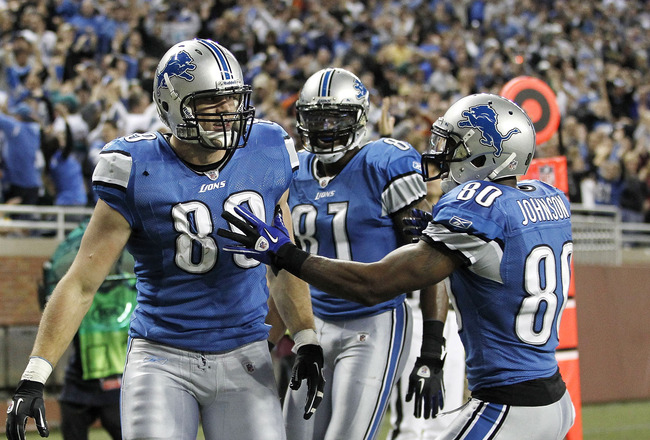 Gregory Shamus/Getty Images
Heading into the 2011 NFL Draft, the Detroit Lions have more needs than people think according to general manager Martin Mayhew. It's a good thing the Lions have had success in the past couple of drafts under this current regime.
With six picks in seven rounds, the Lions have an opportunity to fill a number of needs with potential starters or high-level backups.
Head coach Jim Schwartz believes in building in the trenches, and many fans feel both offensive line and defensive ends could be a focal point of this draft. In addition, the linebacking and defensive back corps were decimated by injuries in 2010 and picked apart by opposing quarterbacks.
Moreover, the Lions will look to help Matthew Stafford by finding a slot-speed receiver to pair with Calvin Johnson and a running back to pair with Jahvid Best.
To fill those needs, Detroit Lions should make these picks starting Thursday.
No. 13: Da'Quan Bowers (DE Clemson)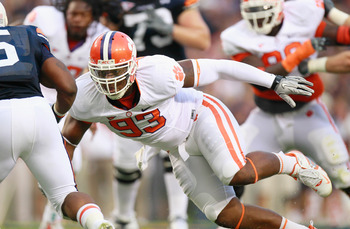 Kevin C. Cox/Getty Images
Scouting Report:
Da'Quan Bowers is, easily, the top 4-3 DE prospect of the 2011 NFL Draft. His size-speed combination is among the best the position has to offer and he has a pass rush pedigree as the number one prospect out of high school as well as the number one prospect in his draft class before a meniscus injury sidelined him.
The injury is a subject of extreme concern among NFL teams and their fans. However, the Detroit Lions are believed to have cleared Bowers (if one believes GM Martin Mayhew).
If Bowers is healthy, or at least cleared to play without future concerns, he will be an absolute steal.
Why He Fits The Lions:
Is defensive end the biggest need for the Detroit Lions?
No, absolutely not. The Lions have Kyle Vanden Bosch and Cliff Avril—a terrific starting tandem—and a number of quality backups in Lawrence Jackson and Turk McBride. The Lions have flexibility along the defensive front and are able to play Ndamukong Suh and Corey Williams at end in run-heavy situations. Moreover, the Lions drafted Willie Young in the seventh round in 2010 and love his upside.
Da'Quan Bowers is an elite prospect and, needs aside, is the best player available—a mantra the Lions have preached in the first round for the past two years.
No. 44: Mason Foster (LB Washington)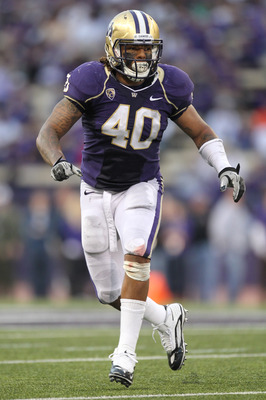 Otto Greule Jr/Getty Images
Scouting Report:
The only other draft-worthy player on the Washington Huskies, Foster is a dream come true for Jim Schwartz and the Detroit Lions defense.
Foster has the instincts of a defense's primary playcaller and the sheer athleticism of a top-flight outside linebacker. He is able to meet defenders at the point-of-attack and either evade or shed their blocks. In coverage, Foster may be the best zone defender in the draft. Most importantly, Foster is also able to rush the passer with ease and fill gaps against the run.
Why He Fits The Lions:
Everything read above is exactly what the Detroit Lions are looking for in a WLB.
Foster is a tacklehound who will track down plays near the line of scrimmage and never get fooled like the oft-out-of-position Ernie Sims.
To replace Julian Peterson, the Lions are looking for more of a pass rushing/gap plugging specialist (Martez Wilson would be a coup.) However the Lions have two linebackers—Bobby Carpenter and Ashlee Palmer—that were fringe replacement-level players in 2010. Foster can replace Palmer or start in the middle and allow Levy to play on the outside.
Either way, the Lions get a top-quality player to man the front seven in 2011.
No. 75: Edmond Gates (WR Abilene Christian)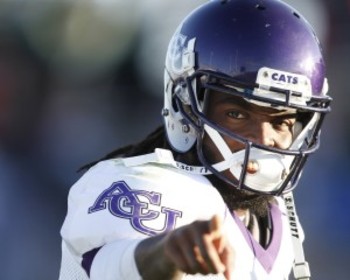 Scouting Report:
Edmond Gates eats up corner cushion like a fat kid at Old Country Buffet.
With a 4.3 40-time, Gates epitomizes the concept of a quick-footed slot receiver. Long armed and taller-than-average, Gates finds himself sitting on the precipice of elite slot and receiver and fringe X/Z flanker. Most importantly, the small school standout has hands of gold—catching everything thrown his way.
A willing blocker, Gates has the ability to contribute in the run game.
Why He Fits The Lions:
The above could be written almost word-for-word about Nate Burleson (minus the elite speed of course). In fact, Gates could replace Burleson as the starting flanker opposite Calvin Johnson, moving the more savvy Burleson to the slot position.
Either way, Gates would be on the field a lot for the Lions and push the seam more consistently than any receiver on the Lions roster.
No. 107: Brandon Fusco (OC Slippery Rock)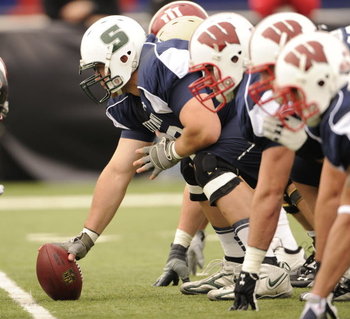 Scouting Report:
Another Division II standout, Fusco is a four-year starter and a premier blocker regardless of his small school status.
At Slippery Rock, Fusco dominated. Projecting to the NFL, Fusco could be an adequate run blocker right away in the NFL if not an elite road-grader. In pass protection, Fusco could struggle right away but should take to coaching sooner rather than later in the pros.
Why He Fits The Lions:
At 6'4", 306lbs., Fusco is already bigger and stronger than the Lions current starting center, Dominic Raiola. From Raiola, Fusco could learn all he need about leading a team and beating defensive lineman with technique.
In the interim, Fusco could back up multiple positions and could even fill in if Stephen Peterman is still hampered by injuries.
No. 154: Josh Bynes (LB Auburn)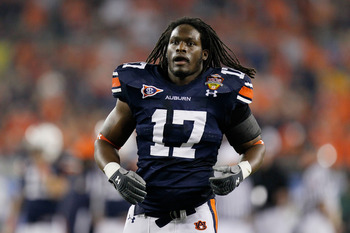 Kevin C. Cox/Getty Images
Scouting Report:
Smart as a whip, Bynes should be an almost immediate candidate for the green dot (indicating defensive playcalling) in the pros.
As a run defender, Bynes may be among the best in the draft, especially as a one-gap filler. An instinctive hitter, Bynes is able to separate the ball carrier from the pigskin more often than not. In a word, Bynes is a thumper.
If he has a weakness, it is in the pass game. Bynes will fall in the draft because he has weaknesses in both coverage and as a pass rusher.
Why He Fits The Lions:
Bynes may not immediately start on any defense in the NFL, but he could play solid minutes in his first year and have plenty of opportunity to win a starting spot..
For the Lions, he is able to learn from a couple of the best linebacker coaching minds in the NFL—Schwartz and LB Coach Matt Burke—and contribute as a backup and special teamer right away.
In the best case scenario, Bynes could be a great candidate to play in the middle of the defense and move DeAndre Levy to an outside linebacker position.
No. 205: Darren Evans (RB Virginia Tech)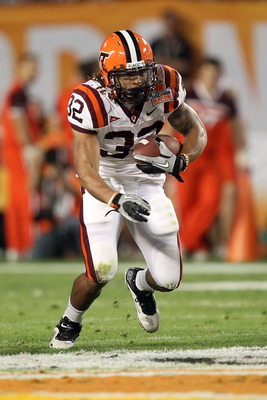 Streeter Lecka/Getty Images
Scouting Report:
Evans spent most of his time in Blacksburn backing up Ryan Williams.
This year, Williams is liable to go in the second round while Evans could end up undrafted. However, Evans fills the same niche he did at Virginia Tech—a big back with plenty of speed to burn and just enough wiggle to succeed at the next level.
Why He Fits The Lions:
Although the Detroit Lions want a big back to complete Jahvid Best, they aren't going to take a guy who can't extend plays. The Lions could easily draft a running back much earlier, but Evans would be perfect in the later rounds (or as an undrafted free agent) replacing Aaron Brown and (eventually) Maurice Morris.
Michael Schottey is an on-call editor for the Bleacher Report College Writing Internship, as well as an NFL Featured Columnist and an NFL Labor/Draft Expert. A member of the Pro Football Writers of America, he has professionally covered the Minnesota Vikings and the Detroit Lions, as well as NFL events like the Scouting Combine and the Senior Bowl. Follow him on Twitter.
Keep Reading

Detroit Lions: Like this team?