MLB Power Rankings: Ranking All the 30 MLB Fan Bases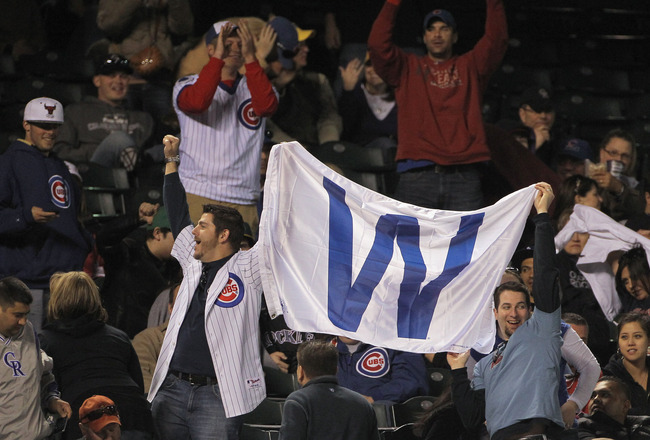 Doug Pensinger/Getty Images
Major League Baseball fans are some of the best sports fans in the world. They watch and cheer for their team through good times and bad, through April and September, hoping that one day their team can be called World Series Champions. But some team's fan bases are much more dedicated and loyal than others, and with that I count down the best fan bases in MLB.
30. Cleveland Indians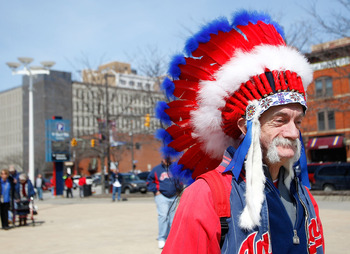 Jared Wickerham/Getty Images
Indians fan used to be one of the best fan bases in baseball. But due to their team's recent struggles, attendance numbers have significantly dropped, as they ranked last in the league in attendance in 2010. But even after their team's torrid start to the season, they still rank dead last in attendance this year!
29. Florida Marlins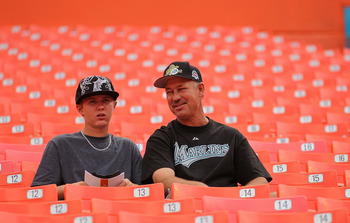 Mike Ehrmann/Getty Images
Miami does not deserve such a good baseball team. Even though their team has already produced two World Series titles in their young tenure as a franchise, they fail to turn up in even respectable numbers. It's not as if the weather is preventing them from going to the ballpark.
28. Tampa Bay Rays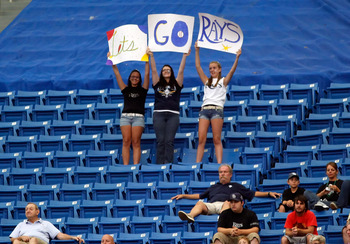 J. Meric/Getty Images
Another Florida team, another terrible fan base. The Rays have produced one of the best teams in MLB for the last few seasons, but their fans fail to turn up at all. It has led to two of their star players calling out the fans and the franchise giving out FREE tickets in the middle of the pennant race last year.
27. Washington Nationals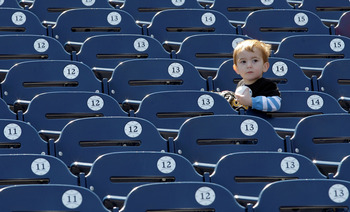 Rob Carr/Getty Images
The Nationals have never really caught on as a franchise since coming to the nation's capital in 2005. They have failed to produce a competitive team in DC and the fans have a hard time filling up half the stadium.
26. Arizona Diamondbacks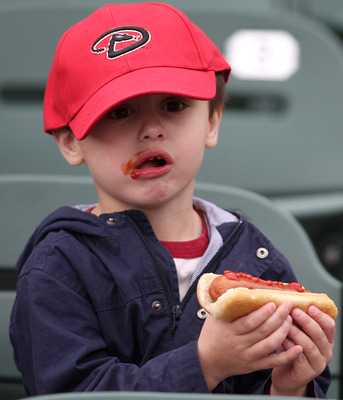 Jonathan Ferrey/Getty Images
I don't blame the Diamondbacks fans for being in the lower percentage of baseball in attendance the last few years. Their team has been terrible since Randy Johnson left.
25. Oakland Athletics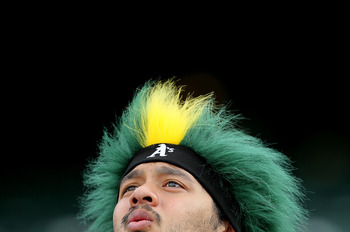 Justin Sullivan/Getty Images
Oakland fans are crazy about their sports. Don't go in there with an opponent jersey on and expect to walk out clean. But those crazy fans come in a limited number in Oakland. It seems if you're across the bay from San Francisco, you either are crazy about the A's or you don't really care.
24. Pittsburgh Pirates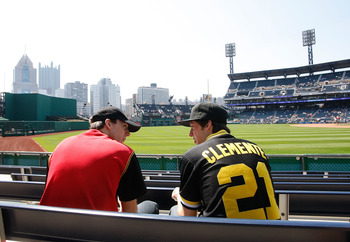 Jared Wickerham/Getty Images
Pittsburgh is a winning town in everything but baseball. Their football team is great. Their hockey team is great. But their baseball team is pathetic. They have failed to produce a winning team in nearly two decades, and it's put a dent in the heart of many Steel City fans.
23. Toronto Blue Jays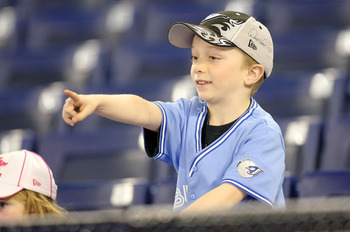 Dave Sandford/Getty Images
Baseball north of the border has had its up and downs over the last few years. The Blue Jays have managed to put a decent team together and have been a solid franchise in a very tough division for a while now. They finished with a solid 85-77 record last year but still ranked in the bottom half of the league in attendance.
22. Seattle Mariners
Christian Petersen/Getty Images
The Mariners are a young franchise that has really struggled over the last few years. After having several unbelievable years with talent such as Ken Griffey Jr., Alex Rodriguez, Randy Johnson, Ichiro and Edgar Martinez, that talent has disappeared to big market cities that offer big contracts (with the exception of Ichiro) and the M's have been one of the worst teams in baseball for years now. That has resulted in a diminished fan base that ranks in the bottom quarter in attendance over the last few years.
21. San Diego Padres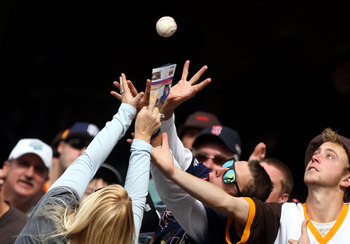 Donald Miralle/Getty Images
Padres fans are dedicated. They have gone years without seeing their team win a championship, and they will probably have to wait at least a decade more, as the team offers little talent compared to their division rivals. But even with their great season last year, that saw them come one game of the postseason, they only managed to fill just over 60 percent of the stadium.
20. Chicago White Sox
Jonathan Daniel/Getty Images
I live in Chicago. They love the Bears, Bulls, Blackhawks and Cubs. The White Sox are the forgotten team in the Windy City, and their fans tend to be fair weather baseball fans who like the idea of a winning franchise rather than a losing one. The Cubs have the dedicated fans, and they will always be Chicago's baseball team.
19. Atlanta Braves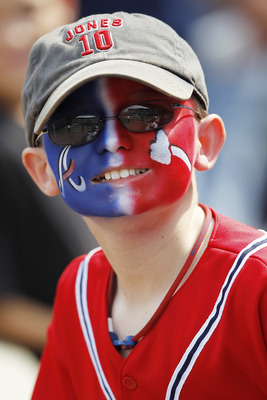 Joe Robbins/Getty Images
Baseball in Georgia used to be huge in the 1990s and the early part of the millennium, but its popularity in the south has severely decreased over the last few seasons, and they struggle to bring in a lot of folks to the stadium.
18. Kansas City Royals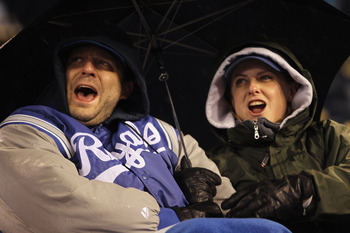 Jamie Squire/Getty Images
Royals fans are loyal and dedicated, but their franchise has yet to put a competitive team on the field in this millennium. Can you blame them for the below average attendance?
17. Texas Rangers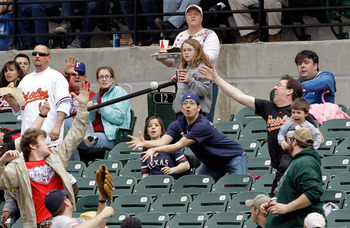 Rob Carr/Getty Images
The reigning AL Champions do not have a great fan base. Throughout the decade, even last year, the Rangers have finished in the bottom half of the league in attendance. Let me say it this way—in the middle of October, Dallas fans would rather watch a Week 5 Cowboys game than a World Series Rangers game.
16. Houston Astros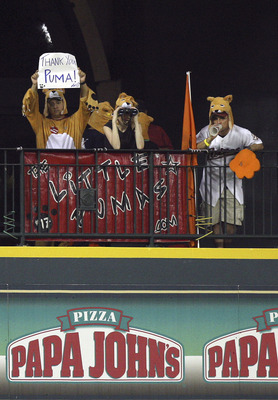 Bob Levey/Getty Images
The fellow Texas team narrowly edges their instate rival simply because they have more dedicated fans. They have a bigger tradition in Houston and even during their miserable season last year, they still managed to finish in the top half in attendance and ahead of the Rangers. Now that is loyalty.
15. Baltimore Orioles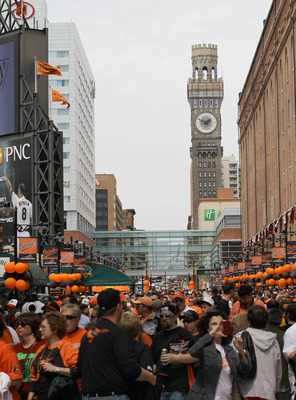 Rob Carr/Getty Images
Through good times and bad, the fans of Baltimore have stuck by their team. They may not show up to the ballpark in large numbers, but as soon as the Orioles show signs of life in a tough division, they will be there, ready to support their team.
14. Cincinnati Reds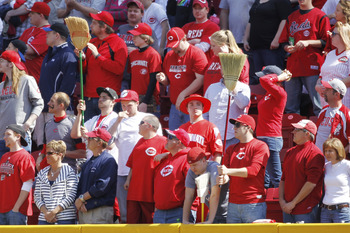 Joe Robbins/Getty Images
Cincinnati, Ohio is the epitome of a baseball town. They host one of the most classic and historic franchises in MLB in the Reds and they are grateful for it. They may not rank very highly on attendance, but Reds fans are die-hard.
13. Los Angeles Angels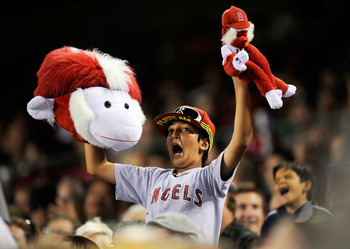 Kevork Djansezian/Getty Images
Although they are sometimes known as LA's other team, Angels fans are die-hard. They boast one of the best fan bases in baseball, and are known to make great gimmicks such as the rally monkey. They also finished an impressive sixth in attendance last year, which was better than their LA counterpart.
12. Detroit Tigers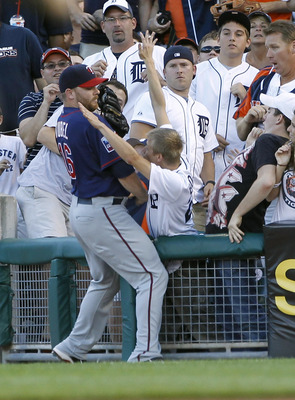 Leon Halip/Getty Images
The Motor City loves their sports, and the Tigers are no exception. The AL Central franchise boasts one of the most loyal and dedicated fan bases in all of baseball. Even when the economy of Detroit is severely suffering, the Tigers still managed to finish 12th in attendance last year, and they weren't even that good!
11. Colorado Rockies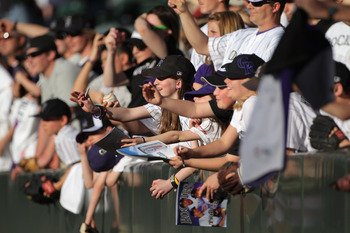 Doug Pensinger/Getty Images
Baseball in the Mile High City has been on the rise ever since the Rockies' historic World Series run back in 2007. The fan base has turned into one of the best in MLB, as they constantly rank in the top half of the league in attendance, finishing 13th last year.
10. Minnesota Twins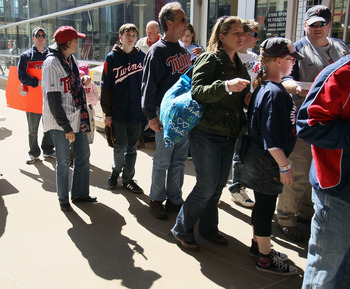 Elsa/Getty Images
The Twins franchise has been one of the most consistent in all of sports for the last 20 years. They are constantly able to put a competitive team on the field without a lot of money. For that, the franchise is rewarded with one of the best fan bases in baseball. In fact, the Twins finished last year third in attendance in their inaugural season at Target Field.
9. Los Angeles Dodgers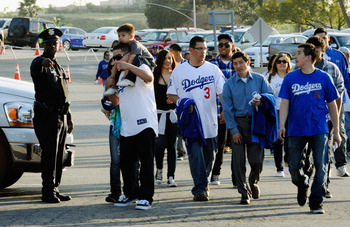 Kevork Djansezian/Getty Images
Although the Dodgers franchise has been embroiled in controversy from the beginning of the season, they still have one of the most loyal fan bases in MLB. Many may complain that they show up late and leave early, but wouldn't you do that if you had to deal with LA traffic? The Dodgers constantly rank in the top 10 in attendance.
8. Milwaukee Brewers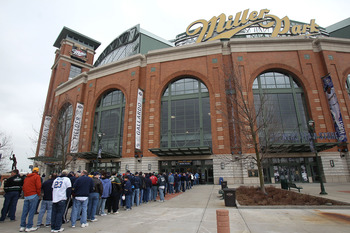 Jonathan Daniel/Getty Images
Despite having the smallest market in baseball, the Brewers still manage to finish with great attendance year after year. They are yet to produce a World Series for their die hard fans, but they don't seem to mind. They finished ninth in MLB in attendance last year, despite finishing well under .500.
7. New York Yankees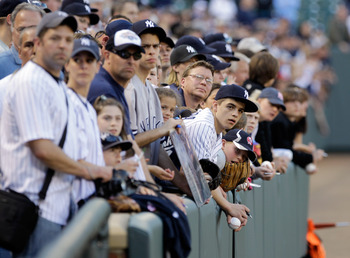 Rob Carr/Getty Images
I know, I know, you Yankee fans are shocked. You guys are of course the most dedicated fans in the league, right? No. Seventy-five percent of Yankee supporters are fair-weather fans who know little to nothing about MLB or any baseball for that matter. This article is also about the most loyal fan bases, and it is not hard to be a loyal Yankees fan. They win a lot, and they rarely disappoint their fans. Being a Yankees fan is well, easy.
6. San Francisco Giants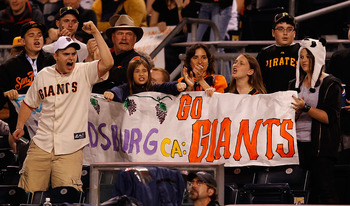 Jared Wickerham/Getty Images
The defending World Series Champions have one of the best fan bases in baseball. Their fans witnessed their team lose year after year before finally bringing home the silverware to San Francisco last year. Their fans deserve it.
5. New York Mets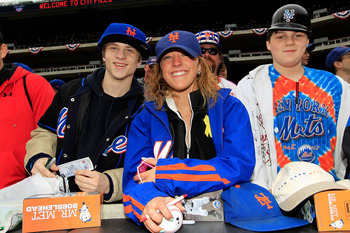 Chris Trotman/Getty Images
Mets fans are one of the best in baseball. Year after year they watch their New York counterpart win, but year after year their fans stick by them and never give up hope. Maybe only Cubbie fans deserve a World Series title more than those of the Metropolitan area.
4. St. Louis Cardinals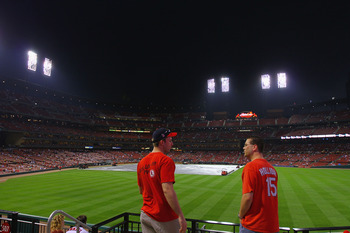 Dilip Vishwanat/Getty Images
The Cardinals are one of the greatest franchises in North American sports, and the same goes with their fans. They constantly finish with one of the best attendances in baseball year after year and constantly put a competitive team on the field. From Musial to Pujols, Cardinals fans have stuck by their heroes.
3. Philadelphia Phillies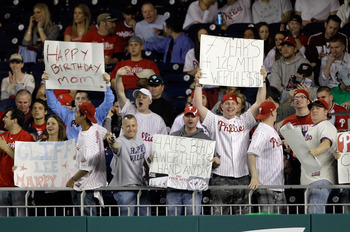 Rob Carr/Getty Images
The City of Brotherly Love boasts some of the biggest sports fanatics in America. Citizens Bank Park has sold out more than 100 straight games and have finished top in MLB in attendance the last two years. Phillies fans are die-hard.
2. Boston Red Sox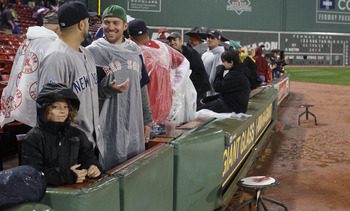 Elsa/Getty Images
The Red Sox have the best fans in the American League. They have sold out more than 500 straight games and have stood by their team for over a century, once lasting 86 years without a World Series title. But the Red Sox are back to a winning franchise, and it has made some of the best fans in pro sports even better.
1. Chicago Cubs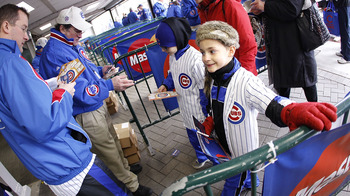 Gregory Shamus/Getty Images
1908—the last time the Cubs were the best team in baseball. It has been 102 years and counting since the Cubbies last won a World Series, but their fans have stuck by them for over a century. They are Chicago's team and they are the Lovable Losers. Although their team is never the best, their fans have been for over a century.
Keep Reading