Green Bay Packers: Ranking the Top 10 Defensive Players and Projections for 2011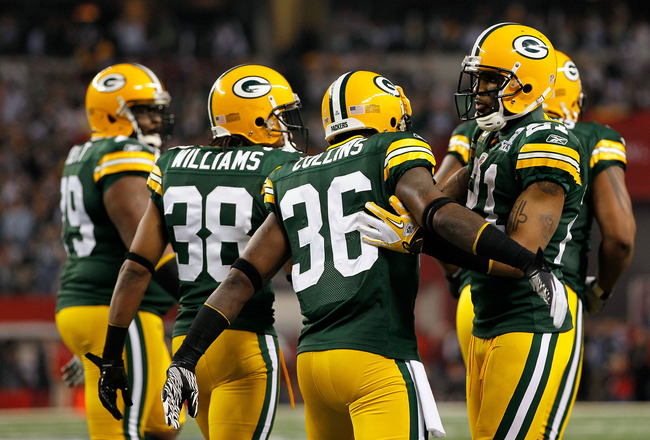 Kevin C. Cox/Getty Images
The Packers seem to be best known across the nation for their offense, specifically their passing attack led by star quarterback Aaron Rodgers. However, their pass defense was also fifth best in the NFL in 2010.
Led by a core of young players and veterans alike, Green Bay's defense was what won them games in the playoffs and, of course, a championship.
Injuries decimated Dom Capers' force throughout the season and even into the big game, but this unit will be back stronger than ever in 2011 with all its top playmakers ready to go defend their title.
Will a rookie soon to be drafted by Green Bay prove worthy of this list heading into 2012?
Packer backers can only hope.
Check out my offensive player rankings and projections here.
10. Ryan Pickett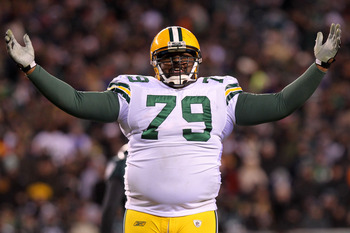 Nick Laham/Getty Images
Ryan Pickett is the only sure thing at defensive end for the Packers heading into 2011.
Cullen Jenkins' return is up in the air with free agency and his possible replacement, Mike Neal, is coming off of season-ending shoulder surgery.
2010 Stats: 32 tackles, 1 sack
2011 Projections: 40 tackles, 1 sack
Outlook: Pickett will have a slightly better year in 2011 if he can stay healthy. While he won't put up enormous numbers, he's a solid starter at the position.
9. Morgan Burnett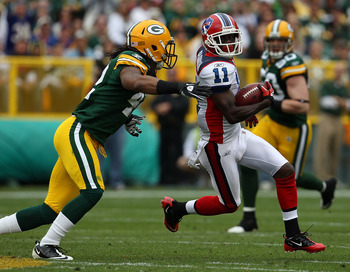 Jonathan Daniel/Getty Images
Rookie Morgan Burnett began the 2010 season as the Packers' starter at strong safety and was expected to hold onto that spot for the future.
Burnett will be back after tearing his ACL in Week 4 of last season and will likely regain the starting position.
However, Charlie Peprah is also well-like by the coaching staff and may see some snaps as well after recently signing a new deal.
The competition should bring out the best in both players, but don't expect Atari Bigby to be involved.
2010 Stats: 14 tackles, 1 INT
2011 Projections: 65 tackles, 3 INT
Outlook: Burnett will make up for missing the majority of his debut season and prove he's the answer as Nick Collins' partner at the safety position.
8. Sam Shields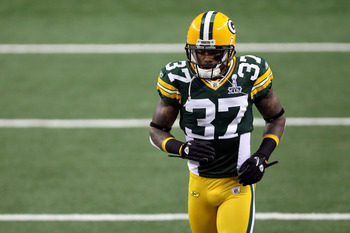 Mike Ehrmann/Getty Images
Uncertain. Undrafted. Unbelievable.
Sam Shields' conversion to the cornerback position and a misdemeanor marijuana charge on his record caused uncertainty in the minds of scouts prior to last season's draft.
Ever since Ted Thompson invited Shields to Green Bay, he's been transformed from undrafted to unbelievable as the Packers' nickelback.
He equaled his regular season interception count in the NFC Championship against the Bears and also recorded a sack in a stunning all-around performance.
2010 Stats: 29 tackles, 2 INT
2011 Projections: 35 tackles, 3 INT
Outlook: It's almost impossible to think that Sam Shields won't get better in 2011.
There is no doubt he is a playmaker with the hands of a receiver, meaning that the Packers' secondary is in great hands for years to come.
7. Desmond Bishop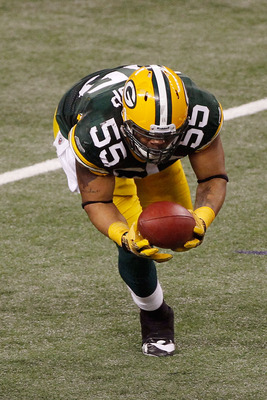 Joe Robbins/Getty Images
Once thought to be a temporary replacement for Nick Barnett, Desmond Bishop won't be stepping aside for anyone anytime soon.
He recently signed a four-year extension and will likely start along side A.J. Hawk at inside linebacker in 2011.
Once he got to see the field, Bishop became a force for bringing down the ball carrier and surprisingly surpassed 100 tackles on the year.
However, what endeared him to Packers' fans most was his pick six off of Brett Favre at Lambeau.
2010 Stats: 103 tackles, 2 FF, 1 INT
2011 Projections: 112 tackles, 3 FF
Outlook: It will be exciting to see what Bishop will do with a full season of playing time.
Expect him to continue his success as a one man wrecking crew, but he won't be intercepting any passes unless a quarterback once again pegs him right between the fives.
6. A.J. Hawk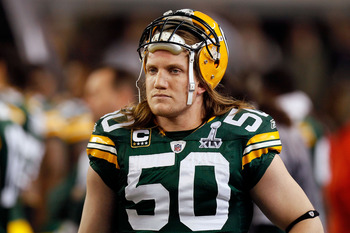 Kevin C. Cox/Getty Images
Many have thought that A.J. Hawk has underachieved since joining the Packers back in 2006. However, he was recently rewarded with a new contract after having one of his best seasons since his rookie year.
What he lacks in run stopping ability, he makes up for in pass coverage. Hawk is often caught causing incompletions and he had a career high in passes defended in 2010 with 10.
Mike McCarthy has declared him a starter going into 2011, but if Barnett remains with the team, a competition could be brewing.
2010 Stats: 111 tackles, 3 INT
2011 Projections: 102 tackles, 2 INT
Outlook: Now that his contract situation has cleared up, Hawk can focus on earning it.
He was under credited during the Super Bowl run, and although he isn't a superstar, he'll be a solid leader and performer again in 2011.
5. B.J. Raji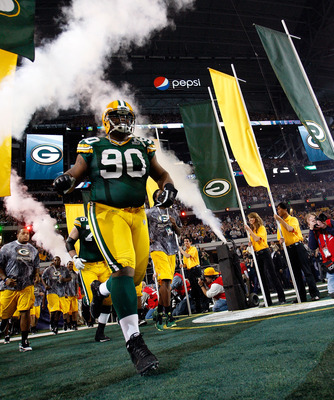 Kevin C. Cox/Getty Images
Raji has arrived.
The sophomore had completely settled into his role as the anchor of Dom Capers' 3-4 defensive scheme even before he danced into the endzone after intercepting Chicago's Caleb Hanie in the NFC Championship game.
No one man can block the 337 lb. nose tackle whose main job is clogging up the middle and stuffing the run. Bringing down the quarterback is just an added bonus.
Raji had 5.5 more sacks than he did in his rookie season and he even got to play a few snaps as a blocker on offense.
2010 Stats: 39 tackles, 6.5 sacks
2011 Projections: 45 tackles, 5 sacks
Outlook: Raji is still improving and has the potential to be an elite nose tackle.
We may never see him pick off a pass again, but I'm sure he can't wait until McCarth hands him the ball on the goalline.
4. Tramon Williams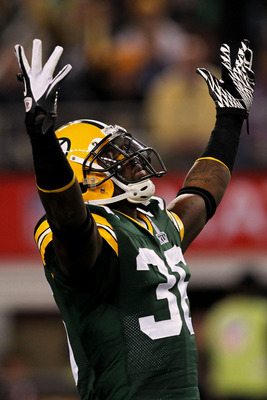 Ronald Martinez/Getty Images
Tramon Williams should have been selected to the Pro Bowl, but instead of going to Hawaii, he decided to take his team to Dallas instead.
Williams had an amazing and unexpected regular season, but his playoff performance was simply phenomenal.
He picked off Michael Vick to prevent a game-winning touchdown against the Eagles and the next week he burned Matty Ice twice, taking one interception to the house.
If this list was based on last year's postseason, Tramon Williams could be number one.
2010 Stats: 57 tackles, 1 FF, 6 INT
2011 Projections: 56 tackles, 5 INT
Outlook: Williams has proven he can handle assignments on the opponent's top receivers, meaning Charles Woodson's coverage responsibilities can be lightened and he can cause havoc in the backfield more often.
Expect quarterbacks to be more aware of Williams next season, but he'll make them pay when possible.
3. Nick Collins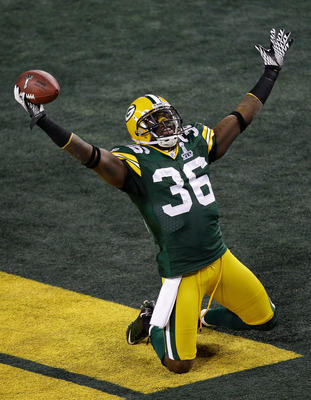 Rob Carr/Getty Images
Just as the defense was about to consume him in his own endzone, Big Ben chucked up a pass that looked more like a pathetic punt.
Nick Collins was happy to welcome the pigskin into his open arms, dodge weak tackles attempts by the Steelers' offense, and dive in for the endzone for the defensive score.
It could have been the biggest play of the game as it gave the Pack a early 14-0 lead that they would never relinquish.
Collins' capped off his third Pro Bowl season in a row with as the 13th player in NFL history with a pick six in the Super Bowl and is showing no signs of slowing down.
2010 Stats: 70 tackles, 4 INT
2011 Projections: 62 tackles, 5 INT
Outlook: Expect Nick Collins to make his fourth consecutive Pro Bowl in 2011 as he keeps up his top notch play at free safety.
2. Charles Woodson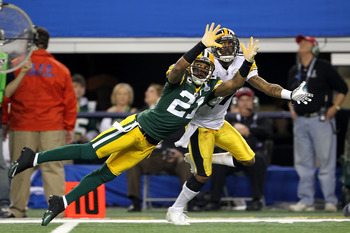 Jamie Squire/Getty Images
The 2009 Defensive Player of the Year experienced a bittersweet ending to his 2010 season.
Charles Woodson suffered a broke collarbone that knocked him out of his second Super Bowl appearance, but inspired his team to victory from the sideline.
As Woodson ages, his leadership is becoming more valuable to the Packers. However, there's no doubt his presence is key to the Pack's blitzing packages and he's still an elite cornerback.
2010 Stats: 92 tackles, 5 FF, 2 INT
2011 Projections: 80 tackles, 4 FF, 4 INT
Outlook: Woodson will also make his fourth consecutive Pro Bowl appearance in 2011.
The second most complete defensive player on the Packers will continue his dominance as a turnover machine in his 14th NFL season.
1. Clay Matthews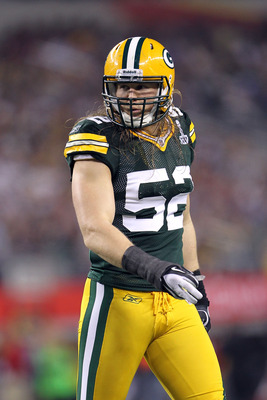 Jamie Squire/Getty Images
In my somewhat biased opinion, Clay Matthews should have won the 2010 DPOY award. Troy Polamalu probably deserved it, but Matthews heavily outplayed Polamalu in the Super Bowl.
While Troy was non-existent, Clay had three tackles and forced a crucial fumble that swung the momentum back to the Pack when it appeared the Steelers were taking control.
Maybe if Matthews had played in Week 6 against Miami, his stats would have pushed the votes in his favor. Then again Polamalu had to deal with injuries as well.
Clay Matthews will have many more opportunities to win the award and the Packers defense will always have a chance when he is on the field.
2010 Stats: 60 tackles, 2 FF, 1 INT, 13.5 sacks
2011 Projections: 67 tackles, 4 FF, 1 INT, 16 sacks
Outlook: Clay Matthews will reinforce his status as one of the most feared pass rushers in the league and make his case once again for top defensive player honors.
His relentless desire and athleticism make him the best defensive player in Green Bay and possibly the nation.
Keep Reading

Green Bay Packers: Like this team?