NFL Draft 2011: Should Broncos Pair Von Miller With Marvin Austin?
April 22, 2011
Joe Robbins/Getty Images
I have previously written that the Denver Broncos should consider drafting Von Miller over Marcell Dareus simply because Miller is too hard to pass up.
But my fellow Broncos fans here at Bleacher Report are mostly sold on Dareus. So, how about a compromise?
Dareus can help the Broncos eat us space and stop the run, and that defensive line is certainly a big question mark now that Jamal Williams and Justin Bannan are gone. Stopping the run is a priority but finding a guy who can rush the passer and who, by all accounts, seems to have special qualities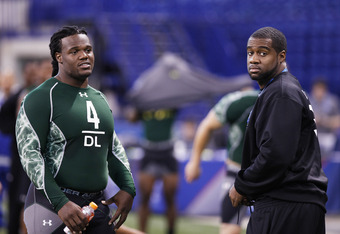 Joe Robbins/Getty Images
—Derrick Thomas-like qualities—well that should also be a priority for the Denver Broncos.
John Elway has said recently that he would personally like to find the kind of players that he hated playing against. I'm guessing that Elway hated playing against Derrick Thomas, and Von Miller is starting to get comparisons to Derrick Thomas, so maybe we can just connect the dots?
If the Broncos go with Von Miller at the No. 2 spot, then they can expect to get a guy with an explosive burst, great hands and unlimited potential. He can help the Broncos defense get off the field on third down, as well as force turnovers on any down. He has also stated in interviews that he is confident in his ability to play pass coverage on first and second downs. I tend to believe that he can be effective in most situations.
And sure the Broncos will still be missing a player to help stop the run and apply pressure up the middle, but that's why Marvin Austin, a defensive tackle out of North Carolina, would be a great selection with one of the Broncos' two picks at the top half of the second round.
Austin is a bit of a risk due to supposed character concerns, and he did miss all of last season due to an indefinite suspension by the NCAA (improper contact with an agent). But up until that point in his college career, Austin was considered one of the top defenders in the country.
He offers a great combination of speed and size, much like Marcell Dareus, and had a very impressive showing at the combine. The season prior to his suspension, he was an absolutely dominant force for North Carolina. In fact, there is a strong possibility that Austin could end up being the best defensive tackle in this draft. Any risk that you might have with Austin, you would still probably have with Nick Fairley and even Dareus, for that matter.
Guys that are this big, fast and talented are highly regarded, but may not carry over the work ethic needed to maintain an edge at the NFL level. If Austin has a little more downside, but also a little more upside, than Dareus and Fairley, why wouldn't the Broncos target him as their top DT?
Should the Broncos emerge from this draft with possibly the best combination of linebacker and defensive tackle among all recent drafts, why wouldn't they consider that as Plan A?
Miller would give the Broncos an explosive athlete that can terrorize quarterbacks in the AFC West for many years to come. Austin can help them stop the run on a consistent basis, as well as get pressure from the front of the line. The Broncos will also have Elvis Dumervil and Robert Ayers as the two defensive ends, so the team can have more confidence that things can quickly turn around.
Still, there is no guarantee that Ayers will be able to live up to his potential. Miler and Austin can help alleviate some of that pressure. They can help propel the defense to the best in the division, and among the best in the NFL.
It's something that certainly warrants consideration.