2011 NFL Mock Draft: San Francisco 49ers' Final Edition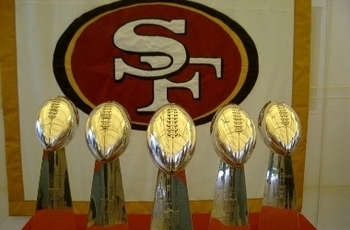 This is my final edition of the 2011 San Francisco 49ers Mock Draft.
The 49ers will find a quarterback or two in this draft. It doesn't appear that any of the quarterbacks in this draft can start right away, but there are a few with potential. I had the 49ers drafting a quarterback in the my final 1st round mock draft, http://bleacherreport.com/articles/660419-2011-nfl-mock-draft-final-edition-round-1, but now I'm not sure.
The 49ers need to add a cornerback and at least one pass rusher.
Here are my round-by-round selections for the 49ers, taking into account where players should be after the 49ers select in each of those rounds.
As always please feel free to leave comments.
Round 1, Pick 12 (Trade with Minnesota): Cameron Jordan, DE, California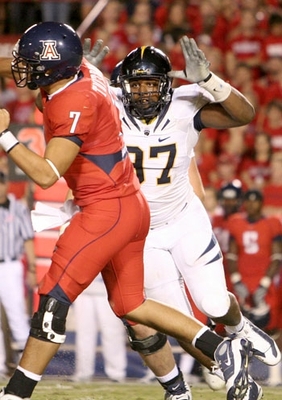 First of all I'm assuming Patrick Peterson is not available at Pick 7. If he is there, the 49ers should keep Pick 7 and pick Peterson.
The 49ers are sitting in a good spot to trade back a few picks for a team looking to add a quarterback, either Blaine Gabbert, if he falls, or Jake Locker. With Tennessee right behind the 49ers, it might make sense for the 49ers to move down a few spots and pick up a either a defensive end, cornerback, or rush outside linebacker plus additional picks.
I have the 49ers picking up Cameron Jordan because upgrading the defensive line will help the linebackers and secondary. Plus this pick could end the Cal curse. Placing Jordan across from Justin Smith would be a good move and make the defensive line, which is aging, younger.
This pick could also be Prince Amukamara if he isn't selected by Dallas or Houston.
The 49ers would pick up the Viking's Round 4, 9th Pick and a 2012 2nd Round Pick in this mock.
Round 2, Pick 13 (45th Overall): Ras-I Dowling, CB, Virginia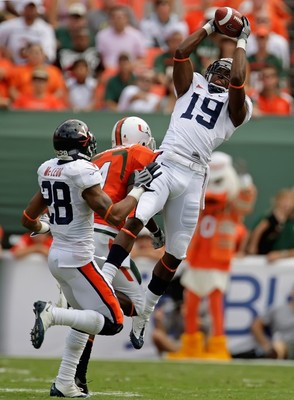 The 49ers definitely have enough ammo to trade back into the bottom of the 1st round for a player they like. I had them going for Colin Kaepernick in my final 1st round mock although they could go for Christian Ponder. The 49ers have shown little interest in Ponder which could be a smokescreen.
I have the 49ers picking up a cornerback with their second round pick. Dowling has first round ability but has injury concerns which could cause him to drop on draft day. He's a big, fast, physical corner the 49ers would love to have.
Not picking up a quarterback with one of their first two picks, means Alex Smith will likely be back and the 49ers will either sign a veteran quarterback or trade for one.
Round 3, Pick 12: Ricky Stanzi, QB, Iowa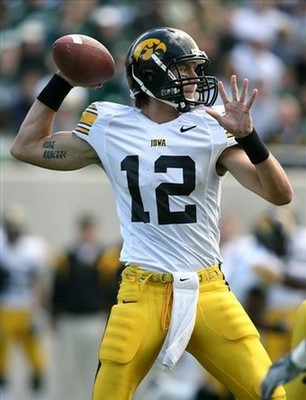 Here's where the 49ers select their first quarterback, although they could do something sooner. I think Harbaugh doesn't reach in the earlier rounds and finds someone whom he likes later in the draft.
Round 4, Pick 9 (From Trade with Minnesota): Dion Lewis, RB, Pittsburgh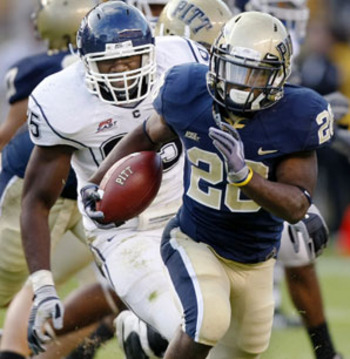 The running back class is deep this year, as it has been in recent years.
Because of his size, Dion Lewis might fall this low, even though it's hard for me to believe.
Dion Lewis is the change-of-pace back the 49ers have been talking about drafting for the past few years. He's also more of a west coast offense back, similar to the guy he succeeded at Pittsburgh, LeSean McCoy.
Round 4, Pick 11: Siona Fua, NT, Stanford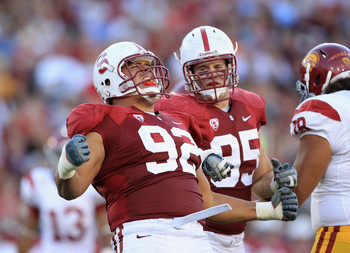 The 49ers pick up a nose tackle prospect behind Franklin and Jean Francois.
Franklin might not be back next year and is in his 30's. Fua also is familiar with the 49ers defense, which is a big head start for a nose tackle.
Round 4, Pick 18: Owen Marecic, FB, Stanford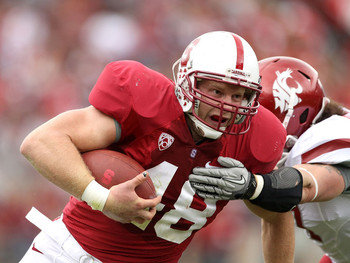 I know, two Stanford players in a row, however, the 49ers will be looking for a fullback to replace the aging Moran Norris.
Round 5, Pick 10: Tyrod Taylor, QB, Virginia Tech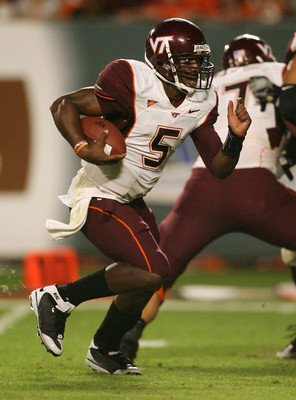 With so many picks in the draft (13 picks in this mock) it doesn't hurt to take a quarterback with the athletic skill of Taylor. Taylor would add some spark to the 49ers offense even if it's just a situational role. If Taylor is available at this point, this would be a value pick.
Round 6, Pick 9: Richard Sherman, CB, Stanford
Another Stanford player. Sherman is a big cornerback who used to be a wide receiver who could come in and compete for a roster spot.
Round 6, Pick 25: Zane Taylor, C, Utah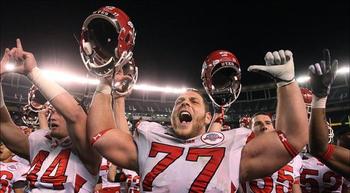 Zane could add additional depth on the offensive line, especially if Eric Heitman doesn't return to his previous form.
Round 7, Pick 8: Lazarius Levingston, DE, LSU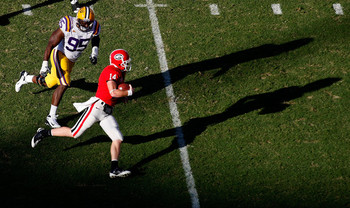 The 49ers love to add SEC defensive linemen in the later rounds of the draft.
Round 7, Pick 30: Thomas Keiser, OLB, Stanford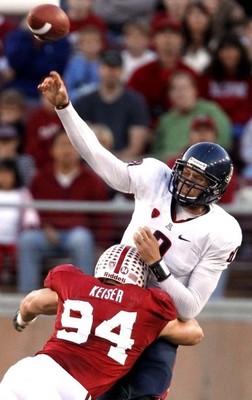 Yet another Stanford player. Keiser requires some time to develop but I could see the 49ers drafting a few Stanford players, especially on defense, given the shortened preseason. This also might be a little late to draft an outside linebacker where the 49ers could of picked a prospect in earlier rounds.
Round 7, Pick 38: Raymond Webber, WR, Arkansas-Pine Bluff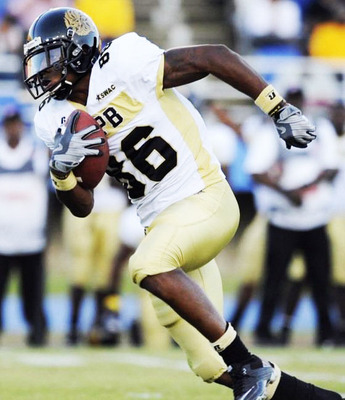 The 49ers will probably look for a big possession receiver somewhere in the draft. Webber fits the mold in the later rounds.
Round 7, Pick 49: Kai Forbath, K, UCLA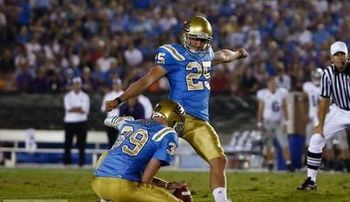 A kicker somewhere towards the end of the draft seems likely for the 49ers.
Undrafted Free Agents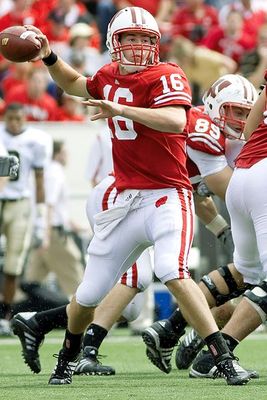 Scott Tolzien, QB, Wisconsin (pictured)
Anthony Gray, NT, Southern Mississippi
Junior Tui'one, OLB, Utah
Scott Lutru, ILB, UConn
Tori Gurley, WR, South Carolina
Ryan Taylor, FB, North Carolina
Byron Bell, OT, New Mexico
Ryan Whalen, WR, Stanford
Keep Reading