NFL Draft 2011: Grading Jerry Angelo's 2009 Draft for the Chicago Bears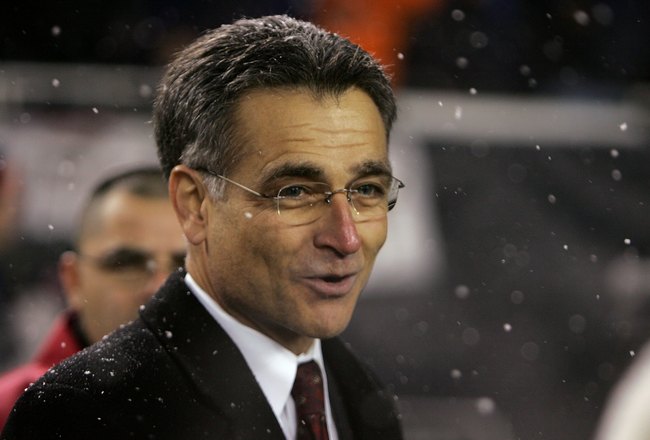 Jonathan Daniel/Getty Images
It is unfair to judge a draft class from just one season, so I am leaving the 2010 Bears draft class out of this discussion. But let's take a look back on the last five drafts under current Chicago General Manager Jerry Angelo. From booms to busts, here are picks and the overall grades from those drafts.
2007
2008
Third Round (No. 68 Overall): Jarron Gilbert, DT, San Jose State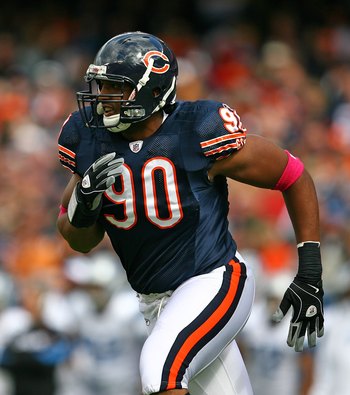 Jonathan Daniel/Getty Images
Gilbert made more of a splash jumping out of a pool in a YouTube video than he ever did with the Bears. He made one tackle in his only season in Chicago and was a waste of a draft pick. As the first player drafted for the Bears in 2009, you need a lot more production than that.
Pick grade—F
Third Round (No. 99 Overall): Juaquin Iglesias, WR, Oklahoma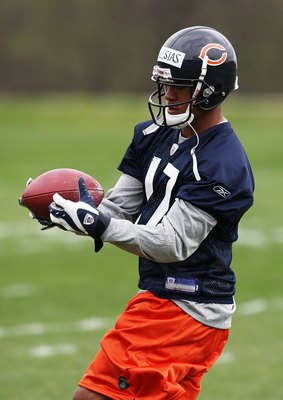 Jonathan Daniel/Getty Images
Just like Gilbert, Iglesias did nothing for the Bears. And by nothing, I mean nothing. He never saw the field. The first two picks for Chicago in this draft turned out to be busts. As a third round pick, you at least got to play a down.
Pick grade—F
Fourth Round (No. 105 Overall): Henry Melton, DE, Texas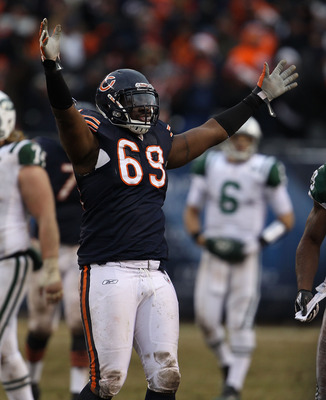 Jonathan Daniel/Getty Images
Melton saw his first action this year and did alright when he played. He tipped a pass against the Vikings that resulted in an interception for Julius Peppers. Melton has time to grow, and he can provide some depth on the defensive line.
Pick grade—C
Fourth Round (No. 119 Overall): D.J. Moore, CB, Vanderbilt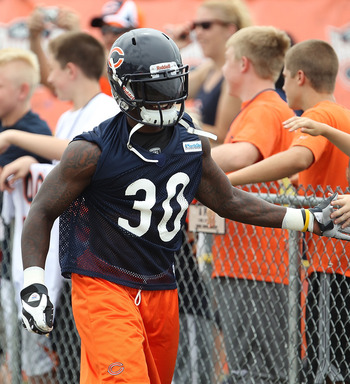 Jonathan Daniel/Getty Images
After being on the sideline for most of his rookie year, Moore jumped in as the nickel corner for the Bears this season. He had four interceptions, including two in one game against Dallas. Moore should be in the same position this year and contribute even more.
Pick grade—B
Fifth Round (No. 140 Overall): Johnny Knox, WR, Abilene Christian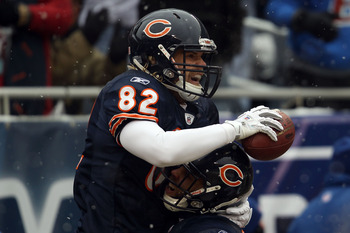 Jonathan Daniel/Getty Images
Knox is the best receiver the Bears have. As a fifth round pick, he has made a huge impact for Chicago. Almost a 1,000-yard year in his second season means only more to come for this speedster.
Knox has to improve his route running, but when he does he will be even more effective.
Pick grade—A-
Sixth Round (No. 190 Overall): Al Afalava, S, Oregon State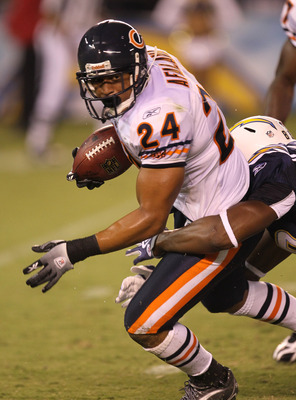 Stephen Dunn/Getty Images
Afalava started at safety his rookie year, but was then cut in the off-season last year. I still don't understand that decision. He was a hard hitter than provided good run support. Although he was not the best in pass defense, Afalava wasn't a liability.
For a sixth round pick, starting right away, he was a good pick. But not being on the team anymore lowers his grade.
Pick grade—C+
Seventh Round (No. 246 Overall): Lance Louis, TE/OL, San Diego State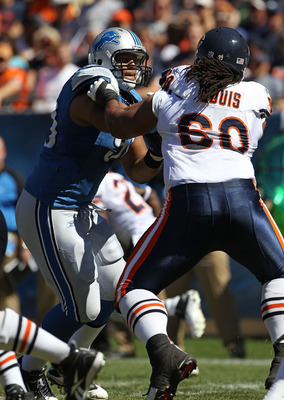 Jonathan Daniel/Getty Images
Louis started four games last season, but he is not a long-term solution for the Bears. Louis can still grow and learn under Mike Tice, but he does not have a high ceiling.
Pick grade—C-
Draft Class Grade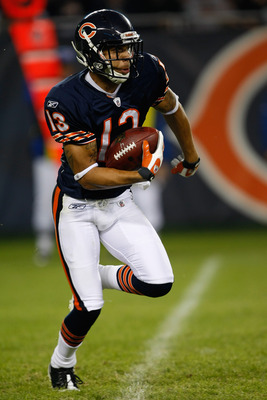 Scott Boehm/Getty Images
The Bears didn't have any picks in the first two rounds of this draft because of the Jay Cutler trade, but they still had nine overall picks.
Angelo finally found the impact receiver he'd been looking for with Knox, however he missed badly on almost every other selection and flunked his first two picks completely. Perhaps the most embarrassing miscue was not taking Mike Wallace (No. 84 overall), who was taken by the Pittsburgh Steelers just 15 picks before Iglesias came off the board with, get this, Chicago's original pick.
Speaking of trades, here's the final fallout from the Cutler move. The Bears traded Robert Ayers (2008, No. 18), Mike Wallace (2008, No. 84), Anthony Davis (2010, No. 11) and Kyle Orton for Cutler and Knox. Not sure if that one quite worked out.
Other players in this draft include: Marcus Freeman (No. 154 overall) and Derek Kinder (No. 251 overall).
Overall draft grade—D+
Keep Reading

Chicago Bears: Like this team?