NFL Draft 2011: Best-Fit Team Scenarios for Draft Hopefuls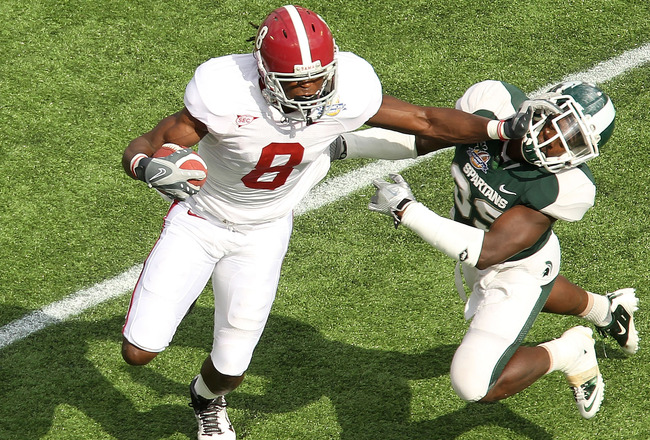 Mike Ehrmann/Getty Images
The NFL draft is set up so the worst teams have the opportunity get the best players, for obvious reasons. And one of the things that makes the NFL so great is the parity that exists in the league and the fact that a couple of good drafts can completely turn a team's fortune around.
However the team that selects the player may not always be the most desirable location for the player. So what teams would the player choose if the decision was up to them?
Cam Newton, Quarterback: Minnesota Vikings
Christian Petersen/Getty Images
The Vikings are only one year removed from a trip to the NFC championship game, but struggled mightily last season, causing many to speculate they will be in rebuilding mode this season. The Vikings do however, have many key elements from their 2009 team in place, including arguably the best running back in the league, Adrian Peterson, and wide receivers Percy Harvin and Sidney Rice, who may be a free agent once a new CBA is reached.
Yes, the VIkings defense needs to get younger and they need to improve their offensive line, but with Brett Favre's retirement, and Tavaris Jackson's pending free agency, the Vikings need to find their quarterback of the future.

Possibility of this happening? Unlikely. There are too many teams in desperate need of help at quarterback for Newton to fall to the 12th pick. The Vikings are more likely to pursue a veteran QB in a trade, and pick someone they can develop in a later round.
Blaine Gabbert, Quarterback: San Francisco 49ers
Christian Petersen/Getty Images
Gabbert is probably the second best quarterback in this draft class behind Cam Newton. And although he does not have the same type of upside Newton has, he may be a safer pick.
The 49ers have been struggling to find a franchise quarterback for some time now, and with former NFL quarterback, Jim Harbaugh taking over head coaching duties, they may decide now is the time to end the Alex Smith era.

Possibility of this happening? Quite possible. Although there are teams ahead of the 49ers that could use a franchise quarterback, some may wait until the second round and take a chance with someone like Florida State's Christian Ponder or TCU's Andy Dalton.
Von Miller, OLB: Green Bay Packers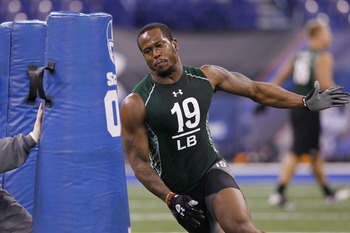 Joe Robbins/Getty Images
Green Bay may not be the most desirable location to some players because of the size of the city and harsh winters, but from a pure football standpoint, there are few better locations in the NFL. Miller would be a perfect fit for the Packers defense as an outside linebacker opposite of Clay Matthews.

Possibility of this happening? Almost none. Miller is likely a top-5 pick, and the amount the Packers would have to give up in a trade would be astronomical. The Packers have nine picks in the2011 draft and numerous players coming back from injured reserve, so a move up in the draft would not be out of the question, but moving up to land Miller would require numerous early draft picks from both this year and probably next.
Robert Quinn, DE: Tampa Bay Buccaneers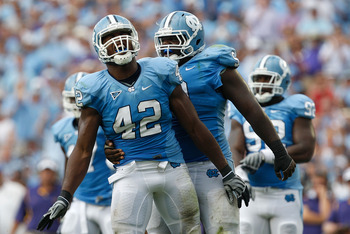 Streeter Lecka/Getty Images
The Buccaneers are a team on the rise and were just a win away from the playoffs last season. They have a lot of young talent on the offensive side of the ball, but need to bolster their defensive line and pass rush.
Robert Quinn would be a good fit as a defensive end in their 4-3 scheme and would be an immediate upgrade. The Buccaneers have also shown a willingness to take a shot at player like Quinn, who may have some character concerns.

Possibility of this happening? Possible. Most likely the Buccaneers would need to trade up to land Quinn, but because he did not play the entire 2010 season due to a suspension, it is possible Quinn could fall a little on draft day, making a move up a little more palatable for the Bucs.
Tyron Smith, OT: New England Patriots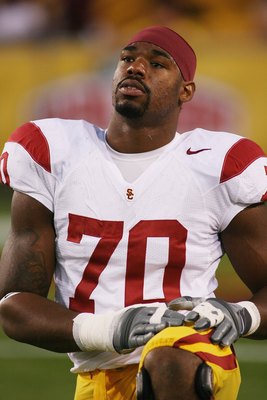 Jeff Golden/Getty Images
The Patriots need to protect Tom Brady, and if they can't they are going to continue to get knocked out of the playoffs early. Smith could come in and contribute immediately to a team that should be a Super Bowl contender next season.

Possibility of this happening? Doubtful. The Patriots have the amassed numerous draft picks, including 3 picks in the first 33, and have the ammunition to move up if they want to, but as good as the Patriots were last year, they need a lot of help on the defensive side of the ball.
Mike Pouncey, OL: Pittsburgh Steelers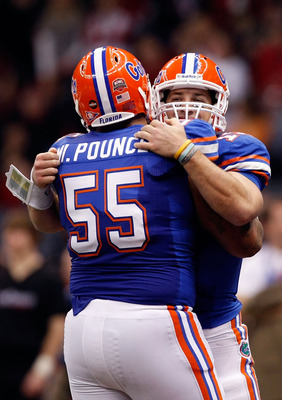 Kevin C. Cox/Getty Images
The Steelers could use some help keeping Big Ben protected, and Mike Pouncey, the twin brother of last year's first round pick, Maurkice, would be a great addition. The Pounceys went to school together in Florida and would probably love to play together,

Possibility of this happening? Unlikely. Mike, like Maurkice, will most likely be a mid-round pick, and the Steelers are not known for trading up in the draft. There should be other quality linemen available when the Steelers pick at 31.
A.J.Green, WR: Chicago Bears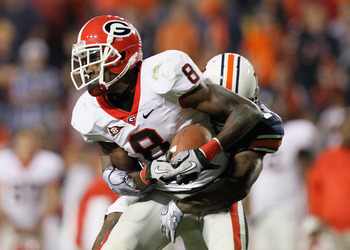 Kevin C. Cox/Getty Images
Despite going to the NFC championship game last season, the Bears still have many holes to fill. The lines on both sides of the ball need to be upgraded and they could use help at corner as well. But a play making wide receiver who fits the mold of Jay Cutler's old teammate, Brandon Marshall, would add another dimension to their offense. The 6'4" receiver is arguably the best player in the draft.

Possibility of this happening?Almost none. The Bears traded away first round draft picks in 2009 and 2010 to land Jay Cutler, and have too many areas to address to move up into the top 10.
Julio Jones, WR: St. Louis Rams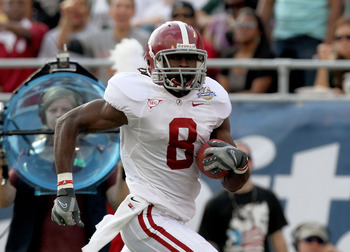 Mike Ehrmann/Getty Images
The Rams drafted their quarterback of the future last year when they selected Sam Bradford 1st overall, and now they could use a true number one receiver to pair with him. Jones would probably jump at the chance to play with a talented young quarterback and a team with a bright future.

Possibility of this happening? Doubtful. Jones is probably a top 10 pick and I can't see him falling past the Redskins at 10. And even though the Rams improved greatly last season they still have many needs to fill in this draft.
Patrick Peterson, CB: Dallas Cowboys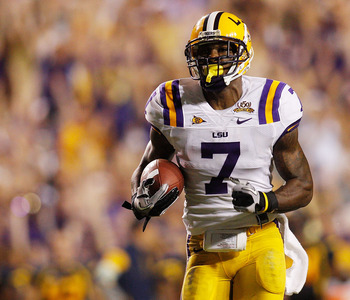 Chris Graythen/Getty Images
The Cowboys are another team that could use some help protecting their quarterback, but they also need help in the secondary and Peterson is probably the best cornerback prospect since Darrelle Revis. Dallas would be a desirable destination for most rookies, because despite their 6-10 record, the Cowboys could be a legitimate contender in 2011.

Possibility of this happening? Unlikely. The Cowboys would have to trade up to land Peterson, so chances are they will stay put at 9 and go with an offensive lineman or possibly Prince Amukamara, who is the next best corner prospect in the draft.
Prince Amukamara, CB: Baltimore Ravens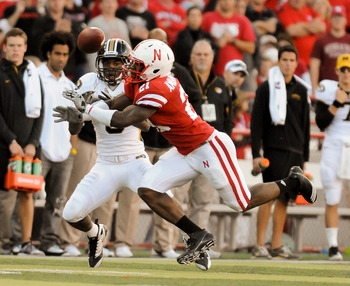 Eric Francis/Getty Images
After Patrick Peterson, Amukamara is the best cornerback in the draft. And with the Ravens in desperate need for help at corner, the speedy Amukamara could instantly find a spot in the Ravens starting line up.

Possibility of this happening? Highly unlikely. As Desperate as the Ravens are for a corner, trading up for Amukamara, who is a possible top 10 pick, would likely be too costly for the ravens. The Ravens could look at corner Jimmy Smith or go with the best defensive end available.
Keep Reading