NFL Draft 2011: Marvin Austin and the 5 Players with the Big Character Concerns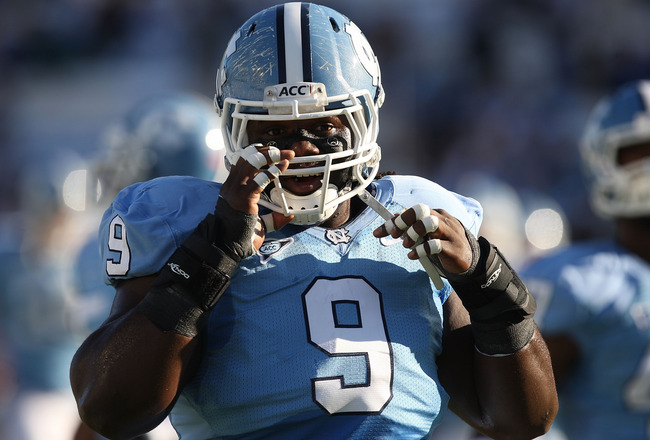 Streeter Lecka/Getty Images
Players coming out of college and into the NFL are run through numerous physical and character tests. They go through workouts and interviews. Teams want to make sure that a player they are potentially investing millions of dollars in is going to be worth that investment.
Sometimes players don't pass the character part of testing (JaMarcus Russell and Ryan Leaf), but still get drafted high and completely ruin a franchise. Sometimes players don't pass the character part of testing (Randy Moss), and their draft stock takes a hit, but they still become an extremely talented player.
Teams need to decide if the character risk is greater than the reward, or if the reward can bring spoils to the team for years to come. Here is a look at the five players with the biggest character concerns in this year's draft.
5. Ryan Mallett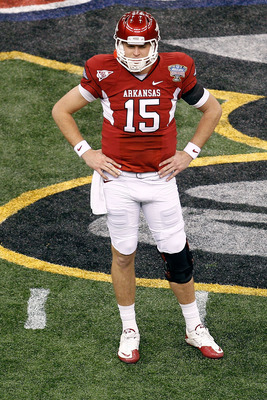 Chris Graythen/Getty Images
Ryan Mallett might have the strongest arm out of the quarterback prospects in this year's draft. He is the perfect size for quarterback and can make all the throws you want from a quarterback at the next level. He proved at Arkansas that he could lead his team to victory against top level talent. Although he has some accuracy and mobility concerns, his pure throwing ability upside far outweighs those concerns.
Mallett's character was first brought into consideration due to a public intoxication charge in the spring of 2009. Mallett did the necessary service to be cleansed from that fault and life went on at Arkansas. His next character issue happened during the combine interviews where he replied "no comment" to too many questions concerning off-field issues.
Mallett's character has certainly been a hot topic recently, but there seems to be no serious issues and he should get drafted in the first two rounds and instantly have an opportunity to win a starting job.
4. Jonathan Baldwin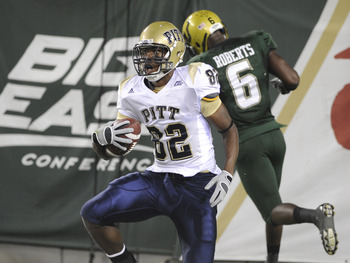 Al Messerschmidt/Getty Images
Jonathan Baldwin has all the physical tools you could dream of for a wide receiver. He has size, speed, athleticism, jumping ability, hands, and the list could go on. He is a huge target who can make incredible catches. He is an instant vertical threat and has the potential to become a teams top wide receiver.
Baldwin has been labeled a "diva" by some experts. Before Pittsburgh's bowl game, he insulted the starting quarterback for the Panthers publicly. He has a reputation for not playing to his full potential and that reputation is hurting his draft stock.
3. Nick Fairley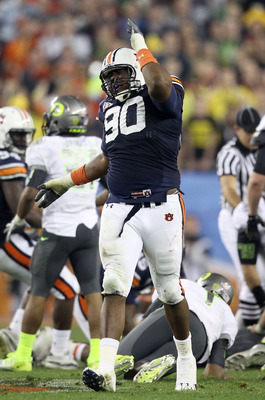 Christian Petersen/Getty Images
Nick Fairley is a game changer on the defensive side of the ball. He has the quickness to blow by offensive lineman. He has the strength to bulldoze smaller players. It appears his only mission while on the field is to sack the quarterback. He will step in from the first day and have the opportunity to be the best player on a defensive unit.
Nick Fairley also has a little bit of a mean streak in him. He is often called a "dirty" player and gets called for way too many unsportsmanlike penalties. Many experts feel that Fairley doesn't have the drive or desire to do what it takes to excel in the NFL. He has the high possibility of becoming too lazy and fading out of the league as fast as he entered.
Fairley's character and style of play will cause major concerns for some teams, but his upside is too great for him to slip out of the top ten.
2. Jimmy Smith
Brian Bahr/Getty Images
Jimmy Smith is an super talented cover cornerback with the ideal body size. He has the strength to press wide receivers at the line of scrimmage. He has the speed to keep up with faster players. Smith has all the ability to become a team's top cornerback and cover the best receivers in the game. He may take some time to truly develop his talents, but once he realizes his full potential, he will scare opposing quarterbacks.
Jimmy Smith's past has caused major concerns over his character. Smith failed a drug test in 2007 and has had numerous run-ins with law enforcement. His play was inconsistent at Colorado and his decision to skip the Senior Bowl left many people wondering about his commitment to football. His reputation is one of being a follower and that could get him in trouble when he gets into the spotlight.
Jimmy Smith has the talent to thrive as a cover cornerback in the NFL, but his inconsistency and lack of effort at times currently has him sliding down draft boards.
1. Marvin Austin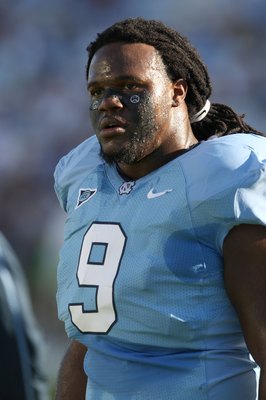 Streeter Lecka/Getty Images
Marvin Austin might be one of the strongest physical players in this year's draft. He has great quickness for a player over 300 pounds. He absolutely dominated during the East-West Shrine game and showed up in shape. He has the ability to make plays outside of the box and uses his strength to disrupt the quarterback's pocket. He had an extremely impressive combine workout.
No player's draft stock has taken a bigger hit than Austin's due to concerns about his character. He put all the blame of his recent year long suspension on the shoulders of the University of North Carolina. He illegally excepted gifts and was the leading player in causing 13 players to face suspension at UNC. Teams appear to have issues with his trustworthiness and immaturity. He often appears as if he doesn't try during games.
Austin has the talent to be a top ten pick, but his character issues have him falling quickly. Most mock drafts have Austin going late in the first round, but don't be surprised if we have to wait until the second or third round to finally hear Austin's name called.
Keep Reading