NFL Draft 2011: Late-Round and Undrafted Picks Who Have Starred for the Browns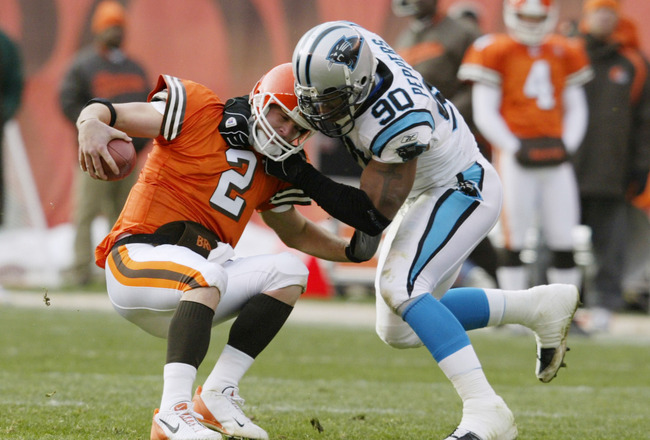 Would you rather have a first-round Tim Couch or sixth-round Tom Brady?
Tom Pidgeon/Getty Images
The Elite 8: Eight Late-Round and Undrafted Players Who Have Made a Big Impact for the Cleveland Browns
Much is made about the importance of drafting successfully in the first round. Those who stress the importance of being successful in the first round have a point. Most Browns fans cringe when they think about how much better the Browns would have been over the past few years if even just one or two of the Browns' first-round busts had lived up to their pre-draft billing.
Similarly, how would have the Browns' fortunes changed if they had selected other players in the first round? For example, I don't think that anyone except Gerard Warren and his agent would argue that hindsight shows the Browns should have drafted LaDainian Tomlinson instead of Gerard Warren.
This season, the Browns hold the sixth pick in the NFL Draft. Much speculation is being made about who the Browns will select, and strong arguments can be made for a number of different players on both sides of the ball.
Despite this emphasis on the first round, it is important to note that late-round and undrafted players have contributed much to the Browns' success in recent years.
Let's take a look at eight late-round and undrafted players who have made a major impact for the Browns in recent years. Although not every one of these players began their career with the Browns, every one of these players shows that every pick in the draft, from No.1 all the way down to Mr. Irrelevant, is important and can lead to a player who makes the difference between playing in the playoffs and watching them on television.
Josh Cribbs (Undrafted)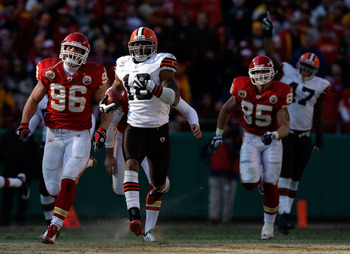 Josh Cribbs has been an undrafted gem for the Cleveland Browns.
Jamie Squire/Getty Images
Despite breaking several school records at Kent State University as a star quarterback, Josh Cribbs was not drafted in the 2005 NFL Draft. The Browns signed him as an undrafted free agent, and Cribbs has proceeded to make every other team in the league regret not drafting him with his play over the past few seasons.
After initially making his mark as an electrifying kick-returner, Cribbs subsequently began to play on the offensive side of the ball as a Wildcat quarterback and wide receiver. During his time with the Browns, Cribbs has returned two punts and eight kickoffs for touchdowns. Additionally, he has also scored two rushing and three receiving touchdowns.
Along the way, Cribbs has become one of the most popular athletes in Cleveland because of his play and his ardent support of Cleveland's other sports teams and local charitable efforts.
Phil Dawson (Undrafted)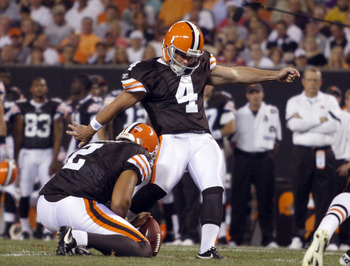 Phil Dawson is one of the most accurate kickers in NFL history.
Justin K. Aller/Getty Images
Phil Dawson has been a key contributor to the Browns ever since their return to the league in 1999. Dawson graduated from the University of Texas and was not drafted in the 1998 NFL Draft. However, Dawson found a home with the Browns in 1999 and has been a stalwart at the kicker position.
Navigating through the treacherous late-season winds and snow found throughout the AFC North, Dawson has connected on 83.2 percent of his field goals. Along the way, Dawson has hit several game-winning field goals, including a career-long 56-yard field goal against Buffalo in 2008. Dawson's consistency and success led the Browns to place the "franchise player" tag on him this past offseason, much to the delight of Browns fans.
Peyton Hillis (Seventh Round Pick in 2008 NFL Draft)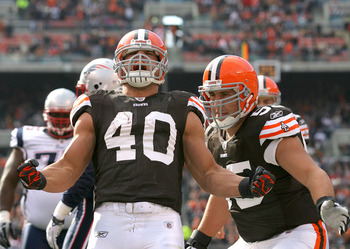 Peyton Hillis
Matt Sullivan/Getty Images
Peyton Hillis came to the Browns in the trade for Brady Quinn, one of the Browns' many first-round busts. Originally, Hillis was drafted in the seventh round by the Denver Broncos in the 2008 NFL Draft.
For much of his college and professional career, Hillis was forced to compete with other stars for playing time. At Arkansas, Hillis shared carries with Darren McFadden and Felix Jones. In Denver, Hillis had to share carries with Knowshon Moreno and many other backs. However, once Hillis came to Cleveland, he took the running back job and ran with it.
In fact, Hillis ran around, over, and through defenders on his way to earning 1,654 total yards and 13 touchdowns, and he even jumped over a few hapless defenders as well. Hillis is the type of physical, bruising running back who is needed for success in the AFC North, and he figures to be an integral part of the Browns' backfield for years to come.
On a fun note, Hillis' successful 2010 campaign catapulted him towards the top of the online voting to determine who will be on the cover of Madden '12. While Browns fans would love to see Hillis on the cover of such a famous game, there are many who caution against the "Madden Curse" and who would prefer to see Hillis gain fame in 2011 from his efforts on the field!
Reggie Hodges (Sixth Round Pick in 2005 NFL Draft)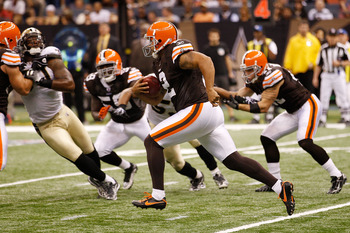 Reggie Hodges' dramatic run against the Saints was a key play in the Browns' upset victory.
Chris Graythen/Getty Images
Over the past few seasons, the Browns' struggling offense has kept the punter very active. Reggie Hodges has handled all of the activity very well and consistently pinned teams far back in their own territory with his well-placed punts.
Prior to coming to Cleveland, Hodges was drafted in the sixth round by the St. Louis Rams and was on the roster of seven different teams. Initially filling in for the injured Dave Zastudil, Hodges came to Cleveland in 2009 and performed admirably. Nevertheless, many expected Zastudil to retake the job in 2010. However, Zastudil never became fully healthy again and eventually was placed on injured reserve.
Hodges is most likely best known to football fans for his epic 68-yard run off of a fake punt during the Browns' upset win over the New Orleans Saints this past season. His success as a punter led the Browns to extend his contract this past season. Hodges is also known for his solid Christian faith and his active involvement with local churches in the Cleveland area.
Lawrence Vickers (Sixth Round Pick in 2006 NFL Draft)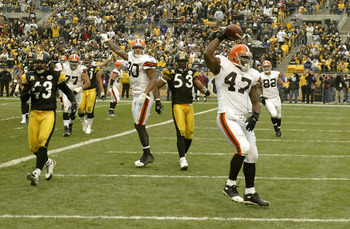 Shown celebrating a touchdown, Vickers has scored all of his career touchdowns against the Pittsburgh Steelers.
Rick Stewart/Getty Images
Lawrence Vickers was originally drafted in the sixth round in the 2006 NFL Draft by the Cleveland Browns. In the 2007 season, Vickers became the starting fullback and has maintained the job ever since. During his time in Cleveland, Vickers' physical blocking style has helped Jamal Lewis and Peyton Hills achieve 1,000-plus-yard seasons.
Marcus Benard (Undrafted)
Ryan Fitzpatrick may have gone to Harvard, but that didn't make him smart enough to know how to avoid the clutches of Marcus Benard.
Rick Stewart/Getty Images
Some fans may see Marcus Benard's name and ask, "Who?" Following his two-sack performance in the Browns' 13-6 win against the Steelers in 2009, Ben Roethlisberger certainly can provide an answer about who Marcus Benard is.
An undrafted player out of Jackson State, Benard spent much of the 2009 season on the practice squad before subsequently being promoted to the active roster in November. Benard made an immediate impact and led the Browns with 3.5 sacks. In 2010, Benard led the team with eight sacks. As Benard gains more experience and develops as a linebacker, his impact on the defense and opposing quarterbacks will increase.
Ahtyba Rubin (Sixth Round Pick in 2008 NFL Draft)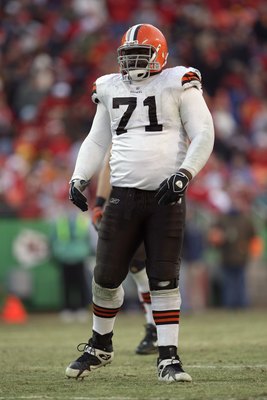 Rubin figures to dominate in the Browns' new 4-3 defense.
Jamie Squire/Getty Images
Ahtyba Rubin was originally drafted in the sixth round of the 2008 NFL Draft by the Cleveland Browns. Over time, Rubin has developed into one of the league's most promising young defensive linemen. In 2009, Rubin filled in for the injured Shaun Rogers towards the end of the season.
His play in 2009 led the Browns to make him a starter during the 2010 season, and Rubin responded with another great season. Rubin's performance over the past two seasons allowed the Browns to cut the injury-prone and temperamental Rogers this past offseason.
Evan Moore (Undrafted)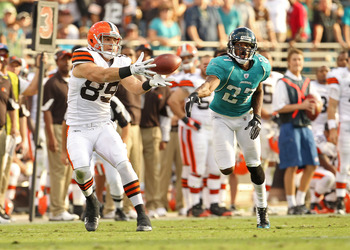 Evan Moore
Mike Ehrmann/Getty Images
Evan Moore is another undrafted player whose impact during his brief tenure with the Browns has been significant. Although he only played in five games during the 2009 season, Moore made a big impact on offense. Moore's role expanded in 2010, and he finished fifth on the team in receiving with 322 yards in a season that ended five games early due to injury.
Interestingly for a tight end, Moore finished first on the team with a 20.1 yard-per-catch average. Moore's tantalizing combination of size and speed will help the Browns continue to challenge opposing defenses in the seasons to come.
Keep Reading

Cleveland Browns: Like this team?