Green Bay Packers: Way-Too-Early 2011 Depth Chart Predictions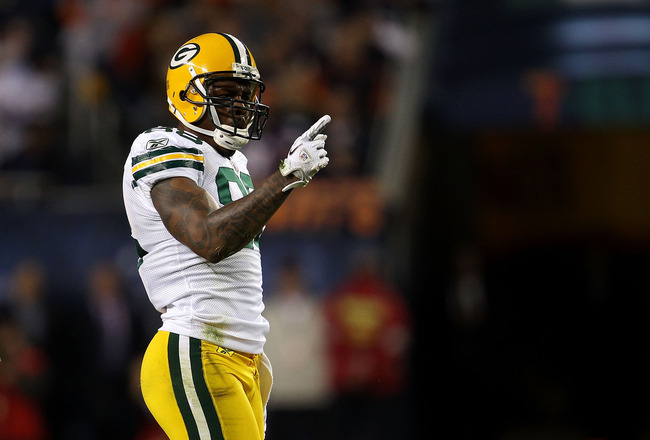 Jonathan Daniel/Getty Images
With little over two weeks until the NFL Draft, it may seem a little early to be considering the Packers' depth chart ahead of next season. The NFL announced Green Bay's preseason schedule yesterday, but as the reigning Super Bowl champions, the Packers' roster is a hot spot full of competition.
September may feel like an eternity away, for in fact it is. But with the bonus of rookies and the return of Jermichael Finley and Ryan Grant to the offense, the Packers' upcoming practices will determine who starts and who sits come the regular season.
Some obvious names are safe, while others, not so much. Assuming there is a 2011 season, and a new CBA is reached, the Packers' depth chart is chock full of talent.
Quarterback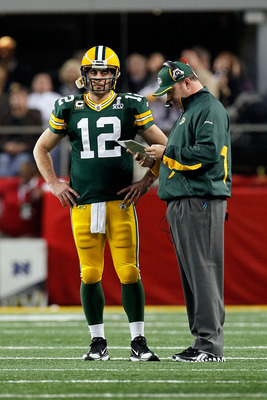 Kevin C. Cox/Getty Images
Starter: Aaron Rodgers
Aaron Rodgers may be competing for the cover of "Madden 12," but he certainly won't be competing for the starting role. Perhaps the only competition Rodgers faces next season is in the MVP race—considering he is one of the odds-on favorites. With 3,922 yards and 28 touchdowns last year, Rodgers looked like the second coming of Bart Starr during the playoffs. Of course, fans would sleep easier at night if he stayed away from the doctor's office. Silly concussions are not in his best interests.
Backup: Matt Flynn
The future is cloudy for Matt Flynn. The lockout has thrown a wrench into the works. That being said, any team in need of a quarterback could pop up overnight and make an offer. For the time being, Flynn only further illustrates how strong and deep the Packer offense is. Last season he was phenomenal in a loss to the New England Patriots, although his clock management skills caused some heartache. Flynn is a great backup in Green Bay, and the Packers would certainly miss him. For others, he is a potential starter—especially with the accuracy skills he portrayed in 2010.
Third String: Graham Harrell
Graham Harrell is a tough cookie. We haven't seen enough of him to make a valid judgement and, in only his second season, 2011 doesn't look to be a bright year. If Matt Flynn moves elsewhere, Harrell may move up to the backup role. Then again, if Ted Thompson chooses to draft a quarterback in the later rounds, he could miss out altogether.

Running Back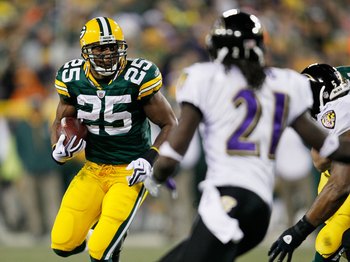 Jonathan Daniel/Getty Images
Starter: Ryan Grant
Ryan Grant is skating on thin ice. Titletown is divided entirely on who the Packers should start at running back next season. With his contract running out after 2011, Grant may be out on the curb if he fails to provide next season.
Health is also a major concern. An ankle injury ruled Grant out early last year. With James Starks now stealing the limelight, Grant will have to fight for carries as he is no longer the feature running back.
Backup: James Starks
James Starks looks to springboard into the starting role next season and ultimately leap frog Ryan Grant in the process. No one ever said it would be easy but, after his performance in the playoffs, Starks is on the verge of becoming the running back Green Bay has always desired.
Aside from yards and touchdowns, Starks also has a "burst" factor that Grant often lacked. Up the middle is his game and, with the offensive line likely to receive another young rookie, Green Bay's 24th rank rush offense may take a turn for the best.
Third String: John Kuhn
John Kuhn's role expanded last season, mainly due to the absence of Ryan Grant. Obviously, power is Kuhn's strength, an area the Packers look to exploit on goal line situations. Kuhn successfully destroyed many defenders last season, earning him an even bigger role next season.
Fourth and Fifth String: Brandon Jackson, Dmitri Nance
Brandon Jackson and Dmitri Nance will slug it out for the fourth spot on the roster. Both players will receive the odd hand off next season, but don't expect either to receive much playing time.

Wide Receiver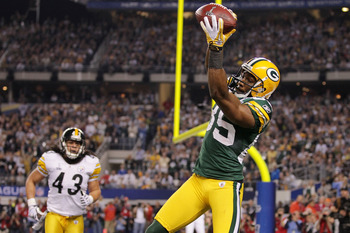 Doug Pensinger/Getty Images
Starters: Greg Jennings, Donald Driver
It's only normal to feel a little apprehensive about Donald Driver next season. He's become vulnerable to injury and is slow at times. Still, Mike McCarthy will rely on Driver in short yardage situations, while Greg Jennings will likely carry the load in the deep game. That isn't to say Driver won't be sent down field, but at age 36, he no longer bears his "Go, Go, Gadget" boots. Jennings could easily have been named Super Bowl MVP, and is expected to have another star year. Aaron Rodgers to Jennings, is simply a duo the Packers rely upon.
Second Stringers: Jordy Nelson, Brett Swain
Hanging your hat on Jordy Nelson and Brett Swain is easier said than done. Both dropped some balls last year, both made some mistakes, and both are simply in need of some game time. For Nelson, he is slowly developing the experience necessary to step into the starting role when Donald Driver retires. As for Swain, though, he may fluctuate on the depth chart pending the future of James Jones.
Nelson came up with some big catches last season, but he is known to have an "off" game or two. Swain is capable of making a grab, something we saw from him during his college days. Maybe 2011 is the year for both guys.
James Jones?
James Jones' delusional sense of reality continues to hurt him. He made it clear to reporters during the Packers' unveiling of the Super Bowl DVD that he would like to be a starter—no real news to us. Unfortunately, that isn't going to happen as long as Donald Driver is around. Whether or not Jones chooses to re-sign with the Packers once a new CBA is reached is a guess. For now, he is a restricted free agent despite receiving a one-year offer by the Packers back in March.

Tight End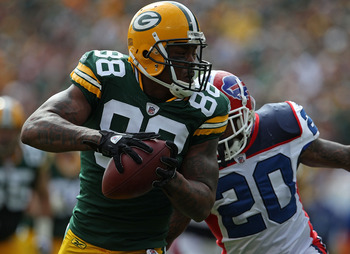 Jonathan Daniel/Getty Images
Starter: Jermichael Finley
Jermichael Finley returns to the Packers after injury last season. Green Bay missed their star tight end for the majority of 2010, even though Andrew Quarless emerged from nothingness to play a helping hand.
The Packers struggled with third down situations last year, particularly in the NFC Championship Game against Chicago. The presence of Finley in the midfield was missed on offense, although Aaron Rodgers made do with other receivers. Finley claims he is ready for action next season. After accumulating 301 yards in just four games before injury, it's hard to find an argument against that.
Second String: Andrew Quarless
We didn't receive an eye full of Andrew Quarless last year. With that said, we did see enough to realize he is a suitable backup behind Jermichael Finley. Touchdowns aren't always guaranteed with Quarless; he is a tight end who simply makes receptions. Expect to see a lot of mixing and matching next season, as Mike McCarthy tries to decipher which of his tight ends is best suited in a particular situation, as Finley is much more lethal in the end zone. Quarless is the kind of tight end who is a threat on a slant route or a short hook pattern. Other than that, he is also a great blocker.
Third String: Tom Crabtree
Second year player Tom Crabtree has a lot to prove. He's been nearly silent since signing with Green Bay, and is yet to score his first touchdown as a Packer. This is simply due to the competition at the tight end spot—a scenario that won't change in 2011.

Offensive Line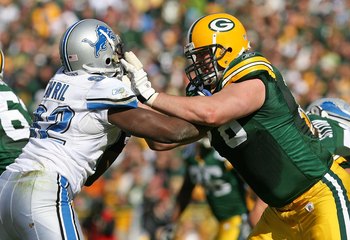 Jonathan Daniel/Getty Images
Center: Scott Wells
The Packers can afford to take their pick at center. Scott Wells looks to be the likely starter heading toward September, but Jason Spitz had a much more involved role last year in comparison to his 2009 season. It won't exactly be a war for the starting spot, mainly because both guys can step in on any down.

Left Tackle: Chad Clifton
Obviously Chad Clifton will get the nod at left tackle next season. Green Bay's offensive line is likely to receive an added boost courtesy of the draft and, with Clifton now age 34, it is no wonder why. Protecting Aaron Rodgers is priority (as always) but Clifton has become injury-prone. He is still the reliable lineman he always was and, after playing in all 16 games last year, he hardly looks the part of a 34-year-old.
Right Tackle: Bryan Bulaga
I've been in two minds in regards to Bryan Bulaga. He has his moments, that's for sure. One minute he will be a dead weight, making any defender's job impossible. Next, however, he will give away a penalty, a familiar trait of any young offensive lineman. Fortunately the Packers can rely on T.J Lang if things go completely sour, another young right tackle making up Mike McCarthy's offense.
Left Guard: Daryn Colledge
Daryn Colledge has quickly become one of the most dependable linemen in the NFL. He hasn't missed a game since joining the Packers in 2006, and it's fair to say when Chad Clifton moves on, Colledge will become the backbone of the offensive line. Another solid year is anticipated, especially with the Packers' run game stepping up.
Right Guard: Josh Sitton
Four years into his career, 2011 should be another predictable season from Josh Sitton. There's not much to say, really. He is reliable, young and guaranteed to play in the majority of snaps throughout the year.
Defensive Line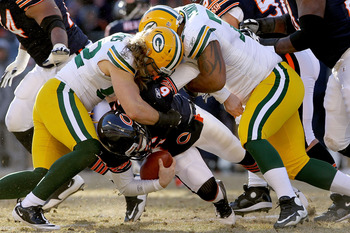 Doug Pensinger/Getty Images
Nose Tackle: B.J. Raji
Last season B.J. Raji recorded six and a half sacks, and has become the power up front Dom Capers needs to contain the run and most importantly maintain the 3-4 scheme. The NFC North is full of vibrant running backs, but let's not forget Raji has recently found his hands. A game-changing interception in the NFC Championship Game last year is promising for a big man. With that, Raji is now coming to life in his third season.
Defensive Ends: Ryan Pickett, Cullen Jenkins
The Milwaukee Journal Sentinel recently reported that Cullen Jenkins is likely to leave Green Bay sometime this offseason, leaving a gaping hole at defensive end for Ted Thompson to fill with his draft expertise.
Still, Ryan Pickett remains with the Packers, an eight-year player who is also flirting with age and injury concerns. Jenkins has expressed many times how shocked he is at Green Bay's lack of interest, but as an unrestricted free agent depending on the CBA, Thompson is obviously keeping an eye on the team's wallet—and who can blame him?
Pickett will return, that's the good news. I won't go as far as saying Nick Barnett could have filled in, but if the Packers fail to land a defensive end in the first round, there may be some concerned faces in Green Bay.
Cornerback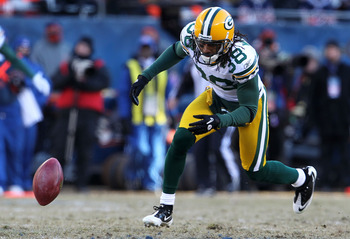 Jamie Squire/Getty Images
Starters: Charles Woodson, Tramon Williams
Even with an injury in the Super Bowl, Charles Woodson is still in sync for a big 2011 season. But perhaps the bigger story is Tramon Williams, a corner many fans feel could take home the Defensive Player of the Year Award.
Williams' play last year was terrific, no one will debate that. However, he seemed to be in a different state of mind in the postseason, a promising thought for a corner who enjoys testing the biggest of wide receivers while only standing at 5'11".
Woodson may take a step down, but his ability to sack quarterbacks from the outside will be needed. Seeing as though he now plays a rather loose version of cornerback, expect him to slip into an unofficial safety or linebacker role, even though it may not be intended.
Not much will change in the Packer secondary, hence the team's second-rank point-scoring defense.
Backups: Pat Lee, Sam Shields
Sam Shields surprisingly stepped up in the Super Bowl when Charles Woodson was down. Yes, the Steelers did fight back hard in the second half, but Shields is on path to taking over Woodson's role within the next three to five years.
Pat Lee on the other hand, is a question mark waiting for an answer. He's yet to record a single interception in his four years as an NFL corner, and isn't winning any roster battles with the Packers certain to draft a corner sometime at the end of April.
For now, Shields is the sole go-to guy, while we cannot forget the likes of Brandon Underwood and Josh Bell.
Safety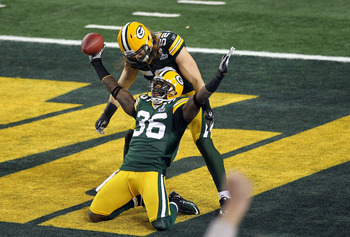 Mike Ehrmann/Getty Images
Starters: Nick Collins, Charlie Peprah
The Packers are privileged to have a good mix of young and old at the safety spot; Green Bay also benefits from Nick Collins' interception ability and Charlie Peprah's lasso-tackling.
Peprah is the man to watch at full safety for the Packers next season. He only recorded two interceptions last year, and appears to still be transitioning from his move between Atlanta and Green Bay.
Collins? Age isn't a factor, and neither is injury. He has built a reputation on resiliency; something I can't say for Atari Bigby. Collins also seemed to be at the right place at the right time, especially in the Super Bowl—and we all know how that turned out.
Collins and Peprah have the luxury of feeling comfortable in the starting role. Unless an unfortunate injury happens, neither should be really challenged.
Backups: Atari Bigby, Jarrett Bush
Packer fans may be cringing at the sight of Jarrett Bush. You can count your lucky stars though, because he may be fortunate to maintain the backup spot if Morgan Burnett has anything to say about it.
Luck wasn't kind to Burnett last season. A torn ACL doesn't look all that bright for the future but, according to the Milwaukee Journal Sentinel, the coaches love him and expect him to be a premier safety in the coming years.
Another of the Packers' unlucky safeties is Atari Bigby—a guy who looks to have gone by the wayside in terms of a starting spot. Still, don't be surprised if Bigby puts up a fight. The PUP list was his ultimate enemy last year, having played in only four games.
It would be a shame to see Bigby go the way of Al Harris, so expect him to work hard in training camp to impress the coaches.
Linebackers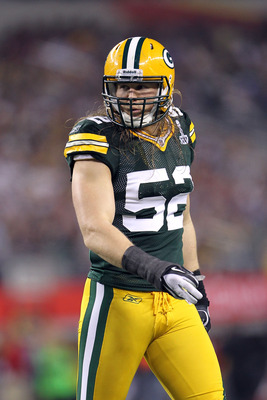 Jamie Squire/Getty Images
Starters: Clay Matthews, A.J. Hawk, Desmond Bishop, Frank Zombo
If you are sitting there thinking the Packers' starting linebackers are set in stone, forget it—they aren't.
I know it seems fairly simple, but there is too much talent to overlook beneath the surface. Clay Matthews and A.J. Hawk are the only exceptions, but Desmond Bishop and Frank Zombo are in danger of enduring shared roles with the likes of Erik Walden, Brandon Chillar and Brad Jones.
The other problem for this particular area of the field is the draft—yes, Ted Thompson is going to consider an outside linebacker.
It isn't a priority, but it is a safety pick if something were to happen to Matthews somewhere in the near future. At times last season, Matthews suffered through minor injuries, so picking a suitable prospect in the second to third round seems like a route worth taking.
In all likelihood this will be your starting lineup for week one. Don't hold your breath as the weeks tick by, though.
Special Teams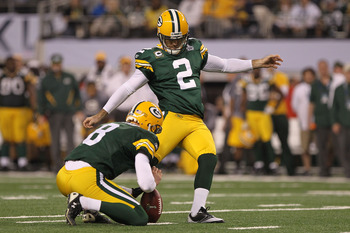 Doug Pensinger/Getty Images
Kicker: Mason Crosby
Mason Crosby returns as the kicker for the Packers after being tendered earlier this offseason. Fans say Crosby is hanging on by a string in Green Bay, but a much more rounded performance was seen last season.
Perhaps kicking a crucial field goal in the Super Bowl helped save his career in Green Bay.
Kick Returner: Sam Shields
I've been pushing the point for a new kick returner in Green Bay. Sam Shields struggles to carry the workload at times, and there were too many instances of bobbled returns last season. The draft could see a young wide receiver steal some of the carries away from Shields.

Punter: Tim Masthay
The most impressive Packer player by a mile—at least on special teams. Tim Masthay was great in the playoffs, proving to be one of few clutch punters in the NFL.
Punt Returner: Brandon Underwood, Tramon Williams
Just like kick returner, Brandon Underwood is much more suited to the punt return role. Some depth charts have Tramon Williams as the starting man, but risking such a valuable cornerback isn't a wise move.

Keep Reading

Green Bay Packers: Like this team?