MLB: How the San Francisco Giants Can Get Their Groove Back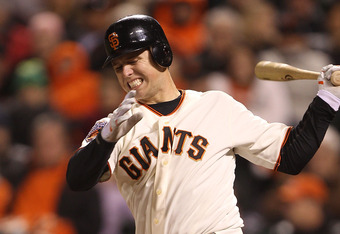 Jed Jacobsohn/Getty Images
Entering the rubber match against the rival Los Angeles Dodgers, the San Francisco Giants have not played up to expectations thus far this season.
I know it's very early to say anything about any team, but the Giants are not playing to their strengths to win games.
As World Champions, every team will be out to beat San Francisco this season. They're the big dogs, and so far, they're playing like it.
Problem is, it doesn't fit their style of play.
The Giants cannot expect to win like the Yankees, Phillies or Red Sox do because this team is very similar to last year's squad. Each game is going to be close, and fans know they don't have the offense to continually put up five or more runs every day.
The team looks to have the mindset that they're the team to beat, and they are—they're the World Champions—but it looks to me that the players think winning is easier now that they've won something. They still have to think that runs are a premium, and they must win with solid pitching, good defense and clutch hitting on and off the bench.
With that said, the biggest problem is clearly the defense. Fans aren't used to seeing this team commit so many errors and for good reason. Everyone has had their moment, and I see the aggressiveness, but they win by playing conservatively. The outfield is slow with Huff and Burrell, and errors can be eliminated by giving up the hit and taking chances on the next batter to get out.
Justin Sullivan/Getty Images
I can say that about the Giants because the pitching is so good. I just know any starter can get a batter out when needed, and if they play smart defense, runs will be hard to come by. Taking good angles to cut balls off in the outfield, keeping the ball in front and smart throws do not allow for much momentum, and that's how the Giants won the Fall Classic.
I've already mentioned the stellar starters, and the Giants have one of the best bullpens too. Wilson needs to calm down from all the exposure he's had this offseason, and with Romo, Affeldt, Lopez, Runzler and Mota, the Giants have a very solid bullpen that can work any given day.
The other strength the Giants have is in their depth. Position competition is what made them great last year, and it will make them good this year also.
The main issue I have is with batting. I knew coming into the season runs would be hard, but the hitters just don't quite seem fully ready for the season yet. Rowand and Sandoval are proving they deserve a spot, but others are still enjoying the benefits of the trophy and rings. They just don't seem to be taking it seriously enough.
The defensive errors can be fixed, but in order to hit like last October, the Giants must go back to what they did in 2010. They seemed like a new team in the playoffs, and I don't want to see them hit this year like they did during the regular season last year.
What they need is patient hitting.
Huff, Posey, Burrell and the whole team need to wait for good pitches to hit in the strike zone. They have to frustrate opposing pitchers so the next guys get good pitches to hit. If the pitcher gets frustrated and makes a mistake in location, whoever is up can take advantage. Smart, situational and timely hitting is what will bring this team to the top. They did that last night with singles and good base running.
If that mindset holds, they'll get in a groove, and we'll see the Giants playing like the champions they are.
This article is
What is the duplicate article?
Why is this article offensive?
Where is this article plagiarized from?
Why is this article poorly edited?

San Francisco Giants: Like this team?