MLB 2011: A New Era Begins for the Cleveland Indians
Jared Wickerham/Getty Images
Entering the 2011 season, Cleveland Indians fans weren't quite sure what to expect. Since coming up one game short of the World Series in 2007, the Indians organization has seen some major changes both on and off the field. Most of the players on that team have moved on, and a new core of talent is already breaking through.
Being a fan of a small market team certainly has its ups and downs. Losing players such as Manny Ramirez, Jim Thome, C.C. Sabathia and Cliff Lee, (just to name a few) to free agency or trades has left many in Cleveland apathetic towards the current team.
After a few tough seasons, the Indians are finally starting to show that the future is bright. New GM Chris Antonetti is showing that he has laid the groundwork for a team that can compete in the American League Central for years to come.
So let's take a look at how the 2011 Cleveland Indians were assembled. Some faces you may recognize and others may be new to you. Either way, you will see that the Indians organization has done a great job restocking a team that has looked as good as anyone in baseball so far this season.
CF: Michael Brantley, 23 Years Old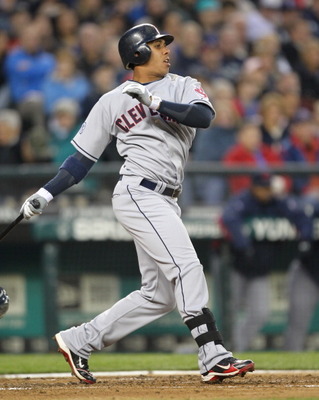 Otto Greule Jr/Getty Images
Son of former Major Leaguer Mickey, Michael Brantley has looked very comfortable thus far as the Tribe lead-off hitter.
Originally drafted in the seventh round of the 2005 amatuer draft by the Milwaukee Brewers, Brantley joined the Indians as the player to be named later in the C.C. Sabathia trade in July of 2008.
SS: Asdrubal Cabrera, 25 Years Old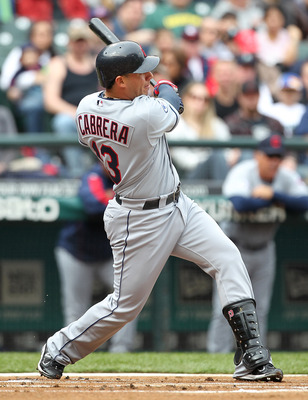 Otto Greule Jr/Getty Images
Asrubal Cabrera is arguably one of the best shortstops in the American League right now. He has has hit for average, shown glimpses of power and will win a gold glove for his defense sooner rather than later.
Cabrera was signed as an amateur free agent by the Seattle Mariners in August of 2002. In June of 2006, the Indians sent first baseman Eduardo Perez to the Mariners for Cabrera, the first of two trades I will mention that Seattle must really regret.
RF: Shin-Soo Choo, 28 Years Old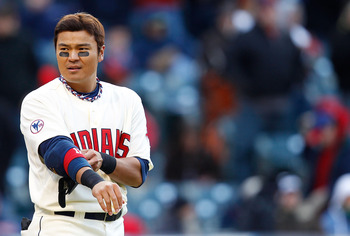 Jared Wickerham/Getty Images
Last season, Choo arrived batting .300 with 22 home runs, 22 stolen bases and 90 RBI with little to no protection in the lineup. Although he is off to a slow start in 2011, Choo will surely rebound to make the Indians lineup one of the strongest in the American League.
Shin-Soo Choo was signed by the Seattle Mariners as an amateur free agent in August of 2000. Once again, the Indians organization made a steal in acquiring the Korean Superstar from the Mariners in July of 2006, for first baseman Ben Broussard.
C: Carlos Santana, 25 Years Old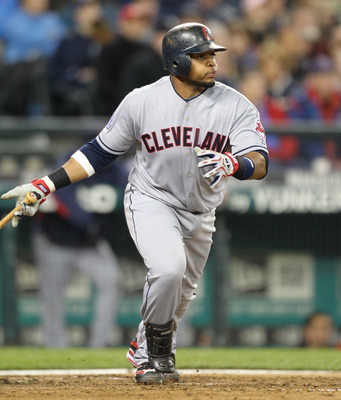 Otto Greule Jr/Getty Images
Tribe catcher Carlos Santana is going to make everyone forget about the musician. This guy can do it all. He is a switch hitter, hits for average, power, is very disciplined at the plate and has done a good job so far with the young Cleveland pitching staff. Barring injury, Santana will be a perennial All-Star in the American League.
The Indians front office should be charged with burglary. In July of 2008, the Indians sent third baseman Casey Blake and cash to the Los Angeles Dodgers for the hard hitting catcher. After being converted from infielder to catcher, the Dodgers didn't want to wait for Santana to develop his skills behind the plate.
Cash well spent if you ask me.
1B: Matt LaPorta, 26 Years Old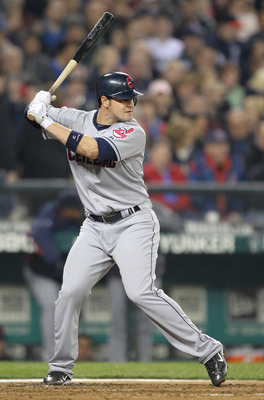 Otto Greule Jr/Getty Images
Although many, including myself, have been skeptical about LaPorta entering the 2011 season, the Tribe first baseman is showing that he can play every day. He has been more patient at the plate so far this year, putting together some solid at-bats. LaPorta is also showing us that maybe he plans to win a gold glove one day too with some great defense early on.
LaPorta was drafted by the Milwaukee Brewers with the seventh overall pick in the 2007 amateur draft. A year later he was traded to the Indians, along with Brantley, for C.C. Sabathia. LaPorta was considered the Brewers top prospect at the time of the trade.
2B: Orlando Cabrera, 36 Years Old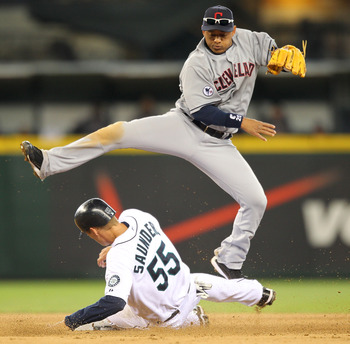 Otto Greule Jr/Getty Images
Orlando Cabrera will probably be with the Indians only for this year, as he keeps second base warm for prospect Jason Kipnis, who is playing his first season in Triple A Columbus. Cabrera has been arguably the most consistent hitter for the Tribe thus far and is complementing SS Asdrubal Cabrera very nicely early on.
After stints with the Expos, Angels, Red Sox, White Sox, Athletics, Twins and Reds, the Indians signed Cabrera to a one year deal in February for $1 million. His veteran leadership is worth that much alone.
3B: Jack Hannahan, 31 Years Old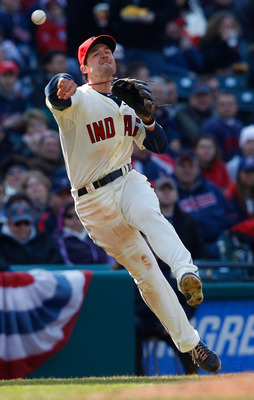 Jared Wickerham/Getty Images
Hannahan is another guy that probably won't be in Cleveland very long, but has been a major contributor to the Indians hot start so far this year. Soon enough, we will see top prospect Lonnie Chisenhall at the hot corner, but Hannahan is not forcing GM Chris Antonetti's hand early.
After doing stints with the Tigers, Athletics, Mariners and Red Sox organizations, Hannahan signed as a free agent in December of last year.
SP: Carlos Carrasco, 24 Years Old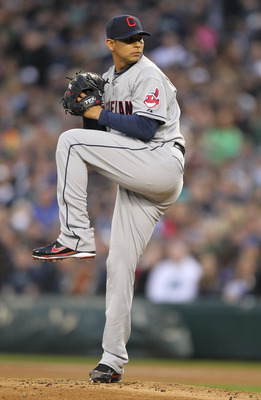 Otto Greule Jr/Getty Images
After a strong September, the Indians are hoping Carlos Carrasco can help solidify the starting rotation in 2011.
Carrasco was signed as an amateur free agent in 2003 by the Philadelphia Phillies. In July of 2009, Carrasco was sent, along with Jason Donald, Jason Knapp and Lou Marson, to Cleveland from Philadelphia for Cliff Lee and Ben Francisco.
Donald and Marson have already shown some talent, while Knapp is thought to be one of the top pitching prospects in the Indians organization.
SP: Josh Tomlin, 26 Years Old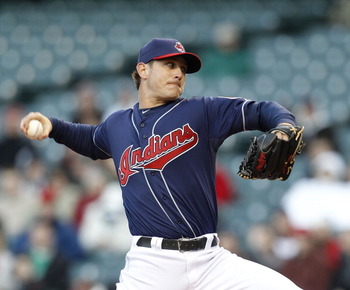 Leon Halip/Getty Images
Josh Tomlin has looked like a seasoned veteran early on in 2011. The kid can throw strikes and keep you in the ball game, exactly what the Tribe needs out of it's fourth/fifth starter.
Tomlin was drafted by the Indians in the 19th round of the 2006 amateur draft.
SP: Justin Masterson, 26 Years Old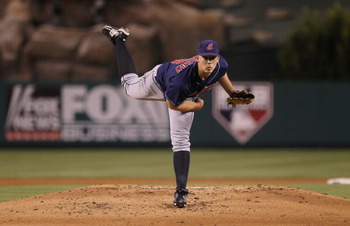 Jeff Gross/Getty Images
Masterson started his big league career in the Boston Red Sox bullpen, showing a lot of promise with his powerful delivery. The Indians decided to try him out in their rotation since acquiring him, and it is paying off so far this season.
Masterson was drafted in the second round of the 2006 amateur draft by the Boston Red Sox. In July of 2009, he was shipped to Cleveland as the major piece in the Victor Martinez trade.
SP: Mitch Talbot, 27 Years Old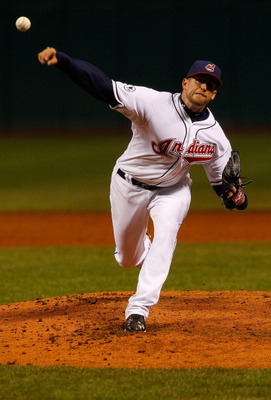 Jared Wickerham/Getty Images
Mitch Talbot was a bright spot early for the Indians rotation in 2009, but struggled to stay consistent in the second half. Talbot has rebounded with a few solid outtings so far in 2011, looking to solidify the back end of the rotation.
Talbot was originally drafted by the Houston Astros in the second round of the 2002 amateur draft. He was traded in 2006 to the Tampa Bay Rays, along with Ben Zobrist, for Aubrey Huff. Good trade for the Rays.
Tampa Bay then swapped Talbot for former Indians catcher Kelly Shoppach in December of 2009.
CP: Chris Perez, 25 Years Old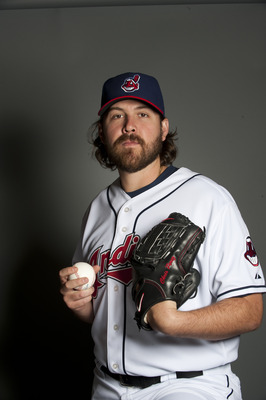 Rob Tringali/Getty Images
No that's not Kenny Powers, it's Chris Perez.
The closer of the present and future for the Cleveland Indians, this guy throws heat in the mid 90's with a filthy slider. Perez has the ability to make the American League All-Star team this year. Hopefully he continues to rack up save opportunities.
Perez was drafted by the St. Louis Cardinals in the first round of the 2006 amateur draft. He was shipped to Cleveland as the major piece of the Mark DeRosa trade.
Once again the Cleveland front office made a great deal to land a future All-Star for an aging veteran.
The Future Looks Bright!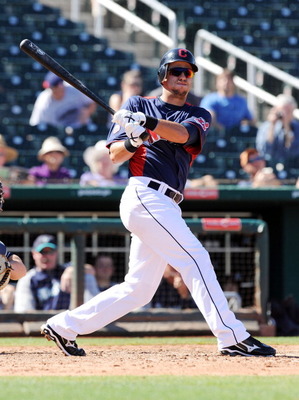 Norm Hall/Getty Images
Almost every guy on this list is controlled by the Indians for at least the next two seasons, if not longer. The future looks bright in Cleveland, as the young core on the big league roster today will soon be reinforced with some of the top prospects in baseball.
The youth of this team will cause the Tribe to have their ups and downs in 2011, but it's easy to see why there is excitement surrounding this group. Sure, the big names have come and gone, but a new crop has started to blossom in Cleveland.
Keep Reading

Cleveland Indians: Like this team?