2011 Pittsburgh Steeler Draft: Echoes from Past Drafts Give Secondary Hope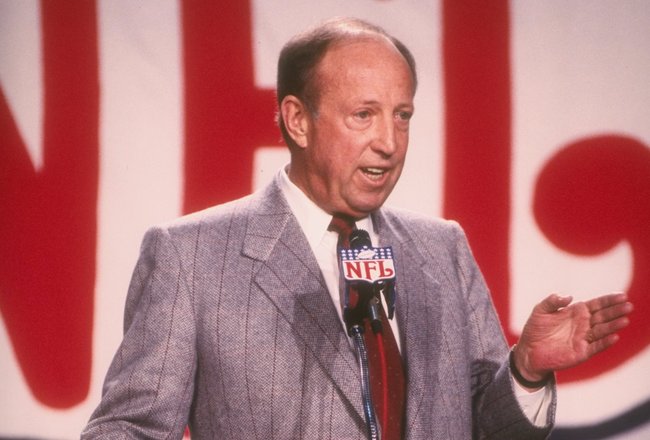 steeler secondary
Rick Stewart/Getty Images
Although the Pittsburgh Steelers made it to the Super Bowl last season, the team is not without some glaring issues going into next year. One of those is the secondary.
Ike Taylor is an unrestricted free agent and Bryant McFadden and William Gay are nothing more than nickel and dime backs, respectively. When adding to that the concern over the long-term health of Troy Polamalu, it becomes painfully obvious that the Steelers need to upgrade the position.
However desperate the current situation appears, it pales in comparison to the condition the Steelers secondary was in after the 1986 season.
The Steelers had just finished with their worst record (6-10) in 15 years and the secondary was a major contributor to that dubious distinction. With such "legends" as Harvey Clayton, Lupe Sanchez and Eric Williams manning the ship, and an aging Donnie Shell added for good measure, the Steelers secondary struck fear in no one.
Opposing quarterbacks drooled at the prospects of throwing against Harvey and Lupe in press coverage.
Needless to say, things looked mighty bleak.
But after the 1987 and 1989 drafts, what was once a weakness slowly became a strength. Perhaps magic can strike again in the 2011 NFL Draft.
1987 Draft, Round 1: Rod Woodson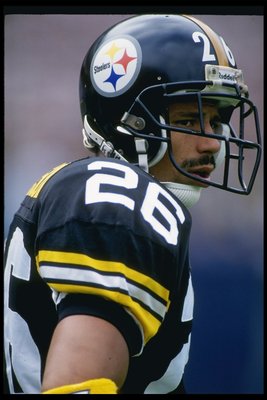 Stephen Dunn/Getty Images
There is no other way to put it: Rod Woodson was a stud.
Big and fast, Woodson was a football All-American at Purdue and excelled in track, holding the school's record in the 60-meter and 110-meter hurdles.
Picking him in the first round was a no-brainer.
His first season was unremarkable though, due to a contract holdout. He played in only eight games.
However, the rest, as they say, is history. He went to the Pro Bowl 11 times and was a seven-time All-Pro.
He was inducted into the Pro Football Hall of Fame in 2009.
1987 Draft, Round 2: Delton Hall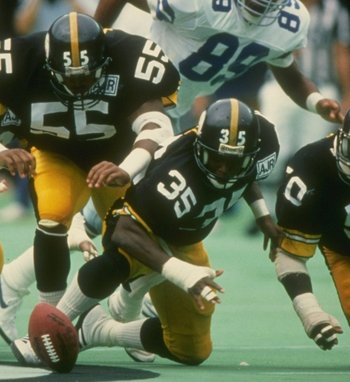 Getty Images/Getty Images
The Steelers took Delton Hall in the second round of the 1987 draft.
Another big and fast corner, Hall was a standout at Clemson and a former track star in high school. He held the record for the fastest 400-meter time in state of North Carolina.
Hall's first game with the Steelers was a gem: he returned a fumble 50-yards for a touchdown and had an interception. He started 12 games that year.
Unfortunately, Hall's remaining career never lived up to his first season. Injuries and personal issues cut his career short. He was out of football after the 1992 season.
1987 Draft, Round 4: Thomas Everett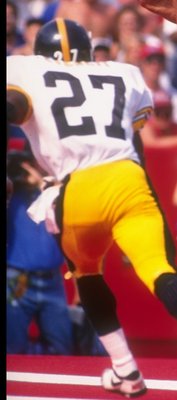 Rick Stewart/Getty Images
Thomas Everett was a hard-hitting safety out of Baylor, where he won the Jim Thorpe award, an honor given to the top defensive back in the country.
Everett played four seasons with the Steelers and started in 67 games. He left via free agency in 1992.
1989 Draft, Round 2: Carnell Lake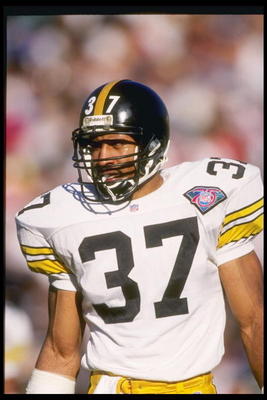 Mike Powell/Getty Images
A linebacker at UCLA, Carnell Lake made a flawless transition to strong safety in the NFL.
In 1995, showing his athletic ability, Lake moved to corner after Rod Woodson went down with a season-ending injury. Lake didn't miss a beat, making the Pro Bowl that year.
In 1997, he made the move again to corner, and again he made the Pro Bowl.
While with the Steelers, he was voted to the Pro Bowl four times and All-Pro once.
Keep Reading

Pittsburgh Steelers: Like this team?