2011 NFL Draft: Top 10 Players at Each Position
Joe Robbins/Getty Images
The NFL Draft is around the corner and it's going to be a good one. The newest infusion of talent is ready to enter the league and the next superstars are ready to emerge. Of course, the draft only gives the players teams, but they can't sign or play until the new Collective Bargaining Agreement is agreed upon.
Who is the best quarterback? Cam Newton? Blaine Gabbert? Read on to see who is the best quarterback and the best at each position.
Quarterback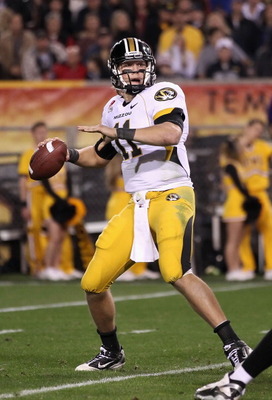 Christian Petersen/Getty Images
1. Blaine Gabbert, Missouri
2. Cam Newton, Auburn
3. Jake Locker, Washington
4. Ryan Mallett, Arkansas
5. Christian Ponder, Florida State
6. Colin Kaepernick, Nevada
7. Andy Dalton, TCU
8. Ricky Stanzi, Iowa
9. Tyrod Talyor, Virginia Tech
10. Pat Devlin, Delaware
Analysis:
This isn't the best of drafts for quarterbacks but there is potential for some good value picks with the lower rated QB's. The top four or five should be gone by the third round.
Blaine Gabbert and Cam Newton seem like top 10 locks, Jake Locker will be gone by the end of the first round and Ryan Mallet and Christian Ponder should be gone by the third.
Teams that want to develop a backup or a sleeper starter, should look at the bottom five on this list. There are noticeable names on this list, players who produced big time at big name colleges.
Each of the last five were seniors last year and have the experience to succeed at the next level. Look for Colin Kaepernick and Tyrod Taylor to emerge as the best of these five.
Running Back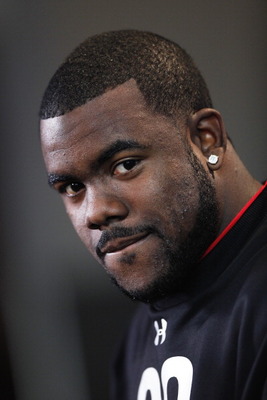 Joe Robbins/Getty Images
1. Mark Ingram, Alabama
2. Mikel LeShoure, Illinois
3. Ryan Williams, Virginia Tech
4. DeMarco Murray, Oklahoma
5. Kendall Hunter, Oklahoma State
6. Daniel Thomas, Kansas State
7. Shane Vereen, California
8. Jordan Todman, Connecticut
9. Jacquizz Rodgers, Oregon State
10. Delone Carter, Syracuse
Analysis:
This is one of the weaker drafts for running backs in recent memory. There will probably only be one running back taken in the first round, and that's the clear cut number one, Mark Ingram.
After Ingram, it's a bunch of solid running backs without a standout. Look for Mikel LeShoure and Kendall Hunter to make a splash on a team. I watched both play in their respected bowl games and they can both take over a game at will.
If you team needs a running back, look for these guys in the second and third rounds.
Fullback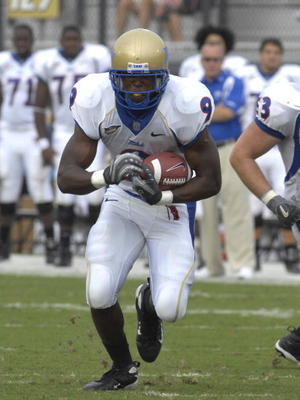 Al Messerschmidt/Getty Images
1. Charles Clay, Tulsa
2. Stanley Havili, USC
3. Owen Marecic, Stanford
4. Henry Hynoski, Pittsburgh
5. Anthony Sherman, Connecticut
6. Preston Dial, Alabama
7. Shuan Chapas, Georgia
8. Robert Hughes, Notre Dame
9. Ryan Taylor, North Carolina
10. Patrick DiMarco, South Carolina
Analysis:
Fullback is not really one of the positions that teams look for in the draft and rightfully so. The top four or five fullbacks are should be selected but not until the later rounds. Look for Stanley Havili and Owen Marecic to surprise people and make an NFL team.
Wide Receiver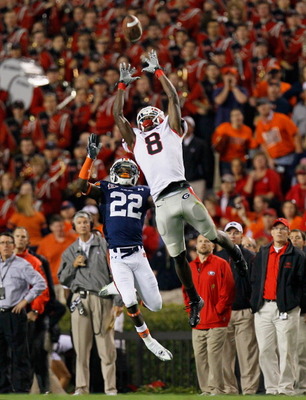 Kevin C. Cox/Getty Images
1. A.J. Green, Georgia
2. Julio Jones, Alabama
3. Torrey Smith, Maryland
4. Leonard Hankerson, Miami (Fla.)
5. Randall Cobb, Kentucky
6. Titus Young, Boise State
7. Joe Baldwin, Pittsburgh
8. Jerrel Jernigan, Troy
9.Greg Little, North Carolina
10. Edmond Gates, Abilene Christian
Analysis:
After Green and Jones, there is a huge drop-off in talent. Green and Jones will be taken in the top 10, but no other receiver should be taken in the first round.
Like all drafts, there is always one or two sleeper wide receivers and Edmond Gates could be this years sleeper. Here are some of his highlights. He has some potential to be a solid late round draft pick.
Tight End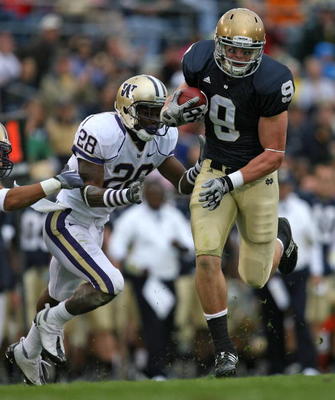 Jonathan Daniel/Getty Images
1. Kyle Rudolph, Notre Dame
2. Luke Stocker, Tennessee
3. Lance Kendricks, Wisconsin
4. Jordan Cameron, USC
5. Virgil Green, Nevada
6. D.J. Williams, Arkansas
7. Rob Housler, Florida Atlantic
8. Andre Smith, Virginia Tech
9. Julius Thomas, Portland State
10. Weslye Suanders, USC
Analysis:
In all honesty, this is Kyle Rudolph and company. Rudolph is hands down the best tight end in the draft and will, most definitely, will be drafted as such. After Rudolph, there shouldn't be another draft pick until round three or four. Look for Jordan Cameron of USC to be a solid pick up in the middle to last rounds.
Center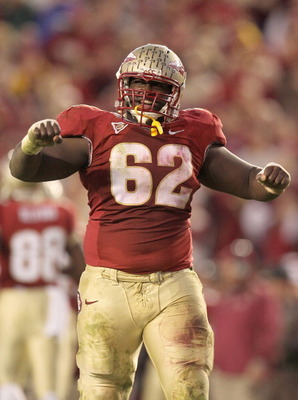 Mike Ehrmann/Getty Images
1. Rodney Hudson, Florida State
2. Stefen Wisniewski, Penn State
3. Kristofer O'Dowd, USC
4. Tim Barnes, Missouri
5. Zane Taylor, Utah
6. Brandon Fusco, Slippery Rock
7. Jake Kirkpatrick, TCU
8. Jason Kelce, Cincinnati
9. Zach Williams, Washington State
10. Alex Linnenkohl, Oregon State
Analysis:
This draft class of centers is very top heavy. Rodney Hudson is the clear number one and will be drafted as such. The top five or six will definitely be drafted, but after that is anyones guess. This is just like the running backs, one of the weaker center draft classes in recent memory.
The craziest thing is that there most likely won't be a center selected in the first round, which is usually a given. Look for Kris O'Dowd to surprise people, he was projected to go higher but he was injured and his stock fell.
I'll be rooting for O'Dowd to succeed, and I'm proud to say I went to high school with him.
Offensive Tackle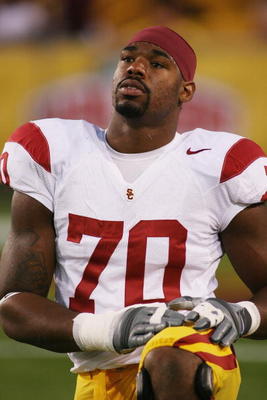 Jeff Golden/Getty Images
1. Tyron Smith, USC
2. Anthony Castonzo, Boston College
3. Gabe Carimi, Wisconsin
4. Derek Sherrod, Mississippi State
5. Nate Solder, Colorado
6. Marcus Cannon, TCU
7. Orlando Franklin, Miami (Fla.)
8. James Carpenter, Alabama
9. James Brewer, Indiana
10. Marcus Gilbert
Analysis:
The top five of this list will be drafted in the first round but after that, don't expect to see another Offensive Tackle drafted until the middle to late second round. There are some very good players like Tyron Smith and Anthony Castonzo, who will be the target of teams with a pick in the 15-20 range.
Look for Nate Solder to be drafted in the lower first round, but could make a big impact on a veteran team.
Offensive Guard
Eliot J. Schechter/Getty Images
1. Mike Pouncey, Florida
2. Danny Watkins, Baylor
3. Benjamin Ijalana, Villanova
4. Clint Boling, Georgia
5. Will Rackley, Lehigh
6. Stephen Schilling, Michigan
7. John Moffitt, Wisconsin
8. Zach Hurd, Connecticut
9. Keith Williams, Nebraska
10. David Arkin, Missouri State
Analysis:
MIke Pouncey is the crown of this class and is the brother of current Steeler center Maurkice Pouncey. Mike is actually physically bigger then Maurkice. Mike is definitely going to be selected in the later first round and my prediction is that he will start in 2012-13 for whatever team drafts him.
Other than Pouncey, look for Danny Watkins and Clint Boling to make some noise on a team.
Defensive Ends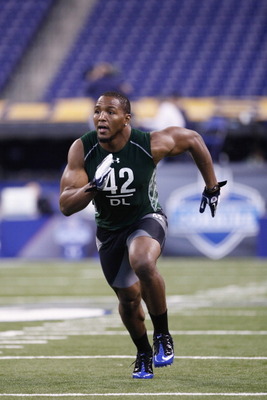 Joe Robbins/Getty Images
1. Robert Quinn, North Carolina
2. Da'Quan Bowers, Clemson
3. Cameron Jordan, California
4. J.J. Watt, Wisconsin
5. Adrian Clayborn, Iowa
6. Ryan Kerrigan, Purdue
7. Aldon Smith, Missouri
8. Cameron Heyward, Ohio State
9. Jabaal Sheard, Pittsburgh
10. Christian Ballard, Iowa
Analysis:
Defensive end is arguably the deepest position in the entire draft, and some mid to late first round teams could find top 10 talent. Teams in the 10-20 range will have a wide selection of defensive ends and should be very happy with their pick.
Think of a player like Adrian Clayborn, who could have been a top 10 pick last year but returned to school and now is considered a mid first round pick. That's a very good value pick at a mid first round pick.
Look for at least seven defensive ends to be selected in the first round and many more after that.
Defensive Tackles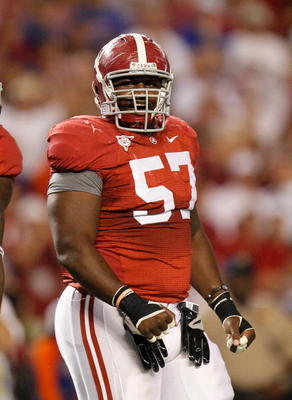 Kevin C. Cox/Getty Images
1. Marcell Dareus, Alabama
2. Nick Fairley, Auburn
3. Muhammad Wilerson, Temple
4. Corey Liuget, Illinois
5. Phil Taylor, Baylor
6. Stephen Paea, Oregon State
7. Marvin Austin, North Carolina
8. Kenrick Ellis, Hampton
9. Drake Nevis, LSU
10. Jurrell Casey, USC
Analysis:
The two stars are Marcell Dareus and Nick Fairley, and both will be gone in the top 10. They are both extremely powerful and physically imposing. Dareus is definitely going in the top five and could even be drafted first or second overall.
As for sleepers, look for Stephen Paea to make a splash. Paea made quite a bit of noise when he broke the bench press record at the NFL combine with 49 reps at 225 lbs, smashing the previous record of 45 reps. He soared up draft boards after that and will continue to impress for whatever team he is selected by.
Inside Linebackers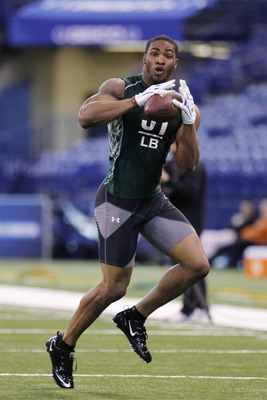 Joe Robbins/Getty Images
1. Martez Wilson, Illinois
2. Quan Sturdivant, North Carolina
3. Greg Jones, Michigan State
4. Colin McCarthy, Miami (Fla.)
5. Kevin Sheppard, LSU
6. Jeremy Beal, Oklahoma
7. Nate Irving, North Carolina State
8. Casey Matthews, Oregon
9. Josh Bynes, Auburn
10. Mike Mohamed, California
Analysis:
Across the board, inside linebacker is another weak position. Martez Wilson is the best and most likely, won't be a first round draft pick. My guess is that no more than 10 or 11 Inside linebackers are going to be selected in the draft.
Look for Casey Matthews to be a sleeper pick. He played very well for Oregon and plays a lot like his older brother, Clay Matthews of the Green Bay Packers.You know, the one that just won a Superbowl? Clay Matthews 2.0 as I like to call Casey, will be a very pleasant surprise for a team on draft day.
Outside Linebackers
Hannah Foslien/Getty Images
1. Von Miller, Texas A&M
2. Akeem Ayers, UCLA
3. Brooks Reed, Arizona
4. Justin Houston
5. Bruce Carter, North Carolina
6. Sam Acho, Texas
7. Dontay Moch, Nevada
8. Mason Foster, Washington
9. Chris Carter, Fresno State
10. Lawrence Wilson, Connecticut
Analysis:
Von Miller is a great player and is going to be a top five draft pick. He has all the tools to succeed and he should start for the team that drafts him. Akeem Ayers and Brooks Reed are both underrated and could surprise some teams.
Teams are going to love Ayers's and Reed's speed, intelligence and tenacity. Personally, I'm pulling for Brooks Reed because I go to college with him. Hopefully he succeeds!
Cornerbacks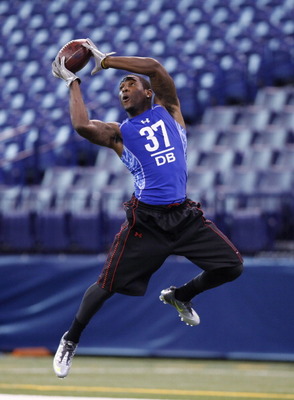 Joe Robbins/Getty Images
1. Patrick Peterson, LSU
2. Prince Amukamara, Nebraska
3. Jimmy Smith, Colorado
4. Aaron Williams, Texas
5. Brandon Harris, Miami (Fla.)
6. Davon House, New Mexico State
7. Ras-I Dowling, Virginia Tech
8. Curtis Brown, Texas
9. Chimdi Chekwa, Ohio State
10. Brandon Burton, Utah
Analysis:
Patrick Peterson and Prince Amukamara are two of the best athletes in the entire draft. They both should be selected in the top 10.
Jimmy Smith is another solid cornerback and should be drafted either in the late first round or early second round. He has similar skills to Peterson and Amukamara but played in a much smaller market.
Look for Aaron Williams and Curtis Brown, both from Texas, to perform solidly and make a team as a 3rd or 4th cornerback.
Free Safety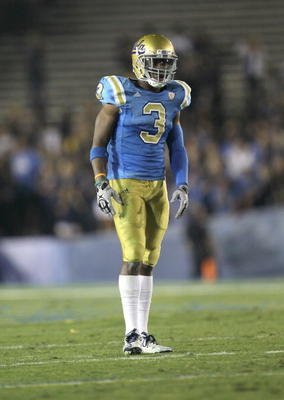 Stephen Dunn/Getty Images
1. Rahim Moore, UCLA
2. Quinton Carter, Oklahoma
3. Chris Conte, California
4. Robert Sands, West Virginia
5.Chris Culliver, South Carolina
6. Deunta Williams, North Carolina
7. Jaiquawn Jarrett, Temple
8. Jerrard Tarrant, Georgia Tech
9. Mistral Raymond, South Florida
10. Eric Hagg, Nebraska
Analysis:
Rahim Moore was quite the productive player at UCLA and he is definitely the best Free Safety in the draft. He is a ball-hawk and is almost always in the right position for tackles. Look for Quinton Carter and Chris Conte be a backup free safety on the team that drafts them, with opportunity they could be starting soon.
Overall, this is not a very strong class (when compared to last year's draft) and after the top three players, there is a noticeable drop-off in quality.
Strong Safety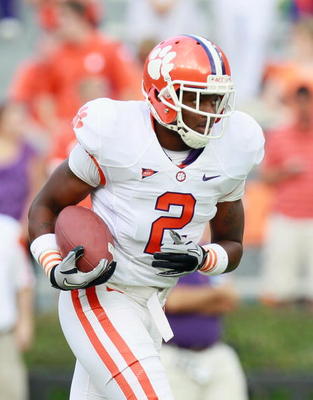 Kevin C. Cox/Getty Images
1. DeAndre McDaniel, Clemson
2. Tyler Sash, Iowa
3. Ahmad Black, Florida
4. Da'Norris Searcy, North Carolina
5. Joe Lefeged, Rutgers
6. Jeron Johnson, Boise State
7. Shiloh Keo, Idaho
8. Nate Williams, Washington
9. Jermale Hines, Ohio State
10. Dom DeCicco, Pittsburgh
Analysis:
DeAndre McDaniel and Tyler Sash are really the cream of this crop. Both possess the necessary skills around the ball and both can make a move in the open field. Two teams are going to be very excited to have them on their team.
Look for Jeron Johnson to be a sleeper pick at strong safety. He is a heavy hitter and should be a solid late round draft choice.
Kicker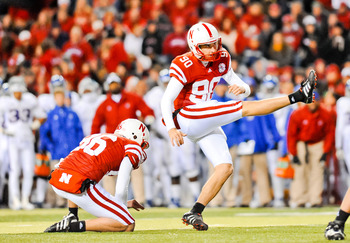 Eric Francis/Getty Images
1. Alex Henery, Nebraska
2. Kai Forbath, UCLA
3. Josh Jasper, LSU
4. Dan Bailey, Oklahoma State
5. Jake Rogers, Cincinnati
6. Thomas Weber, Arizona State
7. Kyle Brotzman, Boise State
8. Wes Byrum, Auburn
9. Alex Tejada, Arkansas
10. Gareth Rowlands, Tusculum
Analysis:
Alex Henery has an absolute cannon and his career long field goal is 57 yards. Henery only missed one field goal all last year and he is easily the best kicker in the draft.
Behind him is Kai Forbath from UCLA. Forbath was very good two years ago but had a down year last season.
Most likely, only Henerey will be drafted and everyone else will have to earn a spot on a team.
Punter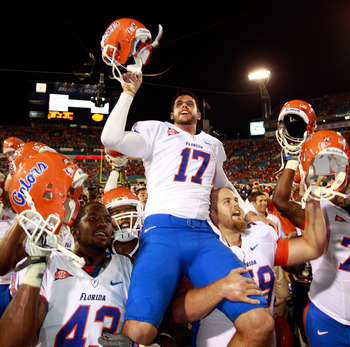 Sam Greenwood/Getty Images
1. Chas Henry, Florida
2. Ryan Donahue, Iowa
3. Reid Forrest, Washington State
4. Derek Epperson, Baylor
5. Matt Bosher, Miami (Fla.)
6. Trevor Hankins, Arizona State
7. Anthony Santella, Illinois
8. Dan Hutchins, Pittsburgh
9. Derek Helton, LSU
10. Rob Long, Syracuse
Analysis:
Chas Henry is the best punter in this class, hands down. The fact that he also can be a kicker is very valuable. Yet again, probably only Henry gets drafted and all the rest try to sign on a team and make the roster.
Keep Reading