DeAngelo Williams: The Next Great Denver Running Back (8 Reasons)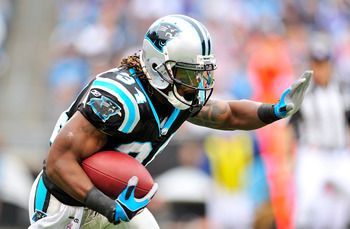 Grant Halverson/Getty Images
DeAngelo Williams has the talent to reach his second Pro Bowl, without question. Yet, as talented as he is, he has a better chance of converting to safety than he does of winning a Super Bowl in Carolina.
While his time as a Panther has been relatively successful, it appears to have come to an end with the recent expiration of his contract.
With that being said, Williams is coming off a year where he missed 10 weeks after severely spraining his foot. Fragility may be a concern for suitors looking to pursue.
Despite the injury, he is still two to three years away from "old age" as a running back; he will be 28 this upcoming season, and likely still has all of the burst and quickness that led him to his breakout season in 2008.
Therefore, expect the free-agent and 2003 Memphis All-American to have a new home and freshly inked, enormous contract come the 2011 season. Here are eight reasons why that new home will surely be in Denver.
Denver: Running Back Heaven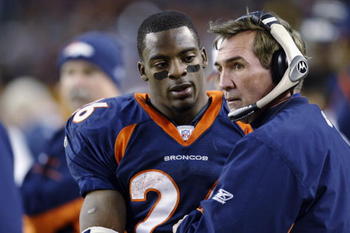 Brian Bahr/Getty Images
Terrell Davis. Olandis Gary. Mike Anderson. Clinton Portis. Reuben Droughns. Tatum Bell.
This is the infamous list of Denver Broncos' 1,000 yard rushers over the last decade. Although it has been a few years since a back cracked that number in the Mile-High city, Denver is still widely considered the place that running backs go to thrive.
Signs point to another 1,000 yard season in the near future. Former running backs coach Eric Studesville remains with the organization after leading the Broncos to a 1-2 record after the firing of Josh McDaniels late last season.
Before his arrival in early 2010, Studesville had lead four other running backs to 1,000 yard seasons. Those backs include Tiki Barber, Willis McGahee, Fred Jackson and Marshawn Lynch.
Fox has had success of his own, bringing Williams, Stephen Davis, and Jonathan Stewart above the 1,000 yard mark in his tenure with the Panthers.
DeAngelo Williams can rest assured that if he ships out to Denver, he will not only be in great hands, but he will also be in the running back capital of America.
Fleeing Carolina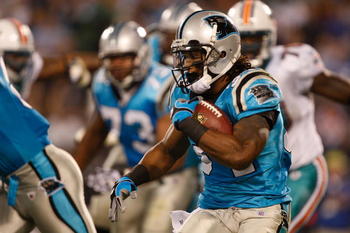 Streeter Lecka/Getty Images
Number 34 appears to have shut the door on his former team. The 2009 pro-bowler publicly vocalized this month that the Panthers may not have the offensive fire-power necessary to keep him in black and blue.
"It's all going to boil down to quarterbacks," Williams told WQAM-AM, via NFL.com. "In this league, the running game is all predicated on if you have a quarterback or not. If you don't have a quarterback, teams stack the box and they force you to do what you do best."
Jimmy Clausen certainly will not keep Williams in Carolina. And although the Panthers hold the number one pick in the upcoming NFL draft, any quarterback the Panthers potentially go with here would prove to be an uncertain commodity, at best. Cam Newton and Blaine Gabbert are fine college quarterbacks, but many experts question their ability to thrive at the next level. Both players would likely take 2-3 years to develop into a QB that would satisfy Williams' needs. This date is likely too far off to keep DeAngelo in a Panthers uniform.
When you combine this with fact that the Panthers have two other quickly emerging backs in Mike Goodson and Jonathan Stewart, Williams may be working up a worried sweat.
Denver certainly provides an upgrade over Carolina. Although there are certainly questions as to who will be the starter on opening day, both options are attractive. Tim Tebow simply knows how to win, and can take pressure off of any player with his ability to make things happen on the ground. Kyle Orton, albeit with the emergence of Pro-Bowler Brandon Lloyd, was putting up Pro Bowl caliber numbers of his own before he was benched in favor of the young Tebow.
Not Taking His Talents to South Beach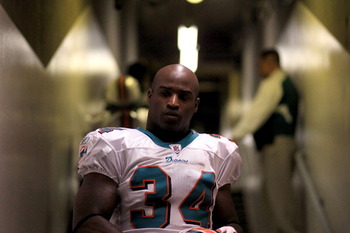 Ezra Shaw/Getty Images
Carolina aside, the Miami Dolphins have been publicly been rumored to be the front runners in the Williams sweepstakes. The Dolphins are currently the only team with an endorsement from the Wynne, Ark. native himself.
CBS Sports recently quoted Williams saying, "This is a place I'd like to live. I hope I'm at the top of their list and they come after me."
Yet, let's not forget that the Fins are rumored to be targeting a much younger back, Mark Ingram of Alabama, in this year's NFL draft. Miami may also consider a speedier, home-run threat, as head coach Tony Sparano recently stated.
Speculation aside, the Dolphins also have the option of resigning veteran Ricky Williams and/or 2008 Pro-Bowl selection Ronnie Brown, who was recently declared by Sparano as "100% Healthy," after the 2010 foot injury that ended his season, much like Williams.
That leaves a dark-horse candidate, a team that suits up approximately one-mile above sea level. The Broncos need a back who can score from anywhere on the field at any given moment. DeAngelo and his agent both know that at one point not too long ago, Denver was the place to go for NFL running backs. DeAngelo is currently the most reasonable and realistic option for Denver, and the soon to be 28-year-old likely has Denver on the top of his "places-to-consider" list.
Reuinion with John Fox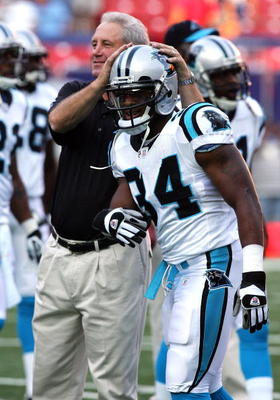 Jim McIsaac/Getty Images
Could a possible Williams-Fox reunion be imminent? All signs point west, to Denver.
The speedster running back has played the entirety of his career (five years and running) under Fox himself, in Carolina. Fox's recent hiring in Denver will be an enormous attraction to Williams, who not long ago thrived under his former head coach.
In Carolina, Williams gained the trust of Fox to the extent that he saw his carries per-game number stay in the mid-upper teens, despite the drafting of Jonathan Stewart, the second half of the "Double Trouble" duet.
Fox does prefer larger backs such as Stewart, but Denver has no back who can match both Stewart's size and skill. More importantly, Fox prefers a two back system, so it suffices that he is looking for a back to run with an unimpressive Knowshon Moreno. Williams would likely see the same proportion of carries (in a two back system) that he saw before his injury.
Moreno and Company Provide Little Aid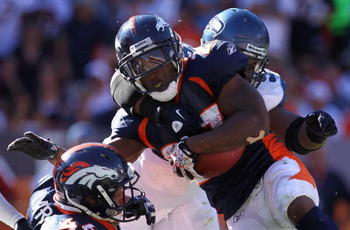 Doug Pensinger/Getty Images
The general public is sorely misinformed about Knowshon Moreno. They see highlight reel hurdles from his days at Georgia, and his pedestrian 4.3 yards-per-carry and assume he has a bright future with Denver. From a completely objective standpoint, let it be known that in his two years with the team, Knowshon Moreno has already been designated by the home crowd as "Slowshon."
Therefore, it is time that the Broncos looked at a back who can steal carries away from Moreno. A player who has a blatant lack of burst must be replaced with someone who can accelerate and stop on a dime (see Williams).
Furthermore, the Broncos depth behind Moreno can best be described as anemic. Correll Buckhalter has been anything but impressive in his tenure with Denver; a mere 789 yards in two seasons is what "Buck" has to pitch to the men in suits to keep him from getting cut this offseason. LenDale White has not been an asset at all, almost completely dropping off the map.
Laurence Maroney, whom the Broncos acquired from the Patriots for a 2011 4th-round selection, will likely spend more time this offseason battling weapons charges in criminal court than he will training. More importantly, Maroney is currently without a team, as the Broncos decided not to re-sign him this past March.
That leaves Denver with a handful of young practice squad players and possibly a few unproved commodities who manage to retain their jobs.
Yet another piece of bait to draw Williams in.
NFL Draft Will Not Provide Broncos with Starting RB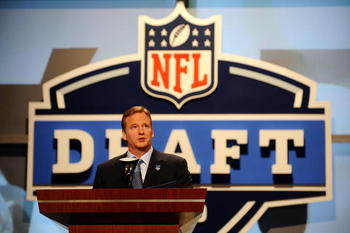 Jeff Zelevansky/Getty Images
Acquiring a back early in this year's draft is just as unlikely for Denver as it is foolish. To use a day one or two pick on a back would be a major mistake; the Broncos have much more pressing needs on the defensive side of the ball, and it is no mystery that the team will likely spend their first three to four picks this April addressing defense.
While a selection of a later round back may be possible, there is a reason the pick would come after the 3rd round. Denver would not expect this hypothetical player to start immediately, as he would be a later round pick. So it goes that this player would not take carries away from DeAngelo.
The Denver O-Line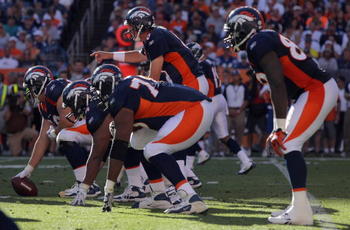 Doug Pensinger/Getty Images
Gotta give the big guys up front some love. Admittedly, the Broncos couldn't run the ball worth a lick last year, and the line is more suited for pass protection.
Yet, former head coach Josh McDaniels and his pass happy offense are gone. John Fox, a man who prides himself on a strong running game, is at the helm. More importantly, the Broncos have a few solid pieces already in place, just waiting for DeAngelo's use.
Pro-Bowl left tackle Ryan Clady is the most talented fixture on the front line, having already registered a set of impressive seasons in the league.
Right-tackle Ryan Harris may be out the door, but the Broncos have a pair of emerging players on the interior line that could be the surprise of the upcoming season. Center J.D. Walton and left-guard Zane Beadles have the potential to grow in leaps and bounds under Fox after playing for a sub-par coach in their first seasons.
Right guard Chris Kuper is one of the more unheralded players on the Broncos squad, proving to be the anchor of the right side of the line.
This is an offensive line that has the potential to be great for years to come. For any running back, that is reassuring and attractive.
#Winning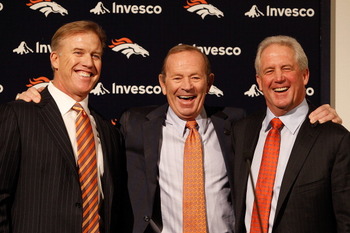 Justin Edmonds/Getty Images
Who better to lead the Broncos than John Albert Elway, Jr.?
Roughly a decade after the hall-of-fame quarterback led Denver to back-to-back Super Bowls, he has returned to to the Broncos.
Elway's job description is technically "executive vice president of football operations," but that is just fancy wording for "human gauze pad." Elway was largely hired to stop the bleeding that started some five years ago under Mike Shanahan, who struggled to keep the team thriving after 2005.
More importantly, Elway is considered by the people of Denver as a winner, even when pinned in a metaphorical alley. There is a certain mystique and charisma to the man, and although he hasn't suited up since Superbowl XXXIII, that mystique still has a very real magnetism to it, especially since he is now re-involved with the organization.
Nobody is impermeable to this magnetism. You'd better believe that DeAngelo Williams grew up watching Elway dominate. Being roughly 16 years old when Denver took over the NFL with their consecutive world championships, Williams likely holds a great deal of admiration and respect for Elway.
Keep Reading

Denver Broncos: Like this team?