2011 NFL Draft: Top 10 Potential NFL Busts for April's Draft
April 11, 2011
Kevin C. Cox/Getty Images
We're halfway through March, which means we're inching closer and closer to April 28th, AKA the first round of the 2011 NFL Draft.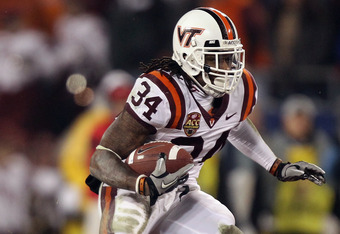 Streeter Lecka/Getty Images
For every excellent pick for an NFL team in the draft, there seem to be two or three busts. It's impossible for every single player to pan out in these drafts.
Many NFL teams like to take the safest player on the board when it's time to make their selection. Of course, no player is 100 percent safe in any draft. In many cases it can be argued that X Player would have had better success with Y Team.
But there are always players that seem to have a higher bust potential than the others. Those players are highlighted here in the Top 10 Potential Busts for the 2011 NFL Draft.
Honorable Mention:
Da'Quan Bowers
Nate Solder
Colin Kaepernick
10) Nick Fairley, DT, Auburn

There's no doubt in my mind that Nick Fairley can be an extremely talented player. But there is some bust potential with Fairley. One reason to be concerned is his attitude and aggression after the play. Fairley has been considered to be somewhat of a "dirty" player, hitting quarterbacks low and after the play.
Fairley also doesn't seem to have very good intangibles and some wonder if he'll be a locker room cancer, potentially a drama queen like Albert Haynesworth. Fairley has great talent, but has only truly produced in one season and could be a one year wonder, and has a good potential to bust, especially if he's drafted No.1 overall.
9) Kyle Rudolph, TE, Notre Dame

Injuries are the name of the game with the Notre Dame product. (How about those rhymes?)
Rudolph suffered a shoulder injury that kept him out of quite a few games in 2009, and ended his 2010 season early with hamstring issues. Rudolph's work ethic has also been called into question as he will take plays off, and doesn't seem to give 100 percent on every play. His talent as a pure receiving tight end is second to none in the 2011 NFL Draft, but his injury history and questions of true desire to play the game leave him as a high bust candidate.
8) Ryan Williams, RB, Virginia Tech

Ryan Williams burst onto the scene in 2009 after the Hokies lost their leading rusher, in Darren Evans, for the season. Williams showed excellent vision and patience, as well as great ability to make plays all over the field, not just in the run game.
But 2010 was a season to forget for the talented redshirt sophomore. He battled nagging injuries all season, and his production suffered. Williams took a big time gamble coming out for the 2011 NFL Draft in what seems like a weaker class for running backs. We really wanted to see Williams rebound with an excellent combine, but his 4.61 40-yard dash number hurts, and Williams seems like a high bust potential candidate.
7) Martez Wilson, LB, Illinois

Out of all of the linebackers in the 2011 NFL Draft class, nobody has seemed to rise up more in the last few months than Martez Wilson.
Wilson is quite raw, however, and missed all of 2009 with a neck injury. Some potential character concerns could be present after he was suspended for being involved in a bar fight as well. But the biggest scare is that Wilson relies too heavily on his athleticism to make plays, and doesn't have the best technique. For a linebacker with his size and strength he can't seem to get through traffic and shed blockers either. He's a high risk/high reward pick for any team in the first two rounds.
6) Leonard Hankerson, WR, Miami (Fl.)

Hankerson's stock has risen quite a bit since Senior Bowl week in Mobile. His performance in the Senior Bowl itself was pretty solid, despite only a slightly above average week of practices. Hankerson also surprised some scouts with his measurable running an excellent 4.43 40-forty yard dash.
But what scares me is that Hankerson isn't very physical for a guy with his solid size. Hankerson also tends to have concentration lapses, and struggles to catch the ball with his hands, often bringing it in to his body. Many scouts see quite the upside in Hankerson, and I agree. But I also see quite a bit of bust potential in the talented receiver from Hank.
5) Brandon Harris, CB, Miami (Fl.)

Brandon Harris has some fantastic potential, but some may start throwing Harris a bit lower in their mock drafts. Despite excellent straight line speed and quickness, Harris lacks great ability in zone coverage, and may be forced to cover smaller quicker receivers.
Harris' upside is fantastic and he could end up being one of the top three corners in this draft, but his lack of production is a bit worrisome, and the fact that he seems a bit overconfident and gives up a bit too much ground to receivers in space can be scary as a defensive coordinator.
4) Christian Ponder, QB, Florida State

Ponder's draft stock has risen the most amongst every quarterback in the 2011 NFL Draft class. Personally, I'm not very high on Ponder, and I see a lot more flaws in his game than many others. He's been talked about as a mid-first round pick, by some, but the consensus is that he's going to be drafted in the second round.
Ponder's arm strength isn't very good, and he doesn't put much zip on his passes. He relies very heavily on screen passes and benefits from what his receivers do after the catch. He's not consistent throwing in the middle of the field, and sometimes throws in traffic. Ponder also can't make every NFL throw, and while he has the intangibles, I'm not sure he has the overall ability. I see a lot of Charlie Frye in Ponder, which entails happy feet, quite a few dump offs in the flats, and running into sacks.
3) Cam Newton, QB, Auburn

You have to love the potential in the National Championship winning quarterback from 2010. Cam Newton's stock is very high because of his athletic ability and his arm strength. He has shown that he can throw the ball accurately, but hasn't always done it consistently.
But does Newton have the intangibles? Is he smart enough to run a much more complex NFL offense at the next level? He won't be making as many plays on his feet. Vince Young can attest to that. Newton's throwing at his Pro Day and at the NFL Combine were average at best. He still struggles in leading his receivers, and doesn't put the ball between the numbers every time. He's a big time project with big time bust potential.
2) Jonathan Baldwin, WR, Pittsburgh

When I first saw Jon Baldwin play, I said "Man, this kid is going to be a star". But his final season at Pittsburgh was quite a let down. Some may blame it on the fact that he had a young quarterback with a noodle arm throwing, but I still maintain that Baldwin wasn't giving it 100 percent.
When I watch Baldwin from 2010, I see a receiver that still can't get separation, and one that takes plays off and doesn't run his routes as crisp as you want. If he doesn't think he can get to the ball, he will give up on the play, much like how Randy Moss played in 2010 as well. Baldwin's size and speed are excellent. But he won't be able to do anything if he can't get separation at the next level.
1) Ryan Mallett, QB, Arkansas

And here we are to my number one bust candidate for the 2011 NFL Draft class.
Enter Ryan Mallett. Mallett was a highly touted quarterback coming out of high school who went to Michigan to become the next potential National Championship leading quarterback for the Wolverines.
But when the Rich Rodriguez era started with Michigan, the Mallett era ended. Mallett transferred to Arkansas where he would redshirt and start in both 2009 and 2010 for the Razorbacks. Mallett threw a ton of touchdowns, and his huge arm contributed to over nine yards per attempt at Arkansas.
But when we watch Mallett, we see a lot of inconsistency in his throws. We also see a quarterback who struggles to throw the short/intermediate routes with touch, and a risk taking quarterback who's not afraid to bomb the ball down field in order to make a big play.
The intangibles just aren't there as well. Mallett struggles reading defenses, and there are some potential character concerns with the 6'7" quarterback after rumors of cocaine and marijuana usage became spread shortly after the 2010 season.
Ryan Mallett is an incredible talent with great potential, but he has the highest bust potential out of any player in the 2011 NFL Draft class.