MLB: 7 Players Who Are Botching Their Chances at Big Pay Raises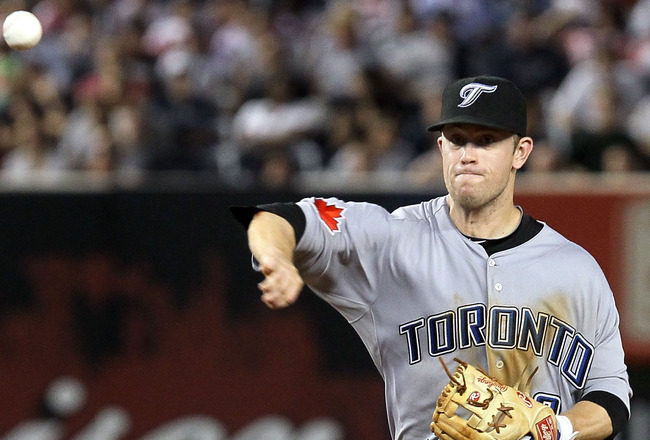 Jim McIsaac/Getty Images
When the 2011 season comes to a close, a number of players will come into free agency.
Albert Pujols has had a poor start to the 2011 season thus far, but he will make his money at the end of this year regardless. Even if Pujols repeated the worst year of his career, he would average Hall of Fame numbers.
Other players are not so fortunate.
It is these middle-tier players who will cost themselves big paydays with poor 2011 seasons. These are the guys who are endangering their big paydays—the ones who have proven they can be stars at the big league level, but have struggled for one or more of the past three seasons and are coming up on free agency.
The list of free agents is based on Cot's Baseball Contracts.
Ryan Franklin (P, STL)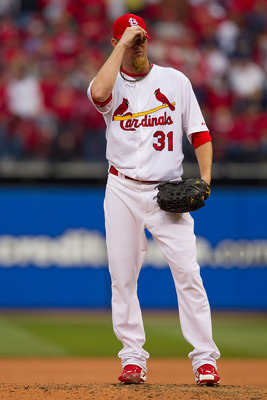 Dilip Vishwanat/Getty Images
In 2009, Ryan Franklin had 38 saves and a 1.92 ERA. He was quietly one of the premiere closers in baseball.
In 2010, Franklin was still very good with 27 saves, although his ERA ballooned to 3.46.
This season, Franklin has again started poorly, allowing four runs in 3.2 innings. Dominant closers make tons of money during free agency; Franklin will lose a ton of money if he doesn't turn his season around.
Aaron Hill (2B, Toronto)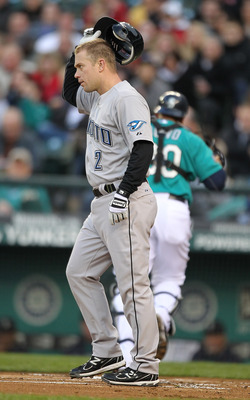 Otto Greule Jr/Getty Images
Aaron Hill was one of the best second basemen in baseball in 2009.
With 36 home runs, 100-plus RBI and an All-Star appearance, Hill was the rare second baseman who could hit for power.
Last season, Hill took a giant step back, hitting only .205 on the season. The 2011 season has started with more of the same. The top second basemen in baseball are uniquely valuable to teams because they offer offensive production from a position that is often pushed toward the bottom of teams' lineups.
With Hill's 2009 numbers, he would have been looking at a top contract. With his recent numbers, he will be lucky to find a starting job.
Jeff Francoeur (OF, Kansas City)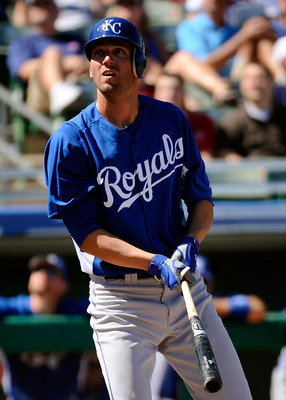 Kevork Djansezian/Getty Images
Remember when Jeff Francoeur was good? Like, 21-year-old phenom good? It was a long time ago, and it doesn't appear those days are coming back.
Now 27, Francoeur has struggled to find his early brilliance. Teams have learned how to pitch to the free-swinging Francoeur. Out of the strike zone. The man does not walk, and he is no longer a top hitter in the game.
Francoeur needs an exceptional 2011 campaign in order to make good money on the market for 2012 and beyond.
Rafael Furcal (Shortstop, LAD)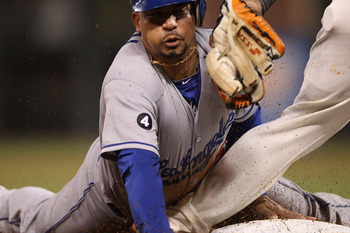 Jed Jacobsohn/Getty Images
There was a time when Rafael Furcal was one of the top shortstops in the NL. He is now in his final season before free agency and has started the 2011 season poorly.
While even the best MLB players have occasional slow starts, Furcal needs to come around to ensure future seasons will be profitable.
Aramis Ramirez (3B, CHC)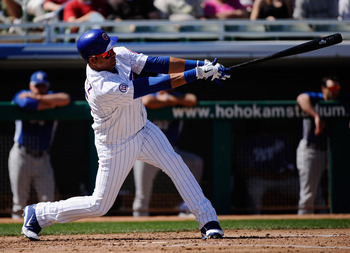 Kevork Djansezian/Getty Images
Between 2006 and 2009, Aramis Ramirez was one of baseball's premiere third basemen.
Then 2010 happened, and Ramirez hit .241.
The 2011 season will determine which Ramirez his next employer will pay. A return to 30 home runs and 100-plus RBI will lead to lots of money. Another sub-.250 batting average, and Ramirez won't break $10 million per year.
A lot of money rides on his every at-bat.
Mark Buehrle (SP, CHW)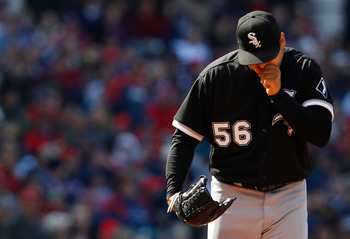 Jared Wickerham/Getty Images
Mark Buehrle is one of the most underrated players in baseball. With 10 consecutive 10-plus win seasons, Buehrle is nothing if not consistent.
Buehrle is not a dominant pitcher, and never was. In fact, he gave up the most hits in the AL four times in his career. But he also led in innings pitched twice.
While his lack of a strikeout pitch hurts him in fans' eyes, he was less effective last season than previous years (his ERA was .40 higher than his career average). With a season with an ERA under 4.00, Buehrle could have a big payday in his future. Otherwise, he can continue eating innings on the cheap.
Grady Sizemore (OF, CLE)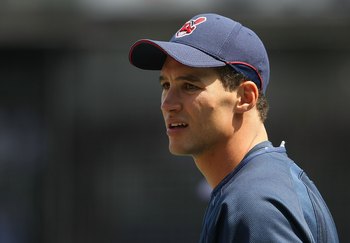 Nick Laham/Getty Images
There was a time when Grady Sizemore was considered one of the top young outfielders in the AL.
Then, injuries slowed Sizemore's career.
He comes into a contract season at age 27, and no one knows which player he is anymore.
Is he the guy who went 20/20 for four straight seasons? Or is he the guy who hasn't hit over .250 since 2008?
Fans won't find out until Sizemore gets a few more at-bats, but a good 2011 could mean Sizemore gets rich this offseason.
Keep Reading