Atlanta Braves: Previewing the First Series With the Florida Marlins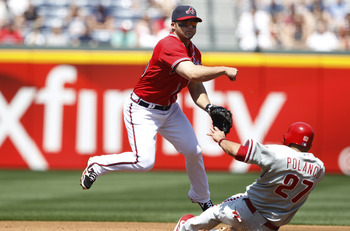 Joe Robbins/Getty Images
Of all the series to start the season, I think Braves' second baseman Dan Uggla and new Manager Fredi Gonzalez probably looked for and circled this one first. Both had spent several years with the Florida Marlins before ending up in Atlanta this offseason.
Gonzalez was fired as the Marlins' manager during the 2010 season. He was hired as the successor to Bobby Cox one day after the Braves season ended in the divisional round loss to the San Francisco Giants.
Dan Uggla put up record-setting numbers as the second bagger with Florida, becoming the first second baseman in baseball history to hit at least 30 home runs in four straight seasons. He's gotten off to a slow start this year but has already hit two homers for the Braves, the second of which was the eventual game winner against the Milwaukee Brewers.
This is an important early-season series for the two teams, so we will be looking at what they have done so far, who the key players are and what to expect from the two division rivals.
Editor's Note: Starters are projected by ESPN.com.
Atlanta Braves Season So Far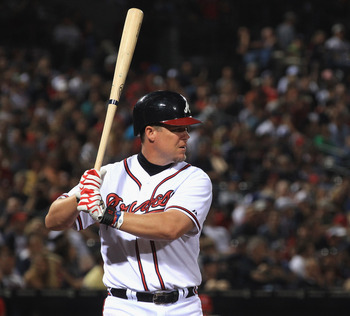 Streeter Lecka/Getty Images
The Braves started off the season by taking two out of three games from the Washington Nationals, including an impressive 11-2 win in the series finale.
The Braves continued their solid play by taking the first game against the Milwaukee, but it would be the only game of the series they would win as the offense struggled to put together any consistently good play. They ended up losing the last three games of the series, only scoring eight runs in the four games.
Then the series we were all looking forward to: a three game-hosting of the Philadelphia Phillies.The Braves fell behind 3-0 early on in the first game in Turner Field but quickly turned things around.
Jason Heyward started things off right in the bottom of the second by hitting a triple. He would get knocked in soon after by Alex Gonzalez. The Braves would end up trying the game up at three by the end of the innings.
The spark really came in the bottom of the fourth, when Chipper Jones crushed a double to deep center with the bases loaded, scoring all three. The Braves would take the 6-3 lead to the house and win their first game against the vaunted Phillies. Jones would also pick up 2,500th hit, on a day where Bobby Cox threw out the first pitch. Quite a day in Braves history.
That would be their only true success of the series though, as the Roy Oswalt and the Phillies defeated the Braves 10-2 in the second game of the series. Then despite Derek Lowe's third great performance of the season, they fell 3-0 to Cole Hamels in the final game.
So now the Braves are standing at 4-6 but fear not Braves fans. Remember that we started 9-14 last year, so just stay positive. It always seems to take us a few games to get started.
Best Hitter so Far: Brian McCann. While it was hard to choose him over the hot starting Jones, McCann's high batting average (.361) and five RBI make him the best hitter through the first 10 games. If McCann can keep up this production, then Jones will continue to get good pitches, and Uggla will start to see better ones.
Best Pitcher so Far: Derek Lowe. I think this one goes without saying, with all due respect to Tim Hudson and Craig Kimbrel. Lowe has only given up just three runs in 18.2 innings so far, giving him a 1.45 ERA. The problem has been run support, as he has gotten two runs in his two outings, which gives him his 1-2 record so far.
Florida Marlins Season so Far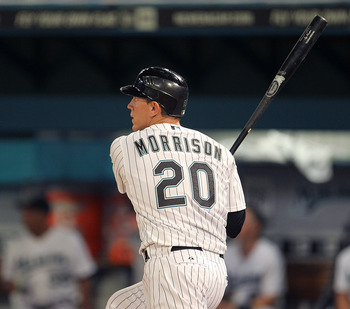 Mike Ehrmann/Getty Images
The Florida Marlins got off to a great start to the season as Josh Johnson shut down the New York Mets for a 6-2 win. They would lose the next two games of the series though, as they gave up 15 runs as a pitching staff.
They quickly turned things around though, as they, like the Braves, took two out of three from the Washington Nationals. They outscored the Nationals 15-9 in what was a very competitive series from both teams.
They then left their cozy homes in Florida to take a road trip to Houston to face the Astros. After Ricky Nolasco impressed in the opener in a 4-2 win, Javier Vasquez followed up nicely as the won the second game 7-5. They would fall 7-1 in the final game of the series however.
The Marlins are sitting at 5-4 and in second place in the NL East. They've good timely hitting and relatively good pitching to this point and will no doubt be looking to continue the good start against the Braves.The one negative is the day-to-day leg injury for Hanley Ramirez, though I would be surprised if he didn't play in this series.
Best Hitter so Far: Logan Morrison. Morrison has started off the 2011 season with power and average, posting a line of .333/.476/.606 with two homers and six RBI. He has struggled with runners in scoring position however, only hitting .167.
Best Pitcher so Far: Josh Johnson. The big and powerful right-hander has given up three runs while striking out nine in his first 12.2 innings pitched.
First Game: Tommy Hanson vs. Chris Volstad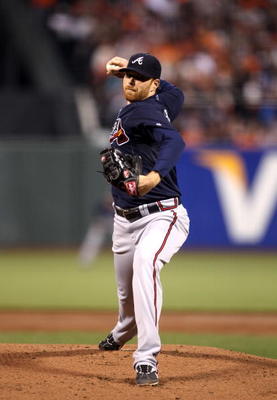 Ezra Shaw/Getty Images
Hanson's Stats Against Florida in 2010: Four starts, 2-1 record, 25.1 IP, 22 hits, 18 SO, seven BB, 3.20 ERA
Volstad's Stats Against Atlanta in 2010: Two starts, 1-0 record, 14 IP, 11 hits, six SO, three BB, 2.57 ERA
As you can see from the 2010 stats, both pitchers had success against the opposing team, Volstad even more so. This makes me think that we may be seeing a low-scoring opener to the series.
While Volstad ( one start, 1.80 ERA) pitched well in his first outing, the same can't be said from Hanson (two starts, 6.00 ERA).
Hanson has been missing his spots early on, which resulted in three walks with only three strikeouts. Hanson must turn it around soon as the Braves need all the pitching they can get with their early struggles on offense.
Will Hanson turn it around against a team he has had good success against? Will the Braves be able to hit Volstad better than they have in the past? I hope so.
Prediction: Marlins win.
Second Game: Tim Hudson vs. Josh Johnson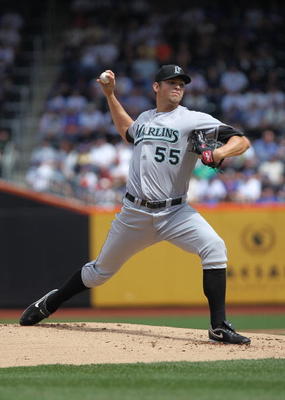 Nick Laham/Getty Images
Hudson's Stats Against Florida in 2010: Four starts, 1-1 record, 25 IP, 24 hits, 25 SO, eight BB, 2.52 ERA
Johnson's Stats Against Atlanta in 2010: Three starts, 0-1 record, 18 IP, 17 hits, 28 SO, six BB, 1.50 ERA
Both pitchers were absolutely amazing against the opposition in 2010, especially Johnson. His dominance over the Braves left them with ten fewer hits than strikeouts.
Hudson was no slouch though, as he put the Marlins in their place every time he faced the pesky team. Averaging a strikeout per inning is not something that Hudson usually does, which means he has a higher tendency to make the Marlins swing-and-miss.
Hudson has been on point so far this season, even better than Johnson. Because of that and the thinking that the Braves will pick up the offense against the ace, makes me expect a win, even if the pick is a bit of an "upset."
Prediction: Braves win.
Third Game: Brandon Beachy vs. Ricky Nolasco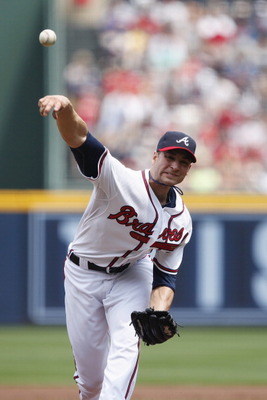 Joe Robbins/Getty Images
Beachy's Stats Against Florida in 2010: No stats.
Nolasco's Stats Against Atlanta in 2010: Three starts, 1-2 record, 13 IP, 21 hits, 14 SO, four BB, 7.62 ERA
The Braves hammered Nolasco last year and will look to do so in his first start against them this year. Giving up 11 earned runs in just 13 innings against them is not a good sign for things to come, and I am hoping that we are able to continue hitting him well.
Beachy was amazing in his first start of the season, throwing six innings while giving up only one run against the Brewers. He wasn't so lucky his second start against the Phillies though, as he gave up seven hits and four earned runs n six innings in a loss to them.
I feel comfortable going up against Nolasco and that Beachy will be successful much like he was against Milwaukee. If Beachy can repeat that performance, then the Braves will win the game.
My prediction: Braves win.
Final Thoughts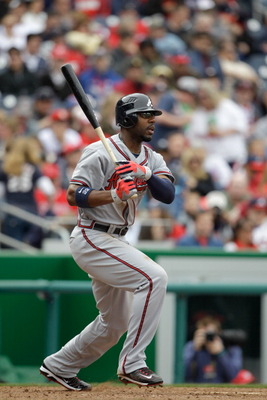 Rob Carr/Getty Images
If my predictions prove right, then the Braves will take two of the three games and end the series with a record of 6-7. I expect Uggla to take a big step forward as he faces off against his own team. Heyward could also help himself out as he hit .328 with a .480 OBP against the Marlins last year.
The Braves need a good series, though they get some tough matchups with Volstad and Johnson who have both had great success against the Braves.
The Braves are in the middle of a nine-game stretch against division foes, making these early season games a little more important than games against other teams
If the Braves can get to Johnson or Volstad early, then they will have a great chance to win the series. Losing another series would put the Braves in an early hole. They could definitely climb out of it, but I'd rather them not have to do that and get a few wins, especially with the Mets coming into town the next day.
Keep Reading

Atlanta Braves: Like this team?