Philadelphia Phillies: Series Proves They Have It, and Atlanta Does Not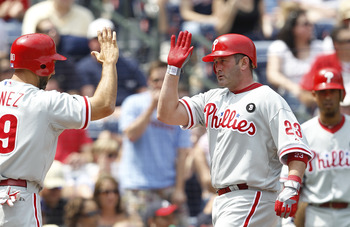 Joe Robbins/Getty Images
The Phillies are rolling to start the season. Dominant pitching and an offense that has hit more singles than any other team in baseball. Clearly their series against the Braves meant more to their hated rivals than it did to them, but it's always nice to let the few fans Atlanta has (and the national media) that their "sexy" pick for NL East champion was wrong.
Too many pundits and "experts" decided to overlook the four-time defending NL East champions (and their historic starting rotation) in favor of the Atlanta Braves—a team that has done nothing in the playoffs in a decade except watch the Phillies dominate.
Here are the top five things we learned from the Phillies vs. Braves series.
1. You're In for a Battle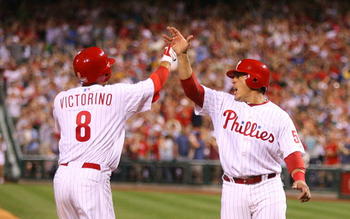 Hunter Martin/Getty Images
You better be ready to play the Phillies every inning of every game. They have four starting pitchers who have the potential to dominate an entire game and if they have an off-start, they have another ace up their sleeve ready to battle the next day.
Their lineup is smoking hot and they have consistently made solid contact through the first three series. It's funny that the same "experts" who claimed the Phillies will struggle this season with no Utley, Werth, Lidge...list goes on and on, have kept their mouth shut while the Phillies have dominated.
The Mets came in with a ton of momentum and beat the Phillies in their series opener. Mets fans (that we haven't heard from in years) awoke for one day to talk "smack" against Philly Nation.
They didn't have long to celebrate as the Phillies battered them around to take the next two games and win the series. Keep winning series boys and you will keep playing in October.
I will get into the Braves series later...
The Phillies have been in the top five in MLB in come-from-behind wins for the past five seasons, and they have shown nothing to convince anyone that things will be different this season.
A message to opposing starting pitchers: Beware, the Phillies lineup never quits, and will battle you for nine innings.
A message to opposing starting lineups: Beware, the Phillies starting pitching can dominate you for an entire series.
A message to the national media and all Phillies doubters: We are still the team to beat, and I told you so.
2. Hamels Is COLE-Blooded
Drew Hallowell/Getty Images
Hamels may be a little "flaky" at times, but he is a World Series MVP and champion. He also has some of the best stuff in major league baseball.
He may have struggled throughout Spring Training and in his first start, but he absolutely dazzled and dominated the Braves to win the series.
The guy was still throwing 94-95 mph in the seventh inning.
He is in the best shape of his life, and has three of the top pitchers in baseball watching his every move. You can be sure that Hamels is watching and learning from the three veterans and he will benefit immensely from their professionalism.
Halladay, Lee and Oswalt all are work-horses that have been workout warriors throughout their careers.
Hamels is as strong as ever and showed the Braves on Sunday why some are picking him to challenge his other teammates for the Cy Young award this season.
Hamels showed how much he has matured from two seasons ago. His first outing of the season he was hit-hard by the Mets, which led to the first loss of the season for the Phillies. He was even booed off the field by 45,000 freezing fans who expected more out of one of their aces.
Instead of pouting, Hamels was overpowering in the rubber-match of the series. He went seven innings, striking out eight, walking zero and giving up zero runs.
He kept the Braves off-balance all game with a filthy assortment of fastball, change-up, cutter and curveball. He always seemed two-steps ahead of the hitter.
A performance like that was a pleasure to watch. Halladay, Lee and Oswalt seemed to enjoy. Joe Blanton would be too if he were not too busy thinking about what fine cuisine he would sample Sunday night in Atlanta, Georgia.
3. Still the Team To Beat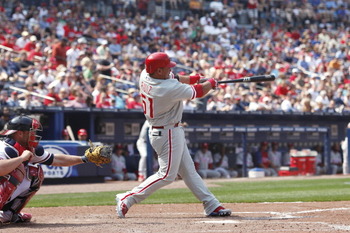 Joe Robbins/Getty Images
The Phillies are now seven and two this season and have won in all different ways which certianly bodes well for the team. They have won all three series they have played and two have been against division foes.
They have had dominant starting pitching from Halladay (twice) Lee, Oswalt (twice) and Hamels; dominant pitching from the bullpen (Bastardo, Madson, Contreras...even Baez); and a lineup that has scolded the ball.
Okay, I know we are only dealing with a small sample size here (nine games) but wouldn't the national media be screaming that the Phillies' reign as champs is over if the Braves and Mets took their respective series from the Phightin's?
I will answer that for you, yes they would.
Keep reading Philly fans, it gets better...
4. One Through 8 They're Great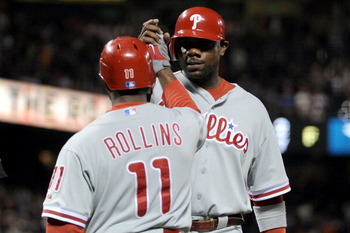 Harry How/Getty Images
As previously mentioned, the Phillies lead baseball in singles. Small-ball is obviously a necessity for the Phightin's if they wish to make another run at a World Series.
They simply do not have the power they have had the past four seasons without Werth, Utley and an aging Raul Ibanez.
What they do have is a lineup that is not striking out often and is making pitchers work (eh, Brett Myers). They have players throughout their lineup that can run and put pressure on opposing pitchers while on the basepaths.
They also have players that have gotten the "big-hit" before. Ryan Howard, Jimmy Rollins, Shane Victorino and of course "Chooch" Carlos Ruiz are all players that thrive in clutch situations (I have blocked-out Howard's last at-bat of 2010 by the way).
They have not looked back since exploding in the bottom of the ninth in the home-opener against the Astros.
Besides Raul Ibanez, every Phillies regular is hitting over .300.
Here are the current averages of the Phillies hitters after Sunday's game against the Braves.
Victorino—.417
Polanco—.342
Rollins—.324
Howard—.361
Francisco—.306
Ibanez—.257
Ruiz—.346
Valdez—.333
Now I am not so naive to believe that seven out of eight starters will hit .300 (especially after last season), but it is encouraging to see players that have been notoriously slow starters (Howard, Rollins Victorino) get off to such torrid starts.
Let's get ourselves a hefty lead in the division before the All-Star break, because with this pitching staff we will not surrender a big division lead like the Braves and Mets have recently.
The Phillies will be extremely difficult to beat in a series throughout this season if they can stay healthy. The lineup has shown in the early going that it can get the job done and the starting pitching obviously will make it very difficult to score three runs against them more times than not.
The bullpen has been outstanding with Madson, Bastardo and Contreras leading the way.
If Utley and Lidge can come back and resemble anything they have been throughout their careers, the Phillies will win a lot of games (I'm superstitious so I refuse to mention any records, but you get where I'm heading here) and run away with this division.
Again, I realize the season is a brutal grind. However, Philly Nation still has reason to be plenty excited. The Phillies have shown through the first nine games that they have the lineup one through eight and the pitching to be a dominant team once again.
5. The "Chop"
Andy Lyons/Getty Images
It is time we put this to rest once for and all: The "chop" by Braves fans is the dumbest thing in sports.
I will not even mention why the chop is disrespectful, but here are the 10 reasons why the chop by Atlanta Braves fans is the worst cheer in professional sports:
1. The chop by the Atlanta Braves fan base makes absolutely no sense and is not, nor ever will be, clever or cool.

2. Just because your professional sports team can not come close to selling out their games, does not give you the right to blast an annoying tune over the loudspeakers to make the stadium seem more full.

3. The chop is, and will always be, thought of as a Florida State Seminole thing.
4. The chop seems pretty foolish when it is played with two-men on and nobody out and Cole Hamels proceeds to strike-out the side with no runs-scored.
5. A fan base that requires fireworks at a home-opener to sell out the game will never be considered a loyal fan base. Thus, your chop will never be recognized as an Atlanta Braves "thing."
6. Braves fans should chop with both hands to indicate a bowing motion to Cole Hamels and the rest of the Phillies.
7. The chop does not affect the Phillies' ability to come into your house and win a series.
8. Dan Uggla looks like he has eaten one too many pork "chops" since he arrived in Atlanta.
9. The Phillies have won 14 out of their last 15 series (dating back to last season obviously) and they have no chop.
10. At least the wave encourages fans to get out of their seats, and thus, discourages fan obesity.
Keep Reading

Philadelphia Phillies: Like this team?