Minnesota Vikings Draft Questions: Andy Dalton, Donovan McNabb or Both?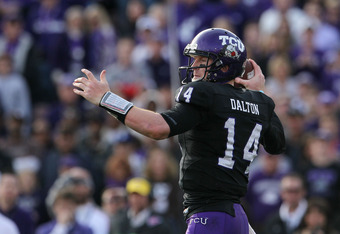 Jeff Gross/Getty Images
Boy oh boy! If the Minnesota Vikings aren't stealing the show in speculative draft talk—hopefully they are, and I have something to do with it—then they sure are right up there in the wonderful world of draft chitchat.
One of the more popular jib-jab topics in Minny right now is the rumor of the Vikings possibly trading to acquire failed experimental Redskin QB Donovan McNabb, and/or drafting TCU's Andy Dalton.
Well I ask; why not both.
Who says the Vikings can't pull off grabbing McNabb and drafting one of the better QBs on the draft board all-in-one breath, huh? Who says owner Ziggy Wilf and VP of player personnel Rick Speilman don't have a funny trick up his sleeve and who says the Vikings can't have their cake and eat it too?
Well actually Lela Martin and the Soul Providers said it in the 1960s but this is no time to discuss rare oldies people, let focus here!
There really isn't any mystery here.
The Vikings are devoid of a true veteran who could show a college prospect the ropes while servicing a few pointer rounds to Joe Webb and company, but is there really a chance the Vikings could wind up with both arms?
Can the Vikings score both Dalton and McNabb?
The short answer is no; the extended answer is perhaps.
Think I'm crazy? Thank you, but the fact remains that this is the draft people, and nothing…I mean nothing, is set in stone.
The likelihood of Dalton falling to the fourth round isn't very good, I admit.
The likelihood of me landing a job in the Caribbean isn't very good either, but not impossible.
Stranger things have happened and it all hinges on every team's needs, not necessarily who's the most popular name in the draft.
Now acquiring McNabb is a bit easier, but more costly: Just fork over that first round Mr. Wilf and all is good.
The rumor is the Vikings would have to offer their first round pick, or take their chances of the Redskins cutting ties with McNabb—and that just isn't gonna happen.
But forking over that coveted pick to the salivating Redskins could hurt the chances of the Vikings picking up Dalton.
If Dalton continues to spark interest, there are plenty of teams that could pull the trigger on him in the second round.
Cincinnati, Buffalo, Washington and Seattle are just a few teams that come to mind who could be circling the waters on Dalton and other QBs, so the Vikings are definitely up against some competition.
Al Bello/Getty Images
Either way you cut it there are risk factors involved, but even Frank Scully once wrote: "Why not go out on a limb? Isn't that where the fruit is?"
In the end, I believe the Vikings will try their hand at McNabb—unless they suddenly go all schizophrenic on me and start kicking the tires on Matt Hasselbeck—and hope for Dalton to be around in the fourth.
If not Dalton, look for the Vikings to pull the trigger on underrated Ricky Stanzi from Iowa; a player who I will be covering in a couple of days, so keep your eyes out for the piece.
This article is
What is the duplicate article?
Why is this article offensive?
Where is this article plagiarized from?
Why is this article poorly edited?

Minnesota Vikings: Like this team?