2011 NFL Draft: Top 5 at the Forgotten Position Known as Center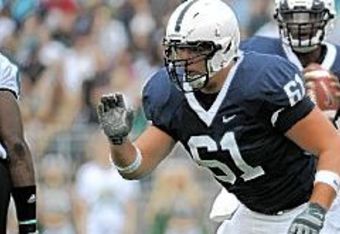 Penn State Center Stefen Wisniewski

With the 2011 NFL draft approaching, and buzz about players becoming more prevalent, the players who begin the plays on offense with a snap of the ball have received little attention.
The likelihood that any of the top five at the position is selected in the first round is low, and the likelihood that more than one is selected in the second round is even lower.
Some may include Florida Gator offensive lineman and future first-rounder, Mike Pouncey, as a center, but his time at Florida suggests that he is better suited for guard.
Yet there are five players that could end up being vital to an NFL team's offensive line and the man responsible for hiking the ball and defending his quarterback from rushers up the middle.
With that in mind, these are the top five centers who could be starting for your NFL team in the not-so-distant future.
1. Stefen Wisniewski
Experience is the key for the former Nittany Lion. He is a complete player at the center position in regards to the passing and running game. He may not be the most athletic player on the field, but neither are most centers.
Instead, he relies on his intelligence and work ethic. Despite not being the strongest center in college football, he knows how to gain leverage on his opponent and, more importantly, how finish his blocks by sealing off his man in the running game.
Whichever team drafts the Penn State alum will likely be looking at a 10-year starter in the league and a blue collar, hardworking leader for his team.
2. Kristofer O'Dowd
Going to USC obviously put O'Dowd in the limelight from the get-go, and he received attention from the moment he stepped on the field. Although he likely won't be drafted where people thought he would, he could still provide a great amount of value to an NFL team.
Unlike Wisniewski, he is better suited for a zone-blocking scheme because of his ability to get to the second level and block well. His strength for a center is also a major plus, as his quickness off the snap will allow him to capitalize against slower-reacting defensive lineman.
He may not be as sound of a player as Wisniewski, but he may also be a starter for a team in the near future.
3. Tim Barnes
Barnes is the definition of a solid center if there is one. He may not be flashy, but he gets the job done. There is little chance of him contributing right away, but in a few years he could find himself starting on Sundays.
Like O'Dowd, he has superior quickness off the snap and like Wisniewski, he gets good leverage. More importantly, he looks natural when a passing play is called, although he played in the spread offense.
The key for Barnes is strength. He was overpowered at times at Missouri, and the defensive tackles in the NFL aren't going to get any weaker.
If he can increase his strength, it will help him at the point of attack, in turn giving him a better shot of lasting as a starting center in the league.
4: Ryan Bartholomew
Bartholomew is built on strength and athleticism. He will likely be drafted as a project for the future for some team realizing that he has the God-given physical abilities to play in the league.
For a center, he is quick on his feet and in comparison with most centers, could be a 300-pound ballerina.
During his time at Syracuse, he proved he could run a team and he proved at the combine he had the strength to play in the NFL, beating all offensive linemen in the bench press.
The question will be whether his physical talents will progress to where he can become a complete center.
5. Jake Kirkpatrick
Kirkpatrick will likely be one of the most intelligent players in the draft at understanding a playbook. His quickness and ability to pick up blitzes and understand blocking schemes will get him playing time.
However, his lack of strength and inability to get consistent and proper leverage against defensive lineman will likely relegate him to backup duty for the next few years, when hopefully his dedication and intelligence will give him his opportunity to get on the field.
Although centers may not be the most acclaimed position on the field, they are one of the most important. After all, without someone snapping the ball, how would 80 percent of the plays be started?
This article is
What is the duplicate article?
Why is this article offensive?
Where is this article plagiarized from?
Why is this article poorly edited?

Penn State Football: Like this team?