NFL Draft 2011: The 10 Players Most Likely To Win Defensive Rookie of the Year
Scott Halleran/Getty Images
Last season's Defensive Rookie of the Year was an easy decision. While there were many rookies that made an impact in 2010, Ndamukong Suh stood head and shoulders above all the others.
Beating out names like Joe Haden, Eric Berry and Devin McCourty, Suh nearly single-handedly brought the Lions franchise back to being relevant, at the very least. This also proves the age old saying that "defense wins championships." And while the Lions didn't win the Super Bowl this season, they took a big step forward.
So who will the Ndamukong Suh of this draft? It's very hard to say. While it's a little too early to say for sure, there are plenty of names floating around. While some players are being hosed down with praise before they've played a snap, others are being labeled busts long before their expiration dates.
Who will be the next Suh? Let's take a look at the leading candidates.
10. Jimmy Smith, CB Colorado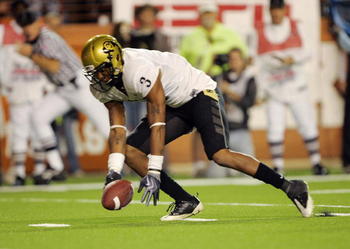 Brian Bahr/Getty Images
Is Jimmy Smith the next best thing in the NFL? One can only speculate. One thing that is absolutely sure is that Smith has undeniable talent. In fact, I could easily see why a team like Philadelphia or Baltimore would take a chance on his talents.
For starters, his coverage is air tight. Any NFL offense would have to take this guy seriously from day one. He's a fierce competitor, and when Smith is one-on-one with a receiver, he won't be getting the ball. It's that simple. While he seems reluctant to get involved on running downs, the same can be said about any corner. He's not going to have the most tackles on the defense, and he's really not supposed to.
He plays his position at a very high level, and he is overall fundamentally sound. Once he gets his man on an island, he leaves them there. I admire that in a cornerback.
However, as physically gifted as Smith is, there is two issues that impede his chances.
First is the two guys ahead of him. Both Amukamara are both clearly more physically and athletically talented. While both of those guys don't have the pure coverage skills that Smith does, both bring to the table a playmaking ability that isn't coachable. Both of these guys have kept their noses clean, which leads to my next point.
Smith has a questionable attitude. While at Colorado, he tested positive on a drug test, was busted for illegal possession of substances (underage alcohol) and proceded to throw his coaches and teammates under the bus when things went wrong. That's not the guy you want to be starting a franchise on.
Though it's more likely that a team on the verge of a deep playoff run will draft Smith, no team wants a guy that's a locker room cancer. No team wants to have to discipline a player only to have him undermind the respect of his entire team.
You need to know that there's a guy across from you thats willing to show up every day and perform at the highest possible level week in and week out. A guy that prefers to let his skills on the field to the talking instead of hogging the spotlight.
Is Smith willing to do this? Only time will tell. I definitely see bright things in this guy's future, but Defensive Rookie of the Year? Consider him a darkhorse.
9. Nick Fairley, DT Auburn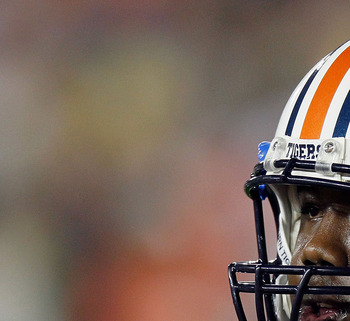 Kevin C. Cox/Getty Images
Before the combine, most of you would've called me crazy to put Fairley at anywhere but No. 1. He's got the stats, the skills, the size, the smarts. While you would be correct, Fairley wouldn't be the only guy that had these prerequisites that ended up going on to have a relatively short career in professional football.
Fairley is an impressive specimen to say the very least, he's got good size for the position, enough quickness to get off the line in a hurry, and the stats to prove it all. In a perfect world, he'd translate perfectly into the NFL. However, this is far from a perfect world, and other things like mental errors and bad work ethic sometimes eclipses a player's pure athletic talent.
Some of the claims that have been made about Fairley is that he's inconsistent, often lazy, has a "hot and cold" motor, is a "dirty player" and most commonly what takes place off the field. While some of the following may be true, what really makes his value take a hit is the credence of the claim that he is a "one-year wonder."
These claims are far from unjustified. Fairley showed up at the combine overweight and had mediocre results. When you show up for a job interview, no matter how qualified you are, you want to look and act your best. You want to prove to your potential boss that you are the best possible guy for the job. Fairley didn't do that.
While I don't exactly put a lot of faith into combine results, it certainly helps to put on a show for potential suitors. Fairley is arguably one of the most talented players in the draft, and that's what makes it so hard to trash the guy. All-in-all, he has the chance to be a solid player in the league, but Defensive Rookie of the Year would be a bit of a stretch.
8. Robert Quinn, DE North Carolina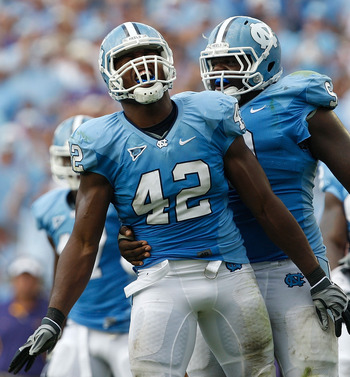 Streeter Lecka/Getty Images
Quinn is a guy that, at the end of the season, was being considered a top-10 pick. Once the guys at ESPN shied away from him, it seemed like every other mock draft did too. Even though Mel Kiper has him in beaux now, most people are not aware of just how immensely talented he is.
Quinn is a guy that has a consistent motor, and at times, dominates the field. He is capable of coming off the edge and making a big play. He's as big and physical as Da'Quan Bowers but slightly quicker and lighter. Although Quinn doesn't have Bowers' 15.5 sacks, he is a more-than-capable pass-rusher.
What makes Quinn a less safe pick is his play style. Many give his success to the phenomenal defense that he played specifically, DT Marvin Austin, who was able to keep many defenders busy enough trying to clog up the middle that they simply forgot about Quinn. He also had a solid secondary that gave opposing QBs headaches trying to find an open receiver.
What can one make of these? They certainly sound plausible. I believe, however, that while some have this guy outside their top 10, he's going to be able to be a good piece if utilized in the correct way. Nobody can quite tell if Quinn has improved at all, as he was susended outright for the entire 2010 season for being at the center of the now infamous "North Carolina Agent Scandal." This might make the transition to the NFL much harder because he hasn't played organized football in over a year.
Then there's the issue of the benign tumor on his brain. While I doubt it will be a health concern, you just never know. A player that you draft in the first round needs to be a guy that can start right away. If he's hampered by ongoing health problems, he may not be able to live up to his potential. Overall, I see this guy as a real dominant guy in a couple years, but he's going to have to prove that he's ready to adjust to the pace and demands of the NFL before he has a chance of winning the Defensive Rookie of the Year. This a guy that might be able to make it to the top of the list, but he has a lot of things to overcome before he does, and that's what makes him No. 8 on the list.
7. Cameron Jordan, DE California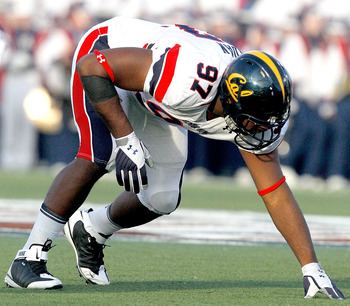 Sean Gardner/Getty Images
I know plenty of you will disagree but hear me out.
Cameron Jordan is a special player; he's quick and strong enough to be a defensive end in both 4-3 and 3-4 schemes, however, he also has the size and skill set to play defensive tackle in the 4-3 scheme at the very least. With that amount of versatility, he'll no doubt find a spot on the defensive line of some NFL team. It won't really matter where he plays as he is basically unblockable from either position and is a guy that will make an immediate impact on any team that drafts him.
He first became a legitimate first-rounder at the Senior Bowl practices and only built on his success at the NFL combine in Indianapolis. As a middle of the round guy, he has fewer questions surrounding him then some of the "top tier" guys but has a lower overall ceiling.
I count Jordan among potential candidates because he will more than likely have a lot of success in his rookie season, as he is ready to hit the ground running.
We'll have to see how the season turns out, but right now, Cameron Jordan certainly has his foot in the door.
6. Da'Quan Bowers, DE Clemson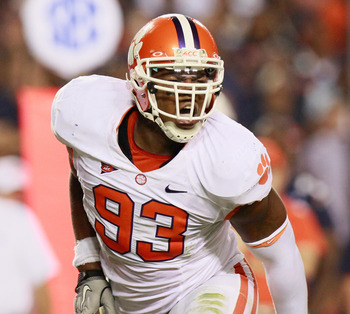 Kevin C. Cox/Getty Images
Bowers is a very good player. He has size, strength and speed. While some are claiming that he is a one-year wonder (justifiably), he has also improved his stats in every statistical category each season he was at Clemson. This season, in particular, he was in the best shape of his life; he was relatively healthy (he was injured off-and-on at Clemson) and particularly motivated after the death of his father and his mentor (Gaines Adams) in the same year.
Amassing an eye-catching 15.5 sacks this season, Bowers is widely considered the best pass rusher in the draft. Rivaled only by Von Miller, Bowers certainly earned this title. Bowers is a guy that doesn't wow you with his first step like many DEs do, but Bowers has the strength and technique to drive a blocker into the backfield with one arm, look for the ball, and shed the block and make the play in a matter of seconds.
Bowers main concern in the NFL is going to be staying healthy. He didn't miss huge chunks of time at Clemson, but he would often have aggravating injuries that sometimes made coaches use him sparingly. The biggest injury concern currently is his knee, on which he had surgery just a few months ago.
Despite all of this, Bowers has the size, talent and intelligence to play the position well. I don't quite think he's a top 10 pick anymore, but he won't fall far outside of the 11-20 range because of his high upside.
At the end of the day, Bowers is kind of a fringe candidate. It's going to depend on what team drafts him, what his medical status is and how he continues to heal during the offseason. I have a lot of hope for this guy, but he is a boom-or-bust prospect.
5. Prince Amukamara, CB Nebraska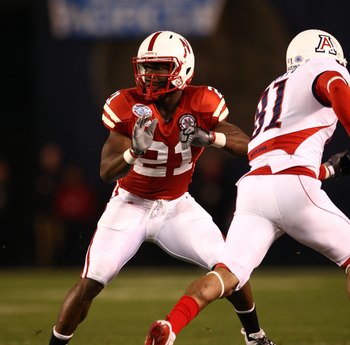 Donald Miralle/Getty Images
There are going to be some that ridicule me for having him this low. Amukamara may be perhaps the most polished defensive back to enter the draft for some time. The only guy I can think of in the NFL currently that embodies how this guy plays the game is Nnamdi Asamougha.
While he doesn't have the ai tight coverage of Jimmy Smith or the freakish athleticism of Patrick Peterson, he is a bit of the happy medium. Rather than being overly reliant on his athletic ability to help him make plays like Peterson, he gets himself in position to make a play.
He doesn't bring the baggage that Jimmy Smith does and is much better in zone coverage than Smith is. Amukamara is also much more active on running downs and doesn't mind making a tackle on a ball carrier and can shed blocks to do so.
There is nothing that you could want out of a corner that Amukamara can't do at a very high level. While he may not be the guy that's the frontrunner for Defensive Rookie of the Year, expect this guy to make any team he's on very happy and expect to see him in the Pro Bowl in the not-so-distant future.
Amukamara is a gifted football player that has talent and intelligence to boot. He's also a guy that has a very good chance, but, more than likely, not be the DROY. Looks like he could be this year's Joe Haden.
4. Marvin Austin, DT North Carolina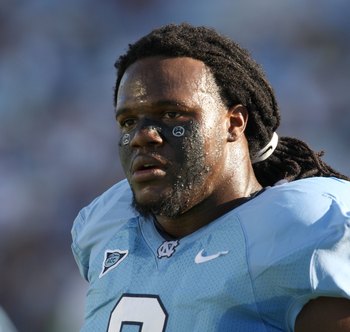 Streeter Lecka/Getty Images
Surprised? You shouldn't be.
Austin, when all is said and done, is most likely the best defensive lineman to come out of this draft. He has two seasons of solid stats at North Carolina, and more than likely would've put up a third, had he not been suspended and eventually kicked off the team for unknown reasons. He was not a part of the scandal as many have accused, but he may have broken some of Coach Butch Davis' personal conduct rules.
Austin is arguably the most athletic defensive tackle in this year's crop, boasting a 4.84 40-yard dash time (1.64 10-yard split) and a 7.33 three-cone time. He, like most of the other UNC defenders, could've gone pro early but chose to return to Chapel Hill for their final season.
Austin had some concerns about his technique and motor that were left unaddressed because of his off-the-field problems. It'd only be fair to give Austin the same tag that I gave Smith, however, as far as raw talent goes, Austin impresses me more at his position than Smith does at his.
Ultimately, if Austin comes ready-to-play on his new team, he will be the fron runner in my mind, but because of his questionable attitude and his being off the field for a whole season, there are guys that are ranked ahead of him, for now.
3. Marcell Dareus, DT Alabama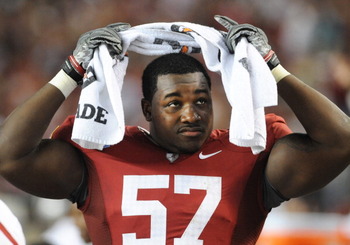 Al Messerschmidt/Getty Images
While Marvin Austin might be the most talented defensive lineman in the draft, Dareus might be the safest. He has few character concerns, showed up to the combine in shape and ready to impress, has put up impressive numbers for the system that he played in at Alabama and would have very good size for an NFL tackle.
If Dareus played more of a "stay at home tackle" role at Alabama, and had been in a defense like the one Nick Fairley or Marvin Austin was in, I could easily see him putting up similar, if not better, stats than those two. He has a great, not good, first step and is a very underrated pass rusher and is definitely good at stopping the run.
At 306 lbs, he certainly has the size and frame to add a bit more weight on, but had he been better utilized in the Alabama defense, I think his size wouldn't be much of a concern, but being an achor in the middle requires a little more weight than a guy who is a consistent pass rusher.
Dareus is a top-three lock at this point, and while not as flashy a pick as A.J. Green, Cam Newton or Da'Quan Bowers, he seems like he will be a guy that is a plug-and-play for the rest of his career.
2. Von Miller, LB Texas A&M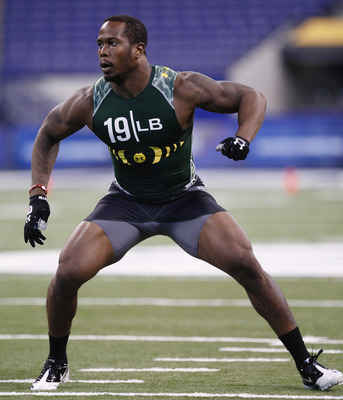 Joe Robbins/Getty Images
The second best pass rusher, 2010 Butkus Award winner and unanimously top-ranked linebacker in the draft Miller will have a long and successful career, without a doubt. At Texas A&M, Von Miller totaled 33 sacks (leading all of college football with 17 in 2008) and 50.5 tackles for loss over his four years there. His job there was fairly simple—get to the quarterback early and often. Miller did that job extremely well.
Miller is the most consistent pass rusher, and by far, the safest pick in the draft. While he definitely will play his best football as a 3-4 OLB, he played a 4-3 linebacker during all of Senior Bowl week and excelled and has the skills to be a very solid 4-3 end, if converted.
He's without a doubt a top-five player with Buffalo (No.3 overall) and Arizona (No.5) the most likely landing spots. If Miller falls however, Cleveland (No.6) and San Francisco (No.7) won't hesitate to snatch this guy up.
Miller would be the guy that most will have as the frontrunner for the DROY award, and there's absolutely nothing wrong with that. He's the complete OLB and, as a commodity, will more than likely be the cornerstone of whatever defense he is put on.
1. Patrick Peterson, CB LSU
Chris Graythen/Getty Images
Many of you aren't surprised by this pick.
Patrick Peterson is atop the wishlist of almost every team in the draft. Everything about him makes him seem like he's absolutely the real deal. He has great size, second-to-none athleticism and an unquestionable drive that make him the best candidate, even this early, for Defensive Rookie of the Year.
Nothing about Peterson tells me he is not the best corner in the draft. He does everything at a high level and is incredibly athletic. And while Peterson doesn't always put himself in the position to make a play, he plays instinctively and can use his freakish athletic abilities to make a play that he otherwise couldn't have.
He has a little polishing that needs to be done, as his zone coverage is spotty and ugly to say the least, but he is arguably the best press corner that's come out of college in a very long time.
His NFL comparison is Charles Woodson of the Green Bay Packers, who was also freakishly athletic and is the only defensive player to ever win the Heisman. In fact, Peterson at the beginning of this season, was a "Player to Watch" for the Heisman but was overshadowed by the likes of LaMichael James, Cam Newton and Andrew Luck.
Still, Peterson is far and away the best player in the draft. Don't be surprised if the Carolina Panthers snatch this guy up at No.1 overall. If he manages to slip past the first three picks, look for Arizona, Cleveland and San Francisco to gobble this guy up at Nos. 5,6 and 7 overall respectively.
Keep Reading