NFL Draft 2011: 5 Biggest Needs for the Arizona Cardinals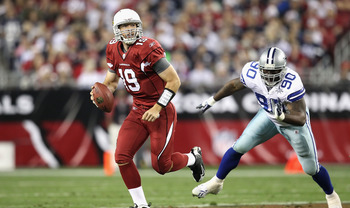 Christian Petersen/Getty Images
It's always good to have an idea of what you're doing before you go and do something right?
Wait...I forgot...
Except when you're assembling something.
Do guys ever read instruction manuals?
Naaaaahhh...
But, if you're the Cardinals, and your team is a mess, it's probably better to have a plan of attack right?
Well, unless you want to pick Levi Brown over Adrian Peterson.
So, while I'm not a big proponent of picking need over talent, I do think you should address needs if you can first, as a first rounder should, make an immediate impact in a place of need.
1. A Quarterback That Can Throw to Larry Fitzgerald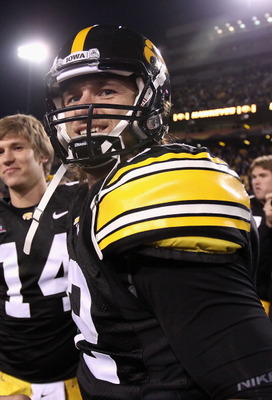 Christian Petersen/Getty Images
Duh.
I figured I'd add more than just "a quarterback." We all know the Cards need one.
But more than that, they need one that can throw the ball to Larry Fitzgerald.
I love John Skelton, but he really didn't do a great job of getting it to Larry.
It's not that hard (or so I think).
So, if the Cardinals feel that Blaine Gabbert or (hopefully not) Cam Newton can do that, they need to address that first.
But Coach Whisenhunt has gone on record saying that he doesn't see a Sam Bradford in this draft, so unless something changes, don't hold your breath.
The question I think becomes do the Cardinals like anyone else in the later rounds?
Maybe someone like Ricky Stanzi or Christian Ponder?
2. A Pass Rusher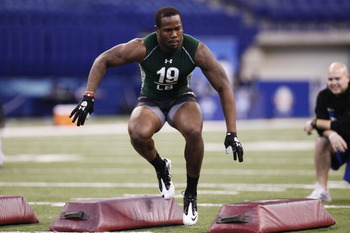 Joe Robbins/Getty Images
Again, I could've said an outside linebacker, but what the Cardinals really need to get is a guy who can get to the QB.
It's really that simple.
So, if Von Miller falls to the Cardinals at the fifth pick, I really don't see how the Cardinals don't take him.
If you think otherwise, please comment.
If the Cardinals don't take Miller or Miller goes before the fifth pick, then things get a little hazy.
The next best rusher on the board that fits the Cards system is probably Robert Quinn.
And I'm not too high on him as previously mentioned.
So we could see the Cardinals grab someone later, like a Sam Acho.
3. An Offensive Tackle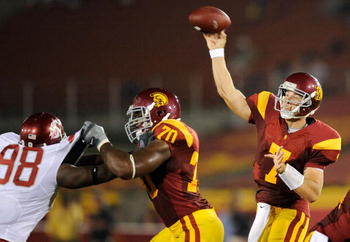 Kevork Djansezian/Getty Images
My friend told me he saw someone projected the Cardinals to take an offensive guard in the first round.
Um, do they know anything about the Cardinals?
Don't get me wrong, we need a little help there, but not like we need a tackle in my opinion.
Whisenhunt can say all he wants to about Levi Brown getting better, but I'll believe it when I see it.
And Brandon Keith sucks. Let's face it.
So the Cardinals may not address this in the first round, but they need to address it as soon as possible in the draft.
It may be Round 2, if the Cardinals go pass rusher in Round 1.
And the class this year isn't strong, which may mean that a solid one could come the Cardinals way if teams choose to wait on the tackles.
It'd be nice to get someone like Nate Solder from Colorado, but that's doubtful.
But maybe someone like Tyron Smith from USC?
That's possible in Round 2. We shall see.
4. Wide Receiver Depth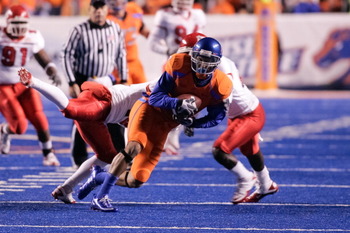 Otto Kitsinger III/Getty Images
It seems like the Cardinals are always drafting wide receivers.
But let's break down the receivers the Cardinals have other than Larry Fitzgerald.
Steve Breaston, who may not be signed (dumb move if you ask me).
Early Doucet, who probably just injured himself as we speak.
Andre Roberts, who has some good upside.
Max Komar and Stephen Williams...um...
So, we could really use some depth.
And there are some real high upside guys who could go later.
Like maybe Austin Pettis? (Do it Arizona, please!)
5. An Offensive Guard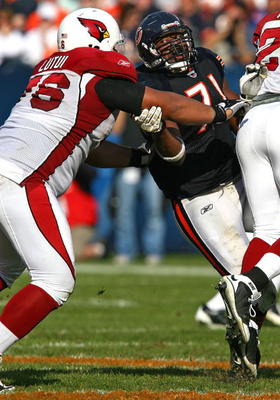 Jonathan Daniel/Getty Images
As I thought more about it, the Cardinals need help at anywhere not named center.
Sure, Duece Lutui is fairly solid, and Lyle Sendlein is an underrated center.
But with Alan Faneca possibly retiring, the Cardinals may need some more depth here, as Rex Hadnot may become a starter, and Hadnot was the Cardinals depth last year.
So maybe in the middle rounds, the Cardinals should pick up someone to help out here.
I'm not really sure who that could be, but your guess is probably as good as mine.
Keep Reading

Arizona Cardinals: Like this team?