NFL Draft 2011: Power Ranking the Draft's Top 10 Pass Rushers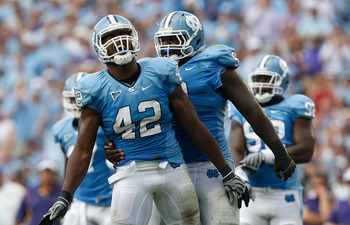 Streeter Lecka/Getty Images
An effective pass rush is one of the most important elements of a defense.
NFL lineman such as Julius Peppers, Justin Tuck and Jared Allen have mastered the art, and their defenses are loads better with them wreaking havoc in the backfield.
Every April, plenty of teams gather for the NFL Draft in the hope that they'll select the next Peppers. This year, several teams could be leaving completely satisfied with their newest pass-rusher.
In a draft dominated by defensive stars, there are no positions as deep or as talented as the defensive linemen of 2011. With numerous big names highlighting the board, it is hard to determine who exactly will be the best at what they do, bringing down the quarterback.
With that, I present to you the 10 best pass-rushers in the 2011 NFL Draft:
10. Adrian Clayborn, DE, Iowa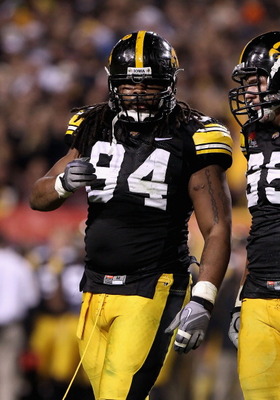 Christian Petersen/Getty Images
Adrian Clayborn is a very powerful defensive end.
He uses brute strength and power moves to get by linemen and to the quarterback. A very tough player to block, Clayborn uses his hands well and is great at maneuvering at the line.
During his four years at Iowa, Clayborn amassed 19 sacks and 184 tackles, proving to be a very dominant force.
One thing scouts have pointed out about Clayborn though is that he lacks a burst off the line and fluidity in his play.
Despite all that, if Clayborn is paired with a great line coach and keeps out of trouble off the field, he should find plenty of success at the NFL level.
9. Corey Liuget, DT, Illinois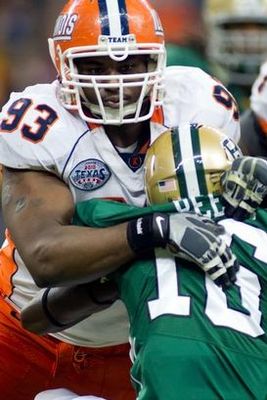 During his junior season at Illinois, Liuget started to grow as a pass-rusher.
He only collected five sacks throughout the 2010 campaign but consistently put pressure on the opposing quarterback and became a giant headache for the offensive line.
A defensive tackle with above-average strength, outstanding speed and a solid lower body, Liuget can find many ways to cause problems in the backfield.
Liuget won't exactly be at the level of Ndamukong Suh, as he lacks fluidity and elite size, but within a couple years, Liuget will be developed into a very adequate pass-rusher.
8. Ryan Kerrigan, DE, Purdue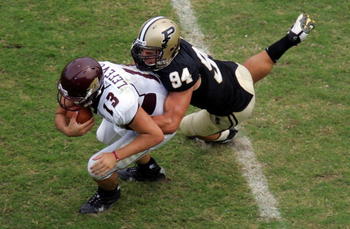 Ronald Martinez/Getty Images
In his last two seasons at Purdue, Kerrigan collected 25 sacks.
At 6'4" and 267 lbs, Kerrigan is a very athletic defensive end who is capable of either using his speed to get by bigger linemen or using his strength to get by smaller ones.
Some scouts however have pointed out that he struggles to get off of blocks and doesn't really have any counter moves against stronger lineman. They've also said he doesn't have a quick first move that keeps him from completely utilizing his above-average speed.
Kerrigan however is a superb defensive end who will do fine in the NFL. His rare blend of size and speed allow for him to find a way past most blockers.
Expect Kerrigan to make an immediate impact wherever he goes.
7. JJ Watt, DE, Wisconsin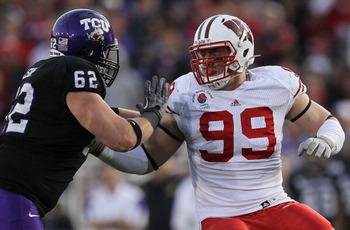 Stephen Dunn/Getty Images
JJ Watt is the epitome of a bull-rusher.
While he does possess the speed to get around the edge, Watt showed a preference for lowing his shoulders and pushing his way to the quarterback, and that worked out pretty well for him.
During his junior season at Wisconsin, Watt collected seven sacks, two of them coming against the speedy Terrell Pryor.
Watt's two main knocks are that he struggles to stay low when rushing, occasionally getting easily handled in the process, and his bull-rush philosophy usually leaves him struggling in containment, leaving the outside open for mobile quarterbacks.
If Watt can learn a few finesse moves to help get around the edges at the next level, he will become a very scary defensive end. Look for him to go in the top 15.
6. Da'Quan Bowers, DE, Clemson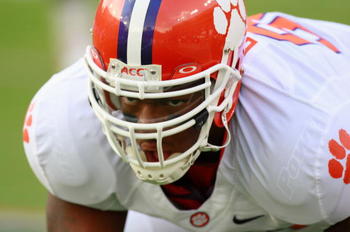 Kevin C. Cox/Getty Images
A couple months ago most experts regarded Bowers as the best prospect in this entire draft, but a horrible series of events has dropped him down on this list.
First off, Bowers showed that, at least for the time being, he isn't capable of staying healthy. He has had several issues with his knee this season and is struggling to convince scouts he is anywhere near 100 percent.
Next, he turned in a dreadful pro day. His 40-time was clocked in at just under five seconds, and he appeared to be winded for a large duration of the drills.
Make no mistake though, when he is healthy, Bowers is an absolute force. He has good size at 6'3" and 280 lbs and is athletic enough to get by NFL linemen. He has great hands strength that he uses to his advantage to get to the quarterback.
Although originally expected to be a top-five pick, it appears Bowers has slipped somewhere into the middle of Round 1.
5. Aldon Smith, DE, Mizzou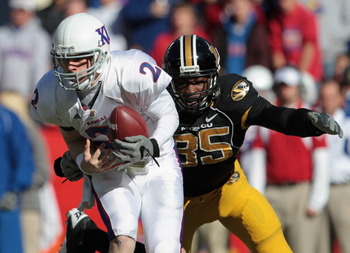 Jamie Squire/Getty Images
Stat-wise, Aldon Smith is one of the most impressive players in the draft. In just two seasons at Missouri, Smith collected 17 sacks for the Tigers.
A very shifty defensive end, Smith appears to be ready to make an immediate impact at the NFL level.
Really, the only knock on Smith is that he does not yet have the strength to be a consistent threat. Smith severely struggled in college when matched up against much larger and physical offensive tackles.
The good thing about this is that a lack of strength is very manageable at this point in a player's career. Expect whoever drafts him to bulk up the rookie immediately.
Expect Smith to be taken in the top 15. Also expect to hear his name plenty of times next season.
4. Von Miller, LB, Texas A&M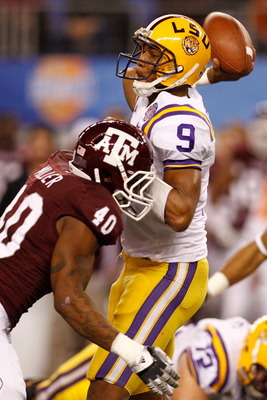 Chris Graythen/Getty Images
I present to you Von Miller, the only non-defensive lineman to make the list. Miller is by far the best linebacker prospect in the draft who's playmaking skills are off the charts.
At Texas A&M last season Miller blitzed often and ended the season with 16.5 sacks. It was almost a guarantee that if Miller was blitzing, he would be getting to your quarterback.
At his pro day, Miller ran a 4.49 40-yard dash, showing absolutely blazing speed that allows him to get to the quarterback with such ease.
Arguably the best thing about Miller though is that he has mastered the wrap-up tackle, an art that just isn't performed as well in the NFL as it used to be. Basically, if Miller gets his hands on your quarterback, they don't have much of a chance of squirming out of it.
3. Nick Fairley, DT, Auburn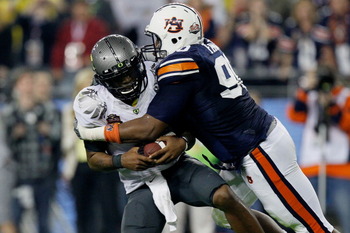 Kevin C. Cox/Getty Images
Most defensive tackles who are 6'4" and 300 lbs are used to just clog up the middle. Nick Fairley isn't like most defensive tackles.
Possessing incredible strength and explosiveness, it feels like Fairley constantly had opposing quarterbacks running for their lives.
He also has incredible speed that allows him to not only chase quarterbacks out of the pocket, but bring them down as well.
His method of getting to the quarterback varies from shooting gaps to power/finesse moves to simply bull rushing the linemen. There really isn't much you can do to stop Fairley.
Known as a very emotional player who will draw the occasional personal foul penalty, the fiery Fairley should find success in the NFL quickly as a defensive tackle.
2. Robert Quinn, DE, UNC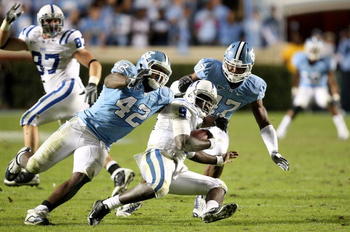 Streeter Lecka/Getty Images
Arguably the fastest and most athletic lineman in this draft, Robert Quinn is a natural when it comes to getting to the quarterback.
After being suspended for the 2010 season by the NCAA for lying to investigators about receiving extra benefits, many wondered how Quinn would respond.
Flash forward to his pro day.
Quinn ran a 4.58 40-yard dash, absolutely dominated in all of his drills. The result? Many scouts are comparing his game to that of DeMarcus Ware's, one of the best pass-rushers in the NFL.
He is still lacking when it comes to pass-rushing moves and on occasion will be slightly oblivious to where the ball is at, but make no mistake, with proper coaching and a little more experience, Quinn will be dominating on the gridiron in no time.
1. Marcell Dareus, DT, Alabama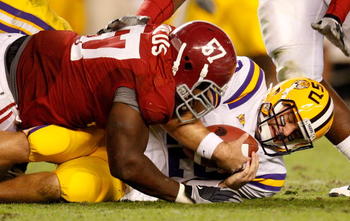 Kevin C. Cox/Getty Images
Marcell Dareus is above and beyond the best pass-rusher in this draft.
At 6'3" and 319 lbs, Dareus is an absolute monster at defensive tackle. He also has great speed for a big man, which allows him to quickly blow by lineman at will.
With impressive footwork and football IQ, this Alabama product is very explosive off the snap and has a large arsenal of power and finesse moves to get off of blockers.
A sure top-five selection, there is very little doubt that Dareus will be wreaking havoc in backfields almost immediately.
Keep Reading