2011 NFL Draft: The 5 Best Picks in This Year's Draft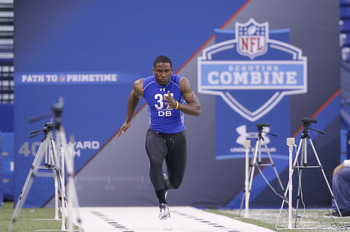 Joe Robbins/Getty Images
This year's NFL draft features some incredible talent. There are players that are going to become superstars in the NFL in the near future.
There are players that have huge upside, like Cam Newton, but are a major risks. There are players like Nick Fairley that are incredible talents, but could potentially have off the field problems.
This list of the "best" picks in this year's draft. The players on this list are the the most talented and safest picks of the players headed into the draft this year.
Tyron Smith: OT, USC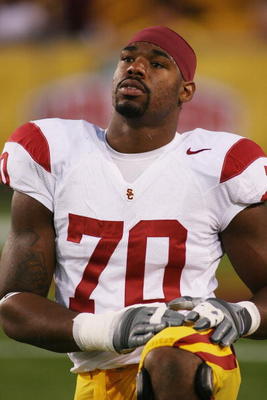 Jeff Golden/Getty Images
The USC standout was first team all PAC-10 last season. He also won the Morris trophy, awarded to the conference's top offensive lineman.
Standing at 6'5" and 307 lbs, Smith has the size to become a dominant offensive lineman for any team that picks him up. Since the end of his last season at USC, he has continued to put on weight, making him more of a threat than he was at USC.
Smith is one of the best picks in the draft. He has a lot of upside and potential and will be a great lineman. He doesn't have the huge upside that some of the other players have, but he isn't nearly the same level of risk.
Prince Amukamara: CB, Nebraska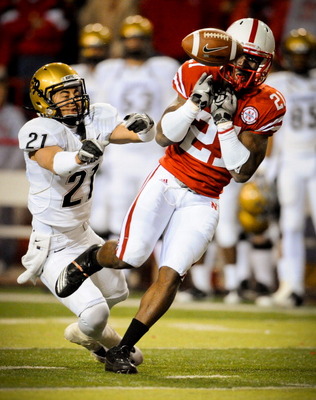 Eric Francis/Getty Images
Although Prince Amukamara didn't have any interceptions last season, he is still one of the best corners in the draft.
Amukamara has great speed and is a great coverage corner. At 6'0", he has the size to play with the bigger receivers in the NFL and the speed to keep up with deep threat guys.
A team can't go wrong with Amukamara. He is ready to start for an NFL team this year.
AJ Green: WR Georgia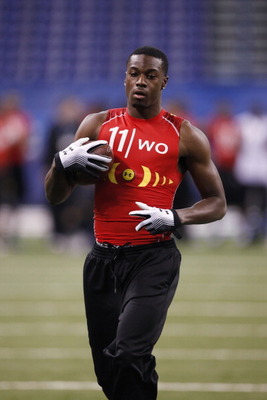 Joe Robbins/Getty Images
AJ Green didn't play the first four games last year due to suspension. He was suspended for selling an old bowl game jersey.
That minor offense did not merit a four-game suspension and it was not enough to keep him off this list.
Green may or may not be the most explosive receiver in the draft. He has great size at 6'4" 211pounds and surprising 4.4 speed.
Despite last year's suspension, Green still caught nine touchdown passes and just under 850 yards. Green is a great pick and an instant threat for anyone that picks him up.
Von Miller: LB, Texas A&M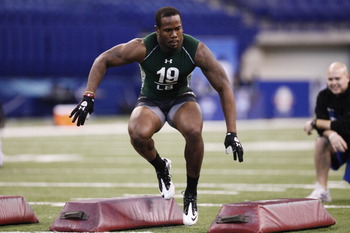 Joe Robbins/Getty Images
Von Miller is arguably the best athlete in the draft. At 6'3" and 246 pounds, Miller is surprisingly fast, he ran a 4.42 40 at the combine.
Miller is a great pass rusher because of his size and speed and will really make an impact as soon as he steps on the field. A surprising part of Miller's game is his coverage skills. He has shown that he is more than just a hard hitting line backer, he can drop back into coverage and do a serviceable job.
Miller will be a great defensive player and is a very safe pick. He is one of the best players in the draft.
Patrick Peterson: CB, LSU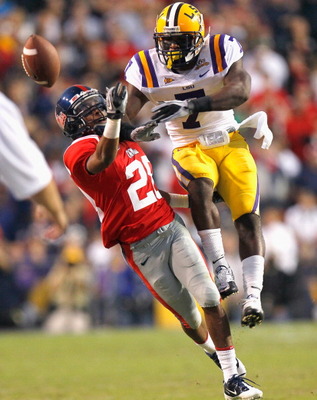 Kevin C. Cox/Getty Images
Patrick Peterson is the best athlete in the draft. Peterson is the best defensive back in the draft. Peterson is one of the best return men in the draft. He is the overall best pick in this year's draft.
While he might not go number one, Peterson is a lock to become an instant impact. He has the size and speed to become a great corner very fast.
4.3 speed, 6'0", and nearly 220 pounds make Peterson the best pick. He has great coverage ability and is a constant big play threat when he is on the field.
Many draft experts have Peterson slipping to the seventh overall pick. Mel Kiper reminds us however, the Rod Woodson, Deion Sanders and Champ Bailey were also the best athletes when they were in the draft but slipped to No. 10, No. 5 and No. 7 respectively.
The Rest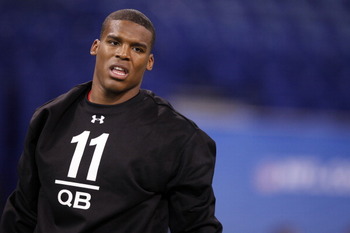 Joe Robbins/Getty Images
There are undoubtedly going to be people that disagree with the five players on this list. If you feel that I left someone off that should be on this list, leave a comment and name the player and state your case why that player should be there.
Don't forget the criteria: the best pick in this sense doesn't necessarily mean the player that will be the best, but rather the safest pick, caliber of teammate he is off the field and the talent that he brings on the field.
Keep Reading