NFL Draft 2011: Arizona Cardinals Possible Draft Choices
Hannah Foslien/Getty Images
The Arizona Cardinals are coming off an atrocious season and have many holes, notably at quarterback, offensive tackle and linebacker. There are so many needs and hopefully most can be addressed during and after the draft.
Many have speculated if the Cards would take a QB like Blaine Gabbert or a OLB like Von Miller, but there are too many possibilities to say for sure. The team simply has too many needs.
Read on to see some possible candidates the Arizona Cardinals could select with the fifth overall pick.
Blaine Gabbert, QB, Missouri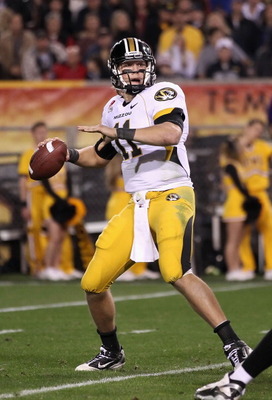 Christian Petersen/Getty Images
Blaine Gabbert is considered, by many, to be the most NFL ready QB in the draft and should be the first QB off the board. Rob Rang and Chad Reuter of CBS have Gabbert going in the top five, and most mock drafts feature the same projection.
His potential has scouts wondering how good this kid could really be. He has the arm strength, size and athleticism to succeed at the next level. The Cards could really use a quarterback, as shown last season with the debacle that was Derek Anderson.
There is one thing that could lead the Cardinals to pass on Gabbert if he is available, Matt Leinart. The Cardinals thought Leinart would be the future when they drafted him with the 10th pick in 2006, but he faded after he was injured in his second season and Kurt Warner led the team to the Superbowl.
Leinart was released before this past season, and the ramifications of this draft bust will no doubt be in the mind of management when they are on the clock.
Von Miller, OLB, Texas A&M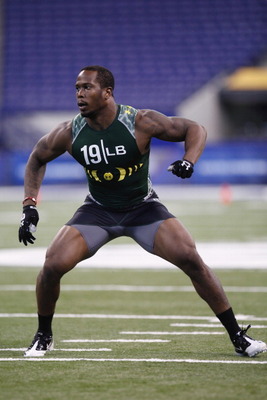 Joe Robbins/Getty Images
Von Miller is a very, very good OLB and is definitely going to be selected in the top five. Rob Rang and Chad Reuter of CBS have Miller going to either Arizona or Buffalo.
Miller is an athletic rusher and has the potential to be a very, very good linebacker. With the departure of Karlos Dansby before this past season, there is a huge hole needed to be filled at the position.
Miller seems like the most logical, safe pick, and if he is not taken before, then he most likely will be taken by the Cardinals.
Robert Quinn, DE, North Carolina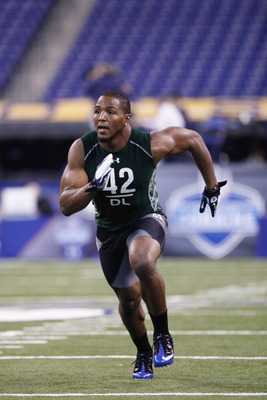 Joe Robbins/Getty Images
Robert Quinn is considered the best defensive end in the draft and rightly so. Quinn had 52 tackles, 11 sacks, 19 tackles for loss and six forced fumbles, but these stats are from the 2009-10 season.
Since Quinn was suspended for the entire 2010-11 season for being caught up in an agent scandal, he has only had one season of dominance. This could be a problem, but its seems like he is past it. He should be able to focus and not get into trouble.
The Cards had yet another hole at defensive end and could use all the help they can get. Quinn could give them the elite pass rusher they need. Darnell Dockett is so much more effective when he has solid defensive ends coming off the edge.
Patrick Peterson, CB, LSU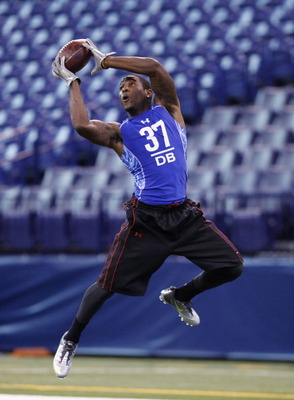 Joe Robbins/Getty Images
Patrick Peterson is a very good cornerback out of LSU and could be picked up by the Cards if things don't pan out how the team wants.
The Arizona Cardinals already have Pro-Bowler Dominique Rodgers-Cromartie at cornerback, add in Patrick Peterson, and the team could have one of the best, young cornerback tandems in the league. They could have two shutdown corners, who are both extremely fast and athletic.
This pick could be a stretch but if Blaine Gabbert and Von Miller are selected, then it might be best to take Peterson. Think of Peterson as a sleeper pick for the Cards with the fifth pick.
Keep Reading

Arizona Cardinals: Like this team?