To Deal or Not to Deal: How a Eagles-Bills Trade Could Shake the 2011 NFL Draft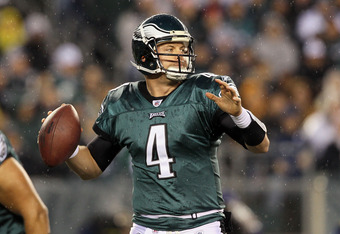 Jim McIsaac/Getty Images
With just three weeks remaining before the NFL Draft, there has been much talk about prospects, rankings and mock drafts—but not trades. Without a CBA in place between the players and the owners, the trading of players is not allowed, allowing just pick-for-pick deals. However, despite that fact, there have been whispers around the league, most notably from Eagles Central and the Pro Football Talk blog, that a major trade could go down heading into draft day.
The proposed deal would see the Philadelphia Eagles send quarterback Kevin Kolb, along with picks No. 23 and No. 54, to the Buffalo Bills for the No. 3 pick in the draft. It is widely believed that if the Eagles were to trade up to the No. 3 spot, they would select cornerback Patrick Peterson from LSU.
This deal would have some major repercussions for both franchises—on one hand, it could give the Bills the franchise quarterback they have lacked since the Jim Kelly Super Bowl era, while on the other hand, it could give the Eagles a superstar player to build their team around for the next decade.
Why the Bills Should Make the Trade
It makes a lot of sense for the Bills to pull the trigger on this deal. Kevin Kolb, in his limited experience, has shown flashes of greatness for the Eagles. Kolb would almost assuredly beat out current Bills QB Ryan Fitzpatrick for the starting job, and he is young enough to lead the Bills for the next seven to 10 years.
Should the Bills make this trade?
The added draft picks would also give the Bills room to fill the numerous holes on their team, such as defensive linemen, linebacker, offensive linemen and tight end. At No. 23, players such as Cal DE Cameron Jordan, Wisconsin DE J.J. Watt and Purdue DE Ryan Kerrigan could all be available, and each would be an instant starter on the Bills weak defensive line.
The Bills' second round pick, No. 33, could land them a potential starter at tight end, such as Notre Dame's Kyle Rudolph or outside linebacker, like Illinois' Martez Wilson. Finally, the added second rounder, No. 54, would be a great spot to add LSU's inside linebacker Kelvin Sheppard, or beef up the offensive line with Villanova G/T Benjamin Ijalana. The Bills have lots of needs, and by making this deal with the Eagles, they would be taking a huge step forward to finally compete in the AFC East.
Why the Eagles Should Make the Trade
The Eagles have a very good team, but if they want to become a Super Bowl-caliber team, then they need to make a gamble like this. Giving up Kolb should not hurt the team much; he is almost certainly going to be Michael Vick's backup for the foreseeable future, and as long as Vick stays healthy, Kolb would be a wasted asset on the bench. There are no glaring needs on he Eagles roster that could be addressed at No. 3, but if Patrick Peterson is still on the board, he is a must-have kind of guy.
Rick Stewart/Getty Images
I have made my thoughts on Peterson clear in my Top 10 Prospects article, and he should be able to step into a starting role across from All-Pro corner Asante Samuel from day one. A duo of Samuel and Peterson would instantly launch the Eagles pass defense from 15th (216.8 yards per game in 2010) into the top five. The lost second-round pick hurts, but the Eagles could be able to fix their biggest need, offensive line, in Round 3.
Why the Bills Should Not Make the Trade
Ryan Fitzpatrick showed that he is a capable starter in the NFL, passing for 3,000 yards and 23 TDs under coach Chan Gailey. While Kevin Kolb is young (just 26), Fitzpatrick isn't exactly on the doorstep of a nursing home. He is only 28 years old and he is also quite capable of leading this team into the future (although that may be a short-term future). The No. 3 pick is also a huge asset to the Bills, as players like Alabama's Marcell Dareus, Texas A&M's Von Miller or even Patrick Peterson could be the key man to rebuild the Bills' much-maligned defense around.
The bonus second-round pick from the Eagles would be a huge pickup, but would it be enough to make up for the talent given up at No. 3? If the Bills can hit on their first two picks, finding two instant impact players, and they believe Ryan Fitzpatrick can repeat his 2010 performance, then that should be enough reason for them to pass on this deal.
Should the Eagles Make This Trade?
Why the Eagles Should Not Make the Trade
The Eagles need help on the offensive line, badly. Giving up 49 sacks when you have the most elusive quarterback in the history of the NFL should speak volumes about the Eagles O-line. Tackles Todd Herremans, Jason Peters and Winston Justice are all decent, but Wisconsin's Gabe Carimi or Colorado's Nate Soldier should be available at No. 23 and would be able to replace any one of them and improve the line. There should be some good cornerbacks available in round two, so by keeping their first two picks, the Eagles could do more to improve their team, all around, then if they were to trade up.
The other bonus from not making this deal is that the Eagles have a great insurance policy should Mike Vick get injured. Kolb has shown he can step in and start for the Eagles, and if Vick should suffer another serious injury (remember 2003), then the Eagles would still be in good hands.
Whether or not this deal goes through is far from clear, but it's obvious that it would have the potential to completely alter two franchises futures. As we countdown the days until April 28, this should be an interesting story to keep an eye on.
Matt Masterson is a contributing writer for BleacherReport.com and Badgerballs.wordpress.com. Find other great articles at Badgerballs.wordpress.com
This article is
What is the duplicate article?
Why is this article offensive?
Where is this article plagiarized from?
Why is this article poorly edited?

Buffalo Bills: Like this team?