2011 NFL Mock Draft: Kansas City Chiefs 7-Round Mock Draft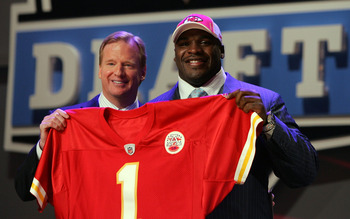 Jim McIsaac/Getty Images
A month back I prepared a mock draft that went into detail about who the Kansas City Chiefs should select in each round of the upcoming 2011 NFL Draft. The link to that article is:
http://bleacherreport.com/articles/631202-2011-nfl-draft-mocking-the-kansas-city-chiefs-to-a-championship
In the last month, with pro days and player visits, there have been several changes, including the Chiefs receiving an extra compensatory draft pick in the sixth round.
The Chiefs now have eight draft picks instead of seven. The Chiefs have one pick in each of the first four rounds, two picks in round five, a compensatory pick in the sixth round, and one pick in the seventh round.
One fifth-round pick was acquired in the Alex Magee trade with the Tampa Bay Buccaneers. The other was a flip-flop of picks between the Detroit Lions and Kansas City due to Detroit tampering with Jared Page at the beginning of last season.
One thing that has not changed in the last month is the needs the Kansas City Chiefs must address in the 2011 NFL Draft. On offense the Chiefs need another wide receiver, an offensive tackle, a project quarterback and potentially an offensive guard to replace Ryan Lilja or Brian Waters.
On defense, the Chiefs have a huge glaring hole at NT. In addition, the Chiefs could look to add another pass-rushing OLB and a potential ILB.
As I go through all seven rounds and the eight picks the Chiefs have, I will compare them to who I originally had the Chiefs drafting. I will explain why the draft pick changed, if it did change, and how it will affect the Chiefs.
Round 1: Pick 21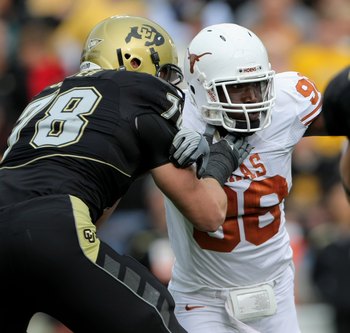 Doug Pensinger/Getty Images
In my previous mock draft I had the Chiefs taking Anthony Castonzo, OT, out of Boston College. As nice as it would be for Castonzo to fall to the Chiefs at the 21st pick, I no longer see it happening.
Castonzo had a great Pro Day back on March 23, which was attended by upwards of 15 teams including the Detroit Lines, Tampa Bay Buccaneers, and the New York Giants. I expect Castonzo to be selected between Detroit's 13th pick and New York's 19th pick, unfortunately taking him off the board before the Chiefs can draft.
Fortunately for the Chiefs Nate Solder, OT, out of Colorado will still be available. Solder measure in at 6'9" and 320 pounds, and most impressively runs under a five second forty-yard dash. Solder has the prototypical size, strength, and work ethic most teams will be searching for come draft day.
Solder began his career as a tight end before being redshirted his freshman year. As a result he brings with him a rare blend of athleticism and nimble feet to the tackle position. Solder started every game at left tackle for Colorado from the beginning of his sophomore year to the time he graduated.
When it comes to run blocking Solder is exceptional on the edge because of his great mobility. In the passing game Solder has nimble feet, rises out of his stance quickly, and has a great ability to pick up the blitz.
Solder has as much raw talent as any other prospect in this draft. He still needs to develop, as he only spent three years at the tackle position, but he has a tremendous amount of upside.
Off the field Solder is the complete package. While as Colorado, Solder was admired for his work ethic, evidence by his teammates voting him Co-Caption and Team MVP during his senior year.
Round 2: Pick 55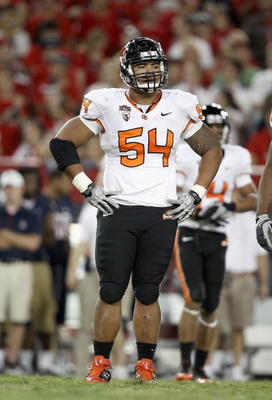 Christian Petersen/Getty Images
The Chiefs know, or should know, that Ron Edwards is a stop gap at best, so they need a long-term solution to step into the NT position. At this point in the draft Stephen Paea is the best player still available. Concerns about his injury history and his lack of height are going to fuel Paea to fall to the Chiefs, who will be delighted about this pick.
This pick has not changed from my original mock, as Paea has done very little in the last month to increase his draft potential. However, while he was at Oregon State he was known as one of the nation's best run-stuffers.
Paea has a good initial burst off the line and possesses excellent strength to bull rush offensive linemen back into the pocket. Due to his lower body strength Paea is hard to move off the line, has a great ability to tie up blocks in the middle, and routinely requires double teams.
Paea has a lot of upside, especially for a guy that only played three seasons of football prior to playing for Oregon State in 2008. Paea is a high-effort player who was voted a team Co-Captain in 2009 by his teammates.
Paea started 37 games for Oregon State after arriving on campus as a sophomore. Paea concluded his career with 129 tackles and 14 quarterback sacks.
Round 3: Pick 86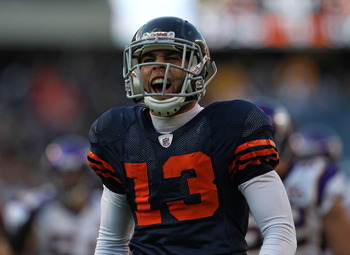 Is Edmund Gates the next Johnny Knox? Or is better?
Jonathan Daniel/Getty Images
In my previous mock draft I had the Chiefs taking Tandon Doss, WR, out of Indiana University. The pick change has nothing to do with the talent of Doss, but more the emergence of Edmund Gates in the last month.
With above average route running skills, very good hands and the ability to adjust to the catch Doss has all the skills necessary to be the pick here. Doss is deceptively fast and gets downfield, displaying the ability to make the reception running at full speed. The truth is everything Doss can do, Gates can do better.
Gates might be small-school prospect, but he has the potential to be big-time star in the NFL. Gates, who is 6'0" and 190 pounds, ran an impressive combine 40-yard dash, with a time of 4.37 seconds. What is more impressive about that time is that he claimed to have a groin injury that slowed him down.
While at Abilene Christian, Gates followed in the footsteps of current Chicago Bears wide receiver Johnny Knox. Many scouts think Gates is more advanced at the same stage of his career than Knox was when he entered the NFL as a fifth round pick.
One red flag that I am concerned about is that Gates comes from a troubled past. Gates had a tough childhood and his father is in prison for murder. Players from troubled pasts are not always affected by their past, however the Chiefs will need to make sure that his past is not going to negatively affect him.
Round 4: Pick 118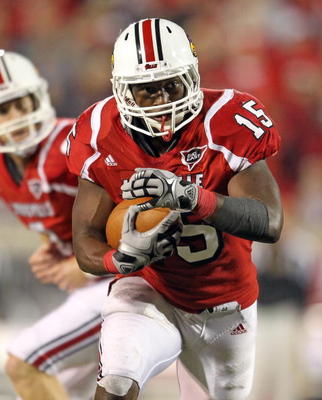 Andy Lyons/Getty Images
In my earlier mock I had the Chiefs taking James Carpenter, OG/OT, out of Alabama. With the Chiefs hopefully taking an OT in the first round, there is no need to take another offensive lineman at this point in the draft.
Chiefs' running back Thomas Jones is 33 and entering the last year of his contract. Todd Haley has already stated that Jones will be back for the 2011 season, but Powell could eventually take over Jones' role.
Powell only received substantial playing time during his senior year at Louisville, but he was named first-team All-Big East with 1,405 yards and 11 scores. Powell is 5'11" and 210 pounds, however he plays much bigger. Powell has the power and toughness to run between the tackles, while also possessing the speed to break a big run on the outside.
Per Wes Bunting, of National Football Post, Powell, "is more of a linear runner who does a nice job running with a low pad level and does a nice job not exposing too much of his frame. Possesses a strong lower half, pumps his legs through contact and can shrug off defenders and churn out tough yards inside. Exhibits a decent thump as a blocker as well, but doesn't do a good job of using his hands to stick to defenders through the play. Is more of just an initial pop guy who then will quickly fall off the block. Has the body control to catch the football out of the backfield."
According to Pro Football Talk, the Chiefs will have an official visit or private workout with Powell. If Powell impresses, look for the Chiefs to pick him up in the middle of the draft.
Round 5: Pick 135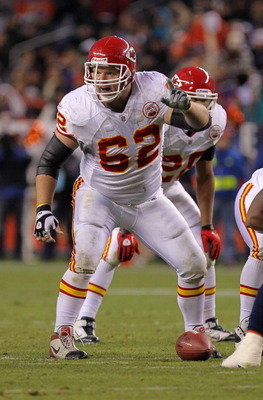 Could Tim Barnes be the next Casey Wiegmann for the Chiefs?
Doug Pensinger/Getty Images
The Chiefs currently have two fifth round picks, and while I had them take a QB and OLB during this round in my initial mock that has changed a little. The Chiefs acquired this selection from the Tampa Bay Bucs as part of the Alex Magee trade.
At this point in the draft only one of the offensive line positions has been addressed, making this selection a perfect place to take Tim Barnes, C, out of Missouri. There is a good chance that Casey Wiegmann will retire this offseason. The Chiefs will need a successor and some insurance in case Wiegmann does indeed hang it up.
According to Wes Bunting, of National Football Post, Barnes, "...isn't the most physically imposing of centers. However, he's got some natural bend to his game, is quick handed inside and moves well laterally through contact. And in a weak center class I think Barnes is one of the better pivots this draft has to offer. Plus, he's natural on the move, can reach targets at the second level and is the one mid-round center prospect who I could see fighting for a starting job down the line."
Barnes is listed as 6'4" and 300 pounds and has good quickness and strength and often got to the second level to take on linebackers. The Chiefs run a zone blocking scheme that relies on athletic offensive lineman to quickly get to defenders and create creases for the backs. Barnes fits the mold of the Chiefs blocking scheme perfectly. Look for the Chiefs to make Barnes the center of the future with this pick.
Round 5: Pick 140
Christian Petersen/Getty Images
Kansas City acquired this selection from the Detroit Lions as part of the tampering ruling involving Jared Page. The Chiefs will need to groom a young quarterback just in case Matt Cassel starts to take steps backward during his third season in Kansas City, and I fully expect them to select a QB during this draft.
While I had Ricky Stanzi being picked in the fifth round in my original mock draft, it was not with the second pick in the round. The importance of getting a center of the future put the search for Cassel's potential successor on the back burner, but only for one pick.
At 6'4" and 230 pounds Stanzi has ideal size for the position, has above average arm strength, and shows great leadership abilities. Stanzi has also been a three year starter for the Hawkeyes. Stanzi has been tutored by one of college football's best coaches in Kirk Ferentz, who is best friends with Scott Pioli by the way.
While Stanzi might not blow you away with his physical tools, he is an intelligent quarterback with terrific accuracy and a high football I.Q. Stanzi knows how to manage a game and understands the ins and outs of passing the football.
Stanzi showed improvement each season he played for the Hawkeyes, with a big spike in production his senior season. During Stanzi's senior season he was able to show the ability to cut down on his INT ratio, largely due to smarter decision making.
Stanzi has the mental make-up, size, and football IQ of a starting caliber quarterback. Stanzi possesses great leadership abilities, has improved accuracy and mechanics, and has solid experience. Stanzi is ideal for a Pioli late round developmental quarterback.
Round 6: Pick 199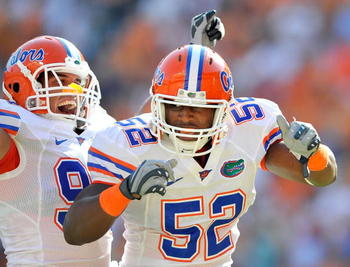 Grant Halverson/Getty Images
The Chiefs received this extra draft pick as part of the league's annual compensatory picks announcement. Last season the Chiefs lost OL Wade Smith to free agency which allowed them to gain the seventh highest compensatory pick this year, giving them this, the 199th pick, in the draft.
With this additional pick the Chiefs should focus on adding depth and a pass rushing threat opposite of Tamba Hali. To address this position the Chiefs should select Justin Trattou, OLB, out of Florida.
Most would think that playing for one of the nation's elite college programs like the Florida Gators would be a benefit entering the NFL draft. However playing with some of the finest talent around the nation can also cause good players to be overlooked. Trattou was one of those individuals that never got an opportunity as he was stuck behind Carlos Dunlap and Jermaine Cunningham until his senior season.
Trattou showed patients, a hard work ethic, and dedication behind those Dunlap and Cunningham, and it paid off as he was name the team Caption of the Gators Defense. Trattou capitalized on being the star during his senior year by delivering 57 tackles, 10 tackles for a loss, two sacks, and one interception.
Per Russ Lande, of Sporting News, Trattou, "Sniffs out plays, and gets started toward the ball quickly. Flashes ability to fill holes and take on lead blockers, shed blocks and make tackles. Reads screen passes well; gets outside quickly to disrupt the play. Shows the size and instincts to be good in coverage and on special teams."
Round 7: Pick 223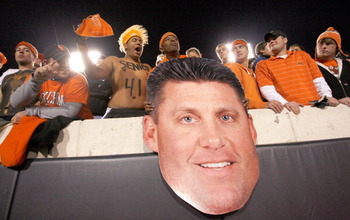 Is Orie Lemon "man" enough to make in the NFL?
Tom Pennington/Getty Images
Coming in as the last Chiefs draft pick I still have Orie Lemon, ILB, from Oklahoma State as the selection. Lemon has done little to change his draft stock in the last month, but the need for a backup, and project player, at the ILB position still remains.
Lemon did not get on the field during his junior season because of a knee injury suffered in preseason camp. As a senior, he was quickly appointed as the Cowboys' defensive leader, and despite any rust, he responded with a terrific season.
Lemon was named All-Big 12 First Team for the 2010 college football season as selected by the Big 12 coaches. Lemon was the first Cowboy linebacker since Greg Richmond in 2003 to be named first-team all-conference.
Lemon has a thick muscular build and possesses a good closing burst, fills hard, and is powerful at the point of attack. Powell consistently leads with his shoulder, uses his hands to effectively shed blocks and delivers violent shots when tackling.
Lemon is a powerful linebacker that takes on blocks, sheds quickly, and has the speed to hunt down ball carriers in the backfield. Lemon could easily come in and immediately be a two-down run specialist, with potential to develop into more.
Keep Reading

Kansas City Chiefs: Like this team?