Yankees Fans Wish Their Team Had Red Sox's Class: Fenway's 100th Anniversary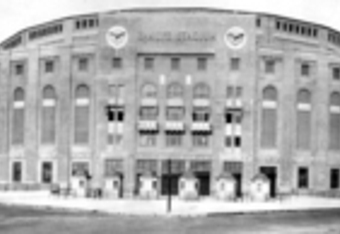 Yankee Stadium

Once again, the Boston Red Sox have outclassed the New York Yankees. Next year, Red Sox fans and management will celebrate Fenway Park's 100th anniversary. No major league ballpark has survived that long.

The Red Sox chose to improve their great ballpark, unlike the Yankees, who decided to destroy their greater ballpark.

This past offseason, the Red Sox completed $285 million of improvements that started when John Henry took over ownership of the team. Henry's group decided, unlike the Yankees' management, not to replace their ballpark.

"Since the moment we arrived, the restoration of Fenway Park has been a real labor of love. It's been nine years that we've been at this. The end result is better than anything we could have imagined."

Fenway Park has been modernized, but a great balancing act has allowed the facility to retain its overall ambiance, according to Sox president Larry Lucchino.

"We were careful not to do too much and overwhelm the intimacy of Fenway Park. We're proud that we were able to improve the ballpark and increase the capacity without changing the overall ambiance."

No one disagrees with what the Red Sox have done, not even die-hard Yankees fans, most of whom would have preferred that the Yankees had followed the Red Sox's lead.

The Yankees used the excuse that they would have no place to play if they had renovated Yankee Stadium, but that was a poor excuse use to hide their real agenda. The Yankees wanted a new ballpark to generate obscene revenues.

The Yankees received almost $2 billion in taxpayer money. Neil deMause, co-author of Field of Schemes: How the Great Stadium Swindle Turns Public Money Into Private Profit, estimates the total cost of Yankee Stadium at more than $2 billion.

It doesn't end there. The disingenuousness is obscene.

The Yankees referred to Yankee Stadium as a cathedral, especially in 2008, which was the last season the team played in Yankee Stadium.

Don't believe for one second that the ballpark the Yankees now play in is Yankee Stadium. It is not. The Yankees play in a ballpark those in power refer to as Yankee Stadium, but Yankee Stadium no longer exists.

During the last year of Yankee Stadium, the Yankees' website stated, "For Yankees fans, every game of baseball at Yankee Stadium is like a family gathering and a religious experience. The Cathedral has served as both their church and home."

One Yankees fan expressed what all Yankees fans feel: "It takes your breath away, and it still does. Every time I come into this place, it's like I am coming here for the first time."

How many individuals condone tearing down their church and their home?

If the Yankees were sincere and really believed what they preached, they would have renovated Yankee Stadium as the Red Sox have renovated Fenway Park.

Boston's ownership loves money as much as New York's ownership, but the Red Sox have demonstrated the class the Yankees can only dream of possessing.

Some things are more important to some people than money. The Yankees' owners are not among those people.
References:

Fenway Park Improvements

New York Yankees and Tax Payer Money

Cost of Yankees' Ball Park

Yankees' Cathedral
This article is
What is the duplicate article?
Why is this article offensive?
Where is this article plagiarized from?
Why is this article poorly edited?

Boston Red Sox: Like this team?